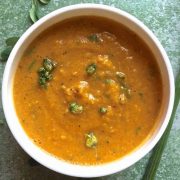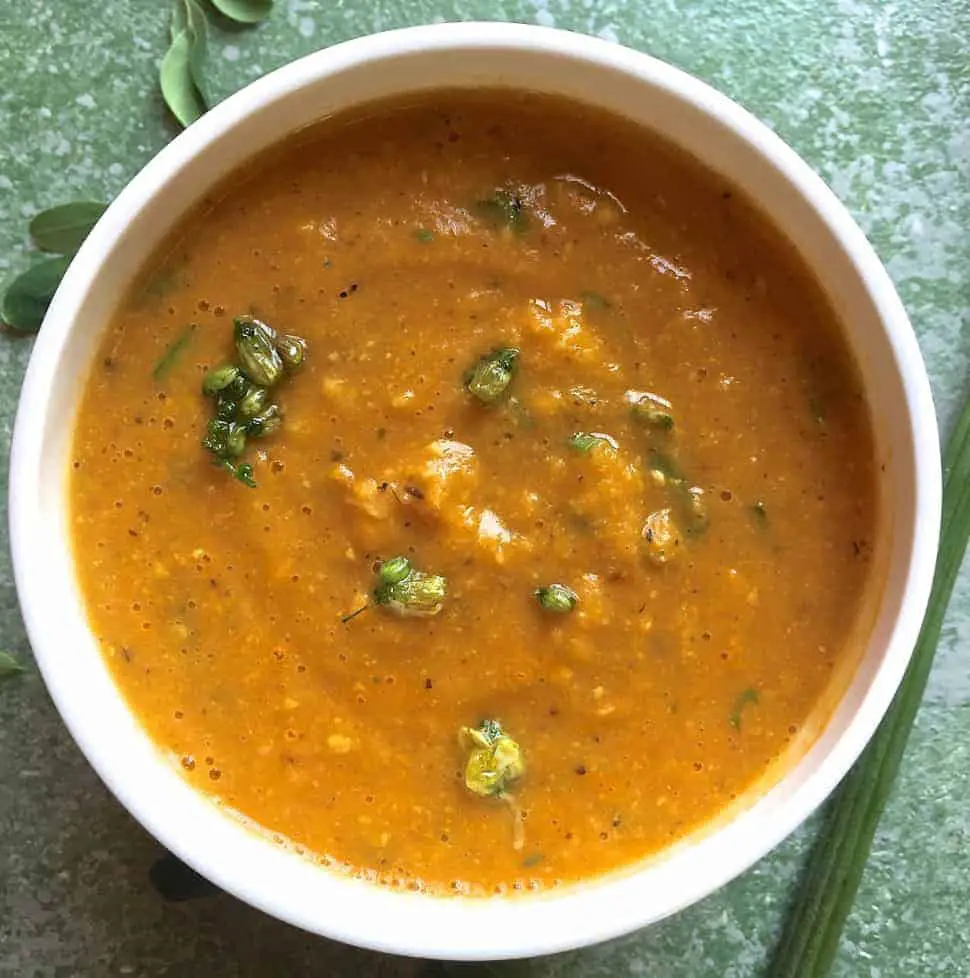 Print Recipe
Drumstick Corn Carrot Soup with Moringa Pods & Leaves
Easy Drumstick Corn Carrot Soup with pods, leaves, flowers of Superfood Moringa. Vegan, Gluten free, tasty. The Recipe includes steps for prepping moringa pods for the soup. Make it with just the pods or leaves + carrot, corn. Use fresh grated or frozen Corn.
For Preparing Drumsticks for Soup
For Drumstick Corn Carrot Soup
½

tablespoon

olive oil

¼

teaspoon

Jeera Cumin seeds

¼

teaspoon

Kalonji Nigella Seeds

1

cup

carrot

Peeled, sliced into thin 1" sticks

2

cups

corn

Fresh Grated or Frozen

¼

teaspoon

Haldi/ Turmeric Powder

½

teaspoon

Madras curry powder or cayenne powder

optional, if you want a bit of spice

2

cups

vegetable stock

or chicken stock or water if stock is not available

½

cup

Drumstick seeds

Cooked, from List above

1

teaspoon

fresh ground black pepper

1

teaspoon

salt

or, to taste

¼

cup

moringa (drumstick) leaves

shredded
For Garnish
1

teaspoon

Moringa Flowers

fresh or dry, if available

1

teaspoon

moringa (drumstick) leaves

shredded

1

teaspoon

ghee

or Clarified Butter, or Olive Oil for a vegan version
Preparing Drumstick Pods for Soup
Slice drumsticks into lengths of 2" each Heat 1.5 cups of water in a pan an add the sliced drumsticks and a pinch of salt. Bring to a good boil and then simmer on medium heat for 10 minutes. Drain, retaining the water in which the drumsticks were boiled. We will use this water in the soup. Keep the drumsticks in a bowl and allow to cook for a few minutes

Slice each piece of drumstick vertically so that the insides are visible. Using a steel spoon or a knife, scoop out the seeds and flesh and collect it in a bowl. Discard the thick fibrous outer covering of the pod.
Making Drumstick Carrot Corn Soup
Peel and slice the carrots into sticks of about 1" length and ¼" width. Uniform slicing will help the vegetables cook uniformly too. If using fresh corn on the cob, remove the outer husks and threads and grate the corn into a bowl. Shred the moringa leaves, if using. Heat the stock and keep on a low simmer till required.

Set a pan on the stove and heat the olive oil. Add cumin and saute on medium heat for 5 seconds. Add nigella seeds. Saute for 10 seconds or till the cumin and nigella crackle Add sliced carrots, stir well. Add corn. Add turmeric powder. Stir and saute for 3 minutes.

Add stock including the water in which the drumsticks were boiled, totally 3 cups. Brink to a brisk boil (it should boil all over) Add the scooped out drumstick seeds. Keep on boil for 30 seconds. Reduce the heat and let the soup simmer for 10 minutes. Add salt and pepper.

Take the pan off the heat and transfer the soup to another vessel, to cool. Remember that hot soup if pureed in the processor, will expand and splash out. Once cool, use a blender or processor and blend/puree coarsely. You may have to do this in batches as you have about 3.5 cups of soup here.

Pour the puree back into the pan. Bring to a boil. Add shredded moringa leaves. Stir and remove from the heat
Garnish
I had these beautiful little fresh moringa flowers. I heated a small pan, added a teaspoon full of ghee. Fried the flowers after removing the stems and calyx. You may remove the pistils too, but the flowers were very small and I could barely see the pistils, so I let them be. Garnished the soup before we ate, with fried flowers and a few shredded moringa leaves. This is a warm and filling soup.