Mondays are becoming fun days, with the Foodie Monday BlogHop. Yes, there is the tension of planning for the weeks theme. First of all selecting a dish that fits both the theme as well as the blog. And then getting the ingredients together. Researching for the post and developing the framework of the recipe.  Going into cooking mode, shifting into photographer mode and finally, writer mode. The end result makes up for all this, though. My choice for this Monday was a very tasty, easy, nutritious Drumstick Corn Carrot Soup. To my delight, I was able to lay my hands on moringa pods (drumsticks), moringa leaves and moringa blossoms!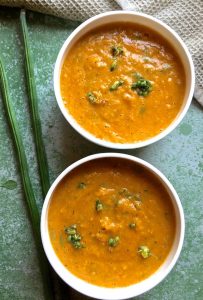 This is the second in my series of posts on Using Moringa in easy Recipes
The theme for the 183rd Foodie Monday Blog Hop is 'Indian Superfoods'. It was food blogger Vidya Narayan's turn to suggest themes. She stipulated the superfoods we could choose from. Turmeric, Moringa, or Makhana (Lotus seeds/ fox nuts). However for me there was hardly a question of options. I had no time to go to the grocery store this week. Even if I had, I doubt that I would have got fresh raw turmeric. Makhana did not call out to me, at least not for the moment. Hence, Moringa it was going to be. (For an idea of the nutritional and medicinal values of the Moringa, refer this article in healthline.com)
The gardener at my apartment block was, luckily for me, busy loping off the top branches of the lone Drumstick tree in our gardens. It took just minutes to get from him a bunch of moringa leaves. There were already two thick drumstick pods in the fridge, earmarked for my favorite murungakka sambar. The two were duly sacrificed at the altar of the Blog, and formed the heart of the Drumstick Corn Carrot Soup.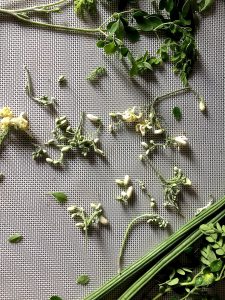 The bunch of moringa leaves I got from the gardener's bounty had these adorable flowers attached. Just a few, but they were enough for a garnish for the soup, after a brief saute in hot ghee.  There were the red 'Delhi' Carrots and some frozen corn, too, in the fridge. Happy to be clearing out some part of the veggie tray, I added them to my ingredients for the drumstick corn carrot Soup.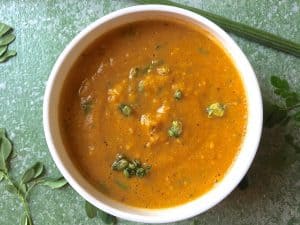 For the stock, I used a stock cube as I didn't have any homemade stock on hand. Need to make a fresh batch this week! And it won't hurt that I have celery growing in my balcony garden. My little garden has become a virtual Kamadhenu, it keeps giving me fresh produce to plan recipes with.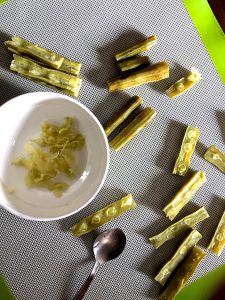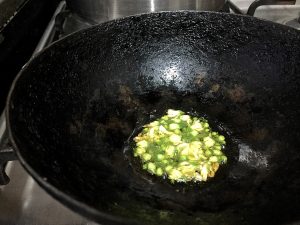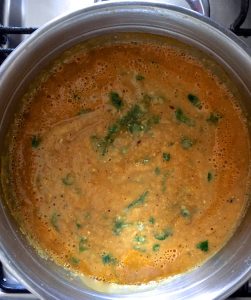 Vidya Narayan from the Foodie Monday group, whom I've mentioned above, blogs at MasalaChilli. As the name indicates, Vidya loves hot spicy food. I think you will really like her blog. I do, and my some of my favourites are the Ghoda masala, her recent post, and her Air Fryer Purple Yam Chips! Do drop by her site and check them out for yourself.

This post has been sent to the event: 183 Foodie Monday Blog Hop with the Theme: Indian Superfoods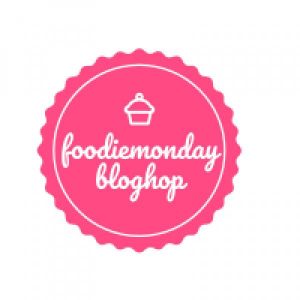 Other recipes posts you may like on this blog:
Easy Moringa Leaves Morekuzhambu or Yogurt Stew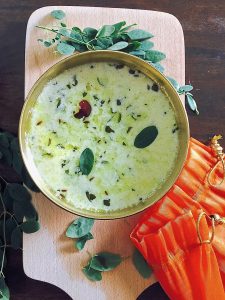 Avocado Methi (Fenugreek Leaves) Salad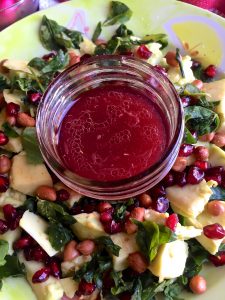 Avocado Fenugreek (methi) leaves salad with Pomegranate dressing
"Recipe"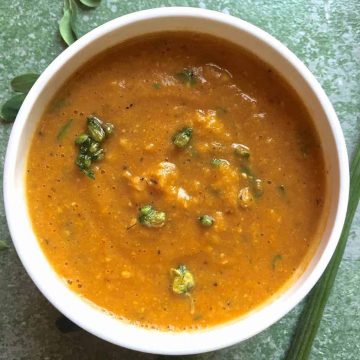 Drumstick Corn Carrot Soup with Moringa Pods & Leaves
Easy Drumstick Corn Carrot Soup with pods, leaves, flowers of Superfood Moringa. Vegan, Gluten free, tasty. The Recipe includes steps for prepping moringa pods for the soup. Make it with just the pods or leaves + carrot, corn. Use fresh grated or frozen Corn.
Ingredients  
For Preparing Drumsticks for Soup
2

pods

Drumstick Pods (Moringa)

Sliced into pieces of 2" each

1.5

cups

water

1

pinch

salt
For Drumstick Corn Carrot Soup
½

tablespoon

olive oil

¼

teaspoon

Jeera Cumin seeds

¼

teaspoon

Kalonji Nigella Seeds

1

cup

carrot

Peeled, sliced into thin 1" sticks

2

cups

corn

Fresh Grated or Frozen

¼

teaspoon

Haldi/ Turmeric Powder

½

teaspoon

Madras curry powder or cayenne powder

optional, if you want a bit of spice

2

cups

vegetable stock

or chicken stock or water if stock is not available

½

cup

Drumstick seeds

Cooked, from List above

1

teaspoon

fresh ground black pepper

1

teaspoon

salt

or, to taste

¼

cup

moringa (drumstick) leaves

shredded
For Garnish
1

teaspoon

Moringa Flowers

fresh or dry, if available

1

teaspoon

moringa (drumstick) leaves

shredded

1

teaspoon

ghee

or Clarified Butter, or Olive Oil for a vegan version
Instructions 
Preparing Drumstick Pods for Soup
Slice drumsticks into lengths of 2" each Heat 1.5 cups of water in a pan an add the sliced drumsticks and a pinch of salt. Bring to a good boil and then simmer on medium heat for 10 minutes. Drain, retaining the water in which the drumsticks were boiled. We will use this water in the soup. Keep the drumsticks in a bowl and allow to cook for a few minutes

Slice each piece of drumstick vertically so that the insides are visible. Using a steel spoon or a knife, scoop out the seeds and flesh and collect it in a bowl. Discard the thick fibrous outer covering of the pod.
Making Drumstick Carrot Corn Soup
Peel and slice the carrots into sticks of about 1" length and ¼" width. Uniform slicing will help the vegetables cook uniformly too. If using fresh corn on the cob, remove the outer husks and threads and grate the corn into a bowl. Shred the moringa leaves, if using. Heat the stock and keep on a low simmer till required.

Set a pan on the stove and heat the olive oil. Add cumin and saute on medium heat for 5 seconds. Add nigella seeds. Saute for 10 seconds or till the cumin and nigella crackle Add sliced carrots, stir well. Add corn. Add turmeric powder. Stir and saute for 3 minutes.

Add stock including the water in which the drumsticks were boiled, totally 3 cups. Brink to a brisk boil (it should boil all over) Add the scooped out drumstick seeds. Keep on boil for 30 seconds. Reduce the heat and let the soup simmer for 10 minutes. Add salt and pepper.

Take the pan off the heat and transfer the soup to another vessel, to cool. Remember that hot soup if pureed in the processor, will expand and splash out. Once cool, use a blender or processor and blend/puree coarsely. You may have to do this in batches as you have about 3.5 cups of soup here.

Pour the puree back into the pan. Bring to a boil. Add shredded moringa leaves. Stir and remove from the heat
Garnish
I had these beautiful little fresh moringa flowers. I heated a small pan, added a teaspoon full of ghee. Fried the flowers after removing the stems and calyx. You may remove the pistils too, but the flowers were very small and I could barely see the pistils, so I let them be. Garnished the soup before we ate, with fried flowers and a few shredded moringa leaves. This is a warm and filling soup.