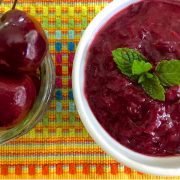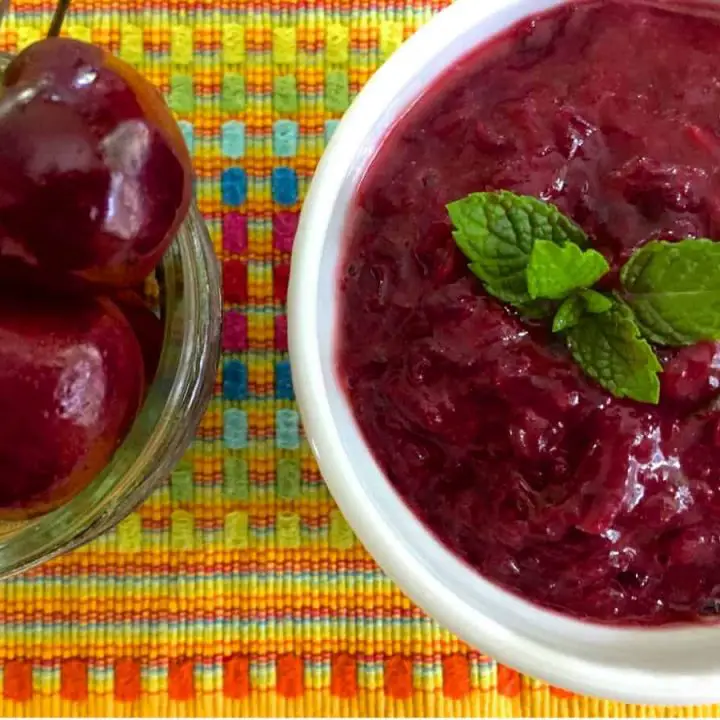 Print Recipe
Delicious Summery Fresh Cherry Mint Chutney
Exotically different from most chutneys, the Fresh Cherry Mint Chutney has a refreshingly sweet, slightly tangy taste, subtly flavoured with orange peel
Prepare Ingredients for Fresh Cherry Mint Chutney
Prepare the ingredients: Halve, pit and remove the stalks from the cherries Dice the onions, mince the mint and tear the orange peel into strips
How to make Fresh Cherry Mint Chutney
Heat a pan, add oil. Add diced onion and sauté on high heat for about 3 minutes till the onion begins to brown.

Add cherry halves, stir. Add the orange peel, mint and peppercorns. Bring the mixture to a quick boil, reduce heat, cover and simmer for 5 minutes.

Remove from the stove and set aside to cool. Transfer the cherry and onion mixture to a food processor. Add salt to taste (be cautious!) and stir. Grind coarsely without adding water. Transfer to a serving bowl. Garnish with mint leaves.