Cooking with cherries is fun. They look gorgeous, taste delicious (you can't help popping a few into the mouth as you make the preparations, can you?) and manage to appear exotic all while being easy to work with. Except of course for pitting the cherries, which is not a happy task, though I can think of worse things to do (like prepping banana flowers for a traditional South Indian curry). The Fresh Cherry Mint Chutney was worth the little effort needed to pit the cherries, with its sweet and tangy taste and the light flavour of the orange coming through. 
I would not have thought of making this fresh Cherry Mint Chutney were it not for one of the foodie groups that I belong to, Shhhhh Cooking Secretly Challenge. This was the first challenge I participated in, in this group. The idea is that each member is allotted a partner for the month, and the partner specifies 2 secret ingredients to be used to make an item fitting into the theme of the month.  The theme for July 2017 was 'Chutneys' that delicious and versatile Indian condiment with a pesto-like texture that  is traditionally served with fried food or with idli or dosa or with snacks such as dhoklas or samosas.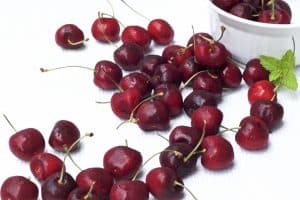 My partner for the month, the bubbly vivacious Mayuri Patel (who blogs at Mayuri's Jikoni)   gave me Cherry and Onions as the two 'secret' ingredients for the chutney. I needed to plan a recipe using these ingredients along with other suitable ones, make the Chutney and post the image on the facebook page for the group so that the other members could try and guess the secret ingredients.In turn, I suggested Apple and Onion as the ingredients for Mayuri's challenge for the month, and she dished out a delectable Green Apple and Spring Onion Chutney.
Getting back to the fresh cherry mint chutney that I made: Cherries in my mind, are used in sweet dishes and desserts, while chutneys are savoury. While planning the recipe I decided to zing things up a bit with the orange peel and with mint leaves from the garden.
I would have liked to add a pice of fresh red chilli, but I didn't have any, and it would anyway have become too spicy for my little granddaughter to take. You could however add either a piece of fresh chilli or some paprika, depending on how much heat you want in the chutney.
After tasting the fresh cherry mint chutney I realised that ginger would have been a good addition too, without taking anything away from the flavours of the cherry. I have made the chutney coarse, and the texture of the onions and lightly cooked cherries complement each other very well.
I made pita bread and hummus for dinner, and the delicious, summery, fresh cherry mint chutney with orange peel made a tasty and interesting dip to go with the basil hummus that accompanied the bread. Make the most of the short cherry season and try this recipe out. The chutney may serve as a dip, or with idli or dosa, with fries, or in a wrap or as a sandwich spread or in a quesadilla.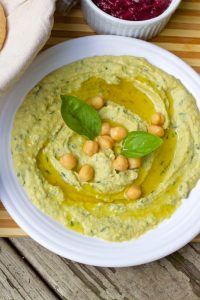 For other interesting recipes on this blog, with cherry, check the links below: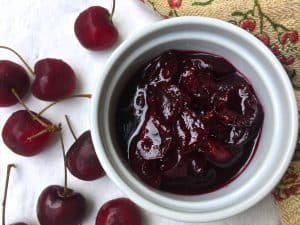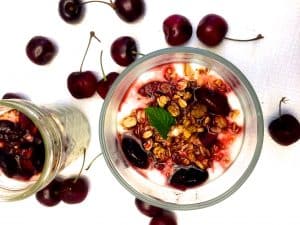 You may also like this traditional Peerkangai or Thurai Thogaiyal, an Indian chutney made of the peel of the ridge gourd, both easy to make and tasty. I like it with hot rice and sesame oil, but as with other chutneys, it may be used in any number of ways.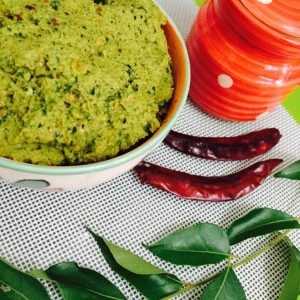 SaveSave
SaveSave
SaveSave
SaveSave
"Recipe"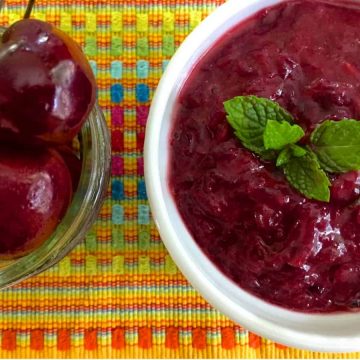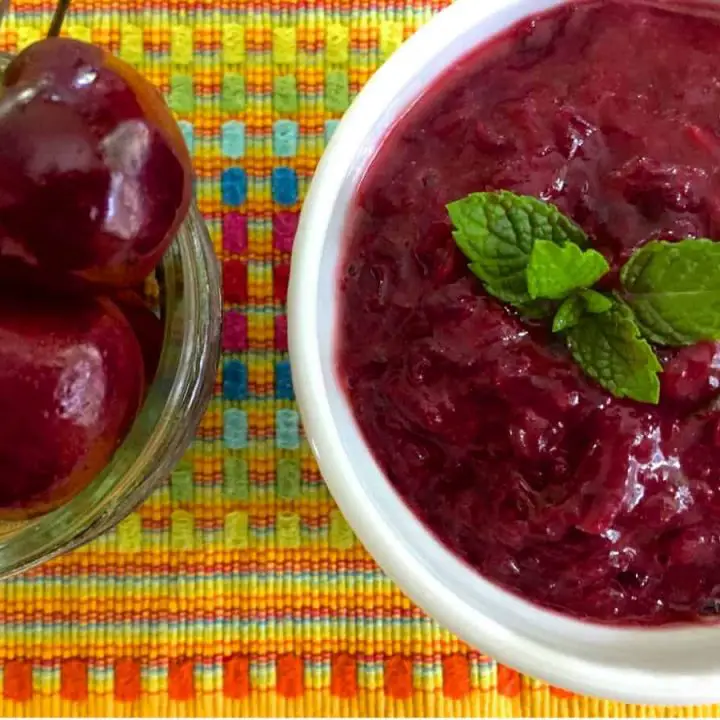 Delicious Summery Fresh Cherry Mint Chutney
Exotically different from most chutneys, the Fresh Cherry Mint Chutney has a refreshingly sweet, slightly tangy taste, subtly flavoured with orange peel
Ingredients  
1

cup

red onion

diced

1.5

cups

cherries

halved, pitted, stalks removed

2

teaspoons

olive oil

or sunflower oil

2

teaspoons

orange peel

sliced or in strips

2

tablespoons

mint leaves

minced

4

Black peppercorns

0.5

teaspoon

salt

or to taste
Instructions 
Prepare Ingredients for Fresh Cherry Mint Chutney
Prepare the ingredients: Halve, pit and remove the stalks from the cherries Dice the onions, mince the mint and tear the orange peel into strips
How to make Fresh Cherry Mint Chutney
Heat a pan, add oil. Add diced onion and sauté on high heat for about 3 minutes till the onion begins to brown.

Add cherry halves, stir. Add the orange peel, mint and peppercorns. Bring the mixture to a quick boil, reduce heat, cover and simmer for 5 minutes.

Remove from the stove and set aside to cool. Transfer the cherry and onion mixture to a food processor. Add salt to taste (be cautious!) and stir. Grind coarsely without adding water. Transfer to a serving bowl. Garnish with mint leaves.