A simple and popular yogurt based dish,  Boondi Raita is served as an accompaniment to biryani, pulav or tehri. This dish is even today a regular part of the meal in any home in Eastern Uttar Pradesh. Simple and quick to put together, specially if you have the boondi available. The black salt gives a distinct and pleasant flavour to the raita.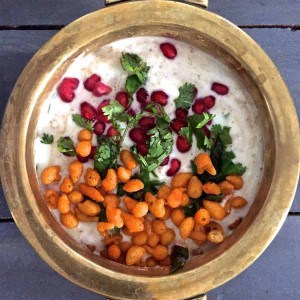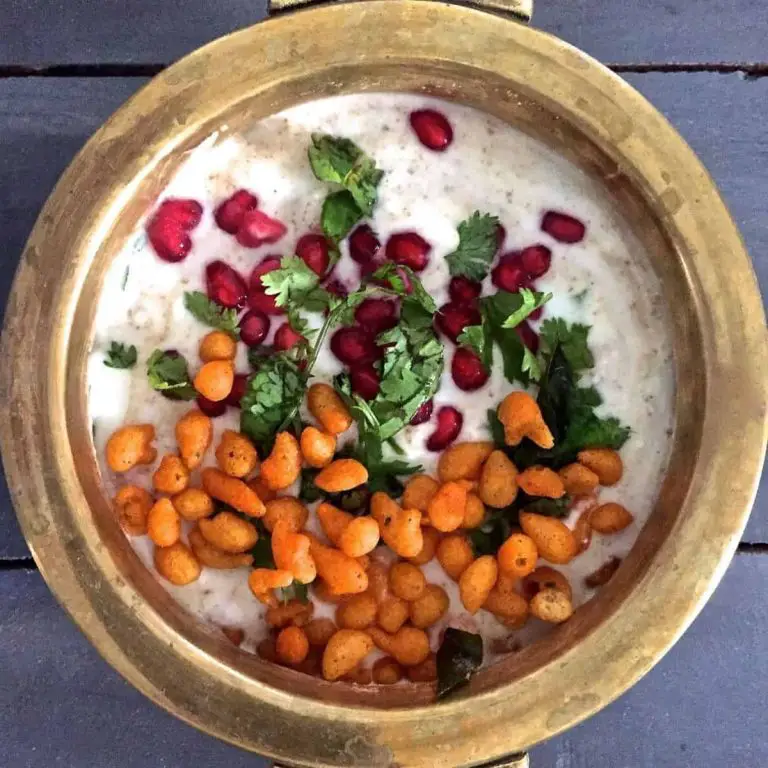 Most Raitas are made with fresh vegetables such as onion, tomato or cucumber, sliced small and whisked into yogurt, seasoned with ground cumin, pepper and salt. Fresh coriander leaves are placed as the garnish. In South India, Raitas, called Pachadi are also made in a similar fashion, usually tempered with mustard, cumin seeds and chilli, in hot oil.
What distinguishes the Boondi raita, is its special ingredient, that is, the boondi, used instead of fresh vegetables. Boondi is made from a paste of ground chick pea flour with a little turmeric, salt and chilli powder added to the paste, little drops of the paste are deep fried. The Boondi is then added to beaten yogurt flavoured with black salt, powdered roasted cumin seeds and garnished with pomegranate arils and fresh green coriander leaves. Try out this easy Boondi Raita, the next time you make a pulav or a biriyani or just about any type of rice recipe.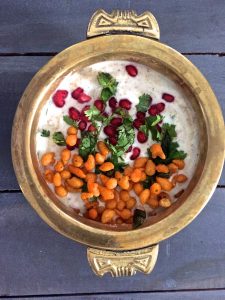 The contrast between the crisp spicy boondi and the soft yogurt, the distinct taste of the black salt and cumin makes for a delicious side dish.
Add the boondi just before serving, so that it is crisp to the taste and does not become soggy.
In India, boondi is usually readily available in 'Chips' shops and in Sweet shops. However, if you want to make it at home, the process is easy and is given in the recipe below.
Link to my recipe on Matar ki Tehri for which the Boondi Raita makes a great accompaniment: Matar ki Tehri. The recipe for the Tehri is a traditional one followed by my husband's family in Eastern Uttar Pradesh.
"Recipe"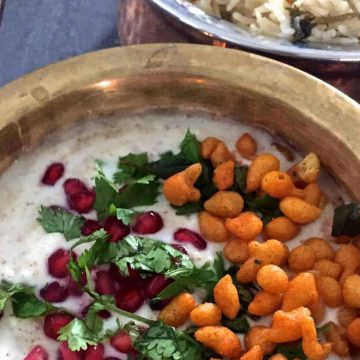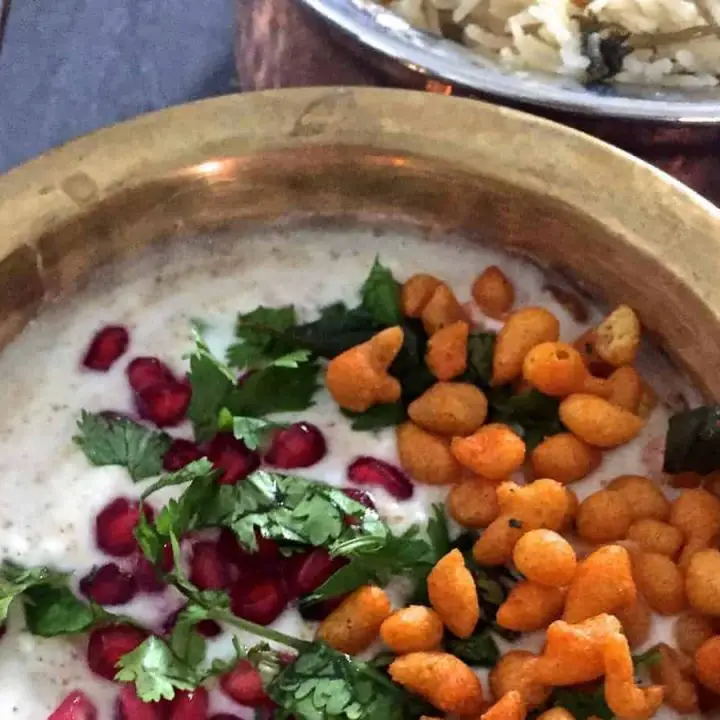 Boondi Raita - Yogurt dip spiced with Cumin and Black Salt, with fried chickpea droplets
A simple and popular yogurt based dish served as an accompaniment to biryani, pulav or tehri. The special ingredient is the boondi, made from a paste of ground chick pea flour with a little turmeric and salt.
Ingredients  
For the Raita
1

cup

yogurt

½

cup

boondi

¼

cup

coriander leaves

minced

1

teaspoon

black salt

1

teaspoon

Cumin seeds

¼

cup

Pomegranate arils

optional
For Boondi
1

cup

besan

Gram Flour

2

tablespoons

rice flour

water

to make batter

½

teaspoon

red chilli powder

1

pinch

turmeric powder

1

teaspoon

baking soda

(Sodium Bicarbonate)

1

tablespoon

curry leaves

minced

to taste

salt
Instructions 
To Make Boondi Raita
Roast the cumin seeds on low flame for 1 minute without letting them blacken. Cool and powder the cumin using a mortal and pestle.

Beat the yogurt or whisk it without adding water, till it is smooth. Add ½ of the black salt and powdered cumin to the yogurt. Check and add more black salt and cumin to your taste.

Garnish with minced coriander leaves and pomegranate. Add a tablespoon of Boondi just before serving, other wise it will become soggy. Serve with biriyani, pulav or tehari or any rice dish.
To Make Boondi
Mix together all the ingredients except the oil and the curry leaves, adding the water gradually, to make a fluid but thick batter, pourable, like a dosa or pancake batter. Use only as much water as is required to bring the batter to the required consistency. Add the minced curry leaves and cover the batter and set aside for 15 minutes.

Heat oil in a deep but medium sized pan. Pour a ladle full of batter through a perforated/slotted ladle/ spoon. Or use the traditional slotted press used for making boondi.

Fry, stirring gently, without letting the boondi become brown. When it is a bright yellow-orange, drain and place in a colander. Continue to make the boondi in batches, as above. Store in an airtight container, till ready to use.