Here's an easy DIY for party time, or even when you want to make something special for yourself. The edible flower and herb butter takes very little effort to make, and the results are so pretty!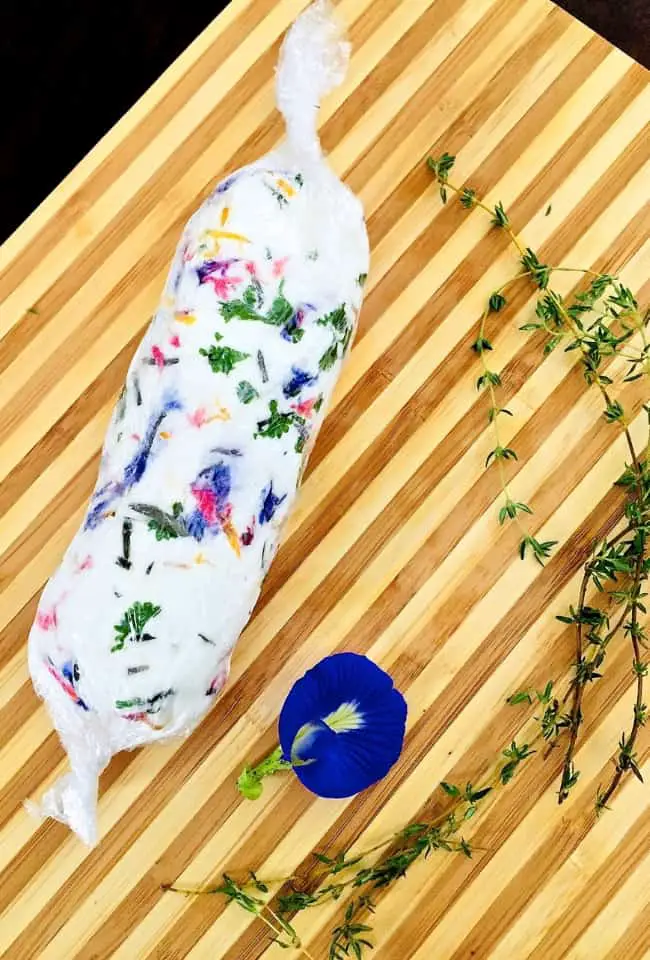 I include edible flowers in salads and as garnish in soups occasionally. Usually these are dried flowers - lavender, calendula, rose etc. Fresh edible and organic flowers have not been easily accessible, though now my neighbor Nisha's balcony garden offers some fresh flowers that I can make use of.
A little casual browsing online turned up a slew of ideas for using my small stock of edible dried flowers. I've been hoarding these. Some which Mridula got me from her travels in Europe and some which I bought when I last visited Lakshmi at Connecticut.
Fresh white butter and herbs from the grocery store and my garden suggested this easy recipe for edible flower and herb butter.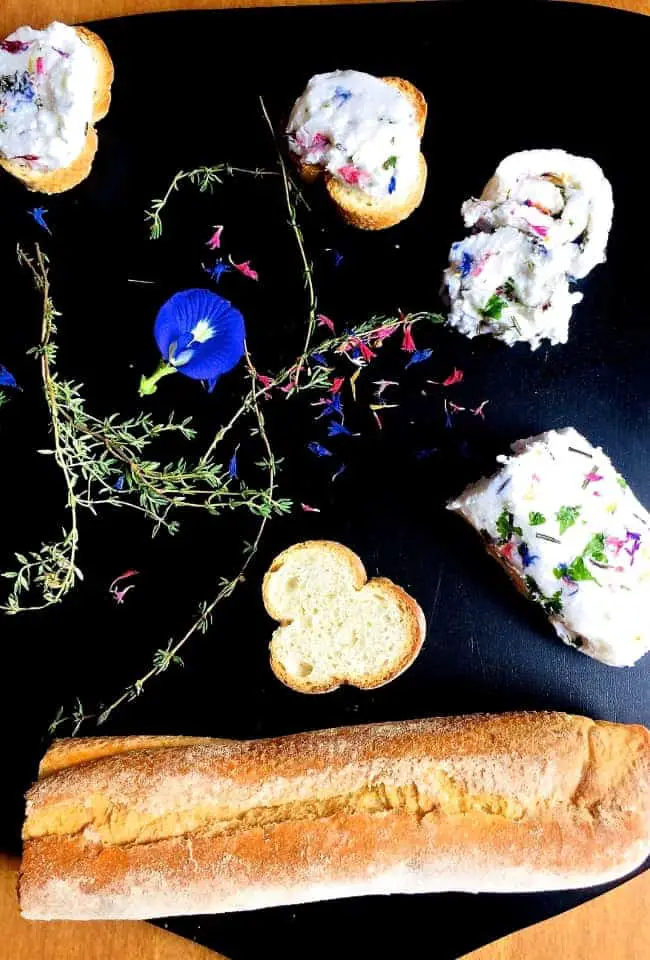 Making and serving Edible Flower and Herb Butter:
You can make the butter by adding the flowers, herbs  and salt as in the recipe below, to unsalted butter, stir it all in and keep it in a jar in the fridge for use as a spread.
Or lay the unsalted butter on a flat serving board or dish, sprinkle flowers, herbs and salt as in the recipe, and set it out with bread for guests to help themselves by spreading the flavoured butter on bread, crostini, etc.
This recipe however is for a delicious butter roulade which you can store in the fridge, and when required, slice into little rounds to show off the flowers and herbs.
Spread the butter on toast, crostini, bruschetta or tartines, or serve with hummus, olives and pita bread.
Layer the butter on bread or quesadilla, alternating it with a layer of pesto or olive tapenade
Use just one type of flower and some herbs, or a variety.
Add additional flavours if you wish - reduce the quantity of flowers and add cracked fresh blackpepper or basil oil or a few drops of mustard
Quantities in the recipe are only suggestive - you can add more flowers and herbs, or less, as you please.
There's so much you can do with this flavoured butter, but one thing is for sure. Whatever you make will win you brownie points all around.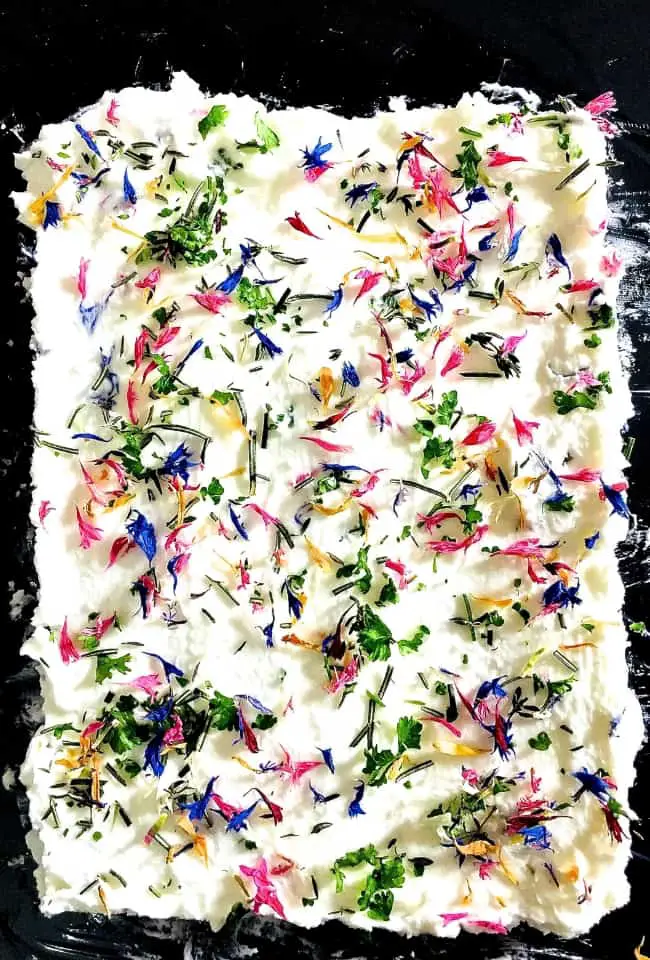 Take a good quality butter when making this delectable edible flower and herb butter. Add either fresh or dried flowers, but keep in mind that you would need only about 25% of the volume of dry flowers for fresh ones in a recipe.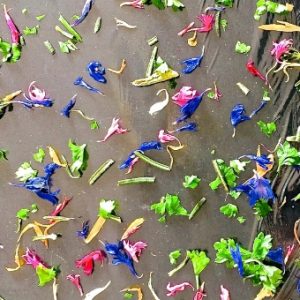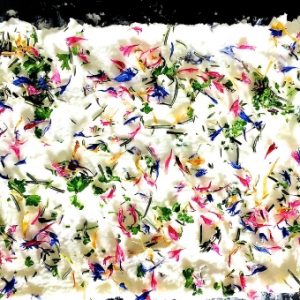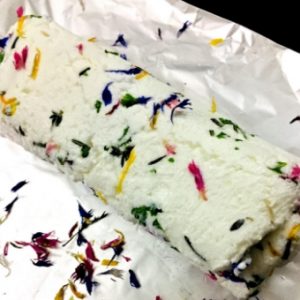 The flowers make the herbed butter look very attractive. Though the butter had great flavour, the dried lavender and calendula flowers did not enhance the taste, because they were, well, dry! Flowers like rose and nasturtium which are sweeter to the tongue, could be a better option, or fresh flowers of any kind.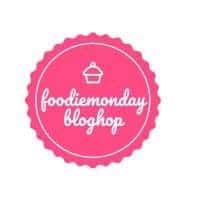 This post is sent to the 176th event of the Foodie Monday Blog Hop. This week Priya Iyer suggested this lovely theme 'Fruits and Flowers'. I thought it high time I plan my edible flower recipes. Priya blogs at The Girl Next Door. I find her posts very interesting as she describes her travels and the food she comes across on them, as well as posts recipes for delicious looking dishes.
Other posts you might like on this blog: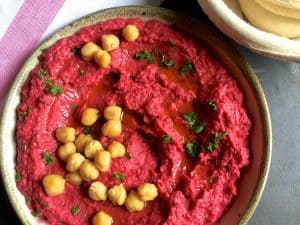 Kashmiri Green Apple Brinjal Curry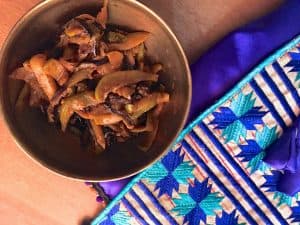 "Recipe"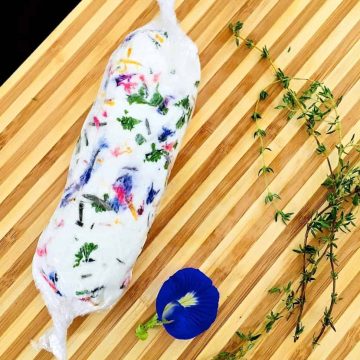 Edible Flower and Herb Butter -Easy Flavoured Butter
Fresh and colourful Edible flower and herb butter. Very easy to make and perfect for a festive dinner party. Use as a dip or spread, or make a butter roulade with pretty flowers and bright green herbs.
Ingredients  
1

cup

butter

unsalted

2

tablespoons

Edible flowers

1

tablespoon

Herbs

Thyme, parsley, chives, rosemary

1

pinch

Sea salt

or salt flakes/crystals
Instructions 
Keep the butter out till it is softened and at room temperature. Separate the petals of the flowers and remove any stalks, sepals etc. If the flowers are large, tear the petals, keeping the size of all the flowers uniform to the extent possible. Small dried flowers can be taken as they are. Shred/ slice the herbs to a uniform and small size

Lay a rectangular piece of cling wrap or parchment paper on a clean, dry flat surface or cutting board. I found cling wrap to be more convenient as it stayed flat on the board and was useful in rolling up the roulande at a later stage. Sprinkle 1 tablespon of the edible flowers and ½ tablespoon of the herbs on the paper. Spread the butter gently on the flowers and herbs, and level it with the flat side of knife to about ½ cm thickness. This part is a little tricky but it helps if the butter is soft, so you can put spoonfuls of it on the paper and gently spread it out and then level it.

Sprinkle the other half of the flowers and herbs on top of the butter. If the butter is very soft, keep the butter (still on the paper) in the fridge for 15 minutes to chill. If you chill it for too long, it will be difficult to roll it as in the next step and you will need it to thaw for a few minutes.

Lift one edge of the butter from the paper (using a knife if required to separate it from the paper) or just lift the cling wrap and roll it - the butter will roll along. Make it carefully into a sausage or spring roll shape. Wrap the roll in the paper and screw up the ends. Place in the fridge till required.

To serve, unwrap the butter roulade, and when still cold and firm, slice into small roundels. See the write up in the post above for serving suggestions.