online
. I've always found Jamie Oliver's recipes straightforward and easy to make, and if you follow his advice, the resulting dish has to be 'delish'! The original recipe uses green basil leaves, and I substituted them with purple for the Purple Basil Pesto.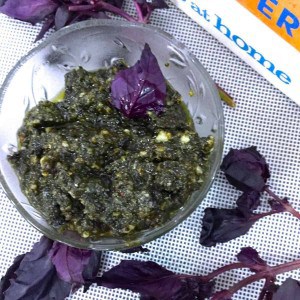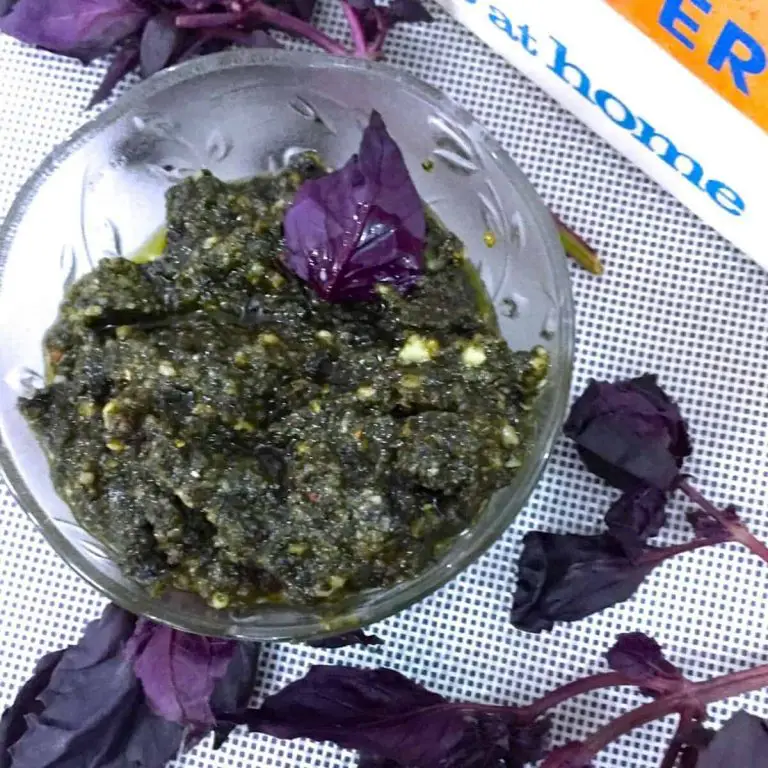 I used a nice Parmesan from my hoarded goodies, extra virgin olive oil and pine nuts which my daughter had got for me the last time she came to India. I'm always happy when I have all the exact ingredients listed in a recipe, rather than having to substitute something not readily available here. And Bangalore is the new Eden, where you can get anything: there was this amazing direct farm supply from First Agro Farms delivering fresh greens and herbs to my doorstep, and that's how I got this purple basil for a purple Basil Pesto in the first place.
I loved the colour of the fresh purple basil leaves.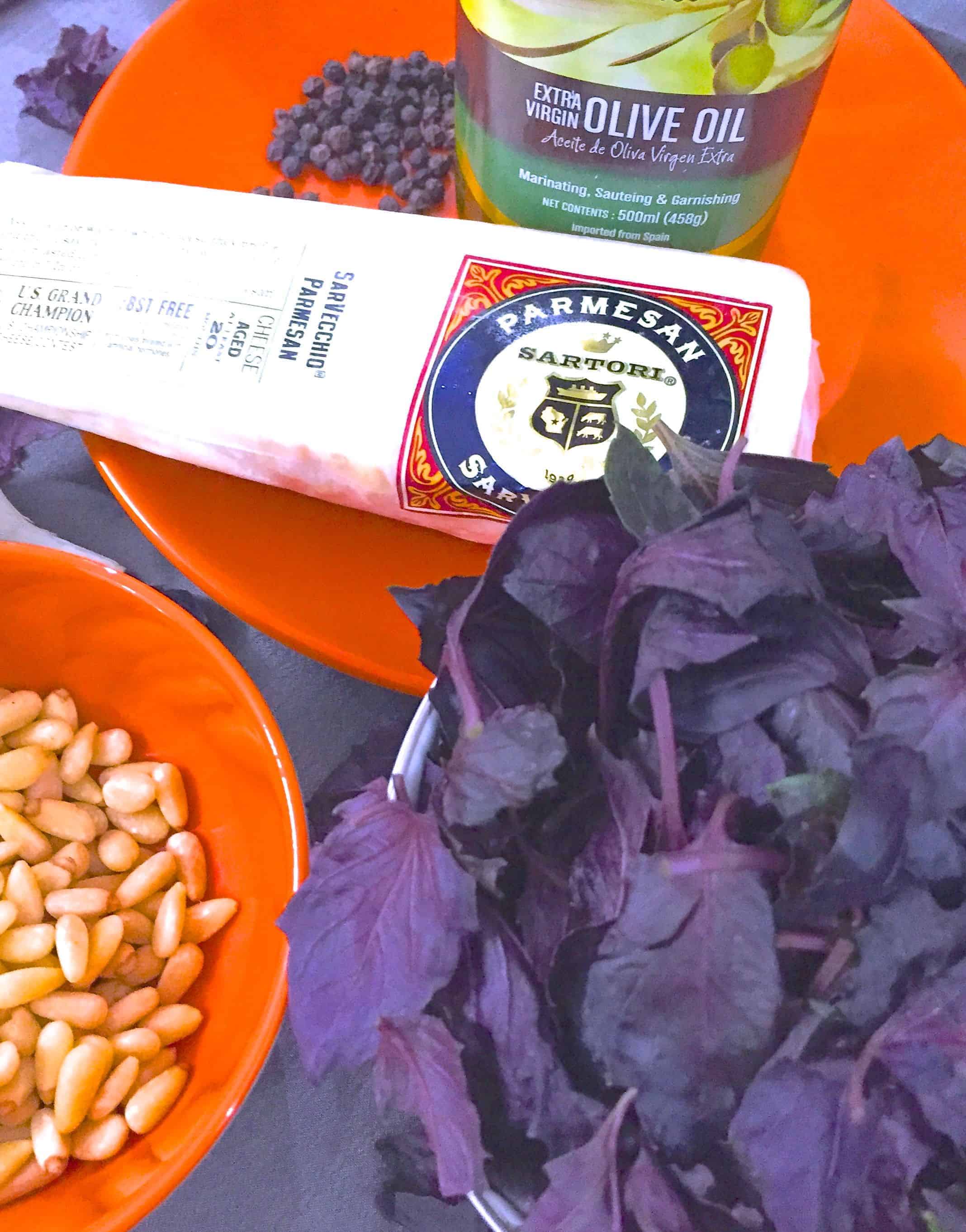 Rather disappointingly, the Purple Basil Pesto turned more green than purple as I processed the purple leaves in the food processor. The taste was absolutely amazing, though!
Jamie Oliver advises that the best flavours of the basil and garlic and parmesan and olive oil and all the rest are brought out by pounding the ingredients using a mortar and pestle. I do have a lovely large mortar and pestle, wooden, beautifully carved and which I bought in a market in Zambia during one of my visits there. But making pesto in a wooden mortar didn't appeal to me- most of the oil would have gone into the wood instead of into my pesto. So I've used a food processor for this recipe. I need to invest in a good stone mortar and pestle.
The methodology given below for the Purple Basil Pesto is from Jamie Oliver's recipe though I've modified the quantities of Ingredients.
When you measure out the ingredients, you may want to factor in a little extra for tasting. Jamie advises tasting the pesto at each step. With 2 loosely packed cups of basil, the pesto had come down to a small bowlful, and my periodic tasting made quite a bit of depletion in the volumes! It was totally yum!
As I have said in the instructions below, some recipes for pesto advise not adding the cheese to the pesto if you are going to freeze it and not use it immediately, but to add the cheese later on when ready to use. I have not tried freezing my homemade purple Basil Pesto as it gets used up pretty fast, and I don't make large quantities anyway, but I think this is good advice to follow.
SaveSave
SaveSaveSaveSave
SaveSave
SaveSave
SaveSave
Some Other Basil and Pesto Recipes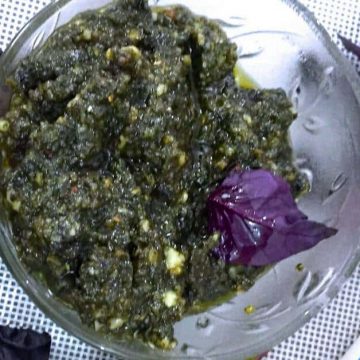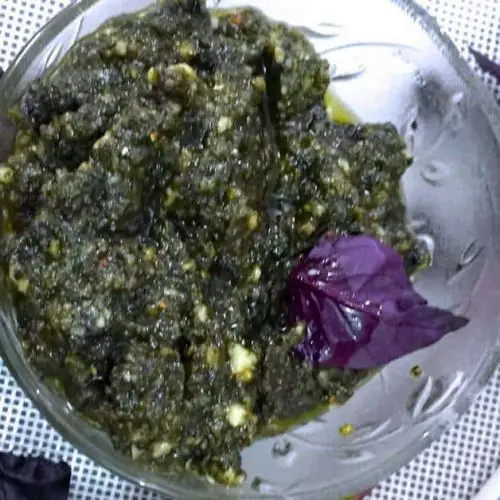 Purple Basil Pesto with Pine nuts & Parmesan
Easy and quick Purple Basil Pesto with Pine nuts & Parmesan, following Jamie Olivers recipe for Pesto. Green basil may be used instead of purple. Delicious!
Ingredients  
1

clove

garlic

2

tbsps

Pine nuts

2 - 3

tbsps

extra virgin olive oil

2

cups

basil leaves

¼

cup

Parmesan grated

1

teaspoon

freshly ground pepper

to taste

salt
Instructions 
Prepare the ingredients for Purple Basil Pesto
Toast the pinenuts very lightly, ie heat the pan well and then roast without oil, for a few seconds, so that the pine nuts don't start turning brown but remain fresh with just that hint of fragrance which is going to add flavour to the pesto. Remove stalks and stems from the basil leaves.
To make Purple Basil Pesto
Place the garlic in the food processor along with the salt and process. Add the basil leaves and run the processor on pulse a couple of times, till the basil is crushed. You want the pesto to be a little coarse, not a smooth puree. Add the pine nuts and again run the processor, about 30 seconds.

Transfer the mixture into a bowl. Add some of the grated Parmesan, stir it into the basil. Add a little of the olive oil, stir again. Add enough oil to give the mixture an oozy consistency, as Jamie says.

Add salt and pepper to taste. I add the salt pinch by pinch as I don't want to over-salt the pesto. Add more of the cheese and oil and stir, till you get the consistency that you like.

Use the Purple Basil Pesto to make pasta or spread on some nice bread for a sandwich, or in wraps or even in quesadillas. Or mix with a soft goat cheese and sprinkle on salads.
Notes
Note: Some recipes for pesto advise not adding the cheese to the pesto if you are going to freeze it and not use it immediately, but to add the cheese later on when ready to use.