Delicious melt -in-the  mouth Purple Basil Pesto, to spread over sandwiches or in wraps or quesadilla, add to pasta, spread on pizza or serve as a dip. The recipe is the same as used for green basil. The taste is just a little different as the purple basil leaves are not as sweet as the green sweet basil or the Italian/Genovese basil with a hint of clove. The pesto turns a dull green after grinding, rather than purple, but that does not detract from the flavours.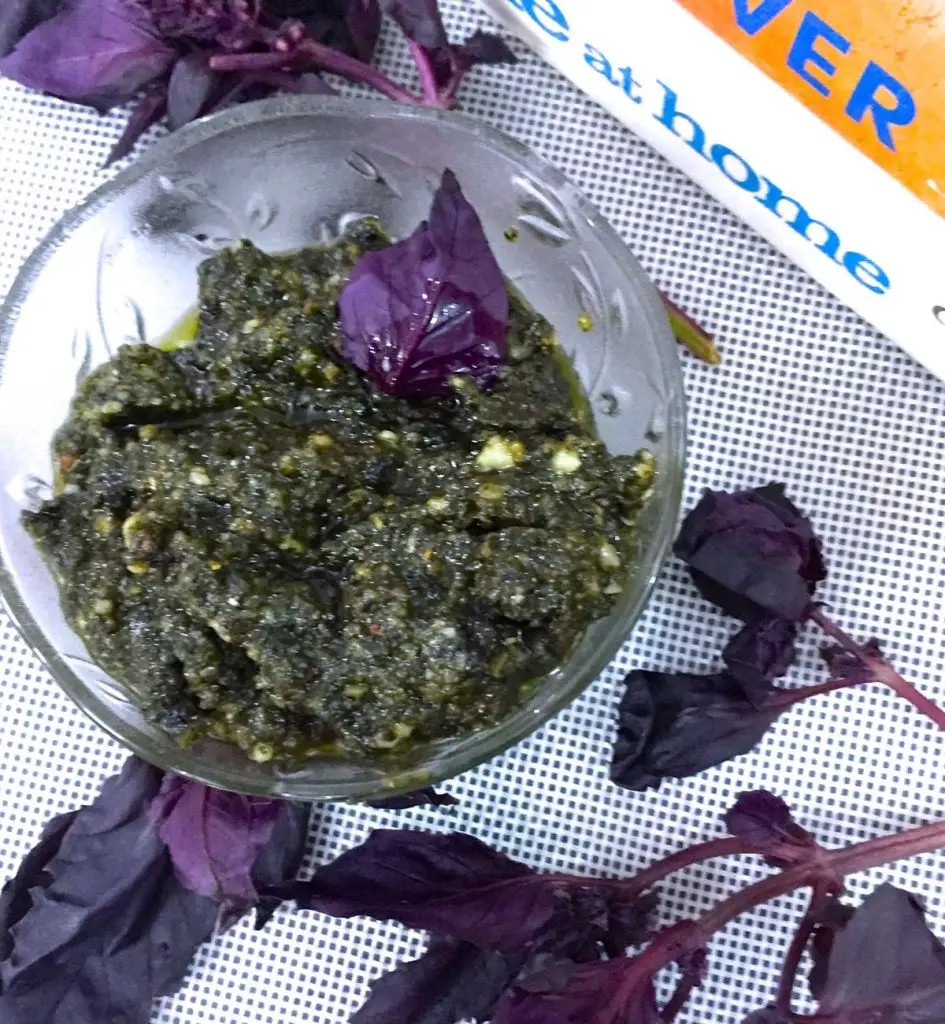 Some more Recipes you may like from this blog: Basil Pesto using Mortar and Pestle, Fennel Frond Pesto, Arugula Pesto Pasta, Easy Basil Oil.
Jamie Oliver's Easy Pesto Recipe
Purple is my favourite colour. When I got this lovely bunch of fresh dark purple basil, whom else would I turn to for the recipe for Pesto, but Jamie Oliver. I have quite a few of his cookbooks, but this time I referred this recipe here online though I've modified the recipe to some extent.
I've always found Jamie Oliver's recipes straightforward and easy to make, and if you follow his advice, the resulting dish has to be 'delish'! The original recipe uses green basil leaves, and I substituted them with purple for the Purple Basil Pesto. Hence this recipe can be used for making pesto with Italian or Sweet basil or any other variety that you get hold of.
When you measure out the ingredients, you may want to factor in a little extra for tasting. Jamie advises tasting the pesto at each step. With 2 loosely packed cups of basil, the pesto had come down to a small bowlful, and my periodic tasting made quite a bit of depletion in the volumes! It was totally yum!
Jamie advises that the best flavours of the basil, parmesan and olive oil are brought out by pounding the ingredients using a mortar and pestle. I do have a lovely large mortar and pestle, wooden, beautifully carved which I had bought in a market in Zambia in Africa, during one of my visits there. But making pesto in a wooden mortar doesn't appeal to me- most of the oil would go into the wood instead of into my pesto. I've therefore used a food processor for this recipe. I now have a good stone mortar and pestle, and I will use it next time I make this pesto.
I did make pesto from green Italian Basil in the stone mortar, and you may like to follow this recipe if you are making Purple Basil Pesto by processing the ingredients by hand: Basil Pesto in Mortar and Pestle.
Ingredients for Purple Basil Pesto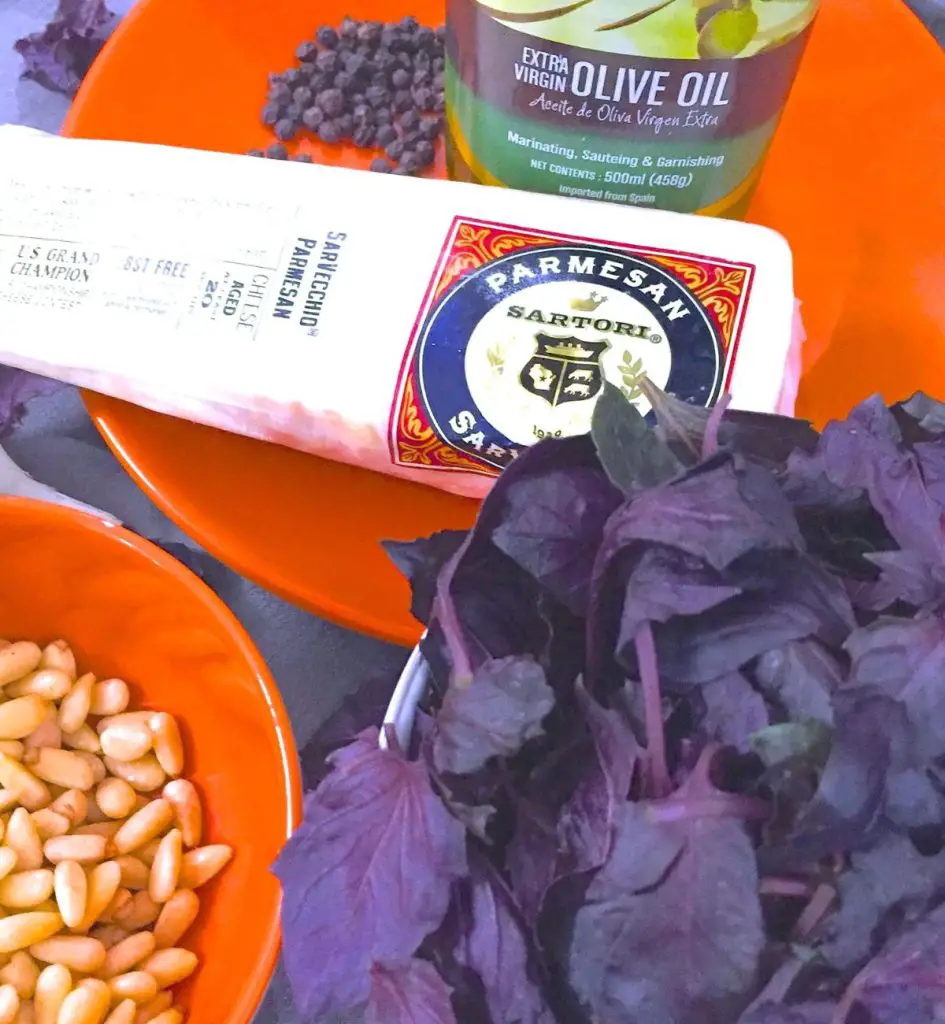 Sourcing Purple Basil
Purple or Green basil may be used to make this pesto. Bangalore is the new Eden, where you can get anything: there was this amazing direct farm supply from First Agro Farms delivering luscious greens, vegetables and herbs to my doorstep, and that's how I got these purple basil leaves in the first place. It is difficult to get good quality purple basil now that the farm supply has been discontinued. I bought a purple basil plant and am growing it in my balcony garden, however the leaves are not as deeply purple nor the flavour as rich as the ones I got from First Agro earlier. In locations like the USA the basil is usually available in summer, and I would recommend growing your own. The darker the purple of the leaves, the more flavourful it will be.
Quality Does Matter!
Use the best quality ingredients you can get hold of, for making pesto, for that rich aroma and taste. I used a nice Parmesan from my hoarded goodies, extra virgin olive oil, and pine nuts which my daughter had got for me the last time she came to India. Other nuts such almond or pistachio may be substituted, but of course the taste, though it should be good, will differ from that of pesto with pine nuts.
Making Purple Basil Pesto
Will I get a purple coloured pesto when I follow this recipe?
If you are dreaming of a pretty purple hued pesto, well, sorry to disappoint. The pesto turned more dark green than purple as I processed the beautiful purple leaves in the food processor. The heat generated when grinding probably contributed to the loss of colour. The taste was absolutely amazing, though!
Can I freeze the pesto?
This pesto freezes well if stored in moisture proof freezer bag. Ensure no water or moisture finds its way into the pesto while making it or transferring it for storage.
Can I add cheese while processing the pesto?
As I have said in the instructions in the recipe below, it is better not to add cheese if you are not planning to use the pesto immediately but are freezing it for later use. You may add the cheese and stir it into the pesto just before you actually use it.
Why Do I need to Toast the Pine nuts?
Toasting (roasting without oil) the Pine nuts gives them a great aroma and brings out their flavours. However they should be toasted very briefly on low flame on a well heated pan, and not allowed to discolour or darken.
Some Other Basil and Pesto Recipes
"Recipe"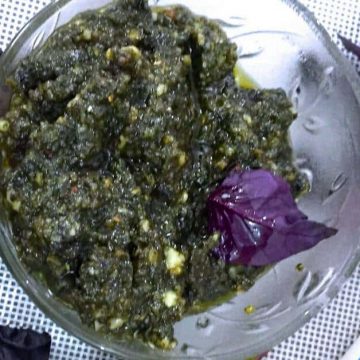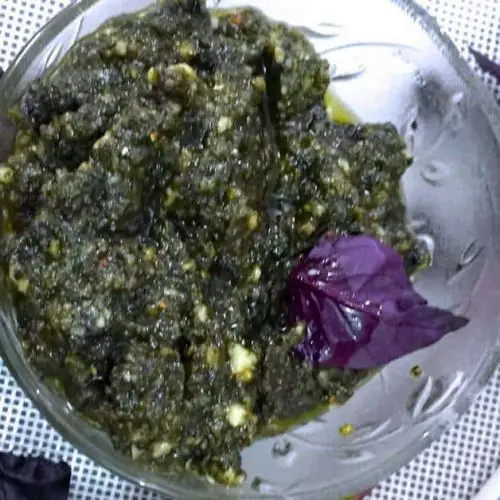 Purple Basil Pesto with Pine nuts & Parmesan
Easy and quick Purple Basil Pesto with Pine nuts & Parmesan, following Jamie Oliver's recipe for Pesto. Green basil may be used instead of purple. Make it in a food processor or using mortar and pestle.
Ingredients  
2

tablespoons

Pine nuts

1

clove

garlic

2

tablespoons

Olive oil

extra Virgin

2

cups

Fresh Basil leaves

Purple or Green

¼

cup

Parmesan grated

1

teaspoon

Black Pepper Powder

freshly ground

1

Pinch

salt

or to taste
Instructions 
Prepare the ingredients for Purple Basil Pesto
Toast the pine nuts lightly, i.e. heat the pan well and then roast them dry, without oil, for a few seconds on low heat. Take them off and transfer to a heat proof bowl before they start turning brown.

Remove stalks and thick stems from the basil leaves.
To make Purple Basil Pesto
Place the garlic in the food processor (please see notes below for link to pesto recipe using mortar and pestle) along with the salt and process.

Add the basil leaves and run the processor on pulse (i.e. in brief short spurts) a couple of times, till the basil is crushed. You want the pesto to be a little coarse, not a smooth puree.

Add roasted pine nuts and again run the processor, about 30 seconds.

Transfer the mixture to a bowl. Add half the grated Parmesan, stir it into the basil.

Note: If you are going to freeze the pesto, don't add cheese now. Pl see the main post above for questions on the same.

Add half the olive oil, stir again

Add salt and pepper to taste. I add the salt pinch by pinch to avoid over-salting the pesto.

Add more of the cheese and oil and stir, till you get the consistency that you like. Jamie Oliver says to add enough oil to give the mixture an oozy consistency, as you can see from the images in this post.

The Purple Basil Pesto may be used as sauce in pasta or spread on some nice bread for a sandwich, or in wraps or even in quesadillas or pizza. Or mix with a soft goat cheese and sprinkle on salads.
Notes
Note:
I recommend not adding the cheese to the pesto if you are going to freeze it and not use it immediately, but to add the cheese later on when ready to use.
 To Make Purple Basil Pesto on a mortar rather than a food processor, please refer this recipe: Basil Pesto Using Mortar and Pestle
Nutrition
Serving:
2
tablespoons
Calories:
64
kcal
Carbohydrates:
1
g
Protein:
2
g
Fat:
6
g
Saturated Fat:
1
g
Polyunsaturated Fat:
1
g
Monounsaturated Fat:
3
g
Cholesterol:
3
mg
Sodium:
60
mg
Potassium:
47
mg
Fiber:
0.3
g
Sugar:
0.1
g
Vitamin A:
347
IU
Vitamin C:
1
mg
Calcium:
42
mg
Iron:
0.4
mg