A query on a food group the other day on recipe alternatives to tomato sauce, white sauce or pesto sauce for pasta, brought recollections of a delicious pasta in pumpkin sauce that I had at a restaurant at Bangalore, recently. The sauce was creamy, light and flavoursome and didn't taste overly of pumpkin and I had been meaning to try it out at home. As I'm not a great fan of pumpkin, except when its roasted, I planned this as a roasted pumpkin sauce, and it did come out well! Oh and the aroma of rosemary and pumpkin roasting in the oven, don't you love it!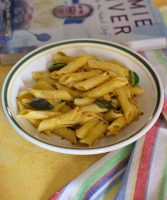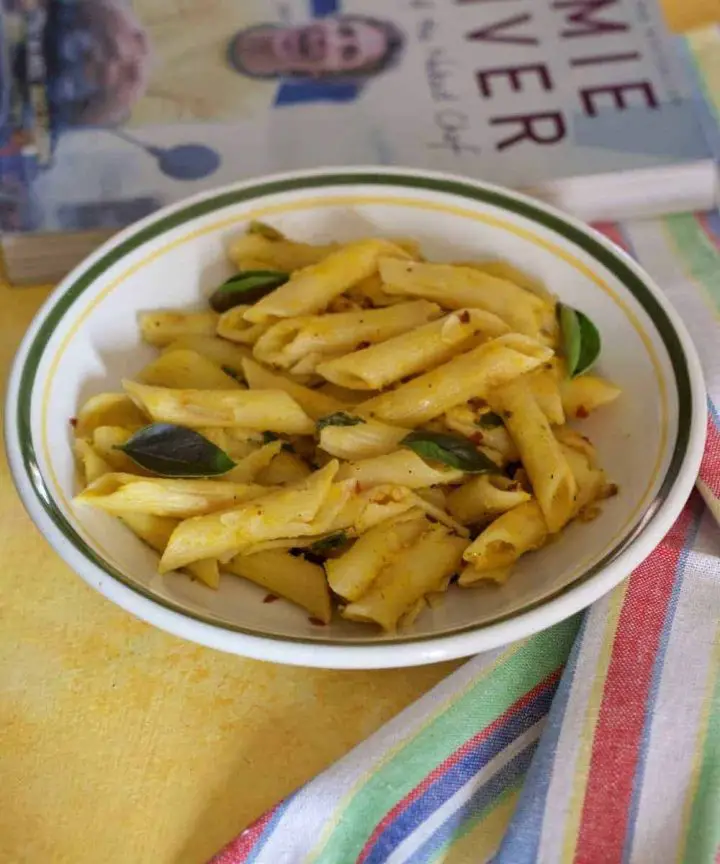 Bangalore has this variety of little spherical bright orange pumpkin which for some reason is called 'Disco Pumpkin'. I must get to the bottom of this name, sometime. It's a convenient size, easy to slice and makes pretty little crescents that are perfect for roasting. Slices from one whole such pumpkin neatly fit into one baking sheet. For the pasta in pumpkin sauce, with parmesan, roasted squash should be suitable too, though I'm yet to try it.
I made the pumpkin pasta sauce without adding more than the basic ingredients, with some red chili flakes to keep it from becoming bland. There are options you could try out though, which would bring a different set of flavours and textures to the final dish. I've listed these at the end of the recipe card too, and suggested when they should be added to the sauce.
Process for Roasted Pumpkin Sauce
1. Slice pumpkin into crescents and shake well in a ziplock bag with olive oil, rosemary and seasonings.
2. Marinate briefly and place pumpkin slices on a greased baking sheet lined with parchment. Roast at 220 C/ 430 F for 20 minutes or till done.
3. Peel the roasted pumpkin, slice into smaller pieces and puree with milk. Cook with garlic and shallots to make roasted pumpkin sauce for pasta.
[easy-image-collage id=60845]
Suggested Variations to the Pasta in Pumpkin Sauce
A pinch of pumpkin spice or cinnamon, just before you add the parmesan, would make for great aroma and flavour.
Add shredded pieces of sun-dried tomato or even olive rings for a bit of tartness, just before you add the seasoning to the sauce.
Mushrooms would make it a rather different pasta, but would taste wonderful. They would have to be sliced and sauteed first with a pinch of salt, and added to the sauce just before the seasoning. You would need to increase the volume of pumpkin and therefore that of the pumpkin puree by about a cup, to have enough sauce for the mushroom and the pasta. Thinning down the sauce at this stage to accommodate the mushroom would bring down the flavour.
The pasta sauce with pumpkin is delicious as it is, so if you are exploring alternatives, I suggest do just one of these and not add to many flavours which may take away from the subtle taste of the roasted pumpkin sauce.
Pumpkins are highly nutritious and are rich in vitamin A. You might like to read this article from healthline for more details. And do try this roasted pumpkin sauce for pasta, a very nice way to bring more (and tasty) nutrition to your dining table!
Disclosure: As an Amazon Associate and member of other affiliate programs, I earn from qualifying purchases from affiliate links.
To cook the pasta, I use this brand of pasta cooker, making it so easy to drain the pasta without having to lift a heavy vessel filled with hot water off the stove.
Other Recipes you may like to try from this blog:
Arugula Pesto Pasta in Cherry Tomato Sauce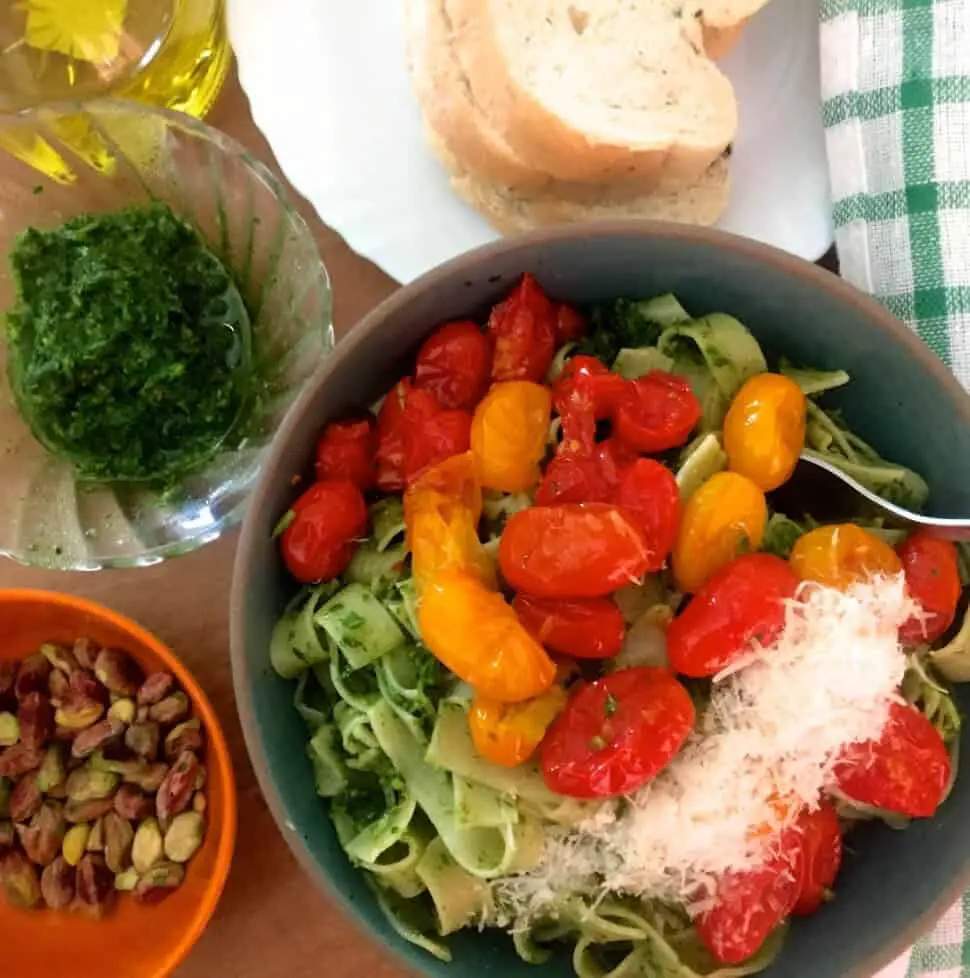 Spanish Romesco Sauce with Charred Peppers and Almonds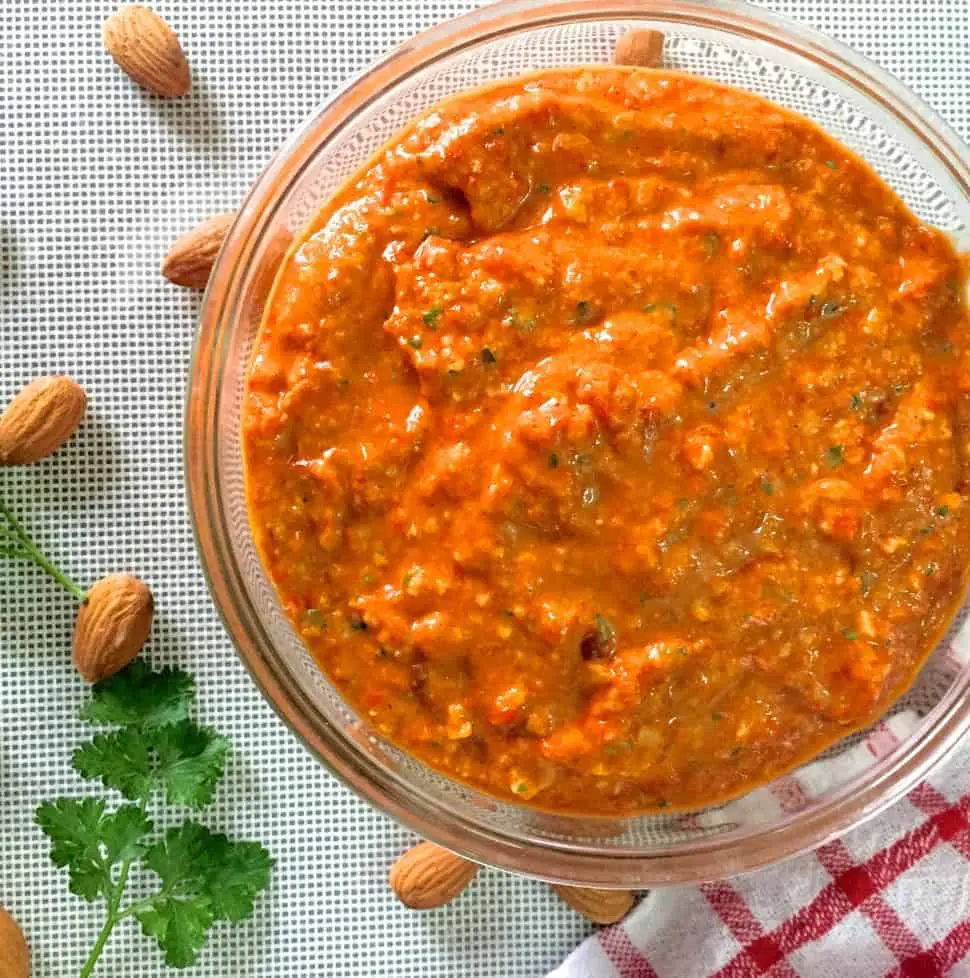 Quick Rotini Pasta in Burst Cherry Tomato Sauce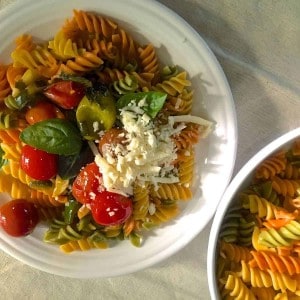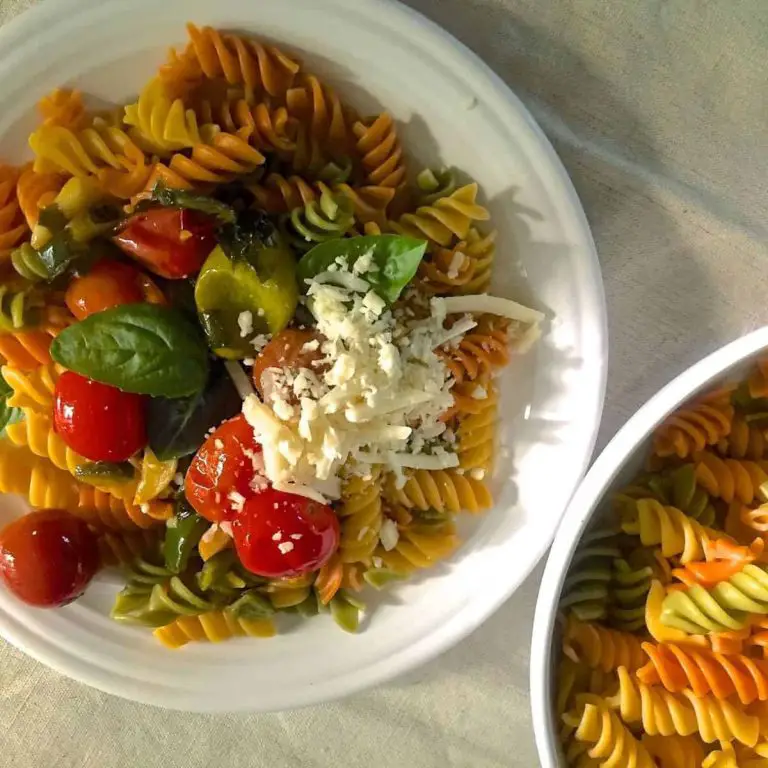 "Recipe"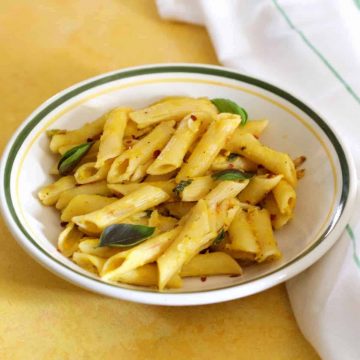 Pasta in Roasted Pumpkin Sauce and Parmesan
Roasted pumpkin with Rosemary brings flavour and depth to this pasta in pumpkin sauce with parmesan. Add olives, sundried tomato and/ or mushrooms for variety. Easy to make and creamily delicious.
Ingredients  
For Roasting Pumpkin
2

cups

pumpkin slices

1

tablespoon

olive oil

2

tablespoons

rosemary

½

teaspoon

salt

1

teaspoon

ground pepper
For the Roasted Pumpkin Sauce
1-2

tablespoons

olive oil

3

cloves

garlic

2

tablespoons

shallots/ onions

sliced

½ to ¾

cup

milk

2

tablespoons

basil leaves

shredded

½

teaspoon

salt

or to taste

1

tablespoon

red chili flakes

or to taste

2

tablespoons

grated Parmesan cheese

½

cup

water in which pasta was cooked

to thin the sauce
For the Pasta
2

cups

penne pasta

or pasta of your choice
Instructions 
To Roast Pumpkin
Pre-heat the oven to 220 C/ 430 F.

Wash, wipe dry and slice the pumpkin into crescents and then each into 3 pieces. Don't remove the peel. Keep the slices of uniform length and thickness so that they cook evenly.

Take a zip lock bag (food grade) and add olive oil, rosemary leaves, salt and ground pepper, and stir them in.

Add the sliced pumpkin, close the bag and shake it vigorously so that the pumpkin is coated with the oil and seasonings. Alternatively. drizzle olive oil on each slice, both sides, and sprinkle with salt, pepper and rosemary.

Set the bag aside for 5 minutes for the pumpkin to marinate.

Grease a baking sheet, layer with a sheet of parchment paper.

Place the marinated pumpkin slices on the tray, leaving space between each slice. Use 2 sheets if required so that the pumpkin are not overcrowded and have space to roast. Drizzle any remaining oil/ seasonings in the bag onto the slices.

Bake for 20 minutes, removing the sheet from the oven when you see the edges of the underside of the pumpkin slices begin to brown. Transfer them from the sheet to a wire rack or a plate so that they stop roasting, and once cool, peel the pumpkin.

Discard the peel or, as I do, reserve them for making stock.
To cook the Pasta
Penne or any other tube /shell pasta suits this sauce very well as the sauce gets into the hollow places. Spaghetti would be good too, but my favourite here is a wheat based penne.

Place water in a tall pot and bring it to the boil Add salt and once the water gets boiling again, add the pasta, stir it in. Cook as per packet instructions. The one I used took 12 minutes to reach al dente, i.e. cooked through but still firm and with a bite.

Let the pasta drain till the sauce is ready. Retain a cup of the pasta water in case the roasted pumpkin sauce needs to be thinned down at a later stage.
To Make Pasta in Roasted Pumpkin Sauce
While the water for pasta is set to boil, puree the peeled roasted pumpkin, adding upto ¾ cup of milk while pureeing, till you get a thick but fluid puree. If there are a few pieces of pumpkin floating around, you can let them be as they will add to the texture of the dish. Set aside till you start making the sauce.

Peel the cloves of garlic and crush them with a mortar and pestle. Slice the shallots. I like shallots in this sauce as they add flavour, but if you don't have them, onion may be used.

Heat olive oil in a pan and add the crushed garlic. Saute them for 2 minutes, stirring occasionally. Add the sliced shallots, saute for 2 minutes.

Add the pumpkin puree, stirring and keeping it on low flame for about 10 minutes. Keep it partly covered when not stirring, as bits of hot sauce tend to leap out from the pan as it boils.

Add a little pasta water, upto about ½ a cup if the sauce is too thick and will not spread into the pasta. Not too much water as you don't want to bring down the flavour, but keep it fluid.

Add shredded basil and salt to taste, and stir. Add red chili flakes.

Add the grated parmesan, remove the pan from the heat and stir in the cheese.

Serve hot with a flavoursome focaccia.

Variations:

You may stir in a pinch of cinnamon or pumpkin spice before adding the cheese.

Olive rings or sun-dried tomato may be added before the basil and seasoning.

Mushrooms if added, need to be washed drained and sliced, and sauteed separately, and then added to the sauce before you add basil and seasoning. The volume of pumpkin puree in the sauce will need to be increased by 1 cup, if mushrooms are to be added.