A warming soup, straight up there on my list of comfort foods. The first time I tasted this flavoursome Broccoli Cheddar soup was at Panera Bread, at Danbury in Connecticut. I super loved it, and naturally tried to make it once I was back in India. There are many recipes for this soup online, and several of them are Panera Bread copycat recipes. This is my version of this delicious soup, with fresh herbs and a little spice.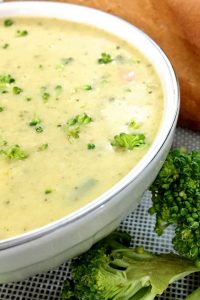 Origins and Etymology:
According to Wikipedia, the name Broccoli has been derived from the broccolo, which in Italian is "the flowering crest of a cabbage", and is the diminutive form of brocco, meaning "small nail" or "sprout". It belongs to the same species as the cauliflower, which it resembles.
The Broccoli is known to have been bred in the northern Mediterranean region since about the 6th century BC, and considered a unique and valuable food in Italy at the time of the Roman Empire. There are references in the writings of Pliny the Elder and in the cookbook of Apicus, about a vegetable which was likely to have been the broccoli.
Wikipedia says that Broccoli was brought to England from Antwerp in the mid-18th century by Peter Scheemakers, a Flemish sculptor who worked predominantly in London. Broccoli was first introduced to the United States by Southern Italian immigrants, but did not become widely popular until the 1920s.
Health and Nutrition:
Broccoli is a nutritious power house, low in calories, rich in fibre and nutrients. High in vitamin K which helps absorb calcium and improves bone health, it is said that one cup of chopped broccoli can give more than the body's required level of Vitamin K as well as Vitamin C for a day.  Broccoli contains Vitamins A and E which contribute to skin health.
Broccoli is said to contain as much calcium in one ounce as from one ounce of milk. Regular consumption of broccoli with its high fibre content may reduce the risk of  heart disease, diabetes, obesity, some gastrointestinal disorders, and osteoporosis.
Studies are bringing out the possible effects of broccoli and its extracts, in reducing the risk of breast cancer, prostate, rectum and colon cancers, as well as cancer of the liver, the head and the neck.
With so much going for it nutrition wise, this Broccoli Cheddar Soup is a nourishing soup to add to your diet, and is easy to make too.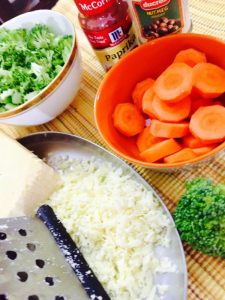 Fresh broccoli with a sharp cheddar cheese, flavoured with freshly ground pepper, nutmeg and paprika, basil, thyme and sage, garnished with mint leaves - an amazing meal on a chill or rainy day, with warm chunks of your favourite bread, to be dipped into the Broccoli Cheddar soup and savoured! This is a very filling soup and can serve it for lunch or dinner as a main item, along with bread.
SaveSave
SaveSave
SaveSave
SaveSave
"Recipe"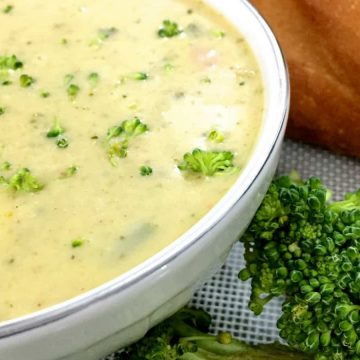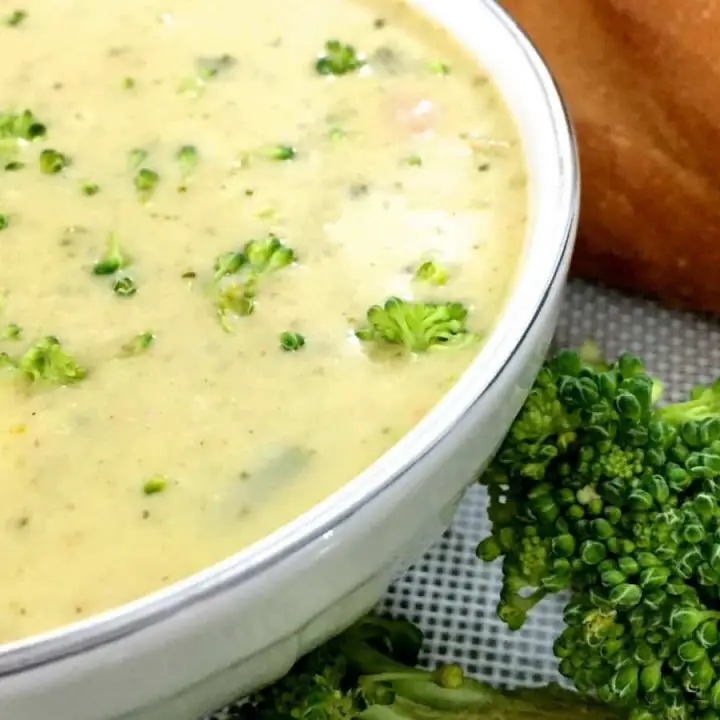 Broccoli Cheddar Soup with Herbs
Broccoli Cheddar Soup of fresh broccoli with a sharp cheddar cheese, freshly ground pepper, nutmeg and paprika, basil, thyme and sage, garnished with mint leaves
Ingredients  
1

cup

carrot slices

2

cups

broccoli

1

tbsps

unsalted butter

½

cup

red onion sliced

1

clove

garlic

5

tbsps

unsalted butter

¼

cup

flour

1

cup

milk

-

2

cups

stock

1

pinch

nutmeg

1

Bay leaf

4

basil leaves

a few

thyme sprigs

a few

sage leaves

1

teaspoon

Madras curry powder

or cayenne powder

½

teaspoon

smoked paprika

1

teaspoon

black pepper

(freshly ground)

to taste

salt

2.5

cups

cheddar

Grated

a few

mint leaves

for garnish
Instructions 
Prepare the Ingredients for Broccoli Cheddar Soup
Mince the onion. Heat a small pan, add 1 tablespoon of unsalted butter and melt the butter on low flame. Sauté the minced onion till soft, about 4 minutes, on low flame, stirring periodically.

Crush the garlic into the pan, stir and sautéfor 1 minute. Remove the onion garlic mixture from the pan and set aside and turn off the stove.

While the onion is getting sautéed, slice the broccoli into small chunks, including some of the stems. See 'Handy Tip' below. Reserve 1 table spoon of finely minced broccoli for the garnish.

Peel the carrot and dice into small pieces (about 1 cm square, though the size doesn't really matter, just that smaller pieces will tend to cook faster.) Mince mint leaves for garnish. Grate the cheese.
How To Make Broccoli Cheddar Soup
Heat a soup pot or tall heavy bottomed pan. Melt the 4 tablespoons of butter. Add the flour, whisking continuously for at least 4 minutes or till you get a thick, pale brown or pinkish roux. Whisking is required if you don't want the flour to catch at the bottom of the pan and burn.

Add the milk (or half and half if using), whisking it in so the roux blends into it. Add the stock, again whisking it in. I used vegetable stock however chicken stock would also be good in this soup.

Keep on low heat, and simmer for 15 minutes or till the liquid thickens, whisking periodically and checking that nothing sticks to the bottom of the pan. The mixture will reduce as it simmers.

Add the broccoli and carrots. Add the nutmeg and paprika, bayleaf, Madras curry powder/ cayenne pepper, black pepper and salt. See Handy tip 2 below.

Bring the soup to a quick boil and then let it simmer on low flame for another 15 minutes checking that the carrots and broccoli are tender. Switch off the stove and let the soup cool sufficiently to be blended/ pureed, so you don't work with very hot liquid.

Once cool, remove the bay leaf and blend/ purée the soup, in batches if needed. The brocolli and carrot do not need to be finely pureed, a few flecks or bits would add to the appearance and texture of the soup.

Set the soup back on the stove, warm it and add the sautéed onion and garlic, chopped thyme, sage and basil. If using dry herbs, add about ½ teaspoon of basil and a ¼ teaspoon each of thyme and sage. If not serving immediately, switch off the stove and keep the soup covered.

5 minutes before serving, warm up the soup, add the cheese, ( reserving 2 tablespoons of the grated cheddar for garnish ). Use good quality sharp cheddar, to bring out the full flavours of this soup.

Whisk the cheese till it blends into the soup. Once the cheese melts completely, about 1-2 minutes, turn off the stove. Serve really hot, garnished with mint leaves and minced broccoli and sprinkled with cheese, with a platter of chunks of warm bread alongside.
Notes
Handy Tip:
1. You can use the Broccoli stems instead of discarding them, about ½ a cup out of the 2 cups above.
2. Instead of the Madras curry powder or red pepper, Kashmiri red chilli powder would give flavour and colour without making the soup hot and spicy. It would subtly colour the soup, though.