Recipe 8 of my 100 Healthy Recipes Challenge, a lovely sweet smelling homemade Basil Oil. Basil plants are usually prolific and the leaves need to be plucked frequently in order for the plant to thrive. I have a pot of basil in my little (5 pot) balcony garden, and it keeps me well supplied with fresh basil leaves. So what do you do with all that basil? Well, you could try this Homemade Basil Oil.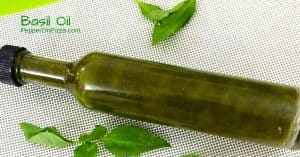 For preparing Homemade Basil Oil, you need a pot and a strainer to blanch the basil leaves, and a blender to puree the mixture. If you make fresh salads often, it is worthwhile investing in a salad spinner, to shake out the water clinging to your salad leaves, greens, and of course for this basil oil. It is the water content in basil oil that can develop botulism, so if you want the oil to last for a while and for safe consumption, the drier the basil, the better. I use a Salad spinner, and it has become indispensable!
For blanching the basil leaves, I have used my Pasta cooker. This is such a convenient piece of kitchen equipment, it not only helps to cook and strain pasta, but has a steamer and an additional small strainer. I use both strainers regularly to blanch or steam vegetables, spinach etc.
The homemade basil oil is full of flavour and aroma. Sprinkle it on soup, use as a dip for crusty bread, layer it on pita or any flatbread, sprinkle on tomatoes and mozzarella in a salad or or on sandwich, use it to flavour you tomato and cheese quesadilla, the options are so many!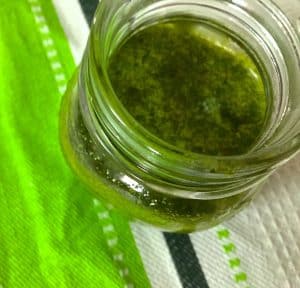 Recipes on this blog, using Homemade Basil Oil
Chilled Watermelon and Tomato Gazpacho with Basil Oil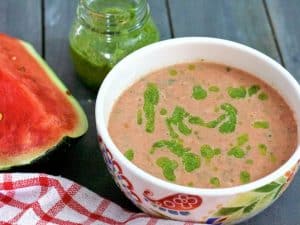 Easy Heirloom Tomato Salad - substitute Basil oil for the Basil dressing in the recipe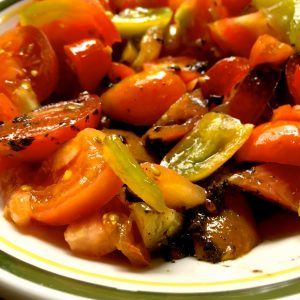 Watermelon Bocconcini Arugula Salad with Basil Oil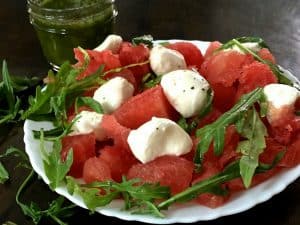 Fennel Frond Pesto with Basil Oil
You could also make Basil Pesto, from the recipe on this blog, suitable for both Green and Purple basil.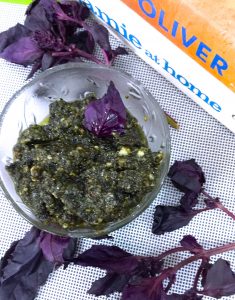 SaveSave
SaveSave
"Recipe"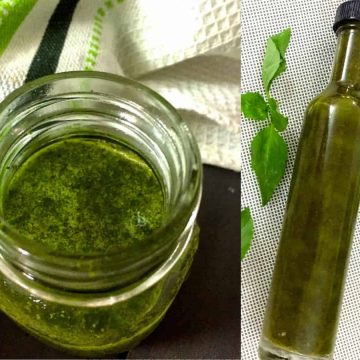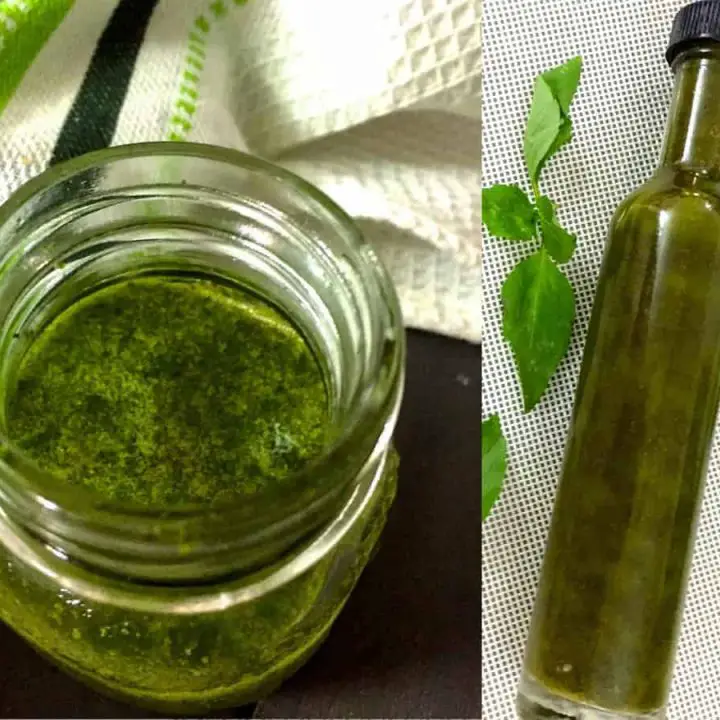 Aromatic and Easy Homemade Basil Oil
Aromatic, Healthy and Easy Home made fresh Basil oil for use as a Salad Dressing, as a Dip, for flavouring Soups, Sandwiches and just about anything.
Ingredients  
1

cup

basil leaves

packed

½

cup

olive oil

(or Vegetable oil such as sunflower oil)

1

pinch

salt
Instructions 
To make the Basil Oil
I used fresh Sweet basil for this recipe, and any other basil could be used instead, keeping in mind the flavours of each type. Separate the basil leaves from stalks and discard the stalks and any brown or yellow leaves.

Blanch for a few seconds, as below, to retain the green colour of the leaves. After blanching and removing from the ice cold water, dry in a salad spinner or pat dry with paper towels.

You need to remove as much of the water as possible without squeezing the basil leaves and letting the fragrance escape. Check and remove any remaining hard stalks.

Choose an oil with a mild flavour such as a sunflower oil or regular olive oil, as a strongly flavoured oil such as extra virgin olive oil or sesame oil would overpower the aroma of the basil.

Add the oil and dried basil and a pinch of salt, to the blender, and puree till smooth.Pour into a dry jar or bottle, cover and chill in the fridge for at least an hour.

Bring to room temperature by setting out for 15 minutes or so, (depending on the weather!) before serving.

You may wish to filter the basil oil before storing in the fridge, to get a lovely green oil. I prefer to keep it unfiltered so that more of the basil goes into the dish and adds to the flavour and texture. If filtering, use a wire strainer lined with apiece of cheesecloth and discard the strained basil leaves.
To Blanch the Basil.
Blanching retains the green colour of the basil, and if this step is not carried out, the basil oil may take on a muddy greenish brown colour.

Bring a pot of water to boil. Keep a bowl ready with cold water to which you have added ice cubes. I have used my pasta maker which has an additional small strainer, just right to hold the basil leaves while blanching, and which I can just lift off and let the water drain back into the pot.

I made use of the water in the pot later on for cooking a basil flavoured pasta! Add the basil to the pot of boiling water, and let it boil for just 10- 30 seconds. Strain and immediately transfer to the bowl of ice cold water. Drain after 20 seconds. The basil would retain most of its green colour.
Notes
Choose an oil with a mild flavour such as a sunflower oil or regular olive oil, as a strongly flavoured oil such as extra virgin olive oil or sesame oil would overpower the aroma of the basil.