This is such a tasty quesadilla and bursting with nutritious goodness too! I made this one evening when I was late home and needed to put a meal together in the shortest possible time, and I was not in the mood for a sandwich. Wheat Quesadilla with Pesto sounded good.
The Tortillas were store bought and the fillings took very little time to assemble. The pesto was readily available in my fridge. I used Red pepper pesto, but any pesto or herb based spread would be as good as this one. To make a Basil pesto with Purple or Green basil leaves, please check the link below for my recipe on this blog:
For the vegetables and herbs too, you could use a combination of whatever you have on hand, though the one I used had all the contrasts of colour and texture which I look for in the dishes I make. I used a grated mixture of Italian cheeses which were firm and did not melt into gooey messes.
I used a griddle pan to make the quesadilla. It gives lovely 'grill' lines to the quesadilla, adding to its appear.
Serve the Wheat Quesadilla with Pesto, with guacamole and sour cream. For the recipe for guacamole, refer my Recipe on this blog, in the link below
SaveSave
"Recipe"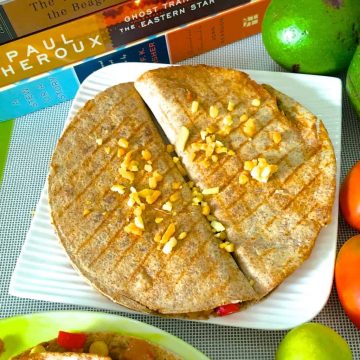 Healthy Herby Wheat Quesadilla with Red Pesto, Edamame, Corn & Peppers
Easy to make Wheat Quesadilla, spread with pesto and stuffed with corn, edamame, sweet peppers and fresh herbs.
Ingredients  
4

Tortillas

½

cup

corn

shelled

2

tsps

olive oil

2

tbsps

pesto

or other spread

½

cup

pepper

Red & Yellow diced

½

cup

tomato

chopped

2

tbsps

edamame

2

tbsps

Parsley oregano sage

Fresh , , (minced)

½

cup

cheese

Grated

to taste

salt

to taste

pepper

olive oil

spray

vegetable oil

or other spray
Instructions 
Microwave the frozen corn for 2 minutes. If using fresh shelled corn, add to the mixture in step 2 below instead.

I have used a mixture of minced fresh parsley, sage and oregano, but any other herbs could work instead. If using dry herbs, reduce the quantity by half.

Sprinkle the olive oil on the diced peppers and tomato, and microwave for 3 minutes.

Prepare the tortillas as per package instructions, cooking them on a griddle or microwave as instructed, and applying oil spray as required.

Spread red pepper pesto or other herby spread of your choice, on one side of each tortilla.

Heat a griddle pan (or tava or skillet) till it is smoking hot. Spray with olive oil spray or other vegetable spray, or lightly coat the surface with a few drops of oil. (see handy tip below). A griddle pan gives a nice 'grilled' look to the quesadilla.

Place one tortilla on the pan and lower the flame. Spread the peppers, tomato, corn and edamame mixture onto half the tortilla. Let it cook for one minute, and add a spoonful of mixed herbs. Sprinkle cheese evenly on the vegetables.

Fold over the top half over the fillings, and gently press the edges of the tortilla.  Cook for another minute and then flip over the quesadilla so that it cooks on the other side, and the griddle marks appear all over. Remove after one minute or when the cheese begins to melt.

Remove, cut into two halves and serve hot with guacamole and sour cream or salsa.

Meanwhile, place another tortilla on the pan adjoining the first quesadilla, spread the vegetable mixture and follow the directions in steps 6 and 7 above. Alternatively, you could make the quesadillas one by one instead of two at a time.

Oil or spray the pan between each set of tortillas.
Notes
Handy hint:
The griddle pan should be very hot when you start with each tortilla, and the heat immediately reduced to prevent charring.
Use spray or oil to grease the pan before each fresh tortilla is placed on the pan.