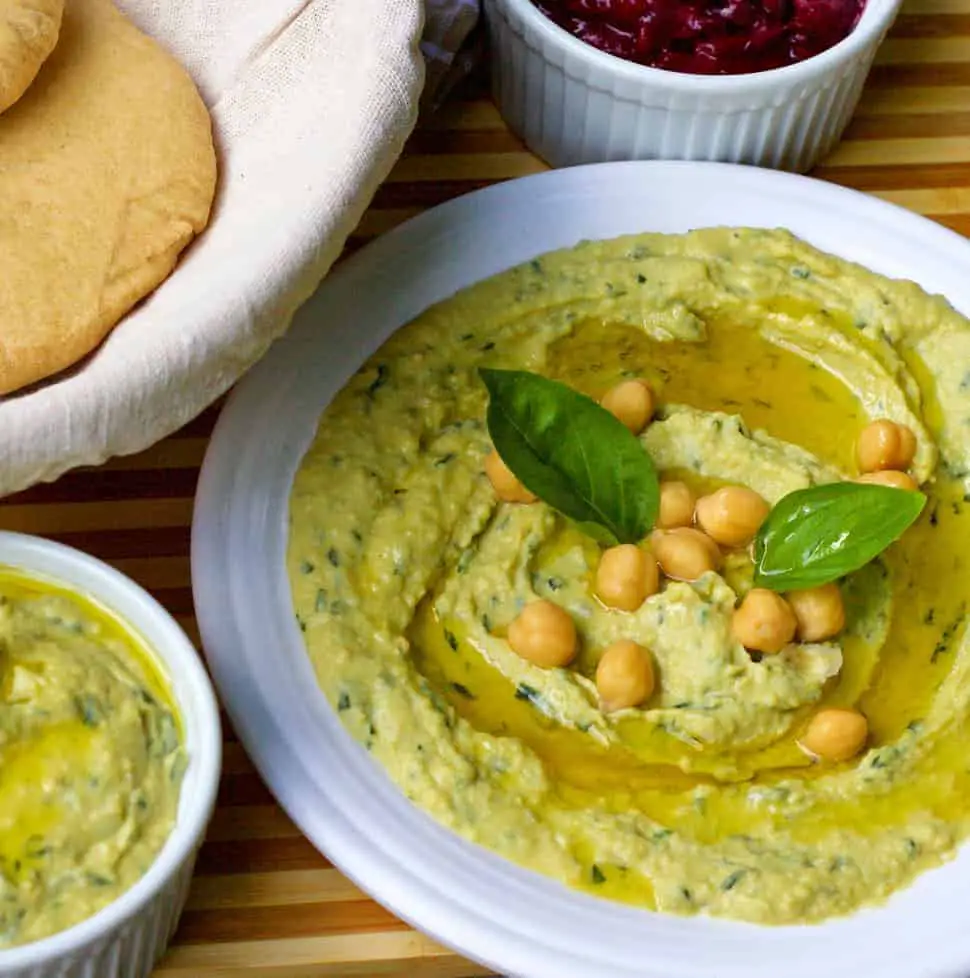 For soaking and cooking the chickpeas, I always follow Yotam Ottolenghi's  advice of adding baking soda to the chickpeas when they are soaking. This time I had some canned chickpeas so the humus took just minutes to make, and we had the hot homemade pita bread with simple fresh lemon basil hummus and the cherry chutney with mint I had made a few days earlier.
I had planned to also to make a lebnah or a yogurt based dip as well as an olive tapenade, but then decided that the hummus and cherry chutney were more than enough to make a tasty and rather exotic dinner. The lovely basil and the mint were from Lakshmi's garden which has just started producing its summer bounty.
How to cook chickpeas for the Simple Fresh Lemon Mint Basil Hummus Dip
If you are cooking the chickpeas from scratch (which I would do if I were making this recipe in India), soak the chickpeas overnight with water about twice the volume of the chickpeas. Add 1 teaspoon of baking soda to the water in which the chickpeas are going to soak.
Next morning, drain the chickpeas (do not use the water in which it soaked) and cook them for 30-40 minutes, until they are soft and begin to fall apart.
Drain the chickpeas and follow the steps in the recipe below.
This simple fresh Lemon Mint Basil Hummus Dip is great with pita bread and with any flat bread, or as a spread for a sandwich or on quesadilla. Or just as a dip with chips.
If you liked this recipe, you may want to check out some of the other recipes on the blog:
Easy aromatic Homemade Basil Oil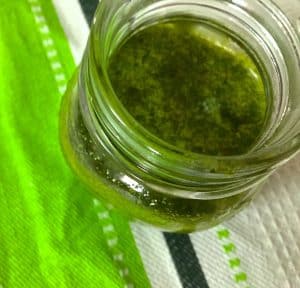 Easy Basil Pesto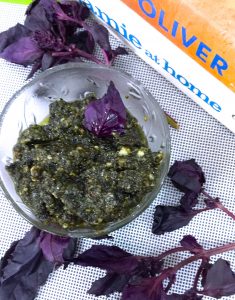 Fattoush, the Lebanese Bread Salad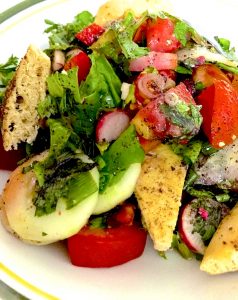 SaveSave
SaveSave
SaveSave
SaveSave
SaveSaveSaveSave
SaveSave
SaveSave
SaveSave
SaveSave
SaveSave
SaveSave
"Recipe"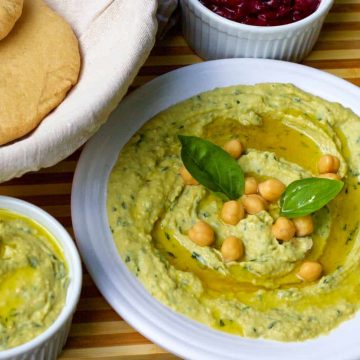 Simple Fresh Lemon Mint Basil Hummus Dip
Simple Fresh Lemon Mint Basil Hummus Dip, easy to make and with all the flavours of the herbs and garlic. Serve with homemade pita bread
Ingredients  
2

cups

Boiled Chickpeas

250 gms dry chickpeas or 15 oz canned. See notes above for cooking the chickpeas

¼

cup

Fresh Basil leaves

¼

cup

Fresh Mint leaves

2

tablespoons

Tahini paste

2

tablespoons

Fresh lemon juice

1

large

Garlic clove

or to taste

3

tablespoons

olive oil

1

tablespoon

Grated parmesan cheese

1

teaspoon

salt

or to taste

1-2

tablespoons

ice cold water
Instructions 
Drain the chickpeas from the water in which cooked/ canned (reserve a teaspoon full of cooked chickpeas for garnish) and process in the food processor along with the garlic till coarsely ground If using raw chickpeas rather than canned, please follow the notes in the post above on how to cook the chickpeas - you need to soak them overnight in water a teaspoon of baking soda and follow the rinsing and draining procedures described above.

Add basil, mint, tahini paste and parmesan cheese. Add half the olive oil, half the lemon juice and a little salt. Run the processor. Add water gradually as you process till you get the consistency you need, which is of a paste with all the ingredients well ground. Add only as much water as is needed to grind the hummus as required

Taste after grinding the ingredients and add more oil, lemon juice and/or salt as you prefer. I used 2 full tablespoons of oil and drizzled the remaining 1 tablespoon on the hummus before serving. Drizzle with olive oil, garnish with reserved basil leaves and chickpeas and serve with warm pita bread and olives.