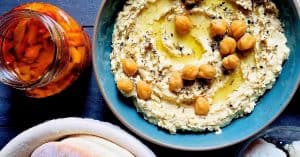 It is interesting to read about the origin of the classic hummus. Or hummous. (Or hummus b' tahina or hummus b' tahini!) It appears that there is no great clarity on this.  Except of course that every East Mediterranean country seems to claim it as its own. There have even been (peaceful, thankfully!) Hummus Wars, as discussed in this article in BBC Travel. The dish is now popular along the Levant and is almost a staple food in  Lebanon and Israel. There are many many versions of the hummus, and I had to navigate through them to develop the recipe for my perfect hummus.
Making the no fuss hummus from scratch may seem like hard work as my recipe shows several steps. However it isn't difficult, as most processes such as soaking the chickpeas overnight and boiling them next day, don't require you to be standing and monitoring. Finally it comes down to tossing everything into the food processor, and blending it into the oh so tasty hummus.
Yotam Ottolenghi's Hummus
As you would know if you follow my blog, I am, like a million other foodies, a staunch, unabashed Yotam Ottolenghi fan. The recipe for the no fuss hummus from scratch, follows his methods and process, though not in all aspects. YO's hummus recipes have baking soda added both while soaking the chickpeas and while boiling them. Instead I add baking soda only while soaking the chickpeas.( I drain and rinse the soaked chickpeas thoroughly, before putting them to boil.) The  volume of tahini he gives in his recipes, has also been drastically reduced, in mine.
Two recipes of YO's that I followed to a large extent, are Ottolenghi and Sami Tamimi's Basic Hummus, published in Epicurious and the Hummus with Ful recipe in Plenty and in the Guardian. One article I enjoyed while reading up about making hummus, and which you may like too, is again from the Guardian, a lovely, light-hearted and yet serious approach to making The Perfect Hummus.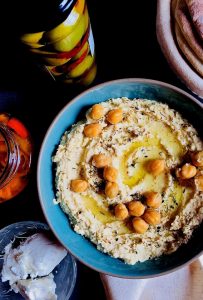 Making Hummus? Don't Throw Away That Chickpea Water!
On a totally different note, I have been reading and hearing about aquafaba recently. Here is an article which I found to be lucid and helpful in making and using aquafaba. This is nothing but the water left over after boiling chickpeas, and is used as a substitute for eggs in vegan recipes. I need to explore it further in vegan and gluten free baking.
The theme for the 181st event of Foodie Monday Blog Hop is Levantine Cuisine, suggested by me and voted for by the majority of members. I'm looking forward to reading the lovely posts my fellow food bloggers are going to come up with, on Monday.
Some other hummus recipes on this  blog, that you may like: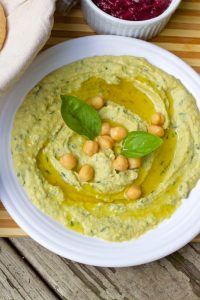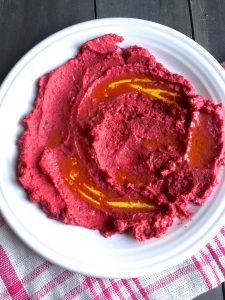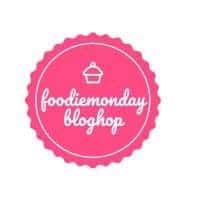 This post is sent to the event:
181 Foodie Monday Blog Hop -- Levantine Cuisine
"Recipe"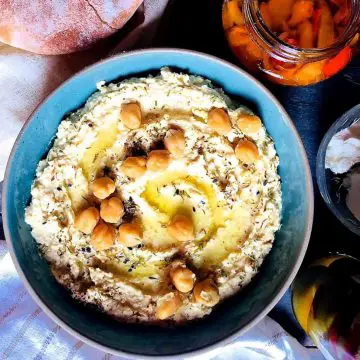 No Fuss Hummus From Scratch - Hummus Bi Tahina
No Fuss Hummus From Scratch. Delicious Levantine Dip of chickpea blended with tahini and lemon. Detailed notes to guide you through every step of the process for a simple, classic Hummus.
Ingredients  
To Soak the Chickpeas
1 ¼

cups

dried chickpeas

200 gms

4

cups

water to soak the chickpeas

Should cover at least 2" above the surface of the chickpeas

1

teaspoon

baking soda
To Cook the Chickpeas
3 ⅔

cups

soaked drained chickpeas

Approx vol of 1 ¼ cups of dry chickpeas, after soaking with soda and water overnight, is 3 ⅔ cups

6 ½

cups

water for boiling the chickpeas

About double the volume of the drained chickpeas
To make Hummus
5

tablespoons

Tahini paste

about 75 gms (or to taste), a little more than ¼ cup

2 -3

cloves

garlic

2 - 3

tablespoons

lemon juice

about 25 - 50 gms (or to taste)

½

cup

ice cold water or water from the chickpeas after cooking

about 115 ml

1 ¼

teaspoons

salt

or to taste
Garnish before serving
2

teaspoons

fresh ground black pepper

1

teaspoon

za'atar

1 - 2

tablespoons

extra virgin olive oil

for drizzling on the hummus
Instructions 
How to soak dried Chickpeas Before Boiling them
Soak the chickpeas overnight ( or at least 10 hours) in cold water after adding the baking soda. The water should be at least double the volume of chickpeas, and should be about 2" above the surface of the chickpeas. After the required soaking time, drain and thoroughly rinse the chickpeas, discarding the water in which they were soaked.
How to Make Hummus from Chickpeas and Tahini
Add the drained soaked rinsed chickpeas to a medium sized pan, sufficient to hold the chickpeas. Add double the volume of water than the chickpeas. During the boiling and cooking process, make sure there is adequate water to cover the surface of the peas. Bring to a boil and then reduce the heat to allow the chickpeas to simmer.

Cook until done, ie till the chickpeas are well cooked and begin to fall apart, breaking when you press one between your fingers, but not getting mushy. Mine generally take about 90 minutes, as it depends on the chickpeas as well as the heat from the stove. Pressure cooking is of course much faster, and I cook it for 2 whistles and allow the steam to dissipate on its own before opening the cooker. You need to use less water though, while pressure cooking and I don't often use this process as the chickpeas may get overcooked and mushy.

Allow the chickpeas to cool in the cooking water (after you have removed them from the heat) If you wish, you may stir the pot and remove the chickpea skin you see floating around after a good stir. I don't bother, but removing the skin is said to give a silkier hummus with better colour and flavour. Once cooled, drain the chickpeas but reserve the water in which they were cooked. (Refer post above to read more about aquafaba or water in which chickpeas are cooked). Also reserve about 2 tablespoons of chickpeas for garnish.

While the chickpeas are boiling, as above, assemble all the ingredients. Crush the garlic and squeeze the lemon for lemon juice. All of them including the chickpeas, should best be at room temperature before you start making the hummus. If you are using water instead of aquafaba for processing the hummus, keep ice cold water handy for the next step.

In a small bowl, add the tahini and about half of the lemon juice. Add the crushed garlic and stir it all in well. As the mixture tightens, add a little of the cooled liquid from boiling the chickpeas, and stir till you get a fluid paste.

Add the drained boiled chickpeas to the food processor. Add the tahini garlic paste. Blend till chickpeas are well processed into a puree. Add a little salt (about ½ teaspoon). Add the liquid from the chickpeas (or ice cold water, if using) little by little, running the processor as you go, till you get the right consistency - not yet runny, not stiff either, just a soft paste which can 'hold its shape' as Yotam Ottolenghi's recipe in the Guardian says. Taste the hummus, adding more salt (go slow though, and don't over salt it!), garlic or lemon juice.

Transfer to a serving bowl and cover with cling wrap so that the wrap touches the surface of the hummus throughout, leaving no space for air to enter. Place in the fridge for at least 30 minutes, for it to set. Serve at room temperature. Alternatively, serve the hummus warm, with a spread of olive oil on top.

If serving at room temperature: Garnish with the reserved chickpeas, cracked black pepper and za'atar and a drizzle of olive oil. Serve with Pita Bread and olives. Hummus may be served with various toppings such as ful (dried fava bean paste), fried chopped lamb (kawarma) etc.