Flavoured with almond, lemon and vanilla, these easy to make Jam Sandwich cookies are an anytime treat. This cookie reminds me of the biscuit tins we (rarely) received as birthday gifts when we were children, with tempting looking jam biscuits painted on them. The recipe is adapted from the Raspberry Jam sandwich recipe in Martha Day's 'Baking.'

Its that time of the year when ones thoughts turn to baking treats for the Christmas spread. With so many recipes to choose from, this easy jam sandwich cookie is a sure bet, and will be loved by all. Make plenty of these cookies as it is almost impossible to stop after eating just one!
The recipe for the Jam sandwich cookies or Linzer cookies is based on the famous 17th Century Linzertorte – said to be one of the world's oldest recipes for torte. What is special about the recipe is that the Jam sandwich cookies are made mainly from nuts rather than from flour, so what you get are really almond jam sandwich cookies. Traditionally, blackcurrant preserve was used in the torte. Nowadays raspberry and apricot jams are popular in the jam cookie.
As the name suggests, you are going to make a cookie sandwich, so you will make circular and ring shaped cookies and make the jam sandwich cookies by spreading jam between the circle and the ring.
As in the instructions in the recipe below, remember to prepare the jam spread with water, just after taking the cookies out of the over, so that you can apply the jam to the cookies before the jam hardens.
Use any shape of cookie cutter to cut out the hole in the ring shaped pieces – a plain round one,  or even a star shaped one – it will make the cookies look more interesting.
The images are for a dark jam like Raspberry, but you could substitute with a mango jam or actually any jam of your preference! Apricot or blueberry jam make lovely jam sandwich cookies too.
The recipe is quite simple, though there are several steps involved in putting the cookies together into a sandwich.
Instead of sprinkling almond flakes on the cookies, confectioners sugar could be dusted on the ring shaped tops,  before spreading jam to make the sandwich.
For detailed steps on how to blanch almonds and make almond flour, refer my recipe for  Badam Halwa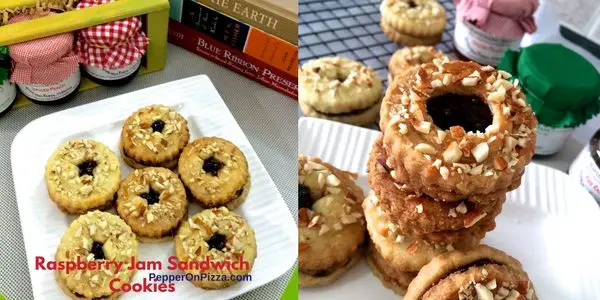 | | |
| --- | --- |
| | |
Place the unsalted almonds in a pan of boiling water for 60 -120 seconds.

Remove from the hot water and rinse immediately for a few seconds in cold water.

Rub away the almond peel with your fingers or a napkin. Dry completely on a clean napkin and set aside.
---
For detailed steps on how to blanch almonds and make almond flour, refer my recipe for  Badam Halwa