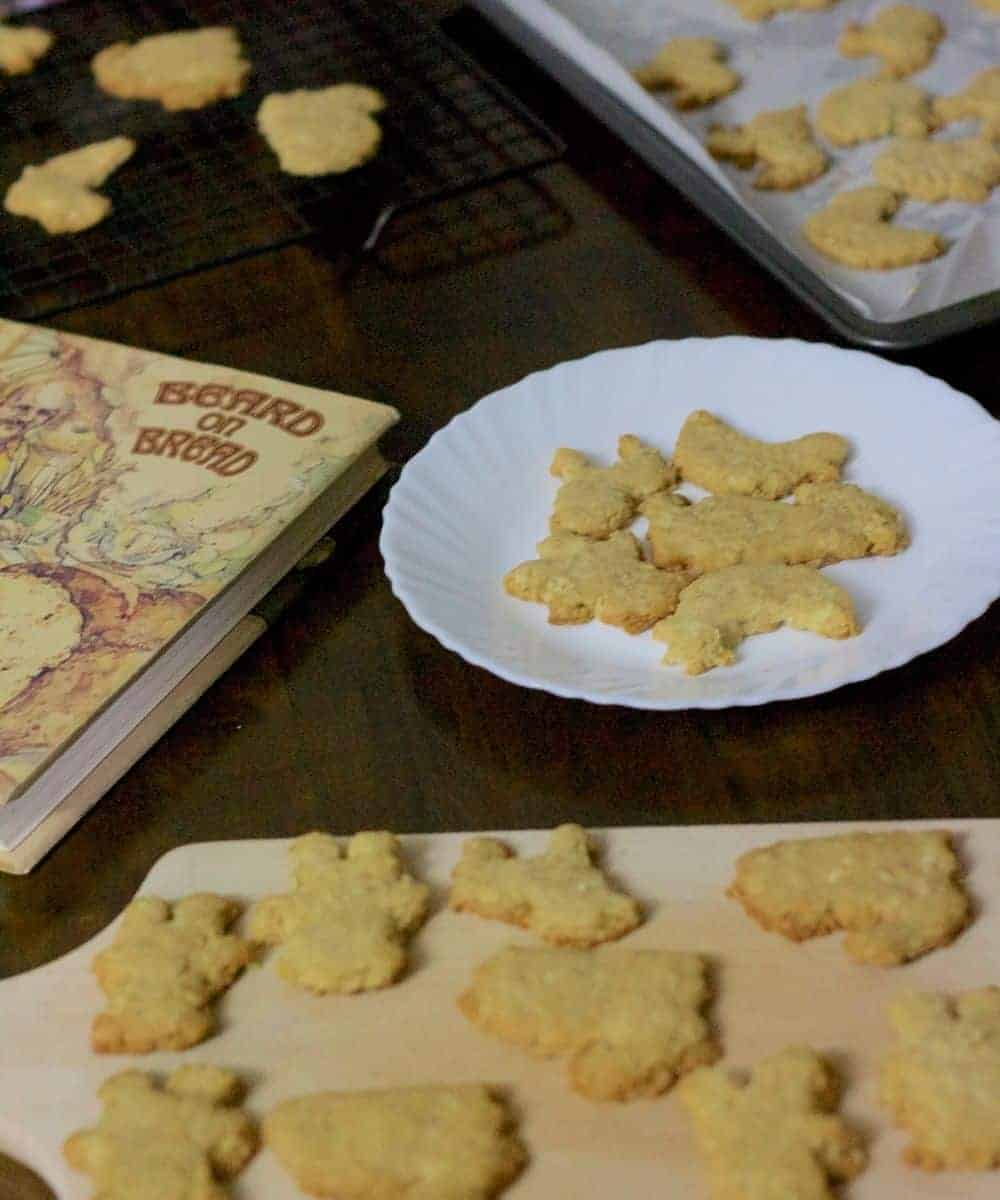 Making Eggless Animal Cookies:
I made some substitutions to this recipe for Animal cookies, on the King Arthur's flour website: Vanilla for the flavour  specified; regular Indian maida for the King Arthur flour, quick cooking oats for the oat flour.
A little peanut butter went in for added flavour, and this is an option you can take.
This is a very soft dough. Keep the dough discs (see instructions below) in the fridge for at least 2 hours (I kept it for 4 hours) to get the cookies to hold.
After cutting out the eggless animal cookies and placing them on a cookie sheet, place the sheet in the fridge for 10 minutes, for the cookies to hold their shape.
Take the dough discs from the fridge only one at a time for rolling and cutting, so that they are kept out for the least amount of time.
Prepare the cookie sheets before you take the dough out of the fridge, by greasing and lining them with parchment paper.  If you are reusing a sheet, wait for it to cool completely before you place the cut out cookies on them.
Check the cookies after 8 minutes in the oven, and take them out once the edges begin to brown.
After baking, keep the cookies on the sheet for 7-10 minutes till they cool and then transfer each one to a rack till it is cooled all through. Place in an airtight box.
I have not frosted the cookies, but you could add frosting or sprinkles once they are baked.
The number of cookies you will get from this recipe will depend on the size of the cookie cutters you used. I had medium sized cutters and got 3 dozen cookies.
Other Recipes You May Like on This Blog:
How to Soak Fruits for a Christmas Fruit Cake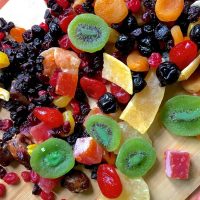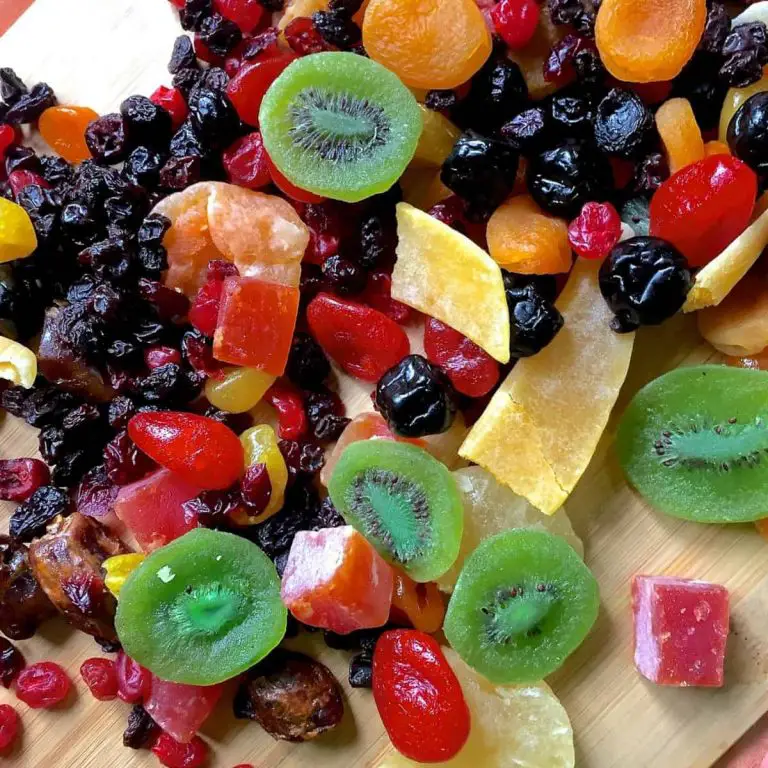 Almond Raspberry Jam Sandwich Cookies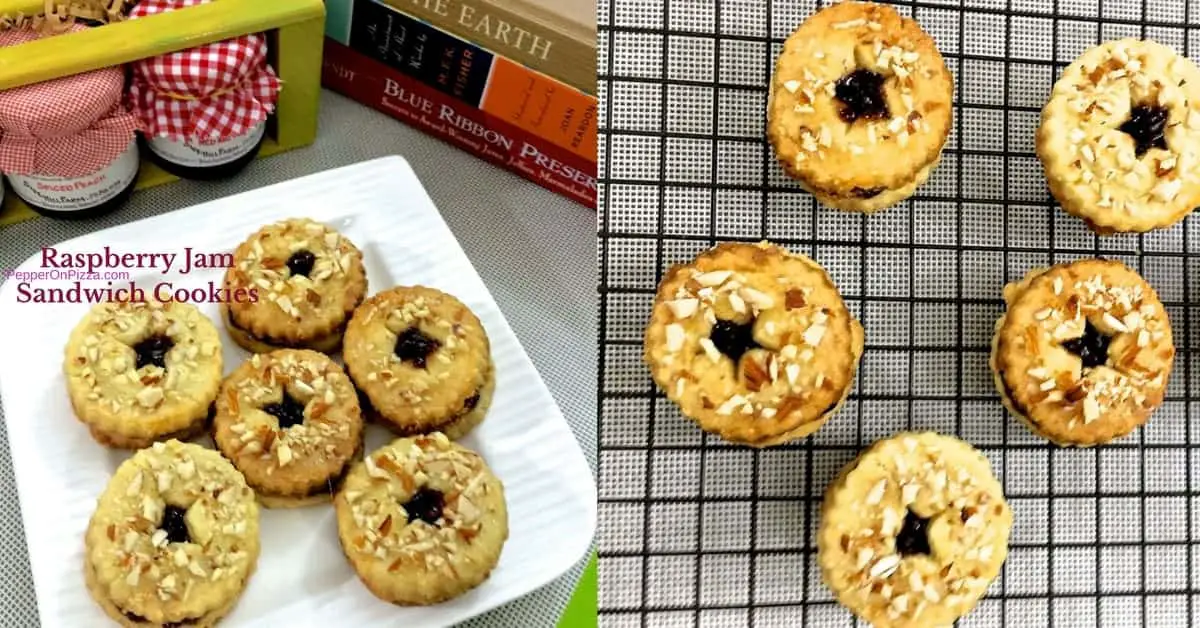 Eggless Christmas Fruit Cake - No added Sugar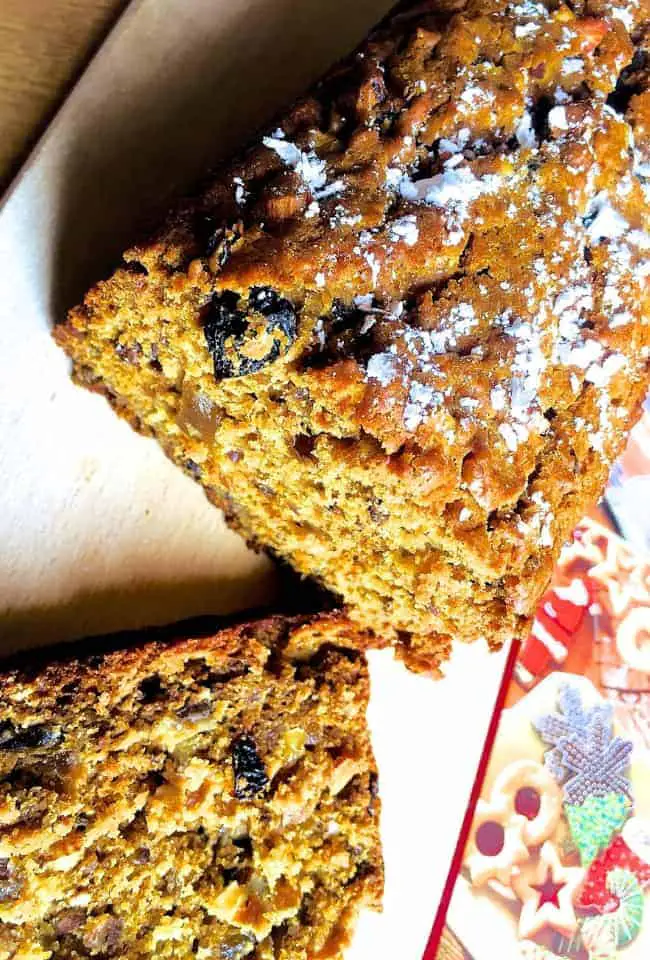 "Recipe"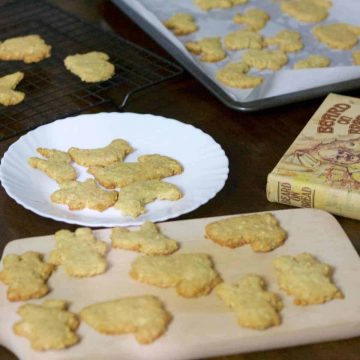 Eggless Animal Cookies with Vanilla
Easy eggless animal cookies flavoured with vanilla extract, baked in 8-10 minutes. Refrigerate the cookie dough for at least 2 hours for best results.
Equipment
Oven

Food Processor

Refrigerator
Ingredients  
¾

cup

Unsalted Butter, softened

¼

cup

Sugar

I used brown sugar

3

tablespoons

Honey

1

teaspoon

Vanilla extract

2

tablespoons

Peanut butter

optional

½

teaspoon

Salt

½

teaspoon

Baking Soda

1 ½

cups

Indian Maida or All purpose Flour

1

cup

Ground Oats or Oat flour

I used ground quick cooking Oats
Instructions 
Making Cookie Dough
Place softened butter, sugar, honey, peanut butter, vanilla, baking soda and salt in a food processor and beat till soft and well combined.

Grind the oats (if using) and add ground oats and all purpose flour/ maida to the butter sugar mixture. Mix it in till it combines smoothly.

Use your hands to roll the dough into a ball, then separate into 3-4 portions, shaping each into a flat disk. Wrap each dough disc in cling wrap and refrigerate for at least 2 hours. You can keep the discs in the fridge for several hours, till you are ready to make the cookies.
Baking Eggless Animal Cookies
Preheat the oven to 185 C/ 350 F. Prepare baking sheets, several if possible so that you can place one batch in the oven when you remove another. I greased each sheet lightly with butter and lined it with parchment paper.

On a lightly floured work surface, place one of the discs from the fridge. Press lightly with your palm till it flattens and then gently roll out to about ¼" thickness. Thinner than this and the cookies may brown too quickly and char.

Use animal shaped cookie cutters to cut out cookie shapes, and place them on the prepared cookie sheets. Roll out the remaining dough after cutting out shapes and reuse them for more cookies.

Keep each filled up sheet in the fridge for 10 minutes before you bake. The number of cookies you get will depend on the size of the cookie cutters. Use plain or star shaped cutters if you don't have animal shaped cookie cutters.

Place each sheet in the oven by turn ( 2-3 at a time if your oven has the space) and bake the eggless animal cookies for about 8-10 minutes. Check after 8 minutes and remove from the oven once they begin to brown at the edges.

Let the cookies remain on the sheet while cooling, while you place the next set of sheets in the oven.

Once the cookies have cooled, transfer them from the sheet to a rack, letting them cool completely. Store in an airtight container or add frosting or sprinkles before you store them.