The picture can't convey the aroma of vanilla, butter and blue berries wafting through the house! The headiest perfume, ever! Easy to make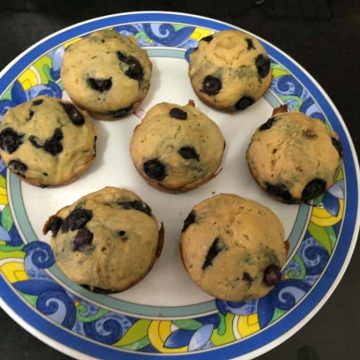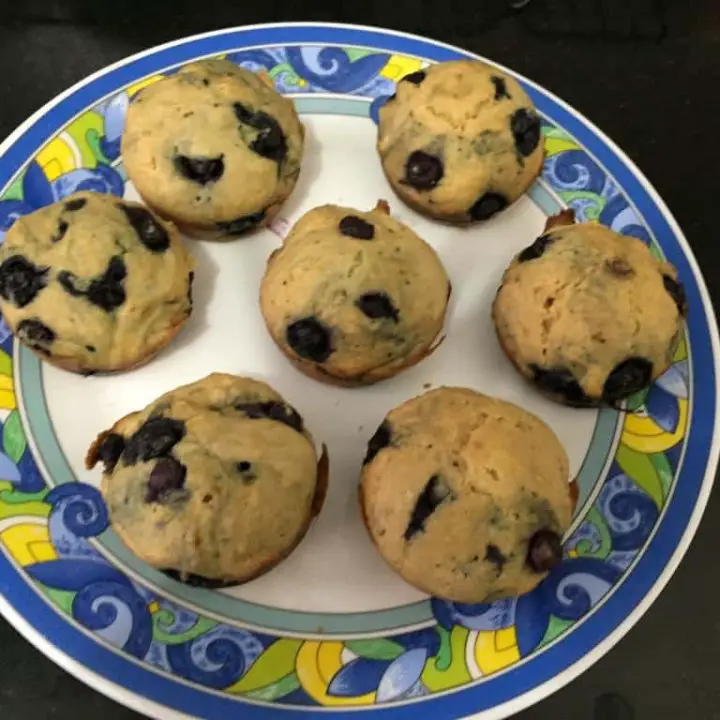 Blueberry Muffins
The picture can't convey the aroma of vanilla, butter and blue berries wafting through the house! The headiest perfume, ever! Easy to make
Ingredients  
200

gm

All purpose flour

(maida)

70

gms

Dark brown sugar

¼

teaspoon

Salt

2

tsps

Baking powder

2

Eggs

6

oz

Milk

(175 ml)

1

teaspoon

Vanilla extract

55

gms

Butter

½

teaspoon

Lemon zest

120

gms

Blueberries
For topping (optional):
6

tsps

White sugar

½

teaspoon

Cinnamon
Instructions 
Preheat Oven to 200 deg C/ 400 deg F

Make sure all ingredients are at room temperature before you start.

Melt the butter ( it took me about 20 secs in the microwave)

Sieve the flour, sugar, baking powder and salt into a large mixing bowl.

Break the eggs into another bowl, whisk till the yolk combines with the white.

Add the milk, vanilla extract, melted butter and lemon zest to the beaten eggs.

Make a well in the flour mixture, pour the egg milk mixture into the well.

Using a wooden spoon or plastic spatula, gently fold the flour into the liquid so that all the dry ingredients are just moistened and the batter contains a few small lumps.  Do not overmix or mix the batter till it is smooth as this can cause the muffins to bake unevenly or toughen.

Fold the blue berries into the batter, again gently. Let the purple juices run into the batter, it doesn't matter.

Scoop batter into a well-greased 12 mould muffin pan, filling each upto ¾th of the mould. You could place each muffin in paper muffin liners before inserting in an un-greased muffin pan, if you wish. I have used a greased pan, and placed the muffins after baking, in muffin liners.

If you want browner looking muffins, sprinkle white sugar on top of each muffin. Mixing a little cinnamon to the sugar before sprinkling, adds to the aroma and flavour.

Bake for 15-20 minutes till the muffins begin to brown at the sides ( you can make out from the sides at the top of the muffins) or when a wooden pick, if inserted, comes out clean or with just a few crumbs sticking to it. You could start testing 5 minutes ahead of time.

Remove from the oven and allow to cool for about 5 minutes in the pan.

Using a large spoon, gently lift each muffin onto a rack to cool.