With the nip in the air and the plentiful fresh vegetables filling the market stalls, I'm trying out one warming soup after another. Trying to reduce my rice intake, soups like the Pea Mint Basil Soup along with some great bread, serve as a filling lunch on most days.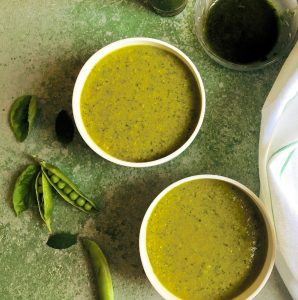 There is so much green stuff out there, the creative juices are going on overdrive. Add to this, my little balcony garden about which I have been writing quite often in my recent posts. Fragrant peppermint and basil, so green it hurts the eyes. Rosemary. Parsley. Curry leaves. I have to force myself not to add too many herbs in my recipes.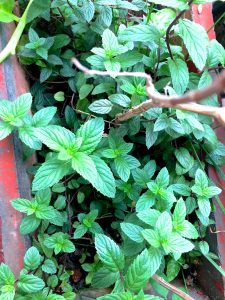 The Pea Mint Basil Soup actually started out as a Pea Mint soup, but then what was I to do with all this basil. I made basil oil as well as pesto a few days ago. I've been adding the basil leaves to pasta, salads and sandwiches. I'm not complaining, I just want to use this bounty in as many tasty ways as possible.
When Renu Agrawal Dongre of Cook With Renu Food Blog offered to take contributions for the Legume Love Affair, I explored options - dals, usilis with lentils, lentil stews etc. The bag of fresh peas I bought during Saturday grocery shopping decided it for me - a happy, warming, nourishing Pea Soup. Add some of the herbs from the garden, and there I was with this tasty Pea Mint Basil Soup. Once the stock is ready, the soup takes little time or effort to prepare.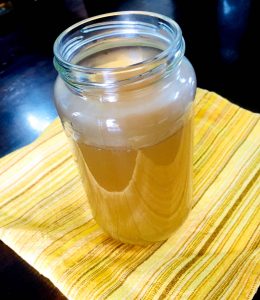 Another step forward that I've taken in the kitchen is making vegetable stock. The first time I got only 2 cups of stock and most of it went into this soup. It did enhance the flavours of the soup
Now I should make more stock and freeze it so that whisking up some soup becomes that much easier.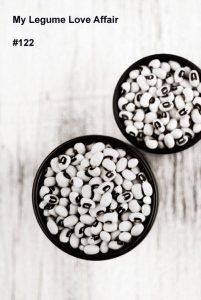 Renu announced this event My Legume Love Affair, on her site, Cook With Renu. As she has explained, this event was started by Susan of The Well Seasoned Cook, and is now hosted by Lisa of Lisa's Kitchen. Renu is Guest Hosting it for the first time
All the best, Renu, I hope the event is a grand success and we see many interesting recipes being added on this theme.
One specific about this recipe: You may use fresh or frozen peas, whatever is available to you. If making the soup with fresh peas, remember to add a little frozen peas at the final puree stage. This helps give back some of the green colour which cooking takes away from the soup. And another thing, I don't let the peas simmer for too long, just 5 minutes or so in really hot water/ stock, so that they become tender but don't lose all that fresh peas taste.
Here's the link to my recipe for Homemade Basil Oil. I have garnished the Pea Mint Basil Soup with Basil Oil. Chilli oil would also be a good option for garnish.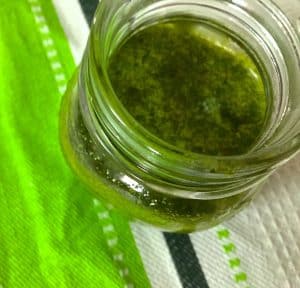 If you like cooking with peas, here are two Indian recipes you might like:
Matar ka Nimona (A rustic pea stew from India's northern state, Uttar Pradesh)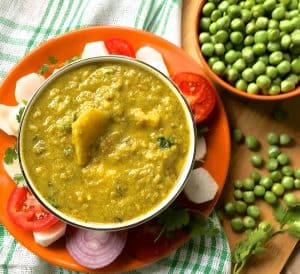 Matar ki Tehri. ( A fragrant rice dish with peas, from Uttar Pradesh)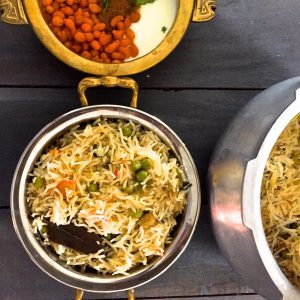 "Recipe"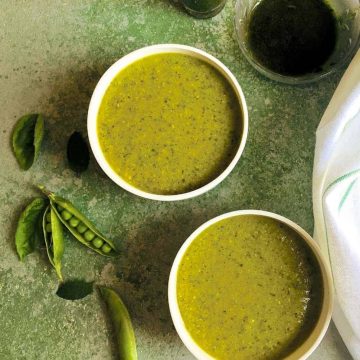 Green Pea Mint Basil Soup - Perfect Winter Soup
Green Pea Mint Basil Soup, a delicious nourishing winter soup. With only a few ingredients and very little prep, this soup is comfort food on dull days. Tastes nice even a day or two later. Garnish with homemade Basil Oil for an extra special flavour
Ingredients  
2

cups

Vegetable stock or broth

(should be boiling hot when added to the soup)

2

cups

Green peas

fresh or frozen

¼

cup

Frozen Peas

(to add colour to the soup if fresh Peas are used above

3

tablespoons

Shallots

(minced)

½

cup

mint leaves

fresh (minced); reserve 1 teaspoon for garnish

½

cup

basil leaves

fresh (minced); reserve 1 teaspoon for garnish

2

cloves

garlic

Slightly crushed and kept whole

½

tablespoon

olive oil

½

teaspoon

salt

or, to taste

½

teaspoon

pepper

freshly ground

½

tablespoons

Basil Oil or Chilli Oil

for garnish - Optional
Instructions 
Prepare stock. (Time for preparing stock is not included in the above Cook time and prep time). Set aside till required Mince shallots, basil, mint leaves. Reserve 1 teaspoon each for garnish. Peel the garlic and crush lightly, keeping it whole.

Heat olive oil in a tall pan. Keep the heat on low. Add the garlic, sauté till its colour begins to darken (about 2 mins) Add the minced shallots, sauté till tender and translucent (about 3 mins)

While the shallots are getting done, heat the required volume of stock and bring it to a boil. Add fresh peas, stir and add the boiling hot stock Bring the peas and stock again to a boil, then reduce the heat to low and let it simmer for about 5 minutes.

Add mint and basil Stir and add a little salt and pepper. Stir, taste and add more if required. This is not a spicy soup, so ½ teaspoon of pepper should be more than enough for flavour. Remove from the heat and allow to cool before blending

Blend the soup and then add frozen peas and blend again to a silky smooth puree or if you prefer, keep it a little coarse ( I prefer the texture of the soup coarse) The frozen peas is added to give a better green colour to the soup as boiling would have reduced the colour of the fresh peas. If you have used frozen peas for the soup, then more peas are not required during blending.

Check the seasoning and serve the soup hot with a garnish of mint, basil and a drizzle of basil oil, garlic oil or olive oil. Link to the recipe for homemade Basil oil, on this blog, is given in the post write up above.