Move over, Dominos, Pizza Hut, et al! Home made Pizza has arrived! Having finally got the hang of making pizza dough at home, weekends have become Pizza dinner days. With my easy tomato basil sauce stocked up in the fridge, along with pizza dough made every 2 weeks or so and frozen till the weekend, it takes 5 minutes to prepare the toppings and spread them on the pizza base. Into the oven and out again in 12 minutes or less.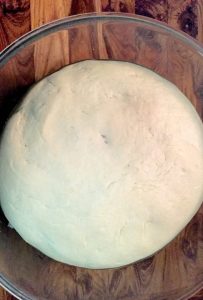 The recipe below for Pizza dough is adapted from Hugh Fearnley Whittingstall's River Cottage Veg Everyday's Magic Bread Dough Recipe. I had earlier followed recipes from Jamie Oliver as well as from the Greens cookbook, but have finally settled down with this recipe for Pizza dough, which I have tweaked for my own use. Jamie's pizza dough is similar in method to the one below, however as it makes a large quantity of dough, I don't often use it. The Greens cookbook has a recipe for making pizza dough out of rye flour and wheat flour, and that is something I will be going back to, soon, as I want to shift from all purpose / maida flour to flour from other grains.
Making the easy Basic Pizza Dough
The ingredients listed below may be doubled to make more dough. I wouldn't advise reducing it to make smaller quantities though, as the proportions for yeast, water and oil may not hold. Some amount of kneading is required, but as this is a soft dough, it is not difficult to knead. And it is good exercise!
1. The recipe below for the pizza dough gives instructions for proofing the yeast before adding it to the flour. This is good to follow if you are not sure the yeast is active. I always test out the yeast if I have not used it for a few weeks or if it is close to the expiry date.
2. Check the instructions below for the temperature of the warm water to be added for making the dough. This is crucial for getting the yeast to rise, neither too hot nor cooler than required.
3. Dough rising times can vary between 1 hour to 2 or more, depending on the climate as well as the potency of the yeast. Usually when I make the pizza dough at home at Bangalore, the dough doubles in size in under 2 hours.
4. Similarly, the baking time varies from oven to oven. I usually set my oven temperature at 220 C and a thin crust pizza bakes in 15 - 20 minutes when a pizza stone is used. At higher temperatures such as 250 C, the base becomes very crisp after just 10 minutes. Slightly lower temperatures and longer baking times gives that perfect pizza.
If not using a pizza stone, keep the temperature at 230 -240 C and check the pizza after 10 minutes.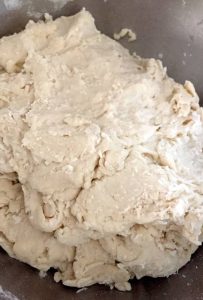 5. Earlier, good quality yeast was not easily available in India. Now there are some premium qualities available in stores that supply ingredients and equipment for Baking, such as CCDS shop, Arife, in various cities, and online on stores such as Amazon.
For recipes for Pizzas with different toppings, on this blog: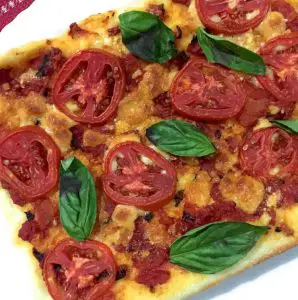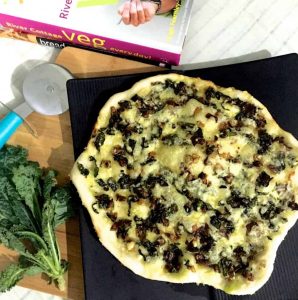 For the recipe for a Tomato Basil Pizza Sauce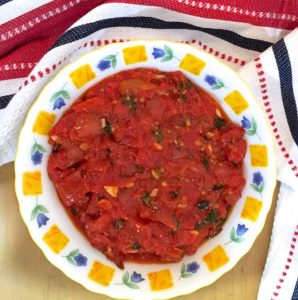 "Recipe"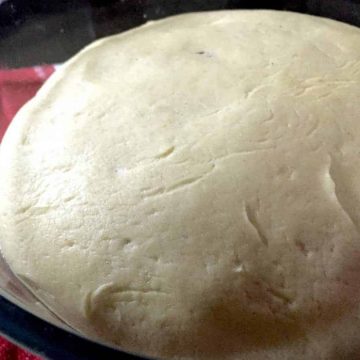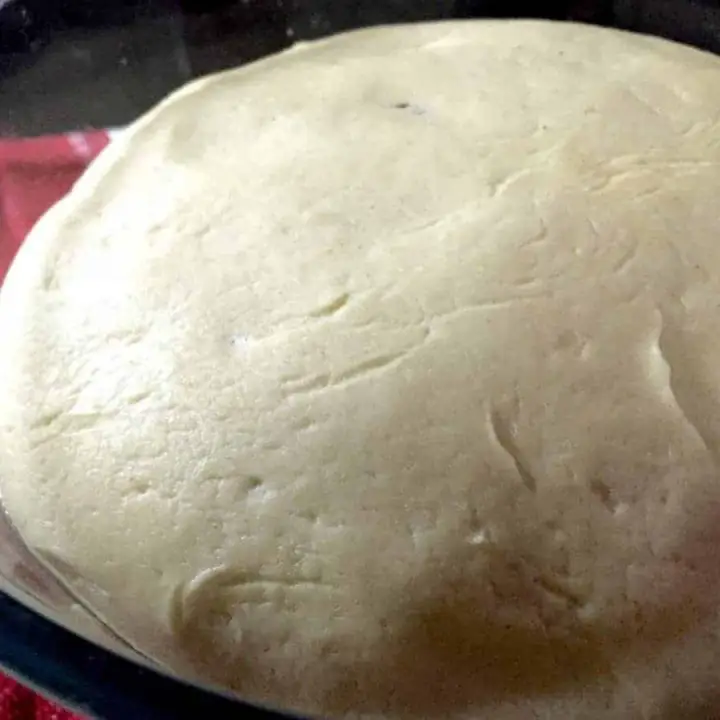 Easy Basic Pizza Dough For Homemade Pizza From Scratch
Recipe for easy to make Pizza Dough, for a thin crust pizza with your favourite toppings. Links for pizzas with different toppings and for Basic Pizza Basil Tomato Sauce
Ingredients  
1.25

cups

warm water

300 ml (If Proofing the yeast, keep a small amount like 0.25 cups separately for the same)

2

tablespoons

warm water

30 ml - extra, as per instructions for mixing the dough

1.25

teaspoons

Dry Yeast

6.25 ml active dry yeast or 5 ml instant yeast / easy blend dried yeast

1

pinch

sugar

3

cups

all purpose flour

/Indian Maida flour - about 360 gms

1

cup

wheat flour

150 gms

1.5

teaspoons

table salt

7.5 ml - use a level tea spoon, not heaped

1

tablespoon

olive oil

15 ml - plus extra for oiling the bowl for proofing the dough
Instructions 
How To Proof the Yeast
Active dry yeast needs to be checked before using, to ensure it is alive. If the yeast is not active, the pizza dough will not rise. Check ingredients above for quantities for active dry yeast or for instant yeast, depending on what you are using.

Heat water to just above lukewarm or room temperature - about 105 to 110 deg F / 40-43 deg C. Test the correctness of the temperature by (cautiously!) dipping a (clean) finger into the water - if its hot, but you can keep the finger in comfortably for a count of 6 before it becomes unbearably so, then the water is right for proofing.

If its pleasantly warm, then it is not hot enough!

A note of caution though - different yeasts may require different temperatures for becoming active, so best to invest in a thermometer and follow the specific recipe/yeast package instructions.

Add the yeast to a quarter cup of the water along with a pinch of sugar, and stir gently. After a few minutes some action will be visible, and after about 5 minutes some foam would have formed on the surface. In 10 minutes, the yeast would become active and ready to go. Use it immediately.
How to make Basic Pizza Dough
Weigh/measure the flour, oil and salt. Sift the flour with the salt so that the salt disperses in the flour.

If proofing the yeast, make a well in the middle of the flour and add ¾ of the rest of the warm water i.e. ¾ cup out of the 1 cup in the ingredients list above. Add oil and then yeast along with the water and sugar in which it was proofed. Stir the flour into the water.

If not proofing the yeast, just add the yeast and sugar to the flours and oil, mix well. Add ¾ of the water and proceed as below.

Don' t add all the water at once. Add about ¾ and then use your hands to mix the flour into the liquid till you get a rough dough. If the dough is very dry, add the remaining water little by little and then up to 2 tablespoons of warm water if required.

Once the dough forms roughly into a ball, let it rest for 5 minutes.

Tip the dough onto a clean work surface and knead for about 10 minutes till it is smooth. The dough would initially be sticky and loose and it is meant to be like that, so try not add any more flour or if at all, add as little as possible. As you knead, the dough becomes less sticky and you can make it smooth. Shape it into a ball.

Drizzle oil into a large clean bowl and turn the kneaded ball of dough in it, so that the surface is completely coated with a thin film of oil. Cover with a clean kitchen towel and leave in a warm spot for the dough to rise. The dough needs to rise to double its volume. This may take between 1 to 2 hours, maybe more if the weather is dull.

Once the dough has risen, place it on a clean work surface and knock it back by gently lifting it out the bowl, with your hands. You don't really need to punch it, just lifting it will knock most of the air out. The dough will fall back to its original size, and is now ready to be made into the Pizza base.

The dough will make 3 thin crust pizzas. Place the dough on a clean work surface and divide into 3 equal portions. The dough can be cling wrapped ( I wrap each of the 3 portions separately) and kept in the freezer for up to a week. Unwrap and bring to room temperature before using.

For recipes on baking the pizza with different toppings and for the basic Basil Tomato Pizza Sauce, please see the links in the write up to this Post.
Nutrition
Serving:
3
persons
Calories:
628
kcal
Carbohydrates:
130
g
Protein:
19
g
Fat:
2
g
Saturated Fat:
1
g
Sodium:
1210
mg
Potassium:
226
mg
Fiber:
6
g
Sugar:
1
g
Calcium:
25
mg
Iron:
8
mg
RECOMMENDED PRODUCTS
As an Amazon Associate and member of other affiliate programs, I earn from qualifying purchases.