It's that time of the year when the radio plays your favourite Christmas carols, and storefronts are lit up with red, green and white lights. When the mind of the home-cook turns to baking. When images of cakes, cupcakes, cookies and muffins crowd my FB feed. When my post on how to soak fruits for a Christmas fruit cake is the most popular on my blog and my readers send urgent anxious questions through comments, messenger and the like. There have been many requests for a recipe for an Eggless Christmas Fruit Cake, but this post has taken time, as I am not all that used to baking eggless cakes. Finally the process turned out to be quite simple.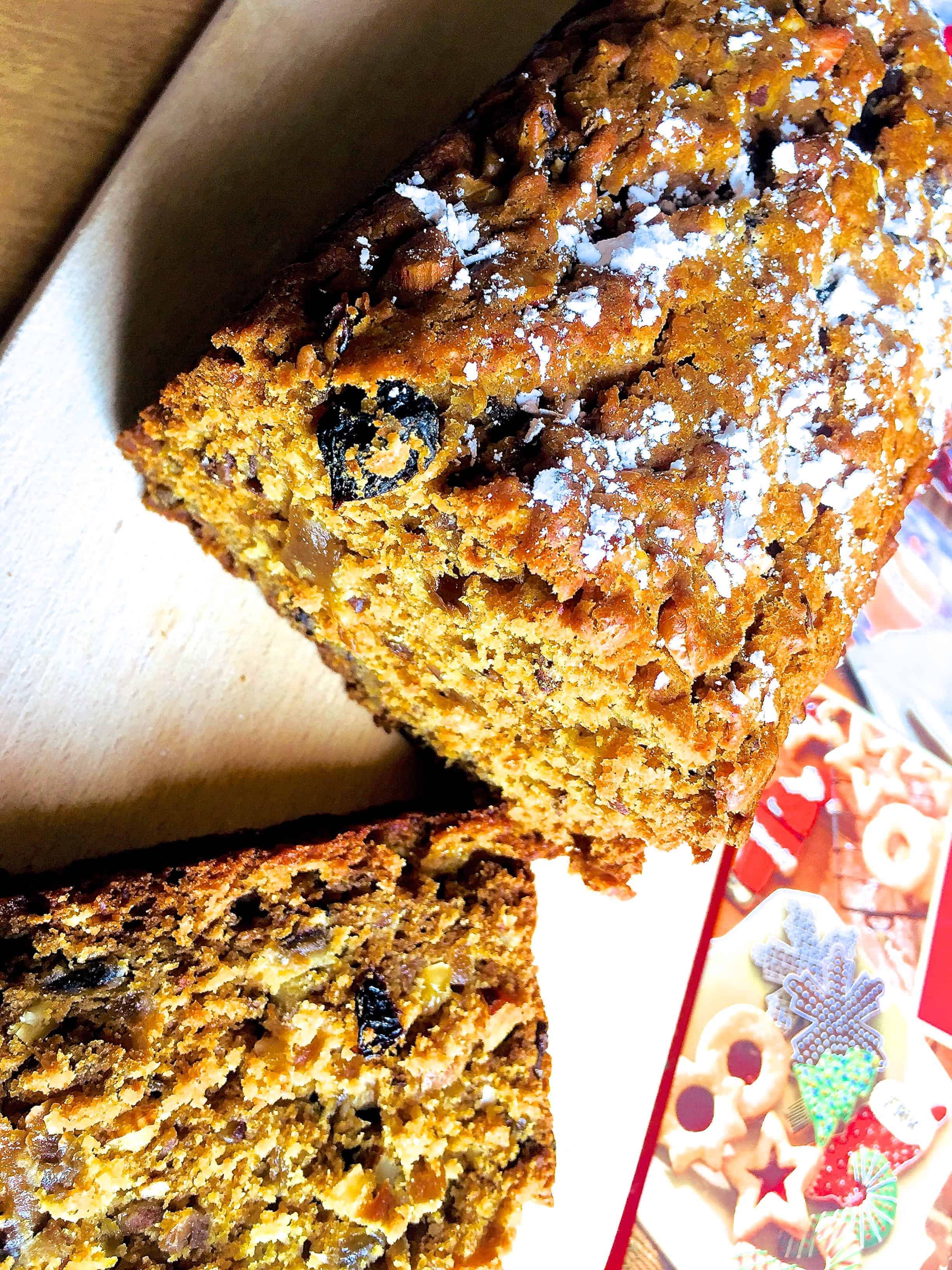 Somehow I'm not comfortable with just substituting eggs with bananas or apples, though this has been successfully done by many friends and bloggers and the results are pretty tasty.  I have however, been looking for a recipe for a cake which is 'naturally' eggless!
The theme for the 175 Foodie Monday BlogHop is Christmas Special, and  the eggless Christmas Fruit Cake did get made, just in time for posting on the theme.  All thanks and credit to the recipe in 'Baking', by Martha Day. This is one of the earliest baking recipe books that I bought but with its 400 odd recipes, I did not notice the one for an Eggless Christmas Cake till recently. I have made several changes to the recipe but it helped me with the information I needed for making this
Christmas Fruit cake.
The fruits have been soaking in rum for more than a year as I did not get to bake my Christmas cake last year, due to a troublesome shoulder pain. With periodic topping of rum, the dry fruits have been waiting patiently till I got around to baking this eggless Christmas fruit cake. I do have to bake two more, to send to my son in law and a non alcohol one for my grandchildren in Mumbai, and I hope I get that done by next week.
Once your fruits  (dry fruits and not fresh ones) are ready (soaked in rum, boiled in tea decoction, soaked in orange juice/ apple juice/ cranberry juice) making the cake is a breeze. Keep everything ready from the ingredients list below, and then mix the batter for the eggless Christmas fruit cake from the instructions below.
The ingredients include molasses as an optional item which can be omitted for a lower calorie, no-added-sugar version. As molasses are not easily available in India, honey can be used instead. And of course, molasses is also just sugar, so its no healthier or lower in calorific value. The cake is flavourful because of the fruit, so the vanilla extract is also an option that may be left out if you wish.
Here is a detailed guide on soaking the fruits for the Christmas cake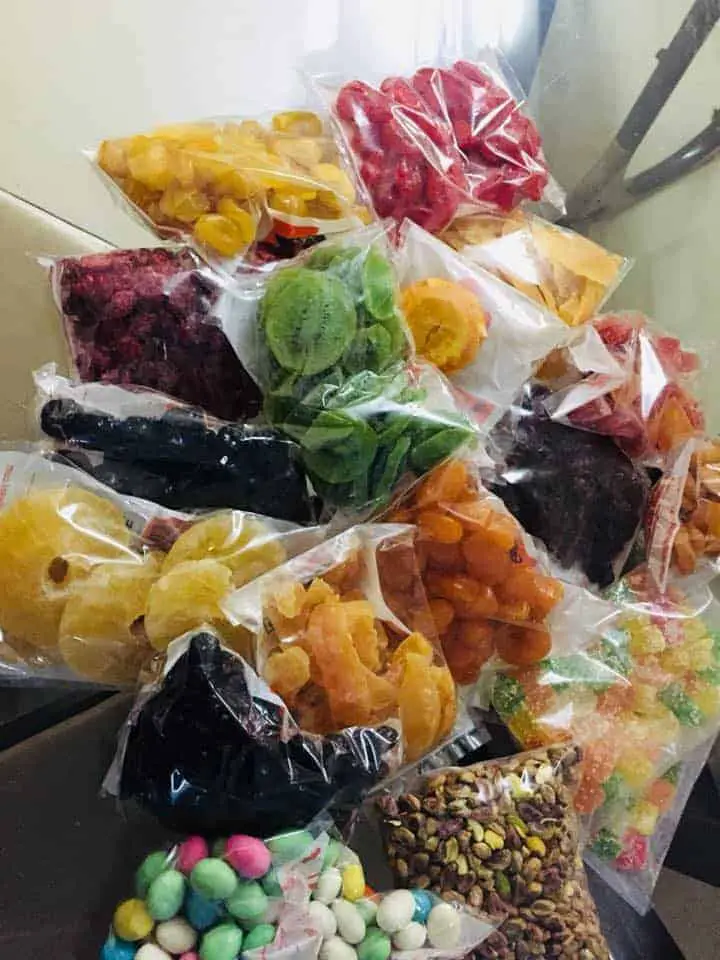 Eggless Christmas Cake with Fruits soaked in Juice:
For instructions  on non alcoholic soaking of fruits, see the first part of the recipe in my post for baking an easy rich Christmas cake. where you soak the fruits for less than a week, storing it in the fridge till you are ready to bake.
Another way to soak the fruits in juice and without alcohol, is given below:

1. One day before the day you have planned for baking the Christmas Plum cake, heat the soaking liquid (cranberry juice, apple juice, orange juice etc) on low heat.
2. Add the sliced dry fruits and stir them in, keeping the liquid on a low simmer.
3. Transfer the fruit along with the liquid into a container. Once it cools, cover the container and keep it in the fridge or in a dark cool place overnight.
4. Use the fruits as in the recipe below, along with the liquid in which it is boiled.
For detailed recipe with volumes for fruit and for the soaking liquid, check my recipe on this blog for soaking fruits for the Christmas Cake.
For a traditional Christmas cake with egg, here is my recipe.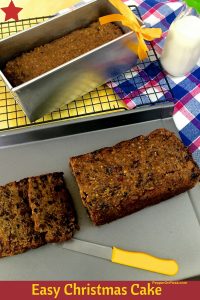 This Post for an Eggless Christmas Fruit Cake has been sent to the Event, Foodie Monday BlogHop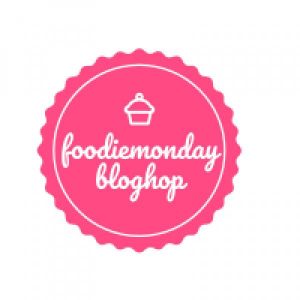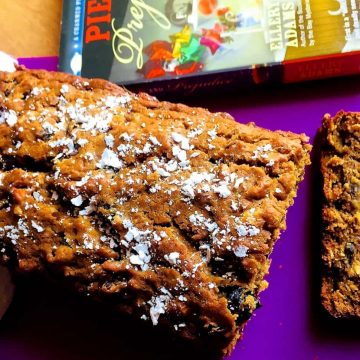 Eggless Christmas Fruit Cake
Easy Eggless Christmas Fruit Cake for a Christmas treat for your family and friends. Traditional ingredients used, with the fruits having been soaked earlier and then added to the batter before baking.
Ingredients  
For the Cake batter
350

gms

mixed dried fruits

pre-soaked in 250 ml soaking liquid (alcohol or unsweetned juice)

300

gms

maida or all purpose flour

1 cup

1 ½

teaspoons

baking powder

1

teaspoon

baking soda

50

gm

toasted nuts

hazelnuts, almonds, walnuts, pecan nuts

Spice mix

(see below)

1

teaspoon

Zest of lemon

from 1 lemon

250

ml

milk

1 cup (at room temperature) Diary or soy or almond milk as preferred

200

ml

sunflower oil

(1.75 cups) or butter, melted, cooled but liquid

1

teaspoon

vanilla extract - optional

1

tablespoon

molasses -optional (omit for no sugar option)

or treacle, dark syrup or dark honey

1

tablespoon

icing powder - optional (omit for a no sugar version)

for sprinkling on the finished cake
Spice mix to be added to the cake batter
1

teaspoon

cinnamon powder

1

teaspoon

ginger powder

a

pinch

clove powder

½

teaspoon

nutmeg powder
Instructions 
The Time given above for making the cake does not include time for pre-soaking the fruit, but only for mixing the batter and baking the cake. Please read the write up to my post on How to make a rich Christmas fruit cake, as it has many tips that can help you when you are baking this eggless cake. For how to soak fruits for the Christmas cake, check the links in the write up to this post, above.

Keep the butter (if using) out well ahead of time to bring it to room temperature before you start baking. The milk should also be at room temperature. Grease with oil and line with parchment, a square 8" tin. Use 2-3 layers of parchment and allow the paper to jut out of the tin all around, for at least an inch, maybe 2. Measure the ingredients as in the list above, and keep them ready for mixing the batter. Toast the nuts and chop into very small pieces but not into crumbly bits

Preheat the oven to 150 C (300 F) Add the toasted sliced nuts to the measured quantity of soaked fruits, and stir them in.

Sieve together the dry ingredients: the flour, baking powder and baking soda and the spice mix. If using butter, melt it but allow it to cool, without solidifying. Hot butter should not be mixed into the cake.
Make a well in the centre of the dry ingredients and pour in milk, oil/ melted butter and molasses if using, and the vanilla extract, if using. Omit the molasses for a non-added sugar version. Add the lemon zest.
Add the nuts, mix.
Add the soaked dry fruits with their liquid, and mix it all in, not stirring too much but just enough that all the flour becomes moist.

Transfer the batter to the prepared cake tin. Bake for 1.5 hours or till the cake is lightly brown/ golden brown and a tooth pick inserted, comes out clean with no batter clinging to it. It can take upto 2 hours, depending on the oven, so keep checking after the first 1.25 hours. Remove from the oven and transfer to a wire rack. Brush the surface with apricot, peach or apple jam. Though the cake tastes pretty good even without the jam.

You can give a cake a glaze on top, or drizzle some icing sugar, if you wish.