In the search for healthy, nutritious food, I have been experimenting with different grains, vegetables and fruits for salads. I specially enjoy Lebanese and Mediterranean cuisine, where the combinations of fresh vegetables, salad greens and herbs gives ideas for very delicious simple meals. Like this Levantine Tabbouleh made of fresh parsley, some mint, juicy tomatoes, a little Bulgar and really good quality olive oil. Fresh ground black pepper and a smattering of salt, complete this plateful of goodness.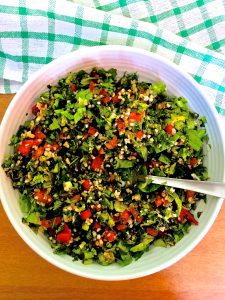 The Theme for the 180th Event of the FB Group, Foodie Monday Blog Hop, is Low Calorie Food. If you browse my blog you will see a number of salads, soups, rasams, kootu and other recipes that would comfortably fall in this category. I am however focusing on grain based salads now, and decided to go for something with Bulgar.
Will the Real Levantine Tabbouleh Please Stand Up!
The Levantine Tabbouleh was  a natural choice as I had fresh parsley, a packet of Bulgar, extra virgin olive oil, mint, tomatoes – everything I would need to make the dish. So the choice was easy, but the hard part came now. As I browsed blogs and my cookbooks, I realized that identifying an authentic recipe was going to be tough.
There were 1000s of recipes for the Levantine Tabbouleh, all differing from one another is some way or the other. Some used cilantro. Others heaped up the Bulgar and added parsley and mint almost as garnish. Yet others had green chilies, some not. A few Recipes had onions, others shallots, and yet others scallions. And most claimed to be the perfect or authentic Tabbouleh or Tabouli, Lebanese, Mediterranean, Levantine. It was mind boggling.
After all the research, I decided that the Tabbouleh was like the Rasam from my home State, Tamilnadu. Knock on the doors of 15 homes in Mylapore, Chennai, and you will get at least 30 different recipes for Rasam, all authentic, all delicious, all perfectly Tamilian. So each person had their own pet Tabbouleh recipe, just like the rasams in Chennai.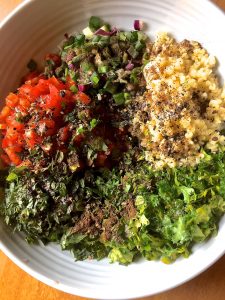 As a food blogger though, I feel I have the responsibility to put out as close a version as is acceptable in the region where a dish is made, using ingredients too, as nearly matching the ones found there.
One thing was clear. This was not, as I had mistakenly thought, a grain based salad. The true Levantine Tabbouleh, as all my reading told me, had just a little Bulgar. It was the Parsley that reigned over the salad, with help from the tomatoes. The rest of the ingredients including the Bulgar, were there to give 'outside support' as they say in political circles.
And Then There is Bulgar and Bulgar
I  found that there were many types of Bulgar. In the Middle East and Mediterranean regions, it appears you get a fine grained Bulgar, which does not need to be cooked. You just soak it, usually in the juice of the tomato or other ingredients being used. The Bulgar I had on hand had clear package instructions to pour boiling water over it and let it steam within a covered bowl, for 10-15 minutes, just as I would make couscous.
There are probably other variants which either need actual cooking, or soaking in boiling water for a different length of time, or used straightway without the need for soaking. In this recipe for the Levantine Tabbouleh,  I have therefore followed the package instructions for the Bulgar I had purchased, and the method would need to be changed according to the type of Bulgar you are using.
Another question that came to my mind was – what parsley is to be used in this salad. Some recipes from popular chefs and home cooks swore by curly leaf parsley, and others equally firmly swore by the flat leaf one.
When in doubt, go to the Master and so I turned to Yotam Ottolenghi for guidance on making the Levantine Tabbouleh. I have followed his recipe in the Guardian here, as to ingredients and proportions.
A couple of deviations, not because I think I know more than the Master, but because of practical necessities – I ran out of the required volume of flat leaf parsley that Ottolenghi's recipe specifies and made up the difference with curly leaf parsley from my balcony garden (sacrilege, I know, but by now I just wanted to make the Tabbouleh and be done with it).
Another thing, Ottolenghi used shallots in  his recipe. The other reliable source I had, Kamal Mousawak's Lebanese Home Cooking, had scallions in the recipe. Well, I had spring onions and no shallots. So my recipe also has spring onions. Other than this, I have followed the recipe faithfully.
When you make this Levantine Tabbouleh or Parsley Tomato Bulgar Salad, follow the same proportions for the ingredients, as in my recipe, and you will get as close to Ottolenghi's Tabbouleh as is possible.
Some interesting facts about Bulgar and its health benefits may be found on HealthLine.com One serving of this Tabbouleh has 25 gms of Bulgar, which gives roughly 21 calories. The Olive oil, 40 ml for one serving, is about 300 calories.
The theme for this week was suggested by Sujata Roy who blogs at Batter Up With Sujata. If you visit her blog, which I hope you will do, do look up her mouth watering recipes. I dream about the Orange flavoured rosagullas, and I hope to make them soon.
This Post has been sent to the Event 180 Foodie Monday Blog Hop "Low Calorie Food"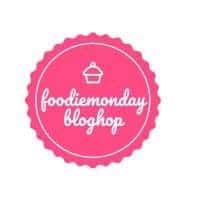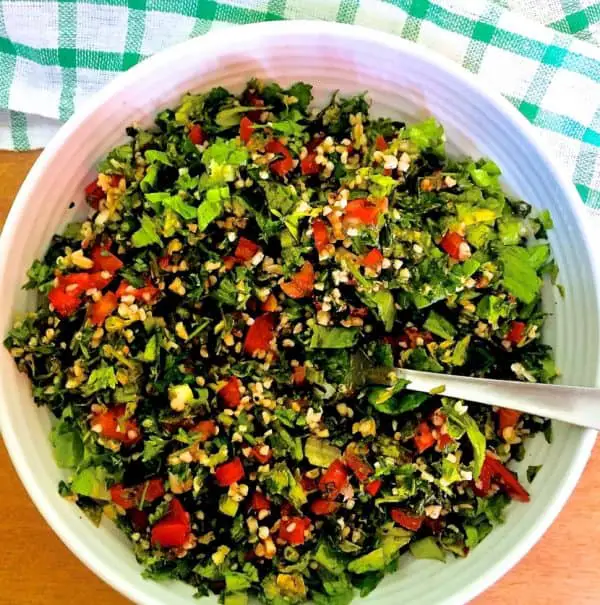 | | |
| --- | --- |
| | |
Prepare the Bulgar as per packet instructions, or as per the variety of bulgar available to you. I used bulgar from a packet which said to pour boiling water (about 60 ml for 45 gm of bulgar), cover it with cling wrap and let it steam for 10-15 minutes. The water should be fully absorbed. Remove the cling wrap and add a teaspoon of olive oil.

Meanwhile chop the tomatoes, parsely, mint, spring onions as fine as you can. Ottolenghi says to use a large very sharp knife and chop the parsley no wider than 1mm.

Place the soaked bulgar in a bowl. Add the sliced tomatoes, shallots, parsley, mint to the bowl. Next, add the allspice powder, stir it in nicely. Add half of the lemon juice, salt and pepper. Stir it all in, taste and adjust seasonings, adding more lemon juice, salt or pepper as may be required, taking care not to over salt the dish. Add the olive oil, stir it in and serve the Tabbouleh immediately.