Eye-catching and flavourful cherry and grape tomatoes of different colours and some whole wheat pasta went into this easy and quick Rotini Pasta in Garlicky Burst Cherry Tomato Sauce. The sauce cooks quickly while the pasta is cooking, and its all ready to serve in 15 minutes. Not much chopping and slicing required as the tomatoes are added whole. The cooking times below are assuming that the pasta is set to boil while the sauce is being prepared, and then the cooked pasta is added to the sauce at the end.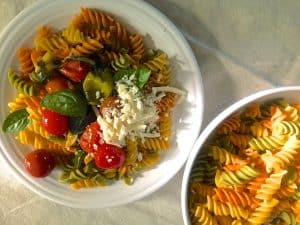 I have not made pasta with rotini before and I had to look it up in Wikipedia to see how it was different from fusilli, but am no wiser as there are contradictory explanations in Wiki's definition! However I do agree with the statement that the curly spirals of the rotini  pasta retains the sauces and is suitable for the burst cherry tomato sauce in this recipe. 
I had delicious spaghetti with burst cherry tomatoes and garlic for dinner one evening when we visited St. Michaels on the Chesapeake Bay last month and I must try that out soon too.While I usually prefer long pasta such as spaghetti or fettuccine, today the little spirally tricolour rotini in the Rotini Pasta in Garlicky Burst Cherry Tomato Sauce, complemented the red yellow brown and green coloured tomatoes that we picked up at the local Farmers market on Saturday.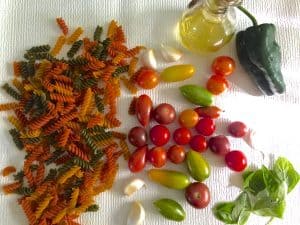 As the garlic cloves were large, I sliced them thin and long and minced the fresh basil leaves from the garden. Small garlic cloves may be added whole without slicing. I also added some sliced green pepper with the lady at the farmers market informed me would taste smoky after cooking.
The best part of this Rotini Pasta in Garlicky Burst Cherry Tomato Sauce recipe was that it is so quick and easy to make and quite effortless too. It has earned me brownie points with my granddaughter Tamanna who says its 'yummy', high praise from this 5 year old little gourmet!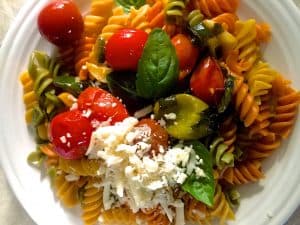 Cherry tomatoes are not just juicy and tasty, they have all the health benefits of the regular tomatoes. Chock full of Vitamins A and C, they also have Lycopene which is considered beneficial in fighting prostate cancer in men. You might like to read more about this in this article from Harvard Health, here.
You may also like: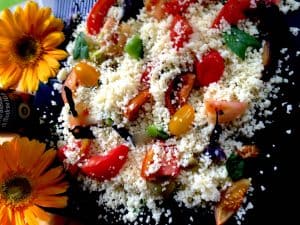 15 minutes Fettucine in Fennel Frond Pesto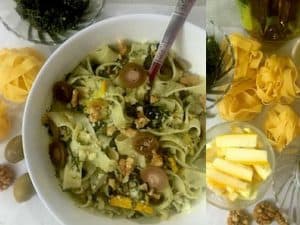 Easy Homemade Basic Pasta Sauce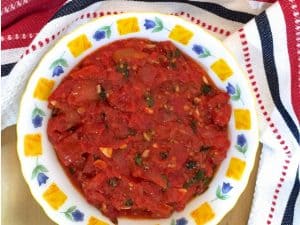 SaveSave
SaveSave
SaveSave
SaveSave
SaveSave
"Recipe"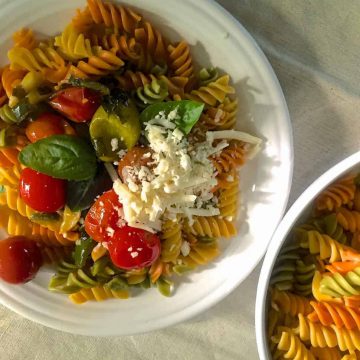 Rotini Pasta in Garlicky Burst Cherry Tomato Sauce
Easy, quick Rotini Pasta in Garlicky Burst Cherry Tomato Sauce made from colourful, juicy cherry tomatoes, garlic, fresh basil and spirally wholewheat pasta
Ingredients  
To make the rotini pasta
water for cooking the pasta

as per package instructions

4

cups

rotini or fusilli pasta

uncooked, whole wheat

3

tablespoons

salt
To make the garlicky burst cherry tomato sauce
½

cup

olive oil

4

large

cloves garlic

about 3 tablespoons sliced

¼

cup

basil leaves

¼

cup

diced green capsicum pepper

2

cups

Cherry tomatoes

1

teaspoon

sugar

1

teaspoon

salt

or to taste
To make the Rotini Pasta in Garlicky Burst Cherry Tomato Sauce
cooked pasta

as above

cherry tomato sauce

as above

grated parmesan

1 tablespoon per serving

Fresh ground pepper

to taste

Red chilli flakes

to taste

Fresh Basil leaves

for garnish
Instructions 
To cook the pasta
Set a pan of water (see package instructions for volume of water for the pasta you are using) to heat on the stove When the water is on a rolling boil, add salt and stir

Add the pasta, stir. Allow to boil till the pasta is al dente (usually between 8 -12 minutes). Mine took 10 minutes.

Remove from the stove, drain the pasta after reserving a cup of the water used for cooking the pasta. Add to the sauce as in the instructions below
To make garlicky burst cherry tomato sauce
Slice the garlic into long thin slices. Small cloves may be peeled and added whole. Mince the basil leaves and dice the capsicum (green pepper)

Heat olive oil in a pan large enough to be able to mix in the pasta after it is cooked. Add the garlic, sauté for about 2 minutes, stirring frequently till the garlic begins to brown slightly. Add the basil leaves, stir. Add the sliced peppers, stir.

Add the cherry tomatoes whole. Add sugar and salt. Stir. Cover and cook for about 8 minutes, till you see the tomatoes bursting out of their skin and the juice oozes into the garlicky oil. Stir. Taste and add more seasoning if required.

Add the cooked and drained pasta, stir till it is covered with the oily sauce. Remove from the stove and transfer to individual serving portions. Serve hot. Add grated parmesan, seasonings and fresh basil. Enjoy your quick rotini pasta with garlicky burst cherry tomato sauce!