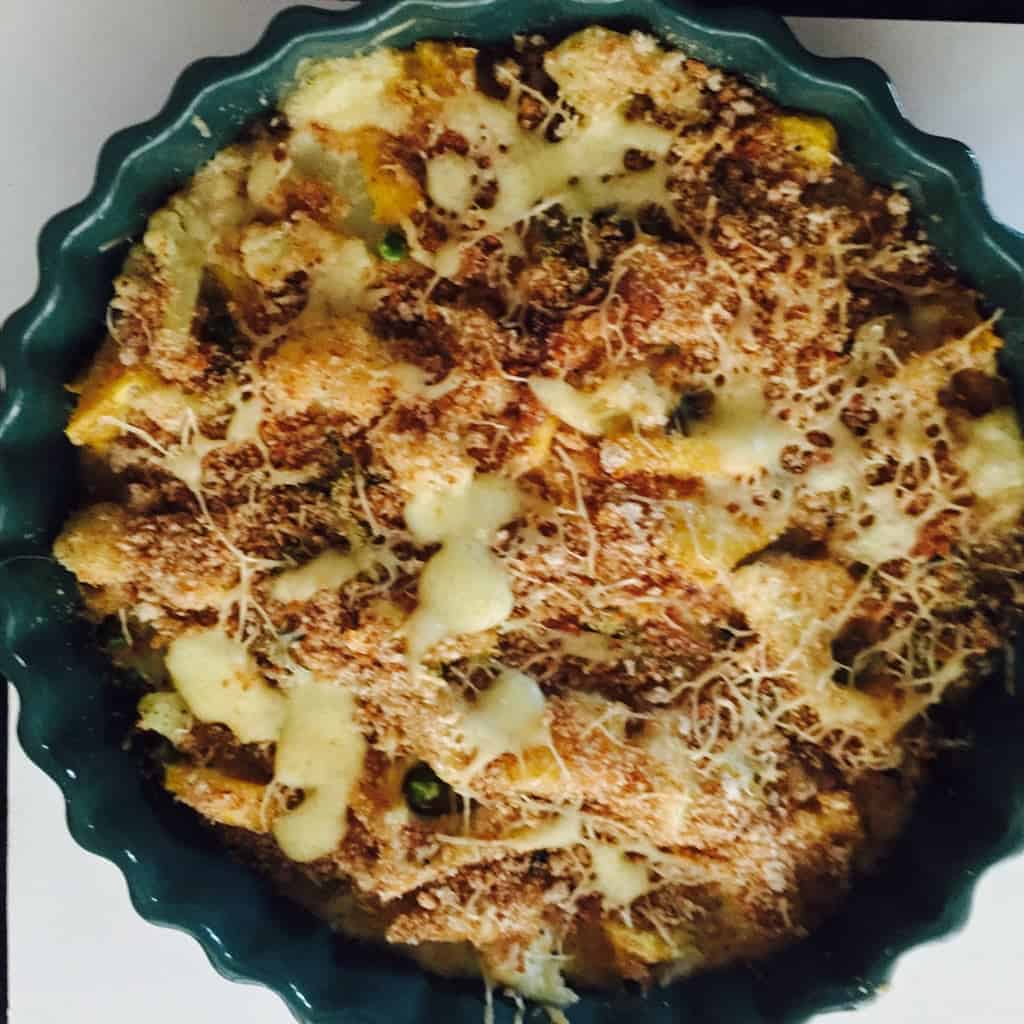 When you check Wikipedia for what a gratin is, it says "Gratin (French pronunciation: ​[ɡʁatɛ̃]) is a widespread culinary technique in which an ingredient is topped with a browned crust, often using breadcrumbs, grated cheese, egg and/or butter. Gratin originated in French cuisine and is usually prepared in a shallow dish of some kind. A gratin is baked or cooked under an overhead grill or broiler to form a golden crust on top and is traditionally served in its baking dish." So now you know!
Why Vegetables Should Be Dry for Au Gratin
When making the vegetable au gratin, chose colourful seasonal vegetables, which do not have a high water content. So no zucchini, cucumber, tomatoes and the like. I have taken firm bell peppers, fresh cauliflower (lots of it), beans, broccoli, fresh green peas, carrots and potato. The pineapple is optional, but does give a interesting flavour to the gratin.
It is also important to drain and then boil away as much of the water as possible from the vegetables, to keep the au gratin firm. Water content would make the au gratin mushy/ watery which affects both texture and flavour.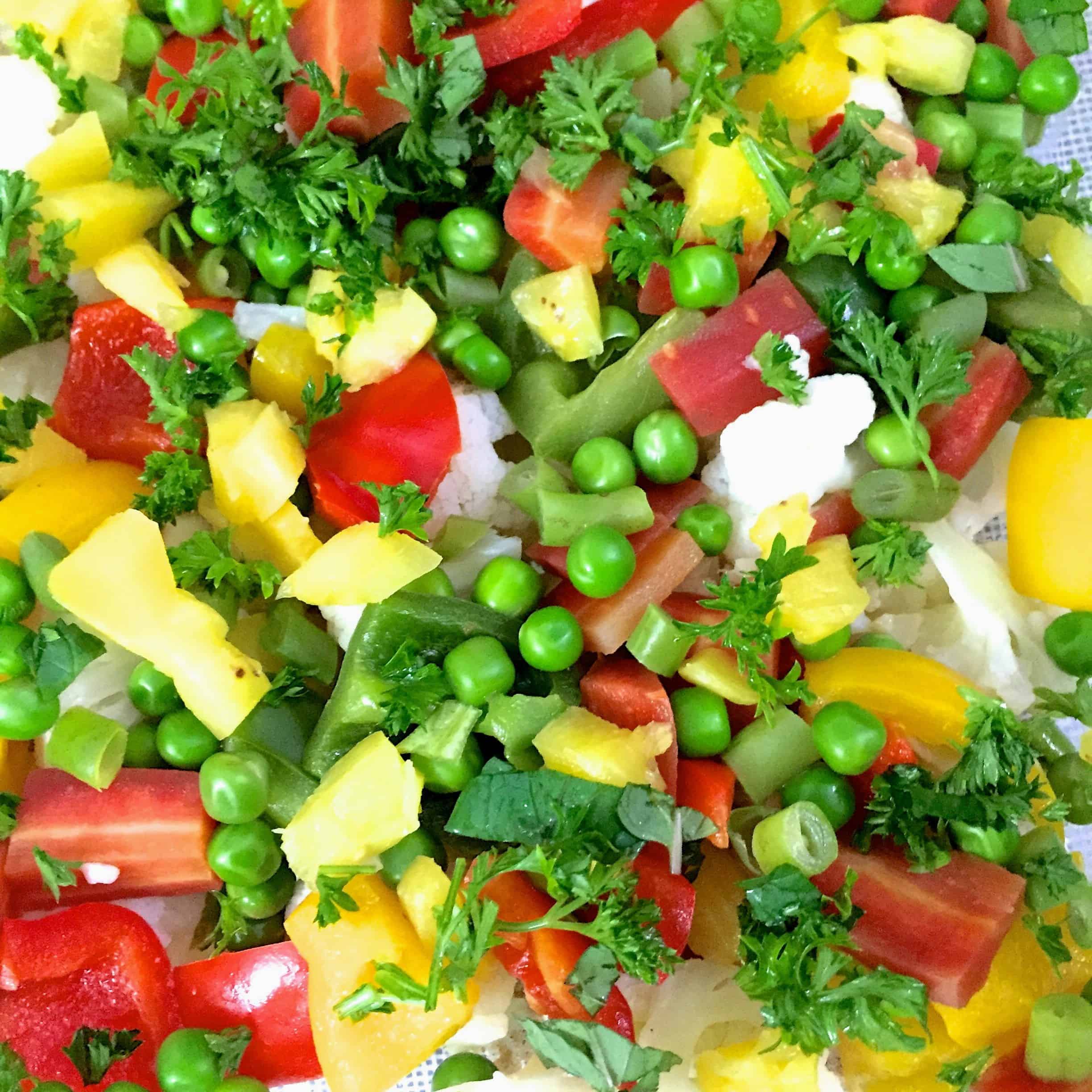 For blanching the vegetables, I use the steamer cum pasta cooker that my daughters had gifted me. Very convenient as there is a small steel colander kind of basket, in which I can place the vegetables so that they hang in the boiling water, and can be easily lifted out and drained.
The crust is made with a thick coating of homemade breadcrumbs, and the cheese sprinkled on top, to give a thick crust with lesser cheese than if the breadcrumbs were not used.
I added just a little seasoning to the breadcrumbs. Ah! That aroma of nutmeg and basil and oregano and cheese!
Other Easy Bake Recipes you may like from this Blog:
Zucchini Au Gratin – from Julia Child's Recipe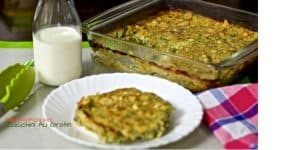 Baked Squash with Parmesan and Herbs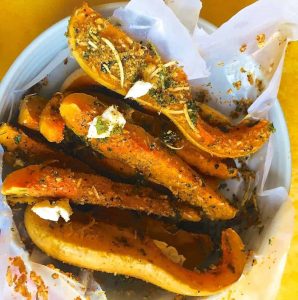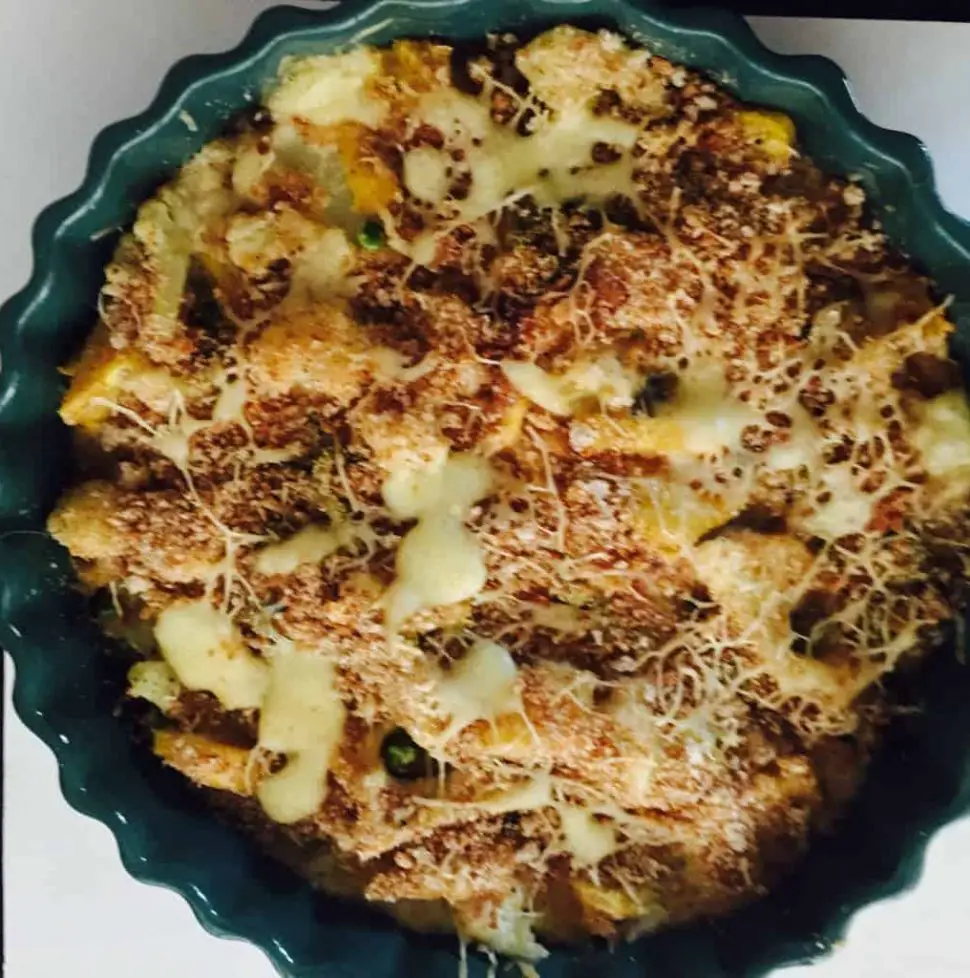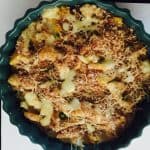 Vegetable au gratin – Baked vegetables in a thick creamy sauce
Vegetables baked in a creamy sauce with a crust of cheese and homemade breadcrumbs seasoned with oregano, basil and thyme.
Print Recipe
Ingredients
For the Au gratin
2

cups

Cauliflower

-

florets

1

cup

Potato

-

cubes

2

cups

peppers

-

Red, green yellow diced

1

cup

Beans

-

chopped

1/2

cup

Brocolli

-

thin florets

1/2

cup

Green peas

-

(shelled)

1/2

cup

Carrots

-

sliced

1/2

cup

Pineapple

-

sliced

1

Onions

-

sliced (large)

2

sprigs

Parsley

-

minced

1

tbsp

Butter
For the Crust:
1

cup

Cheddar cheese

-

(grated)

1

cup

Breadcrumbs
Seasoning:
1/4

teaspoon

Oregano

-

dry

1/4

teaspoon

Basil

-

dry

1/4

teaspoon

Thyme

-

dry
For the sauce:
1/4

cup

Flour

2

cups

milk

-

Cold

2

tbsps

Butter

to taste

Salt

1

tsp

White Pepper

pinch

Nutmeg

-

a generous
Instructions
To make breadcrumbs (Time: 15 minutes)

It is very satisfying to make your own breadcrumbs. Use any bread ( I had a nice homemade rye bread). For 1 cup of crumbs you need about 4 slices of bread. The bread need not be fresh, but it should not be stale. Stale bread will leave a stale taste!

Tear the bread (with its crust) into pieces and run in the food processor for 30 seconds.

Bake the crumbs for 10 minutes spread out on a baking by sheet, at just below 150 deg C (300 F) in a preheated oven.

Remove from the oven and scatter the seasonings on to the crumbs. ( I add seasoning only when I'm using the bread crumbs in a gratin.) Store in an airtight container till required.

To prepare the vegetables: (Time 15 minutes)

While the breadcrumbs are baking, slice the cauliflower and broccoli vertically into thin florets, retaining their shape. Peel and cube the potato and carrot. Slice the peppers and pineapple into slim pieces. Slice the beans into small rounds. Shell the peas. Wash, dry and mince the parsley, and set it aside till required.

Blanch the vegetables individually in boiling water for 2-3 minutes - the peppers need only 10 -15 seconds of blanching. The sweet peppers can be blanched together, cauliflower and broccoli can be blanched together. Drain and immediately pop them each into a pan of water with ice cubes added to it. Drain after a minute and set aside and blanch the next vegetable. Blanching retains the bright colours of the vegetables.

Alternatively you could Steam the vegetables except for the peas for 5-7 minutes. Steaming retains the flavours of the vegetables. Soak the peas in a bowl of water. Remove the peppers and broccoli after 2 minutes before they discolour. You could also instead of steaming or blanching, microwave the vegetables for 2 minutes.

Preheat the oven to 180 deg C (350 deg F). Grease an oven proof casserole dish.

To cook the vegetables: (Time 5 minutes)

Heat oil in a pan and add the onions. Sauté till the onions are translucent. (About 2 minutes). Drain and add all the vegetables and sauté for 2-3 minutes till all water evaporates. Any water in the vegetables could make for a soggy unappetising gratin.

Add salt to taste, take off from the heat and pour into the prepared dish.

Spread the vegetables evenly and mix them so you don't have just one type of vegetable in one part of the casserole. Scatter the slices of pineapple and the minced parsley.

To make the sauce: (Time: 10 minutes)

In a hot pan, melt the butter,  add the flour. Cook the flour in the butter till it starts to look slightly pink and the raw flour smell disappears (about 2 minutes). Stir frequently to ensure the flour does not burn or overcook.

Keeping  the heat  on  low and add the cold milk (warm or hot milk can create lumps) while stirring the mixture with a whisk.

Stir continuously and mix the milk and flour smoothly together so that no lumps are formed. Once the flour is dissolved in the milk, continue stirring till it starts to thicken. The sauce can easily catch and char at the bottom of the pan, so stirring is important.

Add salt and white pepper. (Black pepper may be used if white pepper powder is not available.) Once  the sauce becomes thick and smooth, add the nutmeg, stir and Remove from the heat. Immediately add half the grated cheese. Mix the cheese well into the sauce.

Pour the sauce over the vegetables and lightly turn with a spoon so that the sauce goes into the gaps between the vegetables.

Sprinkle the breadcrumbs and scatter the reserved cheese on top.

To Bake the Au gratin: (Time 15 minutes)

Bake for 10-15 minutes at 180 C (about 350F) or till the the cheese has melted and starts to brown slightly.

Serve hot with your favourite bread.
Fresh Vegetables, blanched and baked in a thick creamy sauce with a crust of cheese and homemade breadcrumbs seasoned with oregano, basil and thyme. Perfect for dinner on this rainy Bangalore evening! I first came across this vegetable au gratin, many (long) years ago when I had lunch with a  friend who had attended a course in baking. Not having much exposure to a non dal- roti or rasam – sambar meal, I was bowled over by this tasty dish, bubbling with cheese and fragrant with herbs. Now this is a staple at my dinner table, and is so easy to put together.