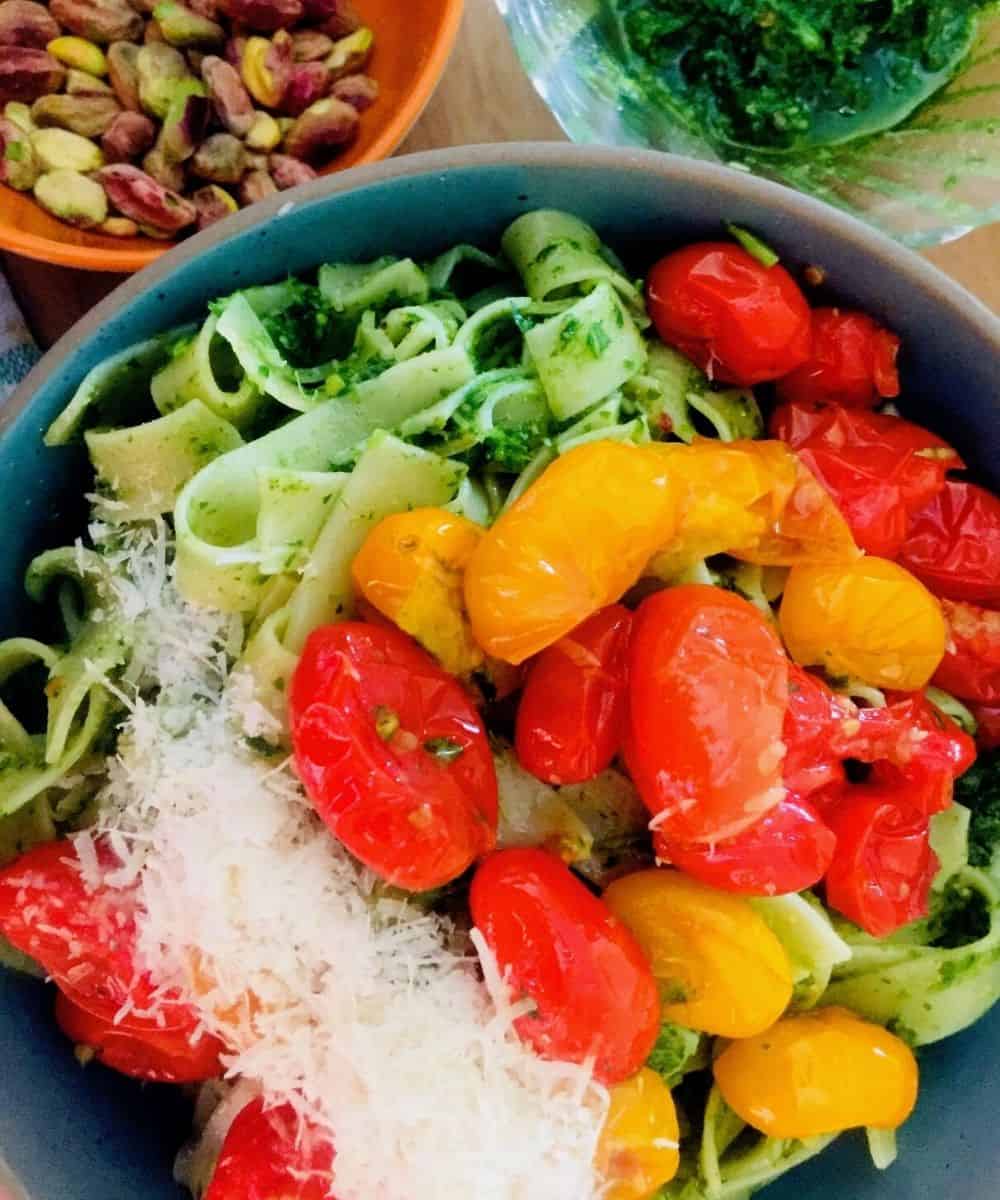 Saving Time While Making The Pasta
A quick glance at the ingredients may make it appear a lengthy process to make the arugula pesto pasta. Actually it is quite easy as the steps are simple. I suggest that the pesto (or arugula puree as it is called in the Gourmet Today) be made first. Then while the water for the pasta is set on the stove to boil, the cherry tomato sauce may be started. Both the pasta and the sauce will be ready more or less at the same time. Whipping up the pasta takes minutes: just toss with the arugula pesto, transfer to a serving dish, and heap the sauce on top. Sprinkle grated parmesan cheese and have it hot.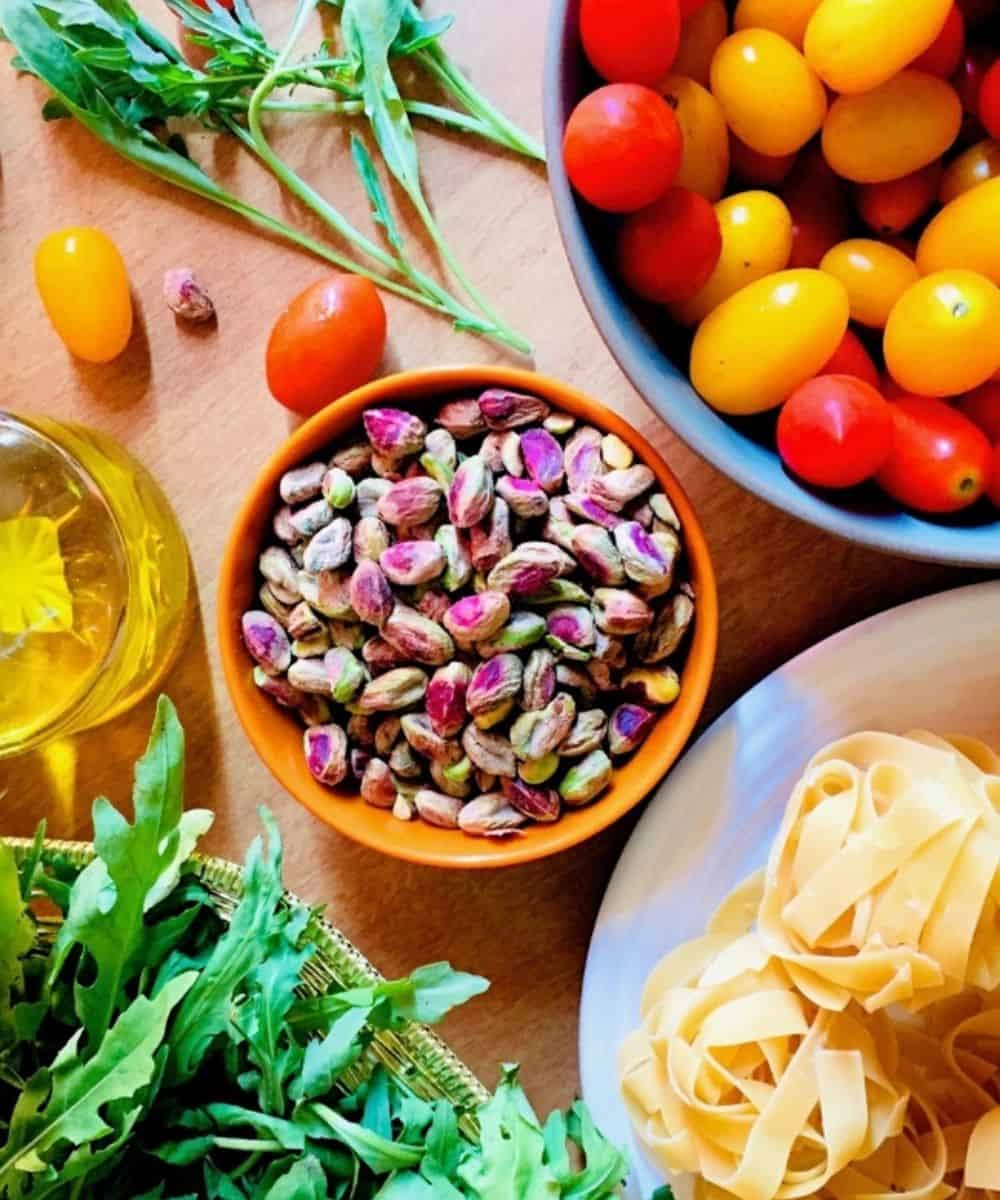 While I have stayed with the proportions for the ingredients in the Gourmet Today, for making the arugula pesto pasta with cherry tomato sauce, I have made one or two practical changes. I had run out of my small stock of pine nuts and they are rather expensive in India, as well as difficult to track down. I therefore added pistachio nuts to the pesto instead of pine nuts. And similarly I used grated Parmesan for the pecorino Romano favoured in the cookbook.
The Arugula Pesto Pasta with Cherry Tomato Sauce uses dry fettuccine, and it is perfect when slathered with pesto and served with the burst cherry tomato. A short pasta may not work as well, as there is very little liquid in the sauce and hardly anything to slip into the nooks and crannies of the smaller sized pastas.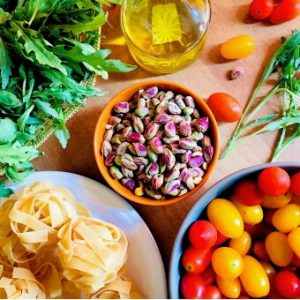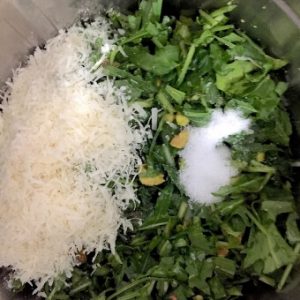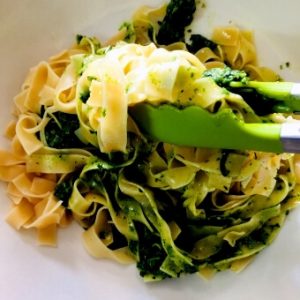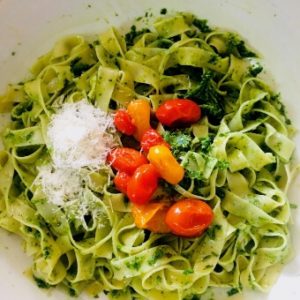 I plan  to continue to cook my way through the Gourmet Today cookbook, or at least through its vegetarian recipes. With summer already here at Bangalore in March, I think I will go next for the salads and come back to the pastas in a while.
Some further posts you might like on this blog:
Classic Hummus, made from scratch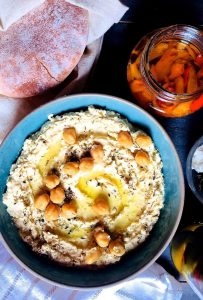 Shakshuka with tomatoes and peppers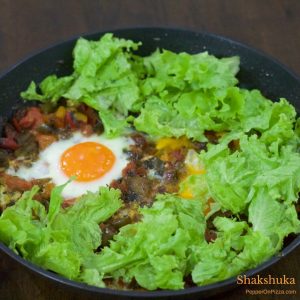 "Recipe"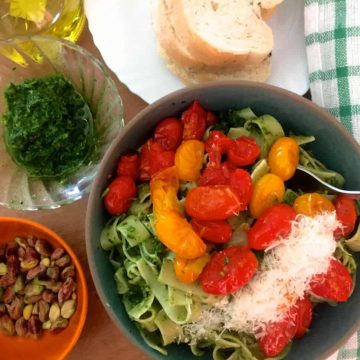 Pasta in Cherry tomato sauce and arugula pesto
A very easy and delicious pasta in an arugula pistachio Pesto and a cherry tomato sauce. The sauce and pesto can be made ahead. Long pastas such as fettuccine work best for this dish, as they get covered by the pesto, and the cherry tomatoes add flavour and texture. The Recipe is adapted from the Gourmet Today Cookbook
Ingredients  
For Pasta
4

cups

dry fettucine pasta

8 oz or 300 gms

16

cups

water for cooking pasta

4 quarts or 4 litres

1.5

tablespoons

salt for cooking pasta
Arugula Pesto
1

tablespoon

Nuts

The original recipe calls for Pinenuts. I have used pistachio. Walnuts may be used instead

3.5

cups

Rocket/ Arugula leaves

2.5 oz

¼

cup

extra virgin olive oil

2

tablespoons

Grated parmesan cheese

or grated pecorino Romano

½

teaspoon

salt

or to taste
For Cherry Tomato Sauce
2

tablespoons

extra virgin olive oil

1

large

Garlic clove

1

cup

Cherry tomatoes

about 12-15 cherry tomatoes about 170 gms

½

teaspoon

salt

or to taste
For Garnish
1-2

tablespoons

Parmesan cheese

or pecorino Romano, finely grated
Instructions 
To make Arugula Pesto
The pesto may be made a day ahead and kept covered in the refrigerator. Next day, bring the pesto to room temperature before adding to the pasta as in instructions below.

1. Toast the nuts (pine nuts or walnuts) in 175 C (350F) for about 7 minutes. Grate the cheese2. Run the nuts in the food processor till they are finely ground without however becoming a paste.

3. Add leaves and slender stalks of arugula, discarding tough fibrous stalks.

4. Add olive oil, grated cheese, a little of the salt, and puree. The original recipe says puree till almost smooth, so you don't need to make it a fine paste but more like a chutney with some tiny bits and pieces of nuts in it.Taste and add a little more salt if required.Transfer to a bowl and set aside till required.
To make Cherry Tomato Sauce
1. Heat a wide pan and add the olive oil (on medium heat, till its hot but not smoking hot). 2. Crush the garlic and add, stirring till it is golden -about 1.5 minutes. Watch out that the garlic doesn't brown. The original recipe advises to discard the garlic, but I have retained it. 3.Add the cherry tomatoes and a little salt, and cook on a low flame. Stir every few minutes, till the tomatoes shrivel a little and begin to collapse. For me it took 15 minutes. Taste and add a little more salt if required.
To cook the fettucine
1. Bring the water to a brisk boil. Add salt and bring it back to a boil. 2. Add the dried fettuccine and cook as per package instructions, till al dente. 3. Drain the pasta and return it to the pot 4. Toss with Arugula Pesto. 5. Transfer to a serving dish and top the pasta with the cherry tomato sauce. Garnish with the grated cheese and serve.