Easy to make and with lots of vegetables, these stir fried vegetable noodles are comfort food for me. You could make them with any kind of noodles, though I have used quick cooking Hakka noodles in this recipe.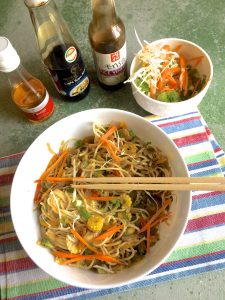 The theme for the 166th Foodie Monday Bloghop was Stir Fry. Sujata Roy suggested the theme and I was comfortable as I make Stir fried vegetable noodles at least once a week, so it needed very little planing to make the dish for the theme.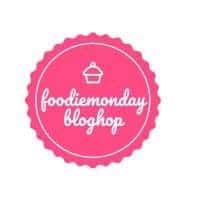 Sujata Roy blogs at Batter Up With Sujata.  Do check her blog with its many interesting and versatile recipes.
As you would know, a stir fry simply means cooking the vegetable (or other ingredients) on a high flame in a very hot wok or pan, with a little oil and for a short period such as 2-4 minutes. As you cook, you would (if you were adept at using chop sticks) toss the vegetables with the chopsticks, or else stir them briskly with a wooden spoon. The vegetables used would be quick cooking and those which can be eaten partially cooked, and they would be sliced into thin strips or thin round pieces for quick cooking.
The entire process of making stir fried vegetable noodles is very quick. In fact, the slicing of vegetables took me longer than the actual cooking. In this recipe, the noodles also needed to be cooked for only 4 minutes, so I had the whole thing done and on the table ready to eat, in less than 15 minutes.
I have added a lot of vegetables to the recipe,as I did not make a side dish of vegetables in garlic sauce or sweet and sour sauce, to accompany the stir fried vegetable noodles. You could leave out either the mushrooms and broccoli or both of them, if you wish, or reduce the quantities of the cabbage and peppers. Or you could substitute the mushroom and broccoli with an omelette, shred into thin pieces and tossed in right at the end after adding the noodles.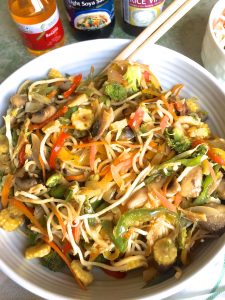 If you have a lot of vegetables all sliced and ready to make the stir fried vegetable noodles, remember one thing: don't try to stir fry them all together. Too much material in the pan, and they would begin to steam. The veggies need plenty of space, so cook them in batches.
Use a very hot wok or pan, tall enough to toss the veggies. If you can't toss them, never mind: brisk stirring with a long wooden ladle, all the time keeping the heat on high, would suffice.
You might like to try some other recipes from the blog: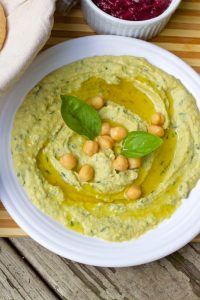 Easy Tomato Basil Sauce for Pasta or Pizza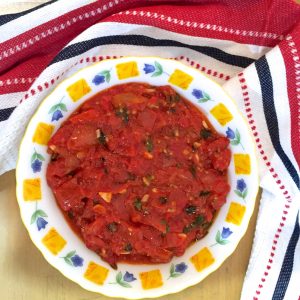 "Recipe"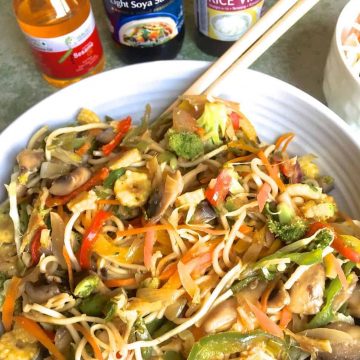 Stir Fried Vegetable Noodles with Ginger -Quick and Easy
Quick and easy Stir Fried Vegetable Noodles with Ginger and Miso Paste. Broccoli, Mushrooms and strips of cabbage, sweet peppers and carrot for a delicious meal
Ingredients  
For the noodles
7

cups

water for cooking

½

teaspoon

salt

1

teaspoon

sesame oil

300

gms

Noodles

about 150 gms per person
For Stir Fried Vegetables
1-2

tablespoons

sesame oil

2

cloves

garlic

crushed and minced

½"

piece

ginger

minced

2

Spring Onions

bulbs and leaves

⅛

cup

Red Onions

sliced

¼

cup

carrot

sliced into strips

¼

cup

cabbage

shredded into strips

¼

cup

Red, green, yellow peppers

sliced into strips

⅛

cup

Beans

sliced into 1 inch pieces, diagonally

2

baby corn

cut into slim rounds

¼

cup

broccoli

sliced lengthwise

¼

cup

Mushroom

sliced lengthwise

1

tablespoon

Soy Sauce

1

tablespoon

rice vinegar

¼

teaspoon

Miso Paste

optional

½

teaspoon

salt

or to taste
Instructions 
To cook the Noodles
Boil a large pan of water. When it reaches a rolling boil, add a teaspoon of oil and salt. Add the noodles and cook as per packet instructions.

Drain the noodles when done and quickly rinse in running water or plunge them in a pan of cold water so that they stop cooking further. Quickly drain and set aside till required.
To make Vegetable Stir Fry
Preparations: Wash and dry all the vegetables Slice the cabbage. carrot, red, green and yellow peppers into thin strips Slice the spring onion bulbs and the red onion into thin slices. Slice the spring onion greens into 2cm long pieces. Slice broccoli florets and mushrooms lengthwise into 2. Mince ginger and garlic into small pieces Slice baby corn into thin rounds Slice the beans into 1" pieces, sliced diagonally across the bean

Heat a wok or large pan and add oil. When the oil is very hot, add the garlic, ginger, onion and spring onion slices. Stir once and immediately add the cabbage, carrot and sweet bell peppers. Toss the vegetables in the pan or else stir briskly for one minute. Add sliced mushrooms, brocolli and baby corn. Toss/ stir for about 2 minutes. Sprinkle salt

Add soy sauce, rice vinegar and miso paste (if using) Stir Add the drained noodles and stir them into the vegetables Transfer to a serving dish and serve hot