Pegan Diet
. My recipe for a Roasted Tomato Black Rice Salad with Pesto is from ingredients suitable for this diet. As you will see, the Pegan diet is an interesting blend of some of the features of vegan and of paleo diets.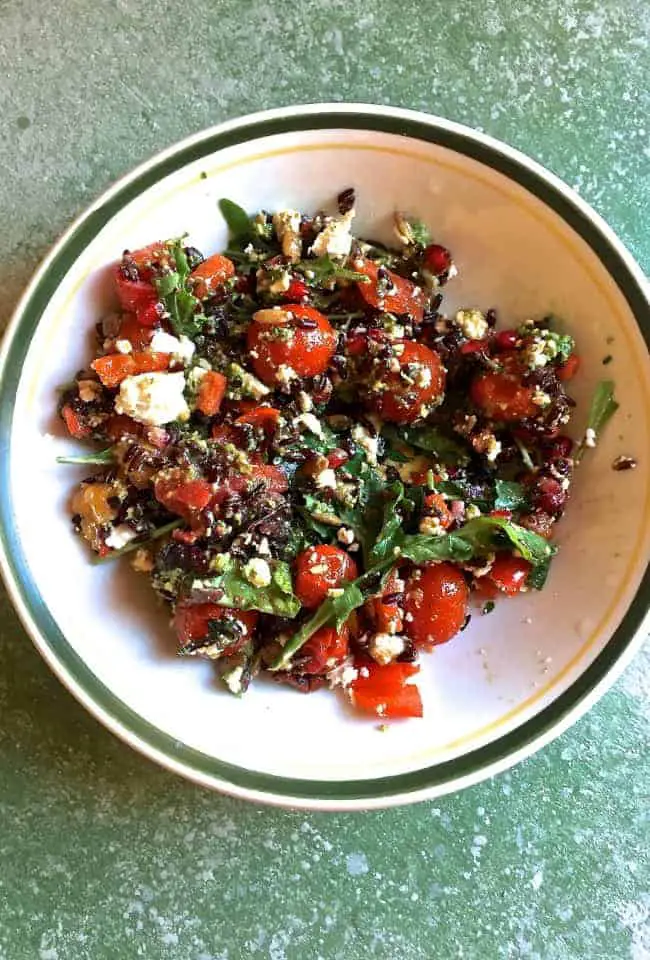 About the Roasted Tomato Black Rice Salad:
The black rice or Forbidden Rice, is the star of the salad. Black rice, being a grain, is limited to less than 25% of the meal, under the pegan diet. Said to have more anthocyanin antioxidants than blueberries, it also contributes fiber and Vitamin E (click for nutrient benefits). Fresh parsley pistachio pesto is mixed with the black rice, roasted tomato and orange segments for a lovely bouquet of flavours.
The brand I used for this recipe was FOR8 Aromatic Black Rice- Forbidden Rice purchased from Amazon from the Link here: Black Rice **
Roasted pumpkin seeds add a nice crunch as well as have protein and several minerals (click for nutrient benefits). Pomegranate arils, lemon juice and arugula make up the remaining ingredients of the roasted Tomato Black Rice Salad.
The Pegan diet advocates more vegetables than any other foods. In the roasted tomato black rice salad, I have therefore included a number of ingredients. I have kept in mind their nutritive benefits, so that most vitamins, some protein, minerals etc are collected on one plate. The roasted red peppers and the oranges may be left out if you want to reduce the number of ingredients. I have adapted this recipe to a more Pegan compliant one: Tomato and Basil Rice Salad
Pesto is an important component of this salad. Here are links to recipes from this blog that you may refer for making pesto:
Basil Pesto with Pinenuts. Substitute pistachio nuts if pine nuts are not available. Omit the parmesan, for a pegan recipe.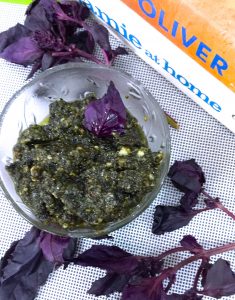 Parsley Pesto with Pistachios Use unsalted shelled pista nuts along with parsley and coriander leaves.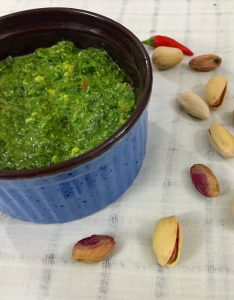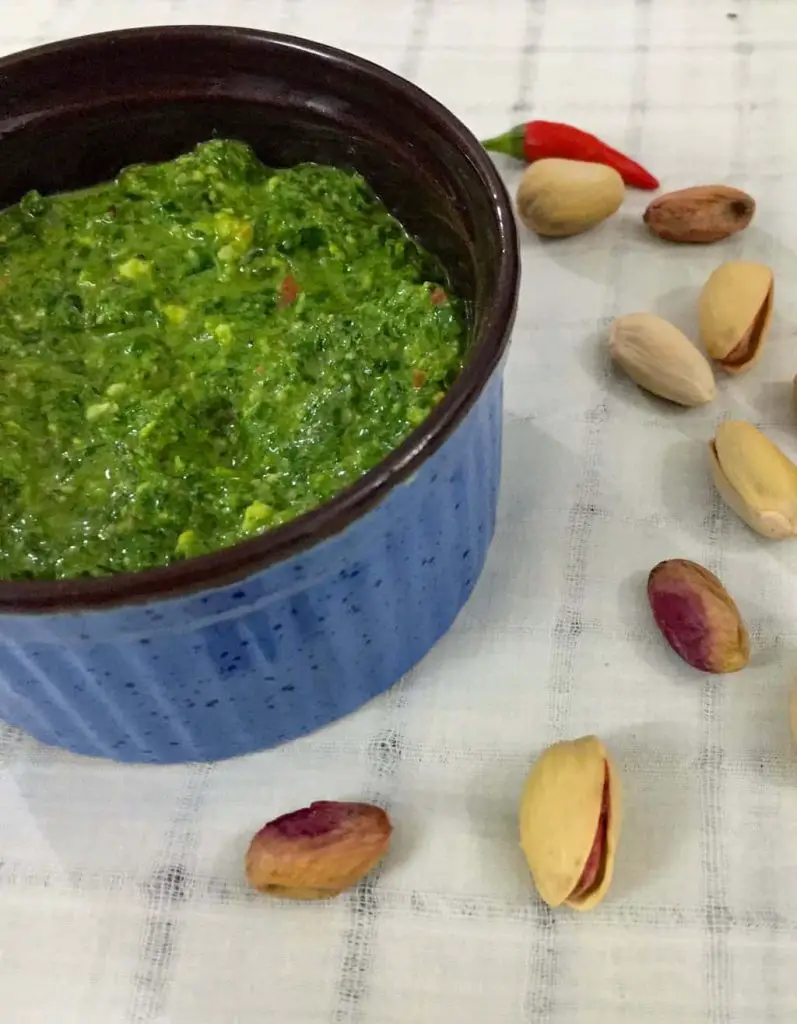 What is the Pegan Diet?
The Pegan diet has taken some elements from the vegan diet and some from paleo. In fact it has taken the middle ground from both these diets. As the founder of Pegan, Dr. Mark Hyman, explains:  ... that middle ground is "real whole, fresh food in its natural state free of processed ingredients, refined carbohydrates, and additives." This article from Healthline gives a summary of the health positives and downsides to the diet.
The rules are fairly simple.
NO:  Dairy;  gluten, whether from whole grains or alternatives; processed foods; seed oils such as sesame, mustard, sunflower, canola or corn oil. No sugar; starchy vegetables (good bye, sweet potatoes), soybean or soy products.
What can you eat under the Pegan Diet?
Quite a few food items, actually. My list is not exhaustive, but you get the picture:
Any fruit or vegetables with a glycemic index of between 55 and 69. This includes cherry, blueberries, blackberries and other dark coloured berries that posses anthocyanin, apples, kiwi, watermelon, citrus fruits (lemon, orange etc), pears. (Banana, grapes, melon are not preferred.)
Greens of all kinds - lettuce, collard greens, mustard, amaranthus, radish and turnip greens etc. Purple coloured greens are more than welcome.
Vegetables such as tomato, cauliflower, broccoli, cabbage, capsicum and other peppers, eggplant, leeks, mushroom, bamboo shoot, moringa (drumsticks).
Foods with Omega-3 fats: Avocado, olives, nuts, seeds,  anchovies, sardines
Meat that is sustainably sourced, and from grass fed animals. Certain fish and sea food, ie sustainably harvested/farmed and with low mercury, such as salmon and shrimp. Eggs. All animal foods are however taken in limited quantities.
Products from goat and sheep, like goat cheese and goat milk
Almond milk and other nut milks.
Lentils are ok, but in limited quantities. Legumes are not favored in this diet.
Foods with natural sugars, such as honey, dates, maple syrup, vanilla, coconut sugar.
Nuts but not peanuts.
Non gluten whole grains and pseudo grains such as quinoa, rice, millet, amaranth.
Olive oil, coconut oil.
At least 75% of your meal should comprise of vegetables and fruits, choosing darker coloured ones,  greens and non starchy, low glycemic items.
25% of your meal may be taken from animal protein (including eggs). Vegetable protein can be found in seeds, nuts. Healthy fats from avocado, nuts and olive oil.
The pegan diet is rather forgiving though. Even the items noted as not forming part of the diet can be had occasionally, as a treat. And some in the 'ok' list should be had in small quantities, as a side dish.
Dr Mark Hyman, the propounder of the Pegan philosophy and diet, explains it all,in this article.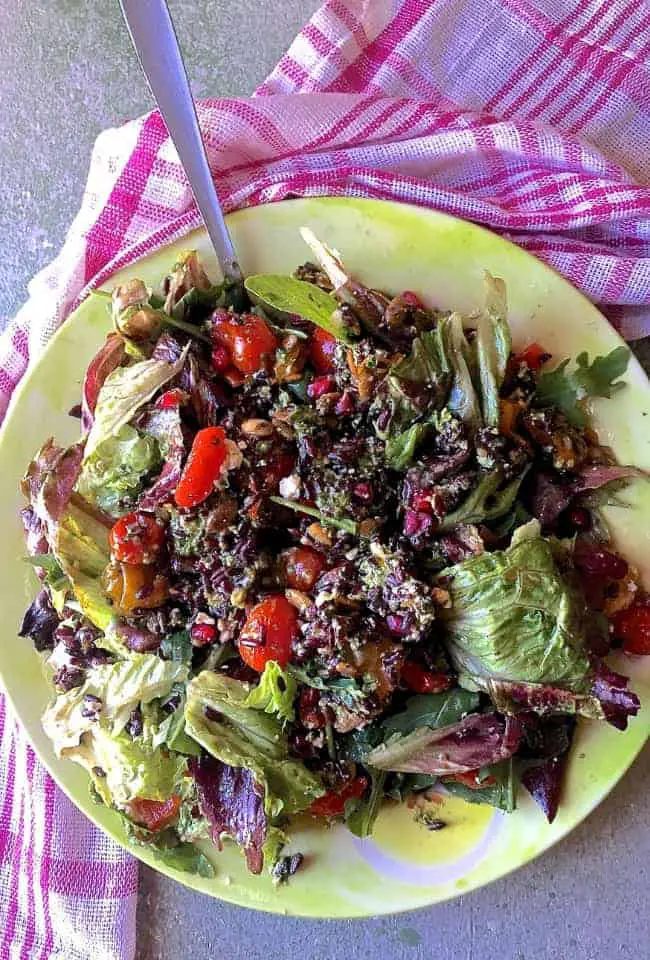 The theme for the 184th Foodie Monday Blog Hop event, Pegan Diet was suggested by Veena Krishnakumar. Veena blogs at Veena's Vegnation. Do visit her site for a look at the South Indian recipes, the many breads, the curries and side dishes, desserts and so much more.
When Veena first suggested Pegan on our chat group, most of us thought she had made a typo. Vegan or Pecan, that was the question. A little quick googling showed us how far from the mark we were! Over the week we learnt about the Pegan diet and exchanged articles and notes. Veena shared with us excerpts from Dr Mark Hyman's book.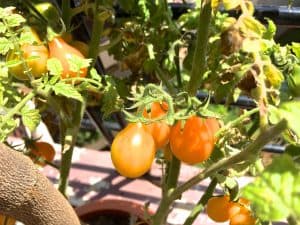 The Pegan diet seems very interesting, though I don't think I would stay away from diary or all gluten foods, unless health constraints force me to. My Roasted Tomato Black Rice Salad is the first in the recipes I hope to add under this label.
For my other recipes using Black Rice, a soft chewy grain with a nutty taste and a heady aroma, click these links:
Vanilla Apricot Black Rice Payasam/ Kheer/ Pudding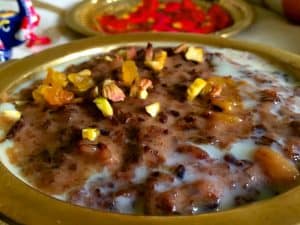 Black Rice Salad with Cranberry Orange Dressing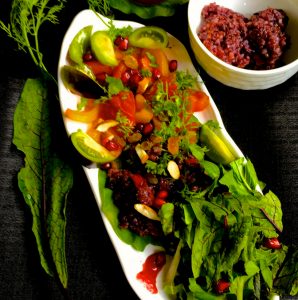 This Post is sent to the Event: 184 Foodie Monday Blog Hop with the theme: Pegan Diet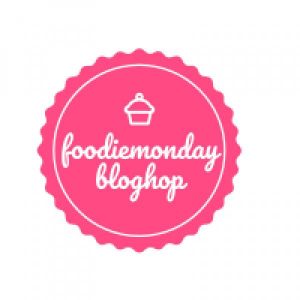 "Recipe"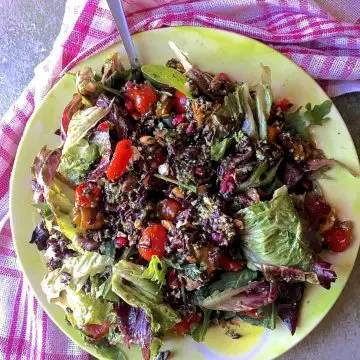 Roasted Tomato Black Rice Salad with Pesto
Pegan diet, Gluten free, Roasted Tomato Black Rice Salad. Fresh greens, vegetables, seeds, goat cheese and a nutty aromatic superfood and ancient grain, 'Forbidden' Black Rice, in a delicious nutritious salad
Ingredients  
¼

cup

black rice

¾

cup

water for pressure cooking

¼

cup

pesto without any cheese

Links in Post above for my recipes for Basil Pesto and Parsley Pesto

200

gms

Cherry tomatoes

Mixed Red, Yellow, Orange colours

½

Roasted Red Pepper

Links in post above for instructions for roasting and peeling

1

tablespoon

pumpkin seeds

2

cups

lettuce

Varieties with red or purple and green leaves

½

orange

¼

cup

Pomegranate arils/ seeds

50

gms

goat cheese

10

Rocket/ Arugula leaves

1

tablespoon

olive oil

1

tablespoon

lemon juice

½

teaspoon

salt

or to taste
Instructions 
To Cook the Black Rice
Cook the rice as per packet instructions. Some varieties need to be soaked overnight, some for as little as half an hour. The variety I used (FOR8 Aromatic Black Rice) did not specify soaking at all. ¼ cup of black rice will usually translate to ½ cup of cooked rice If soaking is not required, rinse the rise in clear water 2-3 times. If soaked, drain the rice after the required soaking time. Place the rice (after draining or rinsing as applicable) in the pressure cooker with 3 times its volume of water

Pressure cook as per package instructions. Different varieties have different cooking times. I pressure cooked mine on high till 1 whistle, and then reduced the heat to low, for 10 minutes. As I was cooking a very small quantity, it took just 4 minutes to reach the first whistle. Remove the cooker from the heat after switching off, and let it release pressure on its own. Once you are able to open the cooker, and while the rice is still warm, transfer the rice to a colander, rinse in cold water, and allow it to drain completely while you make the rest of the salad.
To Roast the vegetables
Preheat the oven to 200C. Prepare 2 baking sheets/ trays by lightly greasing them with a few drops of olive oil. Pumpkin seeds: In a small bowl, place the pumpkin seeds. Add ½ teaspoon of olive oil and a pinch of salt. Let the seeds be completely covered and then spread the seeds on one baking sheet. Tomatoes: Mix ½ a teaspoon of olive oil and a pinch of salt, and rub all over the tomatoes. Spread them on the second baking sheet, with a little space between each tomato. Red pepper: Rub all over with a few drops of olive oil and place on the tray with tomatoes. Set the two trays in the oven. After about 8 minutes, remove the seeds and immediately transfer to a heat proof bowl, so that the seeds stop roasting. Take out the second tray, remove the tomatoes to a heat proof bowl, and place the tray with the red pepper back in the oven. The red pepper should be roasted for 35 minutes, turning it to the other side after 20 mins. After removing, place under an inverted bowl, and peel after 15 minutes. For clear instructions on roasting and peeling the red pepper, check the post above for my recipe for the same.
Preparation:
Prep time for this recipe does not include time for making pesto. Once the roasted pepper is peeled, slice half of it into thin pieces. The other half may be sliced and placed in oil for use in other recipes. If you have bottled roasted red peppers, take out about ¼ cup for this salad. 2.If making pesto, put all the ingredients in the processor and blend them into a coarse pesto. As this salad is for a pegan diet, parmesan or other cheese is not to be added to the pesto. 3. Extract the pomegranate arils from half the fruit, into a bowl and remove any white skin/rind pieces 4.Peel the orange and de-seed as well as remove the thin white skin from about half of the orange segments. Slice each segment into 2.

5. Wash and dry the lettuce and arugula in a salad spinner or with a kitchen towel. Shred the lettuce. 6. Squeeze juice from one lemon 7. Crumble the goat cheese
To Make Pegan Roasted Tomato Black Rice Salad with Pesto
In a salad bowl, place the shredded lettuce. Stir the pesto gently into the cooked black rice, roasted tomato, red pepper orange slices. Add salt to taste. Add the rice and vegetables to the bowl with lettuce.

Mix the arugula leaves into the salad Scatter sunflower seeds, pomegranate arils and then the crumbled goat cheese. Drizzle with a teaspoon of olive oil. Enjoy!