Vegetarian Corn Chowder, a refreshing and easy to make soup. Filling, comforting and delicious. Flavoured with fresh mint leaves and with thyme. Mildly spiced with black pepper powder and red pepper flakes, this is one soup you will come back to again and again. Even the kids will love the chowder! Can make a meal by itself with slices of toasted bread.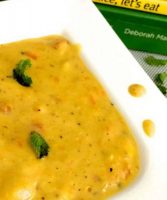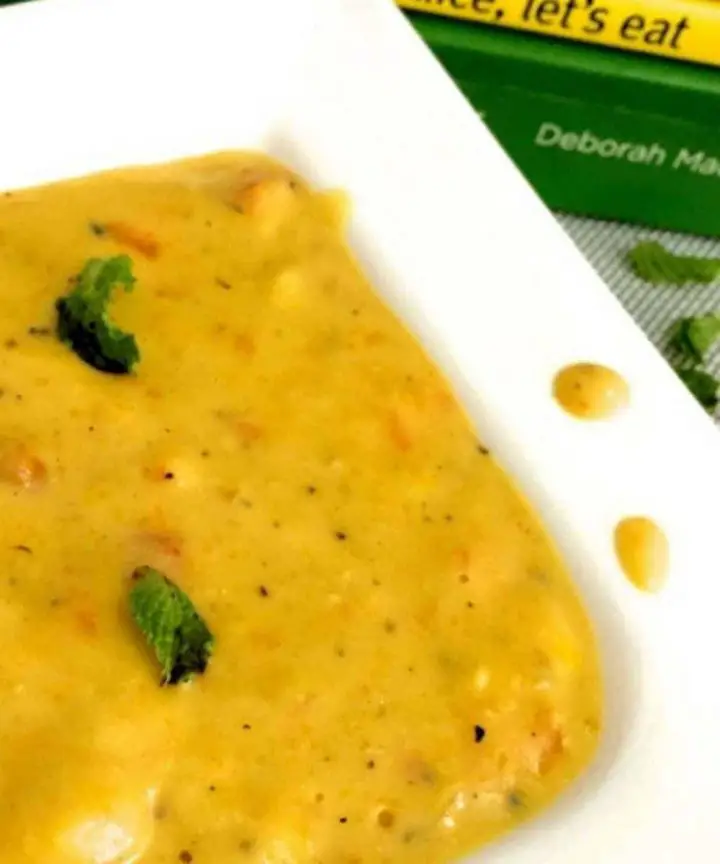 Making Vegetarian  Corn Chowder
Carrots and corn make up the bulk of the soup. The combination of vegetables use give it just the right texture and blend of flavours. Thyme and fresh mint add the finishing touch.
The recipe for this thick Corn soup has been broadly adapted from Two Peas And Their Pod food blog. The original recipe calls for potatoes and celery which I have not used. Though I love Potatoes, I wanted a less dense soup. And celery has been left out as I didn't have any when I made the soup. They are also not that readily available in many places in India.
I've made quite a few changes to the quantities of some of the ingredients to balance the omission of the potatoes.
I decided to puree the vegetables at one point, before adding the corn, and the resulting texture of the soup is therefore different from the original recipe.
With November on its way in and all kinds of bugs and flu hovering and ready to strike the unwary, this vegetarian corn chowder is just right for a hot, tasty and nutritious meal with not too much effort in the kitchen. It is thick enough to make a light meal of itself, with a slice or two of bread alongside.
Other Soups You may like to Try from this blog:
Curried Chili Zucchini Soup with Walnuts and Turmeric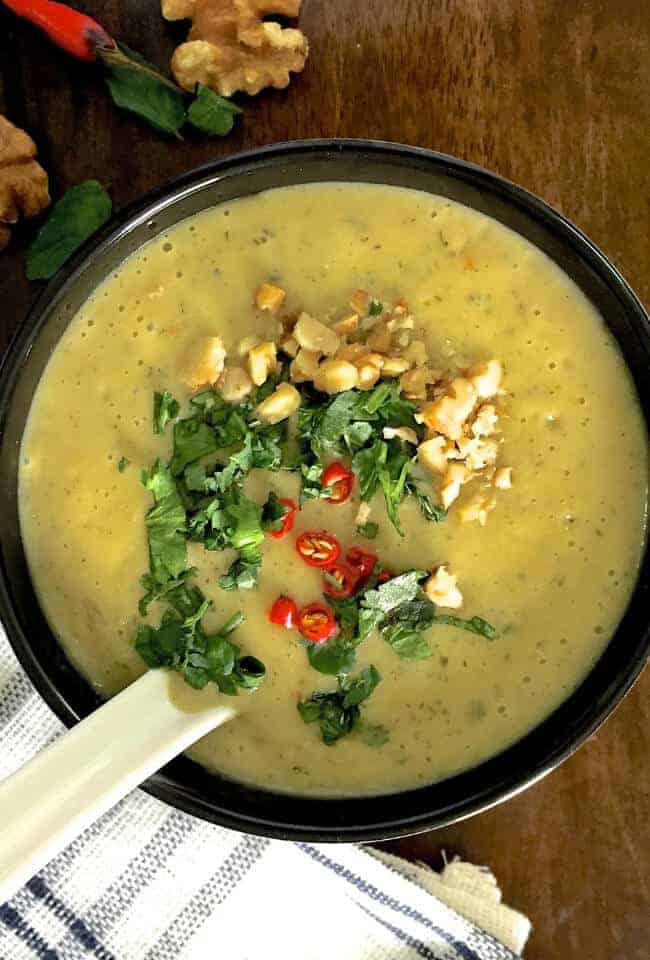 Pea Mint Basil Soup: Nourishing Winter Soup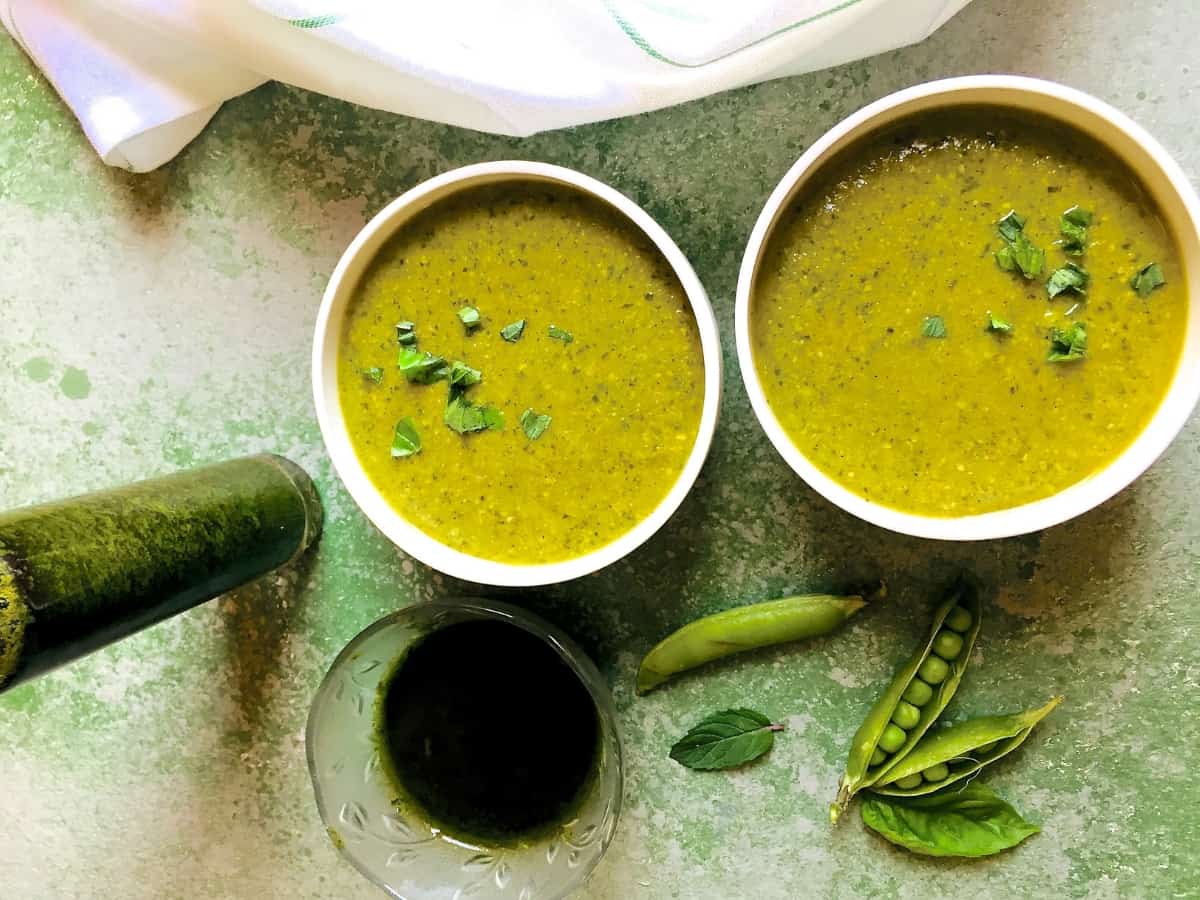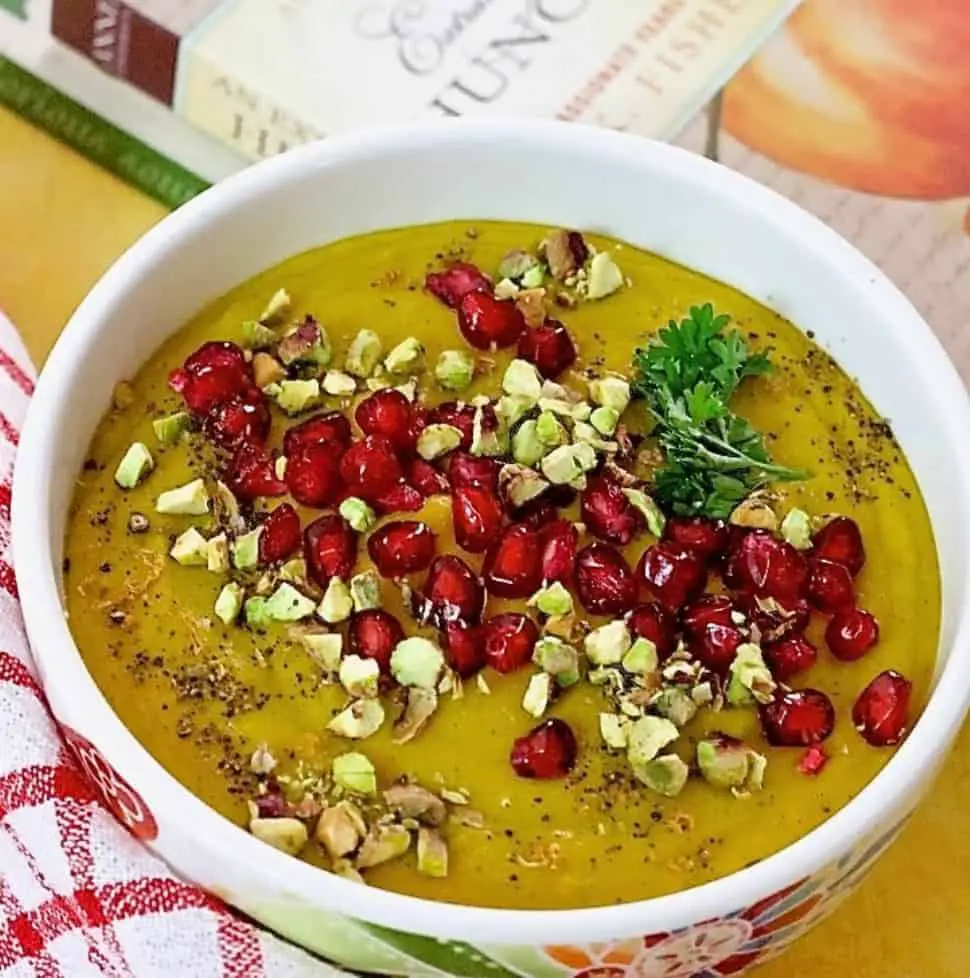 "Recipe"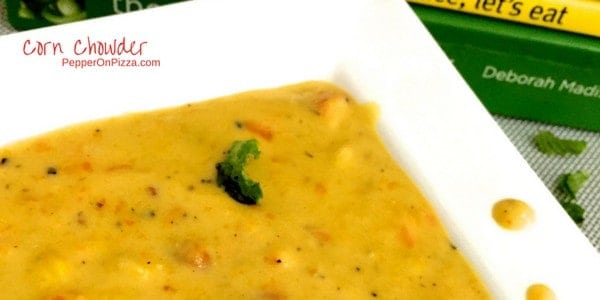 Vegetarian Corn Chowder – Easy Thick Corn Soup
Vegetarian Corn Chowder, an easy to make, nutritious and delicious Soup of Corn, red bell pepper and carrots, flavoured with mint and thyme and red pepper flakes.
Ingredients  
1

carrot

½

cup

onion

2

cloves

garlic

½

cup

red pepper

sliced

1

cup

baby corn

sliced

2

tablespoons

unsalted butter

or vegetable oil

2

cups

vegetable stock

2 ½

cups

milk

¼

cup

flour

2

cups

corn

1

teaspoon

black pepper

freshly ground

¼

teaspoon

red pepper flakes

½

teaspoon

dry thyme leaves

a few

mint leaves

fresh or dry

¼

teaspoon

salt

or to taste
Instructions 
Preparation
Peel the carrots, onion, garlic. Dice carrots, baby corn and red pepper into similar slices, about 1cm square. Uniform sizes will help them cook faster and get done at the same time. Slice onions and garlic.
Making Vegetarian Corn Chowder
Melt the butter in a pan and sauté onions for 2 minutes. Add garlic, sauté for 30 secs. Add carrots, red peppers and baby corn. Sauté for 5 minutes on low flame, stirring often.

Add the stock, bring to a simmer and cook on low flame for 20 minutes till the carrots are tender and soft. Strain the vegetables, leaving the drained stock in the pot. Turn off the flame.

Let the vegetables cool for 5-10 minutes. Transfer to a blender and puree coarsely. Its okay if a few pieces remain, as they will add to the texture of the soup.

Transfer the puree back to the pan of stock, and heat it through on low flame for 5 minutes, stirring occasionally

While the soup is cooking, mix the flour in half the milk. Add this mixture to the pan, whisk it in. Add the fresh/ frozen kernels of corn and stir. Add salt to taste, ground pepper, red pepper flakes and thyme.

Add more milk till the soup is thin. The soup will thicken once it cools. Bring to a simmer, lower the flame and cook for 20 minutes or till the soup is thick, stirring periodically.

Take the Soup off the stove. Garnish with mint leaves and serve hot, with toasted or fresh bread.