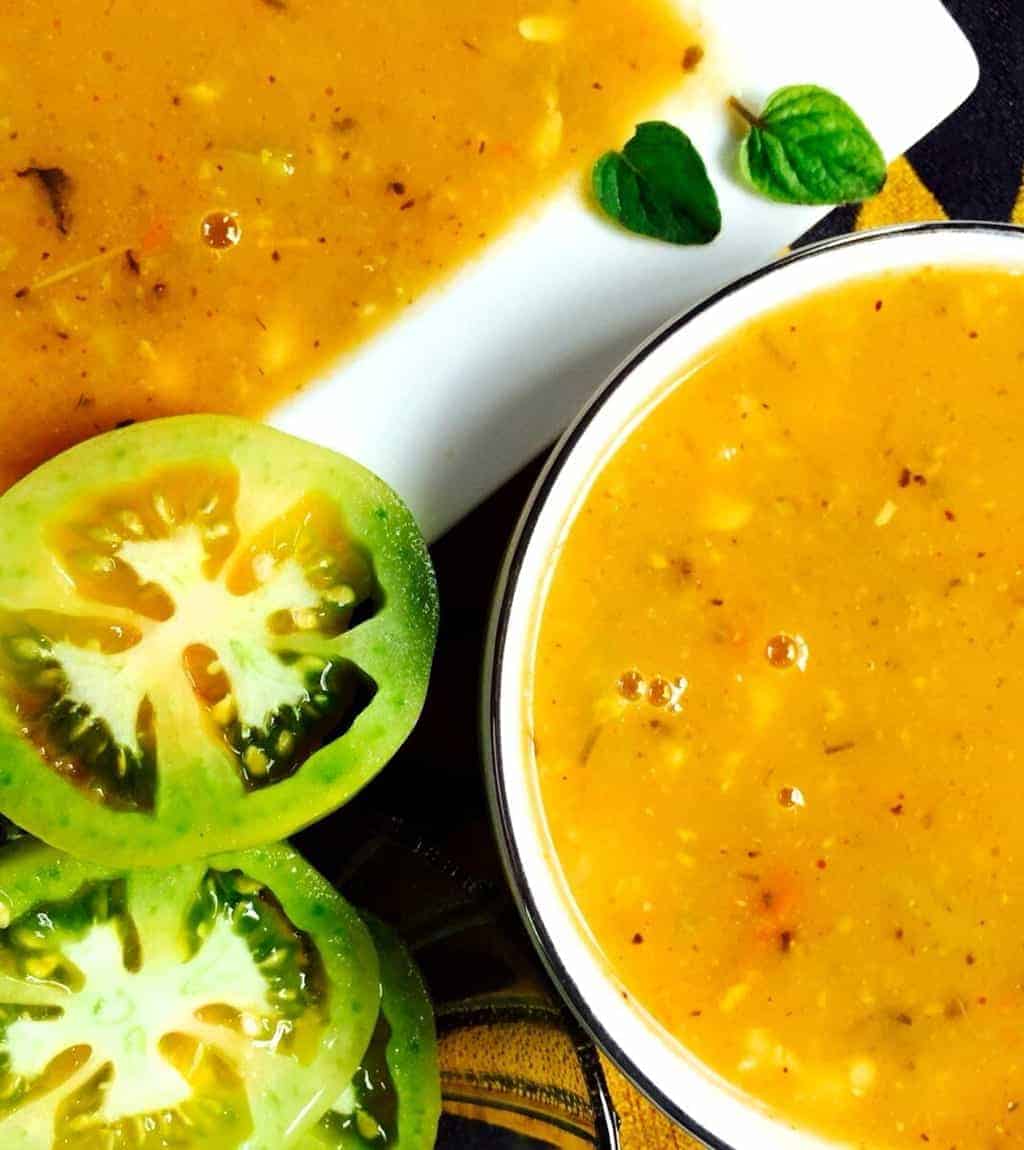 I remembered the book when I came across a bag of fresh green tomatoes at Big Bazaar. I usually search out a couple of raw green tomatoes when selecting tomatoes at the store, to add to whichever salad I am making, but today I felt adventurous enough to make this delicious, aromatic Green Tomato Corn Soup with Turmeric and Lemongrass , flavoured with fresh lemon grass, ginger, basil and mint.
I had included lemongrass in my online order of Vegetables and what was delivered was this big green broomstick type sheaf of lemongrass. Since both the tomatoes and the lemongrass were wasting away in the fridge, I had to use my imagination to consume at least some. I put together 2 ripe red juicy tomatoes to 4 green tomatoes and a cup of shelled frozen corn. It was delicious, with the flavours complementing each other. My throat was a little sore and I felt a cold was coming on, so I added ginger and turmeric to the ingredients. Ginger and turmeric are my go to ingredients when my throat starts acting up.
Im not sure whether the lemongrass, oregano, basil and ginger are seasonings or whether they flavoured the soup. Wikipedia says that Larousse Gastronomique states that "to season and to flavour are not the same thing", insisting that seasoning includes a large or small amount of salt being added to a preparation." Be that as it may, the combination of herbs and spices gave a distinct and tangy taste to the soup.
Add a twist by drizzling Basil oil on the soup when you serve it.
Link to my Recipe for Easy Homemade Basil Oil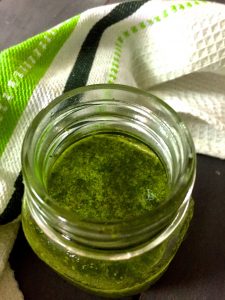 This Green Tomato Corn Soup with Turmeric and Lemongrass is an all season one (if you find the ingredients when tomatoes are not in season!). It is refreshing in warm weather, comfort food during the Indian Monsoon and perfectly right for chill weather.
SaveSave
SaveSave
SaveSaveSaveSave
SaveSave
SaveSa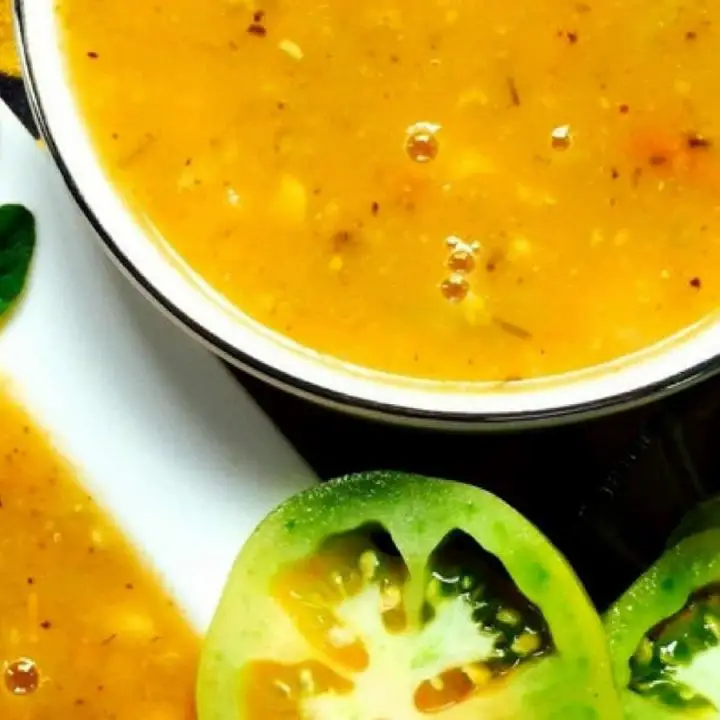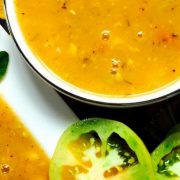 Curried Tangy Green Tomato Corn Soup with Turmeric and Lemongrass
Delicious and Easy to make, Green Tomato Corn Soup with Turmeric and Lemongrass of firm green tomatoes, ripe red tomatoes and corn, flavoured with lemongrass.
Print Recipe
Ingredients
For
2

cups

Green tomatoes

1

cup

Red Tomatoes

-

Juicy ripe tomatoes

1

cup

corn

-

Shelled

4

cups

vegetable stock

1

cup

onion

½

tablespoon

ginger

-

minced

½

tablespoon

garlic

-

minced

1

tablespoon

olive oil

1

tablespoon

lemongrass

¼

teaspoon

turmeric

1

teaspoon

curry powder

-

Madras curry powder

2

teaspoons

oregano

-

minced (1 teaspoon if dry oregano is used)

2

teaspoons

basil

-

minced (1 teaspoon if dry oregano is used)

to taste

salt

1

teaspoon

Fresh ground pepper
For Garnish
1

tablespoon

melted butter or basil oil

a few

mint leaves

-

minced

a few

basil leaves

-

minced
Instructions
Choose firm raw green tomatoes and ripe juicy red ones. Using more of the green tomatoes than the red, brings out the tangy sharp flavour of the green tomato, while the juice of the red tomatoes adds body to the soup. Slice the tomatoes and onion, and mince the ginger, garlic, basil leaves, mint, oregano and lemongrass stalks.

Heat a thick bottomed pot and add the olive oil. Add onions and sauté for 30 secs. Add ginger and garlic and sauté for 1 minute on low flame, stirring so that they do not catch at the surface of the pan.

Add lemongrass, turmeric and the curry powder and saute for 10 seconds or till the raw flavour of the curry powder dissipates. I've used Madras curry powder to bring some zest into the soup, but any curry powder should work as well.

Add the tomato and corn, saute for 5 minutes on low flame. Add the stock. Add ½ teaspoon of salt. Bring the soup to a boil and then simmer on low heat for about 20 minutes. Check that the corn has cooked through.

Take off from the stove and allow the soup to cool. Hot soup may splash when you run it in the processor. Liquidise/ Puree for 30 secs ( in batches, if required) in the food processor.

Place on stove again and heat for 5 minutes, stirring frequently to ensure the vegetables don't 'catch' the bottom of the pan. And salt and pepper to taste. Add minced basil and oregano. For each serving, garnish with mint leaves. and a streak of butter. For a vegan option, substitute butter with basil oil (recipe on this blog under 'Dressings, Dips and Sauces')
I had used green tomatoes often in salads, as they were familiar vegetables that grew in my mothers kitchen garden, ready to be plucked from the vine. The possibility of green tomatoes in other dishes struck me only when I came across 'Fried Green Tomatoes At The Whistlestop Cafe.' I enjoyed the movie and then subsequently the book, inspite of the dark overtones that creep into one murky chapter. At the end of the book there were some interesting recipes using Green Tomatoes, which caught my foodie fancy and I thought of making soup from green tomatoes. From there to this Green Tomato Corn Soup with Turmeric and Lemongrass was easy.