Colourful salad bursting with flavours and textures. Roasted tomatoes, Peppers and Figs with a cherry tomato sauce, mint, parsley and purple basil and a dressing of lemon juice and white wine vinegar.
A basket full of fresh vegetables and herbs were the inspiration for this salad. I love Purple in all its myriad shades, and my life and my kitchen have not been the same ever since I have been able to source gorgeous vegetables and herbs such as the purple beans and purple basil as well as the juicy heirloom tomatoes and colourful cherry tomatoes I have used here. I'm so blessed to live at Bangalore where I can now dream up recipes using such a variety of vegetables and fruits and of course herbs. All these zero pesticide veggies are delivered at home twice a week by Sakura Fresh and grown at First Agro Farms at Talkad, Mysore.
This is an easy salad to put together, though I have gone full flow on the cooking methods for various ingredients: I have roasted the Heirloom tomatoes, sweet bell peppers and figs, as well as made a simple cherry tomato sauce with onions and purple basil, as well as blanched the purple beans. So you have roasting and blanching and sautéing, as well as cooking the couscous and of course, mincing the parsley and mint and mixing the dressing!
You could choose to do away with the roasting, though I think it gives an amazing twist to the taste of this salad. The quantities are not hard and fast, these are just what I had used for this recipe.
The purple green beans looked so pretty when I cut them slightly on the bias to showoff the green inside and the purple outside. The colour began to slip to green as soon the beans felt some warmth during blanching. I took them out of the boiling water immediately, when they showed signs of turning green, and dumped them in ice cold water so I could retain their purple colours. However once I placed a few of the cut beans on the warm couscous, they turned green all over before I could even photograph them, leave alone serve them!
"Recipe"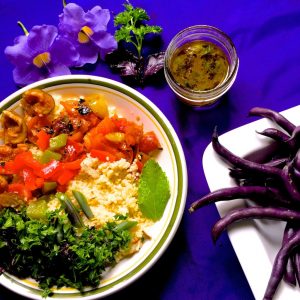 Couscous Salad with Purple Beans, Heirloom Tomatoes, Figs in Cherry tomato sauce & a Lemony dressing
A colourful salad bursting with flavours and textures. Couscous with Roasted heirloom tomatoes, Peppers and Figs in a cherry tomato sauce, mint, parsley and purple basil and a dressing of lemon juice and white wine vinegar.
Ingredients  
To Roast
1

Red Pepper

4

Figs

(fresh and ripe)

½

tablespoon

Olive oil
For Cherry Tomato sauce
1

tablespoon

Olive oil

1

Onion

(minced)

(crushed) 1

clove

Garlic

a few

Basil

leaves

8

Cherry tomatoes
For Garnish
¼

cup

Parsley

leaves (minced)

2

tablespoons

Mint leaves

(minced)
Couscous
½

cup

Couscous

½

cup

Water

to taste

Salt
For The Dressing
2

tablespoons

Lemon juice

2

tablespoons

White wine vinegar

1

tablespoon

Honey

2

tablespoons

Olive oil

(extra virgin)

to taste

Salt

1

teaspoon

Basil

leaves minced
Instructions 
Select bright coloured tomatoes and cherry tomatoes of different colours/shades.

You may need to do some multi-tasking here, making the sauce and the dressing while the vegetables are roasting, setting the couscous and side to cook while you get the beans and herbs ready.

Roast the vegetables:

Halve the green and red peppers and the tomato and figs. Place the peppers cut side down on a roasting tray coated lightly with olive oil, and sprinkle or spray olive oil on top. Place in the oven/ microwave to roast for 20 minutes. After the first 10 minutes, take the tray out and add the tomatoes and figs, cut side down, sprinkling them with olive oil. Continue roasting for another 10 minutes. Remove from the oven and transfer to a bowl, covering it with cling wrap. Set aside to cool for about 5 minutes. Refer step 7 below

Make the cherry tomato sauce while the peppers and tomatoes are roasting:

Heat a pan and add the olive oil. Add the minced onion, sauté for 2 minutes or till the onions become soft. Add the minced basil leaves, reserving a few whole leaves for garnish. Crush the garlic in a little salt to bring out its flavours, and add.

Halve the cherry tomatoes lengthwise and put them cut side down in the pan. Sprinkle salt, and let them cook, stirring occasionally, for 10 minutes or till they begin to look soft and the juices are let out. Try to keep them whole without squashing them.

Remove from the pan and keep aside.

Meanwhile, peel the skin off the tomato and peppers when they are still warm to the touch. Chop into small chunks. Slice the figs. Set aside.

To prepare the Couscous:

I used instant couscous, though I did not follow the packet instructions. You may however cook the couscous as you prefer.

Toast the couscous for 2 minutes in a hot pan, on a low flame, after adding a little salt (to your taste).

Transfer to a bowl. Add boiling water and cover the couscous, leaving it undisturbed for at least 10 minutes. Fluff it up with a fork. If it seems damp and moist, cover it and let it steam some more.

To make the Lemon Dressing:

Add the vinegar and then the honey to the lemon juice, stir till the mixture is smooth. Slowly add the oil whisking all the while till it emulsifies with the lemon vinegar. Add the minced basil leaves and a little salt, stir well and keep aside.

Mince the parsley and mint.

Blanch the beans in a lot of salted boiling water for 2-3 minutes. Remove, drain and immediately plunge into water to which you have added ice cubes, so that the beans stop cooking. Drain after 2 minutes and chop into about 1 inch lengths and set aside.

Serve one portion of couscous with little servings of roasted tomatoes, figs and peppers, cherry tomato sauce, sliced beans and herbs. Pour ¾ to 1 tablespoon of dressing on each serving.

Mix it all together into the couscous on each plate, and enjoy!