Making Pizza at home is a whiz, once you have got the making of the dough under control. You can experiment with all kinds of healthy, tasty toppings with fresh produce.  I usually make pizza dough from the easy recipe for Magic Bread Dough in the River Cottage Veg Everyday Cook book, and had been coming again and again to the recipe for Kale and Onion Pizza. As Kale is not usually available where I live, I could only look longingly at the pictures and then sigh and turn the page! Finally though, I did get to make the Kale and Onion Pizza.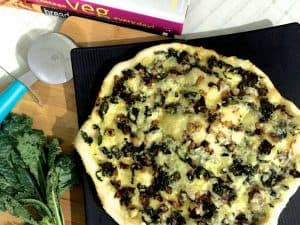 When First Agro Farms of Mysore, delivered a bunch of their zero pesticide leafy Tuscan Kale, this Kale and Onion Pizza was the first recipe I tried out. Making pizza dough has become a weekend routine, and preparing the topping takes only a few minutes. When this kale and onion topping is used, you don't need tomato sauce or other spreads for the pizza.
If you think kale is a little bitter or even boring, just try out this delicious recipe for Kale and Onion Pizza, and think again! Even the kids who shy away from vegetables, will be asking, like Oliver Twist, for More!
Here's the Link to my recipe for Basic Pizza Dough, which you need to make Kale and Onion Pizza:
Health and Nutrition: Kale, the Superfood
Kale, as is widely know, is one of the superfoods, abundant in nutrition and with disease fighting properties, and has been known since the time of the Romans. During World War II, at the time of intense rationing, authorities in the U.K. encouraged the backyard cultivation of this hearty, easy to grow plant for the Dig for Victory campaign, that likely saved many from sickness and starvation. Though Kale is often taken raw, in salads, sources such as whfoods say that steaming brings out special cholesterol-lowering benefits, since the fibre-related components in kale bind together better with bile acids during digestion, when steamed, ultimately helping to reduce cholesterol levels. Raw kale still has cholesterol-lowering ability—just not as much. Kale's nutrient richness is said to comprise (1) antioxidant nutrients, (2) anti-inflammatory nutrients, and (3) anti-cancer nutrients in the form of glucosinolate.
Kale's cancer preventive benefits have been linked, in research, to its high and unusual concentration of antioxidants, viz, carotenoids and flavonoids. At the top of the cancer-related research for kale are colon cancer and breast cancer, but risk of bladder cancer, prostate cancer, and ovarian cancer have all been found to decrease in relationship to routine intake of kale. Kale also has important omega 3 content, which is good news for vegetarians who otherwise have very few sources for this essential nutrient believed to improve cardiovascular health as well as improving learning and behavioural stimulation in children.
Kale has unusually high levels of Vitamin K as well as having vitamins A, B6 and C and minerals and fibre content and has all the essential amino acids which are required for building protein in the body. It is said to contain more calcium per gram, than whole milk and the calcium in kale is absorbed more easily than milk.
"Recipe"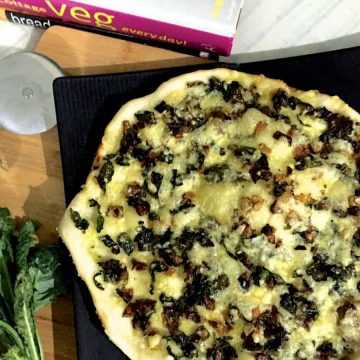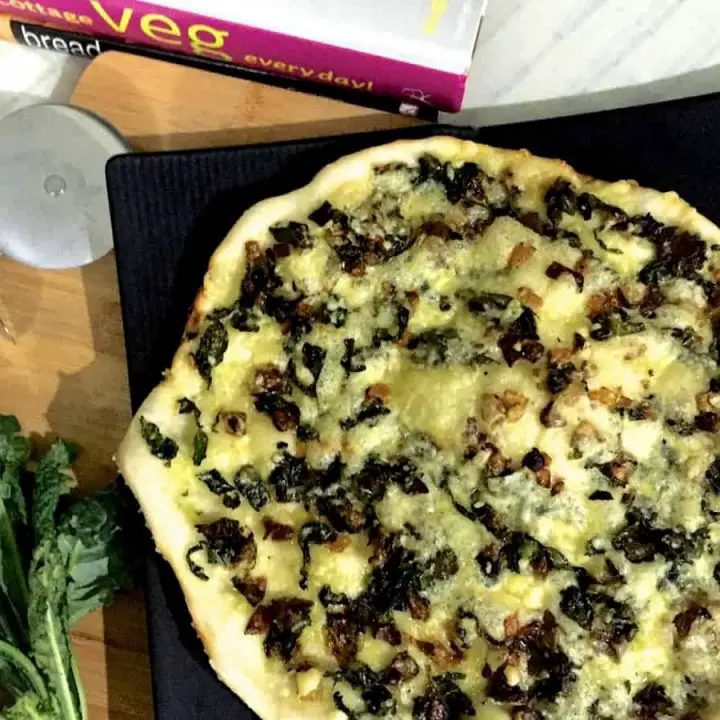 Kale and Onion Pizza- Healthy and Delicious
Healthy, delicious, easy to make pizza with homemade dough topped with sautéed onion and fresh kale. With the nutrition and disease fighting properties of kale, pizza becomes 'healthy food' instead of junk!
Ingredients  
1

portion

pizza dough

Refer link to recipe in introduction above or notes below

1

tablespoon

olive oil

¼

cup

onion

sliced

1

clove

garlic

1

cup

kale leaves

about 100 gms

to taste

salt

to taste

pepper

(freshly ground)

¼

cup

cheddar cheese

Grated

olive oil

A little extra for the pizza top
Instructions 
PreHeat the Oven:
Once the pizza dough has risen and is ready, and about 30 minutes before the pizza is to be served, preheat the oven to 240-250 deg C. You need it to be at least at 220 deg C (430 F) for pizza, and the hotter, the better. 250 deg C (480 F) works well for me.

Place the pizza stone (if using) or a baking sheet, in the oven. If you are not using a pizza peel, then lightly flour a baking sheet and directly place the rolled out pizza dough on it, as in step 4 of 'Make the Pizza', below.
Prepare the Kale & Onion Topping:
The quantities of ingredients given above are for one large pizza, and may be added to in the same proportion, for the number of pizzas being prepared. Salt and pepper to be added to taste.

Wash and pat dry the kale or dry in a salad spinner. Mince the garlic and thinly slice the onion. Grate the cheese.

Slice the kale into ribbons and then again crosswise into about 1" long pieces. I rolled the kale into a rough cigar shape, sliced it into ribbons, and once more slice each ribbon roll into 3 across the width.

Heat a small frying pan and add oil. Add the garlic, sauté for about a minute, even less if the garlic begins to brown. Add the onion and sauté on low flame for about 5 minutes, without letting it brown.

Add the kale and sauté for another 3 minutes on low flame, stirring frequently, till the kale wilts and reduces drastically in volume.

Add a little salt and pepper. I used ⅛ teaspoon of salt, but you need to check the quantity and taste, and then add, as the kale would have wilted down to a few spoonfuls, and a little salt would go a long way.

Stir and remove the pan from the stove, transferring the kale and onion to another container immediately, so that the kale does not continue to cook in the hot pan.
Make the Kale & Onion Pizza:
Place the ball of dough onto a lightly floured surface. I use a silicone baking sheet spread on the kitchen counter. Flatten the dough gently with you fingers and leave it to rest for a few minutes.

Using a light rolling pin, gently roll the dough to a thin circle (about 3mm thick). Or pull the corners with your hands and then roll the dough into a circle.

Spread the kale and onion mixture evenly on the pizza base

Take grated cheese and spread it across the pizza base, on the kale and onion mixture and wherever there is space in between. Drizzle about ½ tablespoon of olive oil on the pizza.

Using oven gloves, place the baking sheet on top of the hot baking sheet in the oven, or else slide the dough from the pizza peel onto the baking stone.

Bake for 8-10 minutes, or till the dough is crisp and starts lifting at the edges. Remove from the oven. Slice into wedges and serve hot. This is thin crusted, crisp pizza and the kale makes it healthy and tasty!
Notes
Link to Recipe for Basic Pizza Dough on this blog: https://www.pepperonpizza.com/easy-homemade-pizza-dough-recipe
Link to Tomato Mozzarella Pizza recipe on this blog: Homemade Thin crust Tomato Mozzarella Pizza
The Tuscan Kale was received as a sample, free of cost, from First Agro Farms, however the idea and content for the post are my own and not influenced in any way by First Agro. The mention of First Agro's name in this post is to acknowledge the zero pesticide, non GMO and often exotic produce that they supply through their e-commerce unit, Sakura Fresh, which makes cooking so much more interesting and of course, healthy.