It's the time of the year when vegetable shops abundantly display gourds of all shapes and sizes. Make tasty dishes from these unpromising but highly nutritious vegetables. Tori/ Turai/ Peerkangai is high in fibre content, low in saturated fat and cholesterol. The Ridge Gourd Peanut Chutney or Peerkangai Thogaiyal, is easy to make and tastes really good too.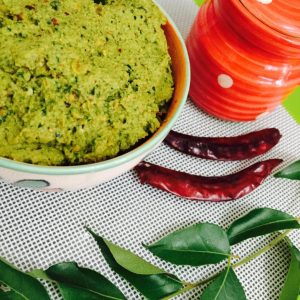 Adapted from the traditional Tamil Peerkangai Thogaiyal, this  Ridge Gourd Peanut Chutney is made from the peel of Ridged Gourd (Tori/ Peerkangai) roasted in sesame oil with curry leaves, peanuts, chilli and spices, and ground into a fragrant chutney. The addition of peanuts adds to the texture and taste of the chutney. Serve with hot rice and sesame oil and with pappad.
The Ridge Gourd has so much going for it.
Rich in dietary fiber, the Ridge gourd is considered to be helpful in digestion and has a significant content of cellulose as well as being high in water content that helps to relieve constipation.
Rich in  Vitamin C, as well as minerals such as Zinc, Iron, Riboflavin, Magnesium and Thiamin, ridge gourd is  also high in Beta-carotene.
It is low in saturated fat, cholesterol and calories
The Peerkangai Thogaiyal is a tasty way addition to your menu and takes very little time and effort to make.
I have made another version of the Peerkangai Thogaiyal in my series on Cooking for the New mom. Ridge gourd is one of the vegetables accepted in the traditional Tamil Pathiya Samayal or Balanced Diet for the new mother, and fresh peppercorns take their place of the chillies in that recipe.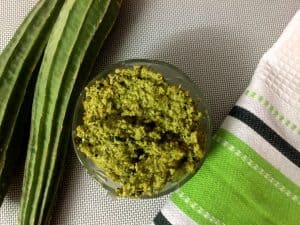 I find peanuts very versatile. You might like to try this recipe for a Tomato Peanut Orange Peel Chutney with Turmeric, in the Andhra style! My version is less spicy than a true blood person from Andhra Pradesh would make!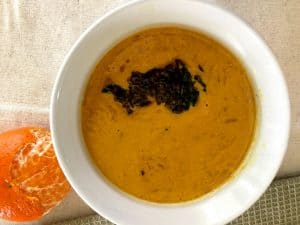 "Recipe"
Turai Ridge Gourd Peanut Chutney with Curry Leaves – Peerkangai Thogaiyal with Karuvepallai & Verkadalai
Tasty and Easy, Highly nutritious Peerkangai Thogaiyal or Ridge Gourd Chutney enhanced with Peanuts. Rich in fibre, minerals and vitamins, it help fight diabetes and digestive complaints.
Ingredients  
1

cups

Ridge gourd peel

¼

teaspoon

Fenugreek seeds

(methi)

1

pinch

Sesame seeds

(til) a

2

dry red chilli

4

Peppercorns

¼

cup

peanuts raw

¼

cup

curry leaves

½

cup

tuar dhal

⅛

teaspoon

asafoetida

(hing)

¼

teaspoon

turmeric

powder

to taste

salt

1

tablespoon

sesame oil
Instructions 
Wash the Turai (Peerkangai)  scrubbing it well. Cut it  into about 4 pieces, and remove the marrow. We are going to use only the peel. The marrow can be reserved for use in sambar or a curry.

Keep all the ingredients ready as per the list above. Chop the tori peel roughly into 2 to 3 " pieces to make them convenient to handle.

Heat the oil in a pan, reduce the heat and and add methi, til seeds and red chillies one after the other, sautéing for 5 secs each. Add the pepper and hing, sauté and add the peanuts. Sauté for 30 secs while the peanuts crack and burst.

Add the thowar dhal, sauté for 30 secs making sure the dhal doesn't blacken and char. Add the curry leaves ( breathe in the aroma as you fry them)! If they are fresh, they will crackle and sputter in the oil.

Using a slotted spatula, remove all the roasted ingredients to a dry bowl, gently pressing them to the sides of the pan as you remove, so that the oil is drained and remains in the pan.

Add the chopped tori to the remaining oil, sauté, turning them over in the oil for 3 minutes. Add turmeric powder, sauté for 10 secs and remove the pan from the flame.

Once the roasted vegetables , lentils, peanuts and spices have cooled, grind into a paste in a food processor, without adding water. If the mixture seems to dry to grind, add 1-2 tsps of water. Add salt sparingly, run the processor so the salt integrates with the chutney, taste and add more if required.

Transfer the chutney to a serving bowl. Serve with hot rice and a teaspoon of sesame oil and fried pappad or potato chips. The chutney is to be mixed with the rice and oil.

I have successfully ( and enjoyably) used this chutney as a spread for sub sandwiches, tomato sandwiches, and in quesadilla.