The Mango Ginger/ Manga Inji/ Amba Haldi is such a delicious and easy to use ingredient that I felt it merited a separate post by itself. Domestically a traditional component in pickles in India, it has been used for centuries in both Ayurveda and Unani medical systems.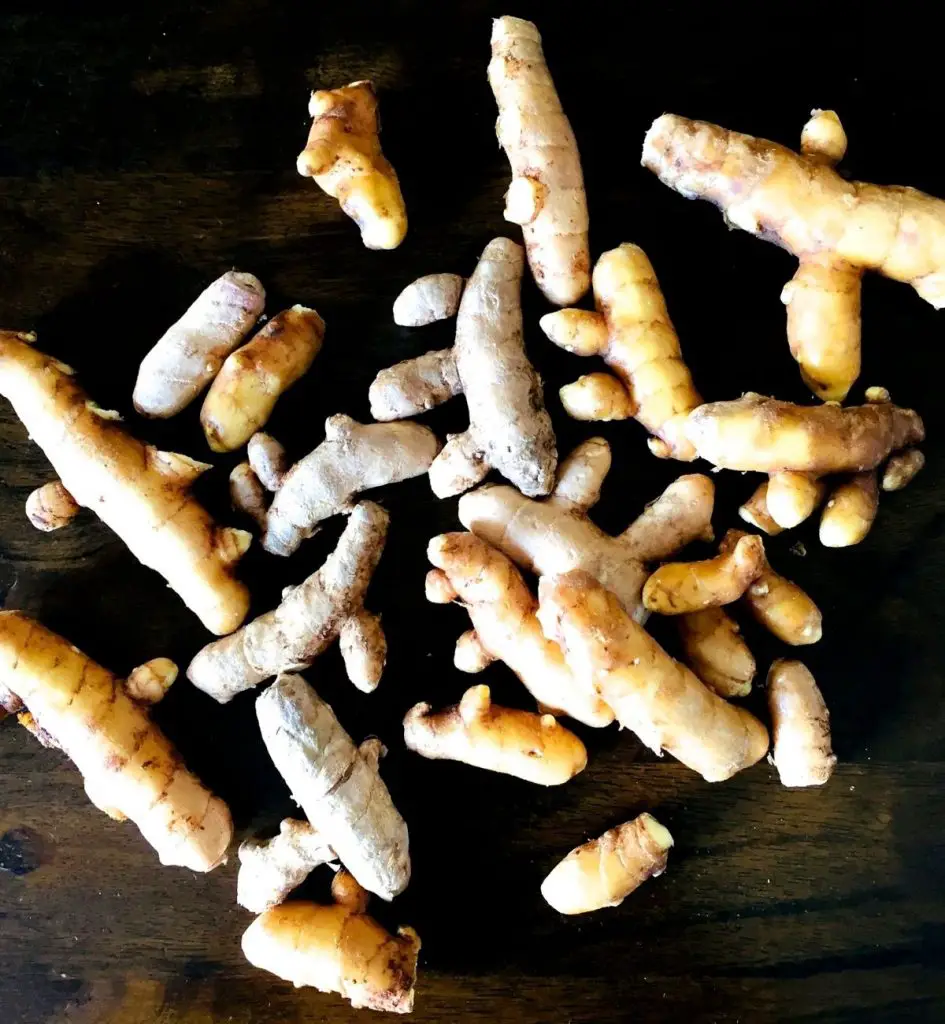 What Is Mango Ginger?
Botanically known as Curcuma amada, it belongs to the family Zingiberaceae which includes ginger, turmeric, cardamom and galangal among its members. It is however, neither ginger nor a type of mango and is more closely related to Turmeric, Curcuma longa. It derives its name from its appearance, which is quite similar to ginger, and its aroma and taste, which is a very subtle form of that of raw mango. Hence, its name!
It is known by different names across India: manga inji or maa inji in Tamizh and Malayalam, mamidi allam in Telugu, huliarasina in Kannada, karpura haldi, amba haldi, ama haladi in Hindi, amada in Bengali, amba haldar or ambaldi in Marathi, safed haldar in Gujarati, etc.
The root like vegetable is actually a rhizome, i.e. simply speaking, a plant stem which grows underground and sends out shoots and leaves.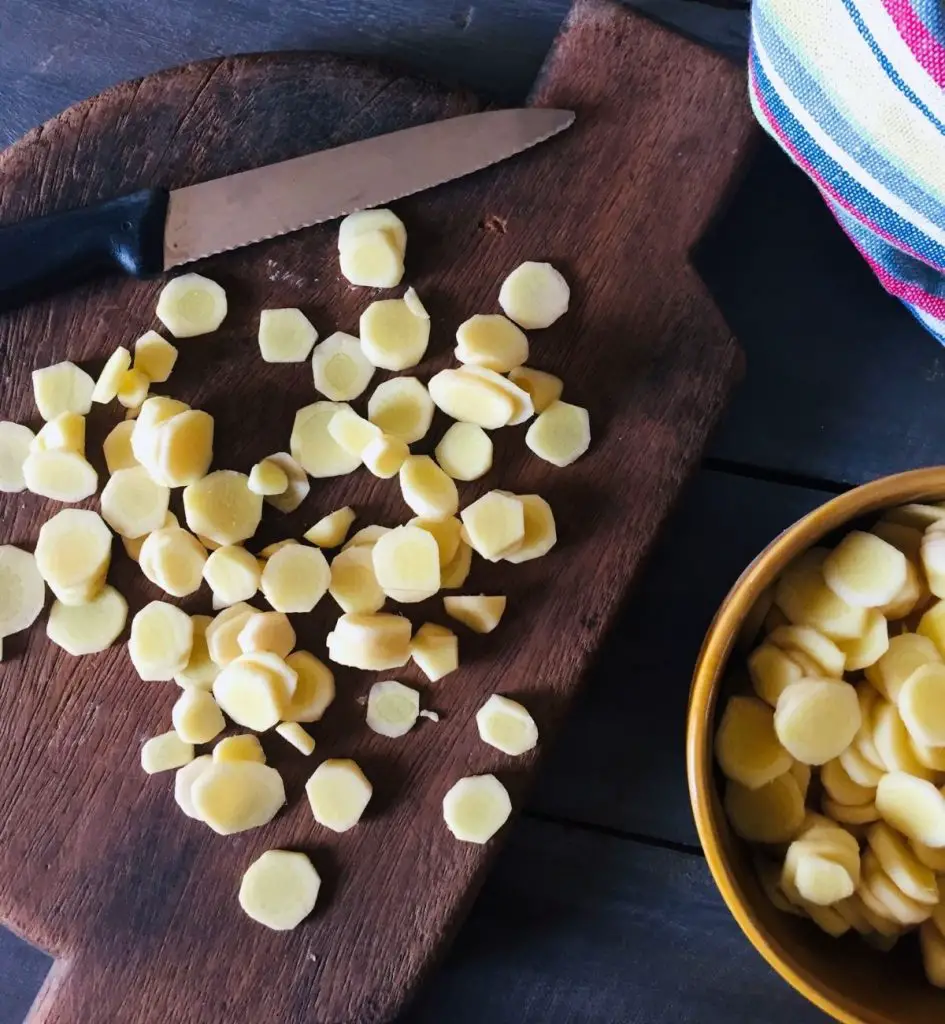 Possible Health Benefits
In Ayurveda, this vegetable/ spice is believed to have a cooling effect on the body. Further, it is believed to give relief from biliousness, itching and some skin conditions and inflammation due to injuries. It is used as an appetizer and a laxative. Extracts from the leaves of the plant are said to contain anti-oxidants and further research is on for the use of this extract in treatment of cancer. To read more about the possible benefits of this vegetable, refer here.
How To Use Amba Haldi/ Manga Inji
Here are a few recipes with this delectable rhizome. More will be added in the coming days. I am indebted to blogger friends Seema Doraiswamy Sriram who blogs at Mildy Indian, and Sujata Roy of Batter Up With Sujata, for generously sharing their lovely Salad and Chutney recipes here for the benefit of readers.
Dahi Chunka Pakhala
Amada brings special flavour to this traditional summer cooler from Odia cuisine. Cooked rice is soaked in water and curd, to which are added ginger, fresh chili, leaf of Gondhoraj lebu, crushed mango ginger and a tempering of dry red chili and cumin seeds in mustard oil. The rice mixture is left to ferment overnight and then seasoned with salt and juice of Gondhoraj lebu/ King of limes found in Bengal and Odisha regions. Link to the recipe: Chunka Dahi Pakhala.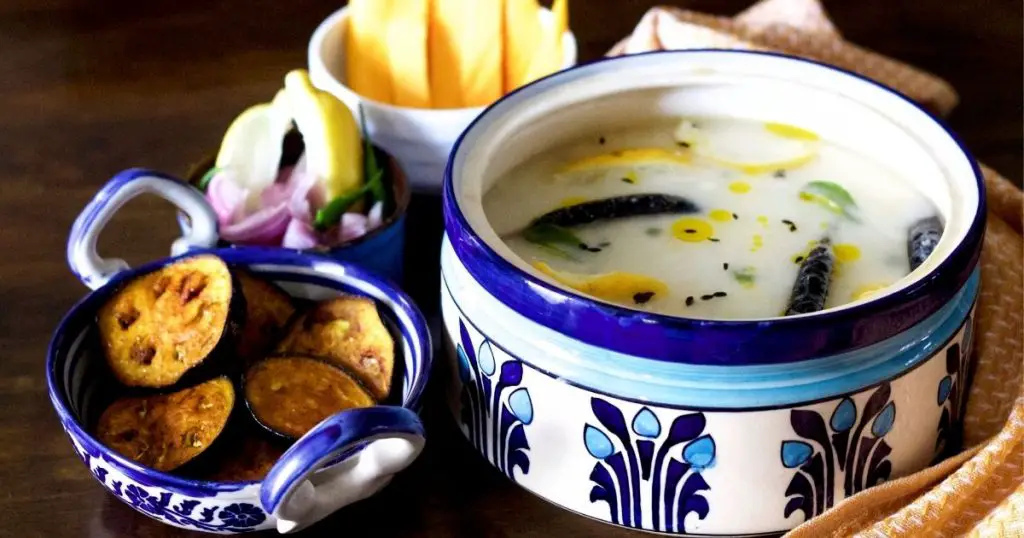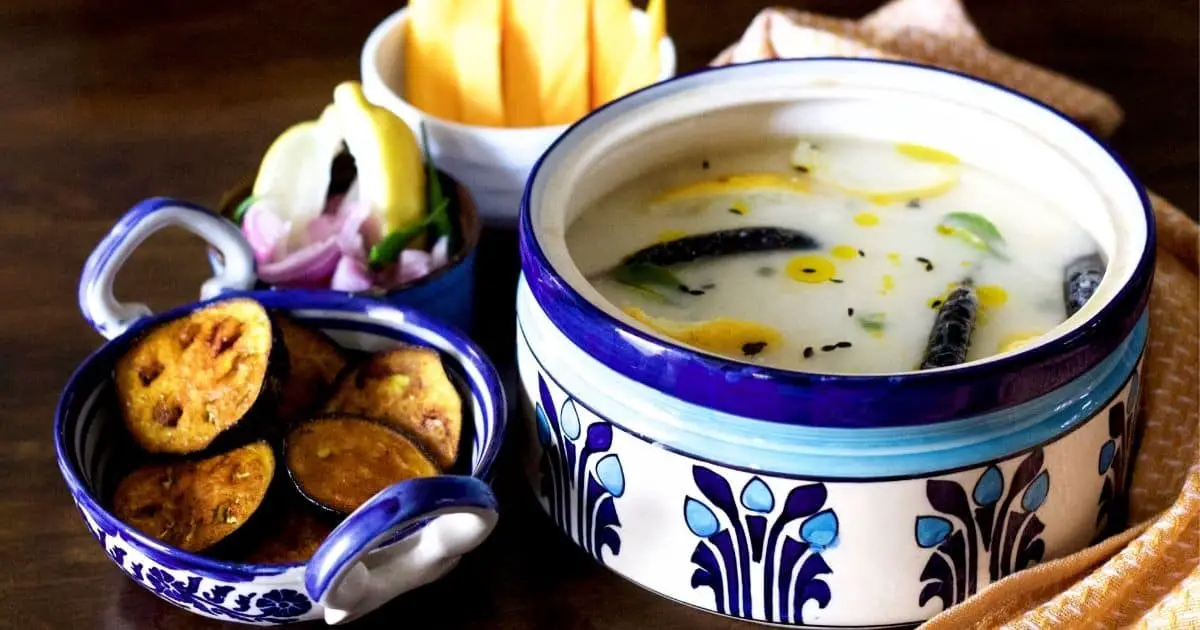 Fresh Cucumber Carrot Mango Ginger Salad
While white turmeric or manga inji is best known in pickles, here is an aromatic and flavourful salad with the addition of cucumber, raw mango and carrot, from food blogger Seema, of Mildly Indian. Here's the link to the recipe post: Mum's Maangainji Salad.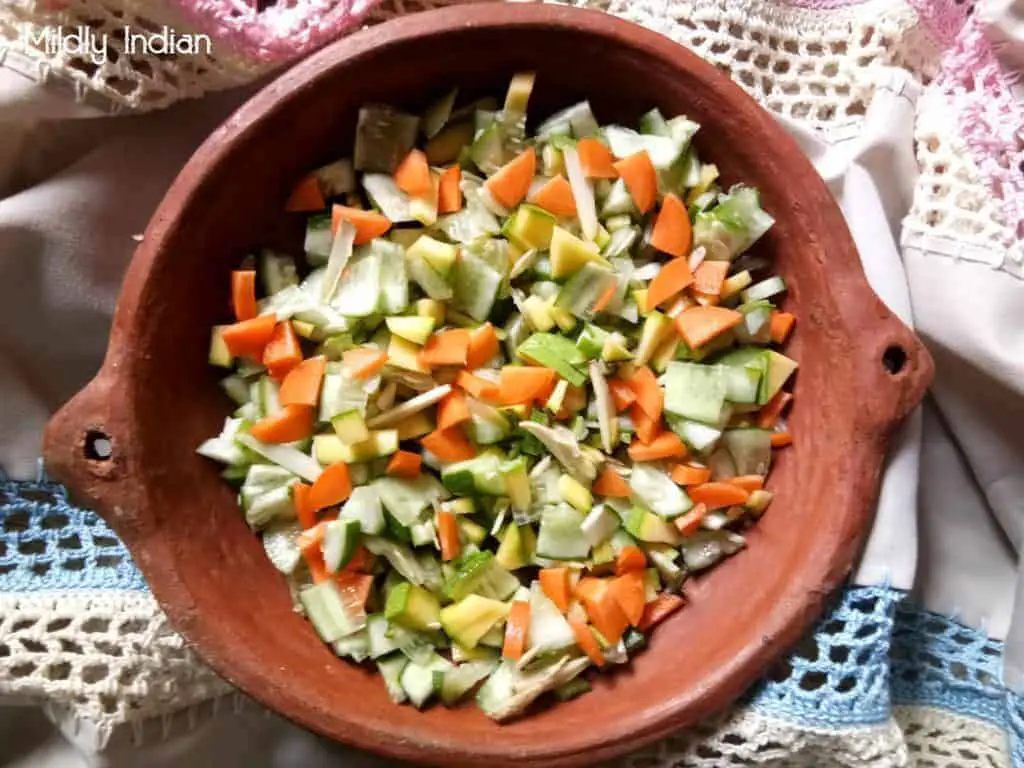 Easy Manga Inji Pickle
The easiest pickle you could possibly make, where the only real prep is to peel and slice the vegetable. From this blog, PepperOnPizza. Link to the recipe for Manga Inji Pickle: Manga Inji Pickle/ Amba Haldi Pickle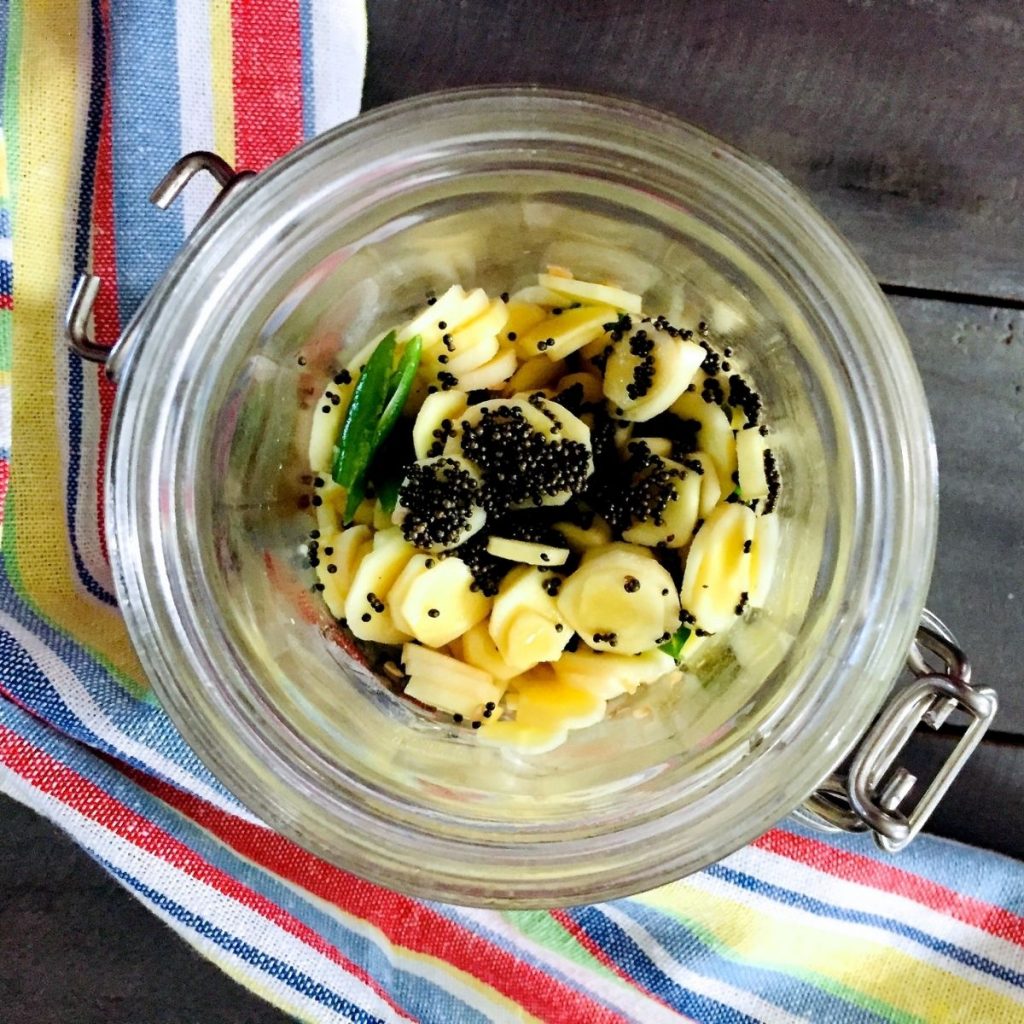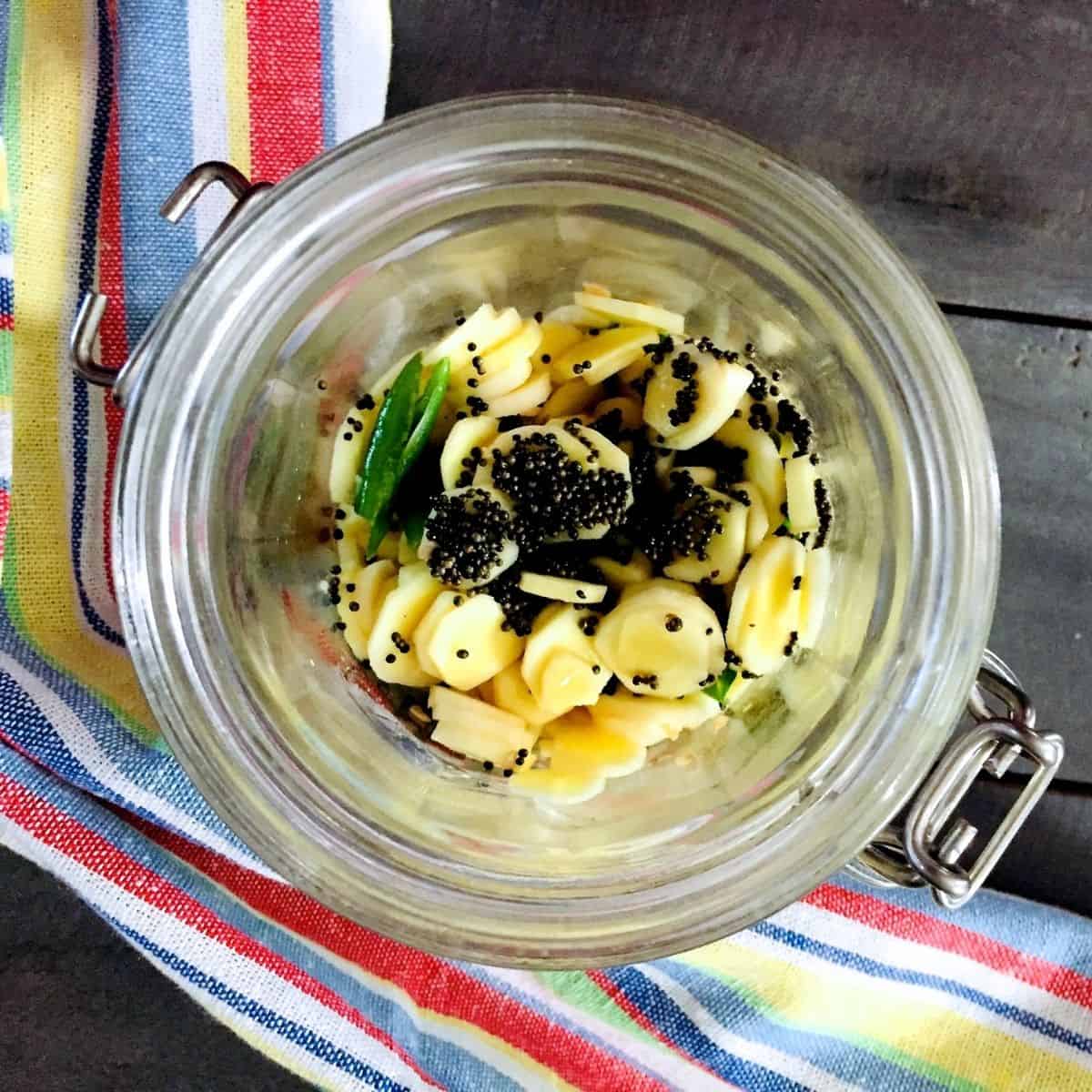 Gondhoraj Lebu Masoor Dal with Amada
Fragrant and Delicious Masoor (Red Lentils) Dal, with a tempering of panch phoron, the quintessential East India/ Bengali cuisine blend of 5 whole spices. Juice and leaves of Gondhoraj Lime and roasted, powdered rajduni spice add to aroma and flavour. Quick and easy. Link from this blog, PepperOnPizza: Gondhoraj Lebu Masoor Dal with Amada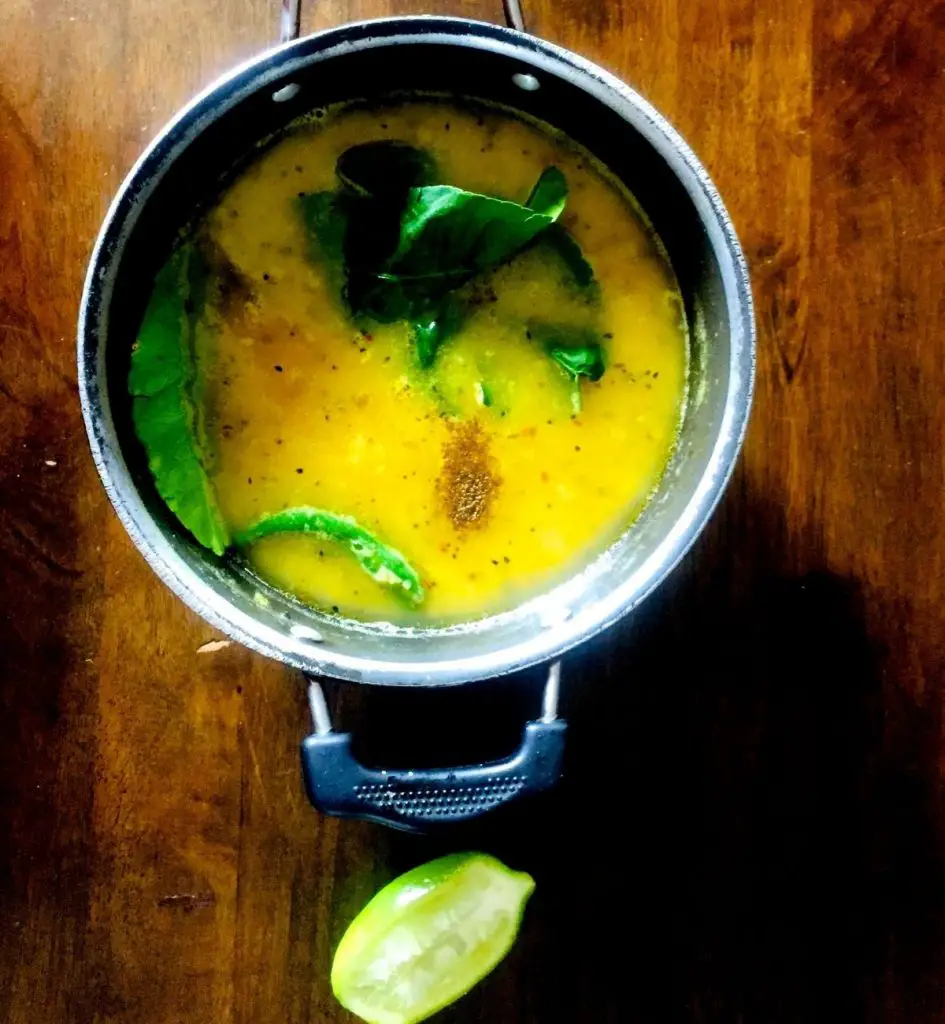 Almond Walnut Chutney with Amada
Try out this recipe shared by Sujata Roy of Batter Up With Sujata, for an easy Almond walnut chutney. The delicious chutney is flavored with amada (as mango ginger is referred to in Bengali), a tasty accompaniment for a snack or any meal. Link to the recipe: Almond Walnut Chutney with Amada.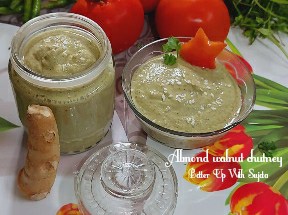 Mango Ginger Green Peppercorn Pickle
Popular in Tamil Cuisine, this pickle is an extension of the simple 'Easy Manga Inji Pickle' Ive give above. From my blog, PepperOnPizza, the pickle is very easy to put together with slices of mango ginger, lemon and chili along with Green Peppercorns, all tossed in lemon juice with salt. Link to the Recipe Post on PepperOnPIzza: Mango Ginger Green PepperCorn Pickle