kiwicha
had come down drastically since the Spanish conquest and colonisation. Since 1970, the world is rediscovering an interest in this and other elements of Peruvian cuisine, many of which have been now found to be rich in nutrient and disease fighting properties.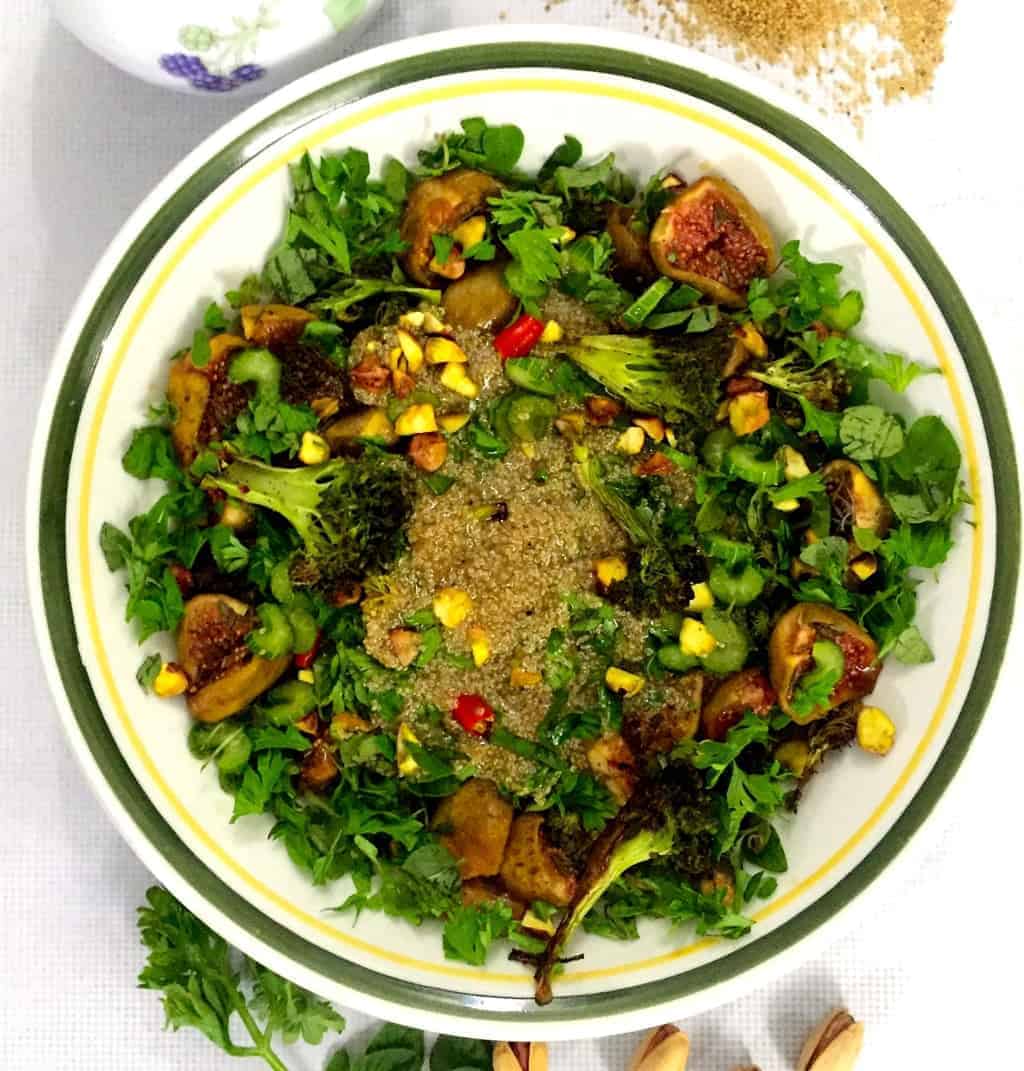 Though I am familiar with and have used amaranth grains, I had not heard of kiwicha, until Naveen of First Agro Farms (those awesome people who supplied fresh, zero pesticide, Non GMO produce at Bangalore), informed me that 'First Agro's India team had successfully completed trials of Heirloom Amaranth, also popularly called as "Kiwicha"... Special thanks to our Director Nameet M and Senior Grower AK Sharma for this unique super-grain.'' After extolling the health and nutrient and cancer and other disease fighting properties of the seeds, he went on to say that a sample of this heirloom variety of amaranth was being sent to me to try out suitable recipes. The Kiwicha Amaranth Salad was not the first on this list as I had thought of using the Kiwicha in a vegetable porridge or thick soup.
It was exciting, to say the least, and I set about researching this 'pseudo cereal' (it is a wholegrain from the broad-leafed amaranthus plant), looking for possible recipes and, most importantly, how to cook it right! The recipe for the Kiwicha Salad below was after long discussions with my daughter Mridula, and after rummaging through scores of possibilities from recipes using quinoa and the regular amaranth we get in India, and is adapted from Sara Dickerman's recipe in Bon Appetit, Broccoli - Quinoa Salad with Buttermilk Dressing. I have strayed quite a bit from the original quinoa based recipe, as I wanted to try out different textures and flavours to go with the kiwicha in the Kiwicha Salad.
The charred broccoli and the caramelised honey roasted figs, the crunch of the celery and the pistachio nuts, the fresh taste of the parsley and oregano, all melded so well with the soft earthy Peruvian Kiwicha Salad with Buttermilk Dressing. The dressing, in fact, was one of the best I have tasted, with buttermilk, olive oil, lemon juice and zest and a dash of rice vinegar. I added a piece of fresh red chilli to bring some spice into the dish.
"Amaranth" in Greek, means "everlasting". Wikipedia says that 'Amaranth" derives from Greek ἀμάραντος (amarantos), "unfading," with the Greek word for "flower," ἄνθος (anthos), factoring into the word's development as "amaranth. The Aztecs called it the "food of immortality", while In India the amaranth is called "rajgeera" meaning "king's grain". Another interesting item in the website inkanatural, says that, Amaranth, like quinoa, was selected for astronauts' diet due to its high nutritional value, integrated use and brevity of their growing cycle and their ability to grow in unfavourable conditions in their development. Therefore, was described by NASA as CELLSS culture. Amaranth happened to be grown in space travel since 1985, flowering in space during the orbital flight of the shuttle Atlantis 71 B.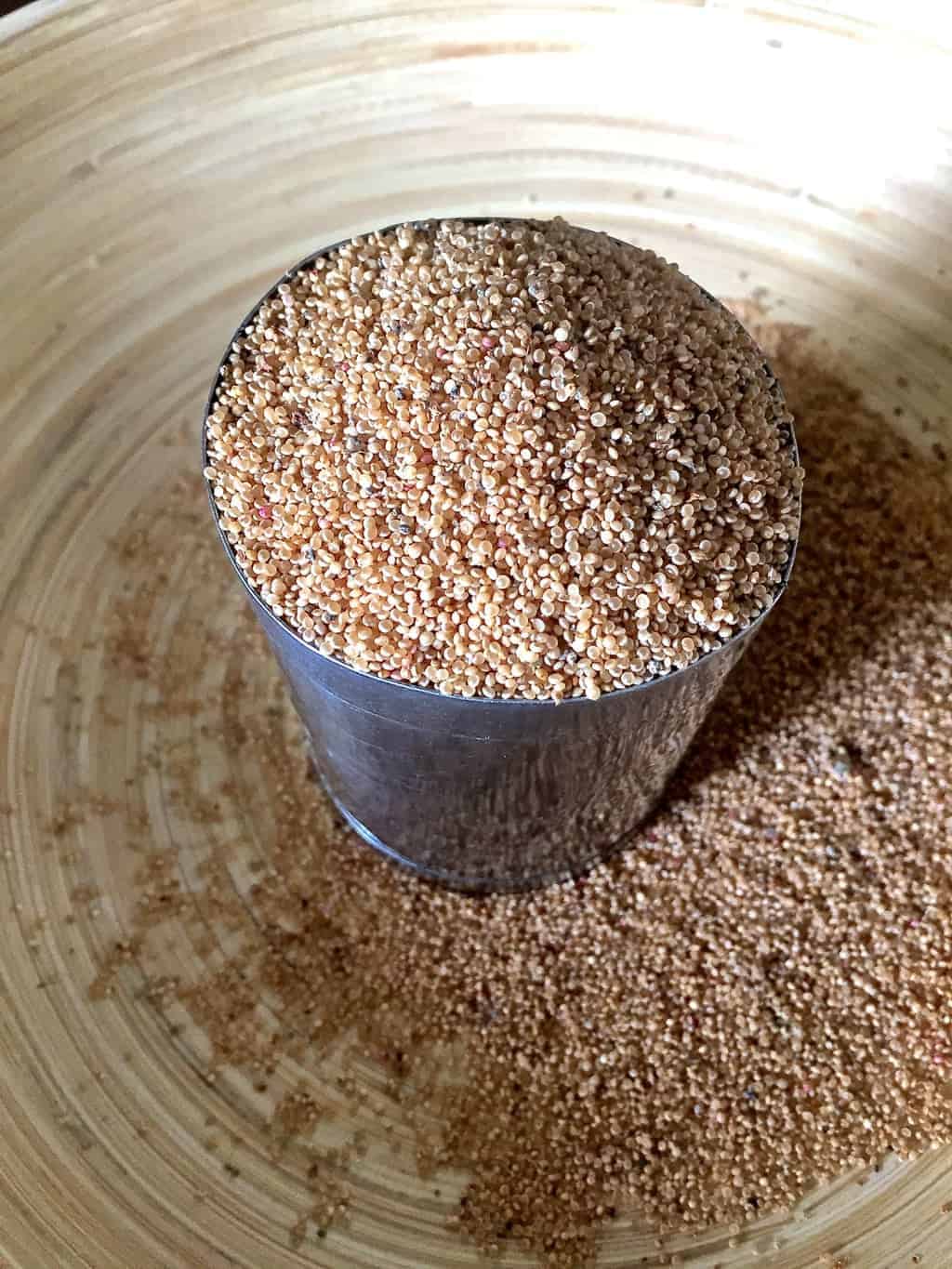 So what is so special about the amaranth? Just look at the health benefits!
Health and nutrition:
(Sources: Inkanatural.com website; Huffington Post; wikipedia, Healthyeating.sfgate website)
Amaranth has more proteins than corn and wheat. Amaranth has dethroned milk as the queen of calcium, since 100 grams of Amaranth contain twice the amount of calcium than the same volume of milk. The absence of this protein results in weak bones and osteoporosis. In addition, very low levels of calcium in the blood increase the irritability of the fibers and the nerve centers, causing cramps.
It contains Phosphorus which is regarded as an essential element for humans, and is responsible for storing and transporting energy in our body. Its absence or low intake can produce tiredness and loss of concentration. Among other elements, we can find iron and vitamins A and C, which makes the "Kiwicha" a food with very high nutrients content.
It helps in calcium absorption, and therefore in recovery from surgery and sports injuries, as well as encourages the production of hormones, enzymes and antibodies
Among its main components is lysine, which is necessary for the construction of all proteins in the body. Helps lower cholesterol levels significantly in the blood.It enhances mental development and stimulates the release of growth hormone, so it is advisable for child consumption.
An article in Huffington Post, 'Nutrient Dense Food Kiwicha' says: " Kiwicha is considered an anti-aging food due to its cumulative anti-carcinogenic, anti-hypertensive, anti-oxidant, and anti-lipidemic properties.
Kiwicha contains all 10 essential amino acids, making it an optimal plant protein for vegetarians. It is also high in the amino acid lysine, distinguishing it from other grains which typically contain very little lysine and need to be combined with other foods to make a complete protein. In addition to being gluten-free, it is high in fibre, iron, phosphorus, magnesium, zinc, and manganese. Kiwicha contains phenolic acids, carotenoids, and flavonoids which impart antioxidant properties.
It also contains squaline an organic compound found in some plants, which acts as an anti-cancer agent and may be cardio-protective as well due to its ability to lower LDL, total cholesterol, and triglycerides. "
Healthyeating.sfgate website says, '... At 251 calories per cup of cooked grain, kiwicha also provides energy you need for an active lifestyle, and comes loaded with nutritional value.' It goes on to say that Kiwicha is rich in dietary fibre, which can help cut down coronary heart disease to a significant level. Kiwicha also contains calcium, iron, magnesium, folate, phosphorous, significant amounts of riboflavin and vitamins B-6 and B-9.
Small wonder, then that this natural powerhouse of nutrients is becoming a popular Superfood.
I enjoyed this salad and am waiting for my next batch of Kiwicha from First Agro, to once more make this Peruvian Kiwicha Salad with Buttermilk Dressing.
This is me, at First Agro Farms, practicing harvesting of Kiwicha!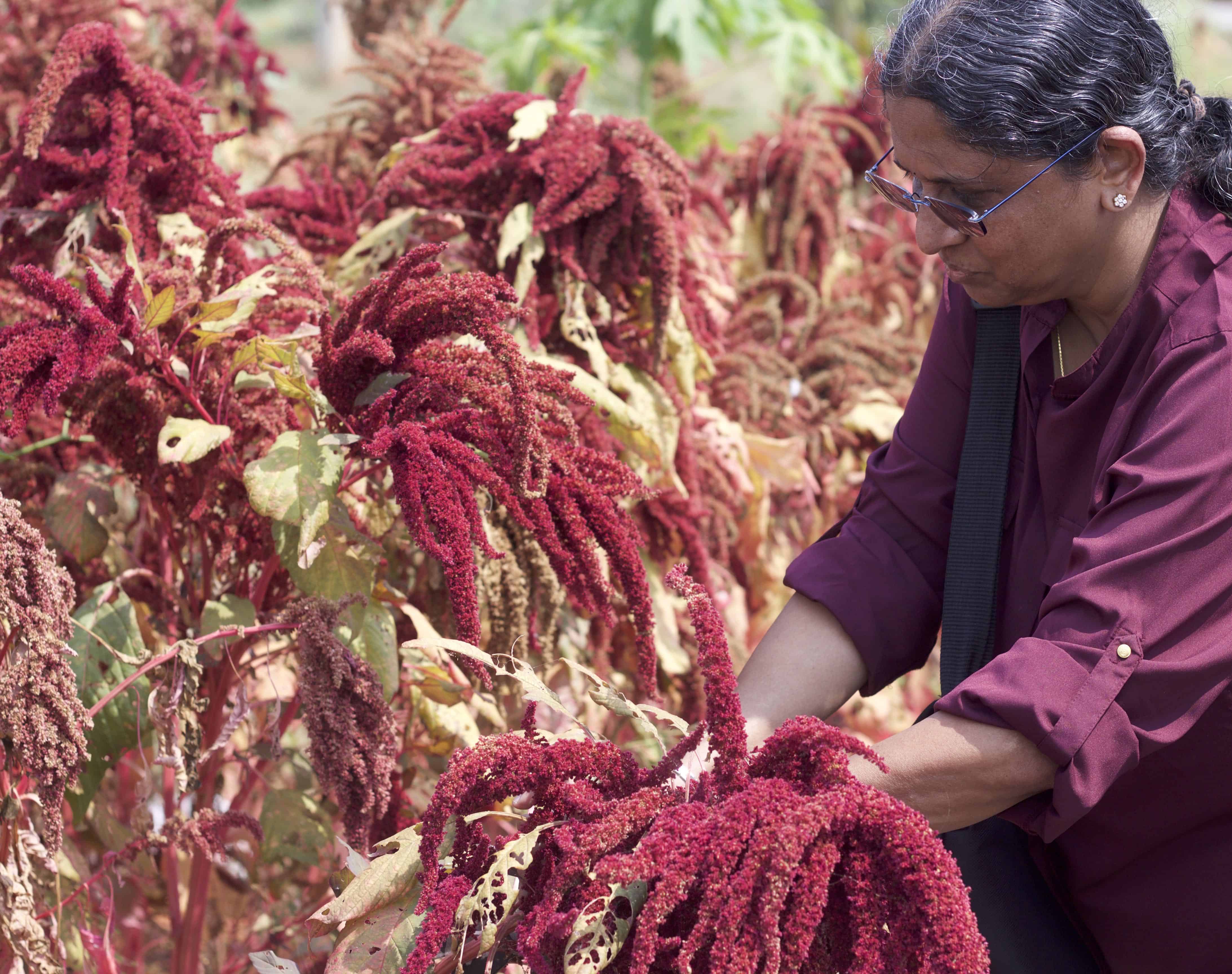 The kiwicha was received as a free sample from First Agro Farms through their e-commerce unit, Sakura Fresh. The ideas for the recipe and the content of the post, however, are my own. The mention of First Agro's name in the post is to only to acknowledge the wonderful zero pesticide and non GMO produce that they supply, which are not just healthy, but make it possible for me to experiment with new ideas and new recipes.
This recipe is adapted from Bon Appetit's Broccoli-Quinoa Salad with Buttermilk Dressing. For the original recipe, please go to: Broccoli-Quinoa Salad with Buttermilk Dressing.
"Recipe"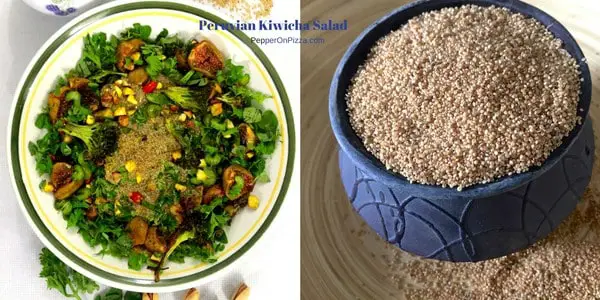 Kiwicha Salad of Charred Broccoli, Figs, Pistachio & Buttermilk Dressing
A rich, nutritious salad of heirloom Kiwicha grains (a form of amaranth), with a delicious buttermilk dressing, and with honey roasted figs, charred broccoli, herbs and pistachio nuts. Kiwicha was a staple food in Peru 4000 years ago. With disease fighting properties and great health benefits, Kiwicha is the new Quinoa!
Ingredients  
For the Kiwicha
2.5

cups

water

½

teaspoon

salt
For the Figs
10

Figs

Ripe

1

tablespoon

honey

1

tablespoon

brown sugar

2

teaspoons

thyme

(fresh)
For the Broccoli
1

cup

broccoli

florets

½

teaspoon

salt

1

teaspoon

pepper

½

tablespoon

olive oil
For the Salad
2

tablespoons

parsley

2

tablespoons

oregano

(fresh)

2

tablespoons

celery

sliced

¼

cup

Pistachio nuts

chopped
For the Dressing
1

cup

buttermilk

2

tablespoons

olive oil

1

teaspoon

rice vinegar

1

tablespoon

lemon juice

1

tablespoon

lemon zest

1

chilli

Fresh

1

teaspoon

salt

Black , or to taste

to taste

pepper
Instructions 
The cooking time given in this recipe is based on the figs and broccoli being roasted at the same time that the kiwicha is being cooked. I made the dressing first, then preheated the oven and set the kiwicha to cook, while I arranged the figs and broccoli for roasting. You could do these one after the other, with cooking time adjusted suitably. The roasting takes about 20 minutes, the kiwicha takes 20-25 minutes to cook. The dressing takes just 5 minutes to prepare.
To cook the kiwicha:
Wash and drain the kiwicha, as you wold wash lentils or rice. I used a strainer with the tiniest pores available, as the kiwicha grains are barely larger than poppy seeds. Thin cloth may even be a better option!

Set a pan on the stove and add the drained kiwicha.

Add water - about 2 cups to one cup of kiwicha. More water may be added later if required, rather than risk the kiwicha becoming mushy with too much water. If making kiwicha to a porridge like consistency, upto 3 cups of water may be added to 1 cup of the grain.

Bring to a boil and then reduce the flame to low. Add a little salt ( I added ½ teaspoon). Stir.

Cover and let it simmer on slow heat for about 20 minutes, stirring frequently as the kiwicha may 'catch' at the bottom of the pan. If all the water is absorbed, add upto half a cup more, about a tablespoon full each time.

After 20-25 minutes, or when all the water is absorbed and the kiwicha is cooked, take it off the stove, cover and set aside to cool.
To prepare the figs and the broccoli:
Preheat the oven to 200 deg C.

Wash the figs and broccoli. Slice the tops and stem ends off the figs, slice into halves or quarters. Separate the broccoli into bite size florets.

Sprinkle brown sugar and honey on the figs and spread them, cut side down, on one half of a baking tray.

Mix a little salt and pepper in olive oil and sprinkle the oil on the broccoli. Set the florets on the other half of the baking tray.

Roast for about 20 mintues, checking to see if the broccoli is charred at least on one side.

Remove from the oven, transfer immediately to a bowl so the figs and broccoli do not continue to cook in the heat of the tray.
To make the dressing:
Whisk together the buttermilk, oil, vinegar, lemon juice, zest, a pinch of pepper and black salt to taste. Black salt gives its unique flavour to the buttermilk, but you could substitute with regular table salt instead.

Keeping the stem and top intact, slice the chilli lenghtwise, remove the white pith and seeds, unless you want to retain the heat.

Add the chilli to the buttermilk mixture.

Set the dressing in the fridge to chill. Bon appetit's recipe says that the dressing may be made upto 5 days in advance, but with the warm Indian climate, I thougth it better to make it just half an hour before the salad was to be served.
To prepare the remaining ingredients:
Slice the pistachios and set aside.

Wash and dry the oregano and parsley. ( I used a salad spinner, but the herbs may be dried with kitchen paper instead).

Separate the leaves from the stalks, and chop coarsely.

Slice the celery stalk into thin rounds.
To assemble the salad:
In separate serving bowls, add a portion of the cooked kiwicha and 2 tablespoons of the buttermilk dressing.

Mix the dressing into the kiwicha.

Add some of the roasted figs, charred broccoli and celery, half the chopped herbs and pistachios.

Serve with pita bread or other flatbread.