Avocado Berries Salad with a lot of oomph! It has sharp flavours as well as sweet, a touch of the exotic along with every day salad ingredients. I have heaps of salad greens and all kinds of fruits and vegetables in the fridge after last weekends shopping binge, and not enough time to use them up. So I've put in many different items into this salad to give a delicious bowlful of contrasting tastes and textures.
Tiny table radish with its pink skin still on, green and red lettuces, cherry tomatoes running to all shades between yellow, orange and red, pale green avocado, paler cucumber, purple blue blueberries, the pink of the pomegranate, this Avocado Berry Salad is full of colour and flavours,
The Avocado Berries Salad is substantial enough to make a lunch, with some garlic bread or herbed bread to soak up the juices. I enjoy fruity salad dressings, and the sweetness of the jam in the dressing hits the tastebuds along with the sharp apple cider vinegar and lemon juice, the silky taste of good extra virgin olive oil, the contrasting textures of pecan nuts, goats cheese and pomegranate : every spoonful is delicious!
Quantities are not very important in this salad, and whatever I have listed out in the ingredients, except for those that make up the dressing, is indicative and you could mix and match as you like, Plenty of fresh greens, some berries, ripe avocado and red radish, some tomatoes of different levels of ripeness, and of course the lemony jammy dressing and a garnish of pomegranates are the main ingredients. The pok choy, peaches and cucumbers, can be left out if they are not in season or not otherwise available. Good quality fresh goats cheese will give the right slightly salty taste to offset the sweet ones.
"Recipe"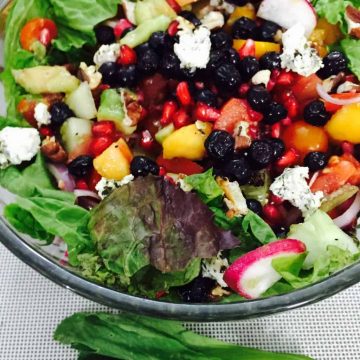 Avocado Berries Salad with Goats Cheese and Lemon Blueberry Jam Dressing
A salad with a lot of oomph! It has sharp flavours as well as sweet. Fresh Radish and Tomato with Avocado, Pok Choy, Salad Greens, Berries and Nuts and Goats Cheese
Ingredients  
Salad
2

table radish

1

avocado

2

Tomatoes

1

onion

10

Cherry tomatoes

½

cucumber

1

peach

handful

Blueberries

lettuce

Baby Pok choy

¼

cup

Pomegranate arils/ seeds

¼

cup

Goats cheese

2

tbspns

Pecan nuts
Dressing:
1

tablespoon

lemon juice

1

tablespoon

apple cider vinegar

2

tbsps

Blueberry Jam

See Notes

to taste

salt

1

teaspoon

pepper freshly ground

1

tablespoon

olive oil

2

tbsps

Pomegranate arils/seeds
Instructions 
To Prepare the Salad
Dice the tomatoes, peach, peeled cucumber. Halve the cherry tomatoes.

Slice the radish into thin rounds ( do not peel).

Thinly slice the onion.

Place the cut fruits and vegetables in a covered bowl and leave in the fridge till ready to use.

Toast the pecan nuts for one minute on a hot pan, and when cool, quarter them.
To Make the dressing :
Warm the blueberry jam gently on a pan for about a minute. Take off from the stove and whisk it into the lemon juice, vinegar, salt and pepper.

Slowly pour in the olive oil, whisking steadily so the oil emulsifies with the juice and vinegar.

Add pomegranate arils (and any juice while shelling the pomegranate) to the dressing.

Cover and set aside till ready to serve.
To Make the Avocado Berries Salad
10 minutes before serving, halve the avocado, ease out the seed and scoop out the flesh. Dice and sprinkle a little lemon juice, and set aside.

Wash the lettuce and pok choy, dry in a salad spinner or pat dry.

Shred the lettuce and pok choy and place in a salad bowl, discarding thick mid ribs or stems.

Sprinkle salt and pepper and gently mix them into the lettuce.

Add all the prepared vegetables and fruits and sprinkle a little salt and pepper.

Serve platefuls of the salad and pour 1 tablespoon of dressing on top. Garnish with crumbled goats cheese and toasted pecan nuts.

Serve with toasted slices of garlic bread.
Notes
Notes:
The quantities above serve 2 persons generously.
Use good olive oil. I used extra virgin.
Select a jam that complements or picks on the flavour of one of the fruits in the salad. If adding strawberries, use strawberry jam. If blueberries, then blueberry jam,
I made the salad with red and green romaine lettuce, lollo rosso and pok choy. However any combination of lettuce and greens could be good: baby spinach, arugula etc.
Slice the avocado and assemble the salad just before serving so that the salad is Avocado berries salad is crisp and not soggy.