This heirloom tomato basil salad is adapted from one of Jamie Oliver's recipes. Colourful sliced tomatoes (cherry tomatoes are perfect for this salad) in a fresh dressing of basil leaves, white wine vinegar and olive oil. Takes less than 10 minutes to make, and is utterly delicious!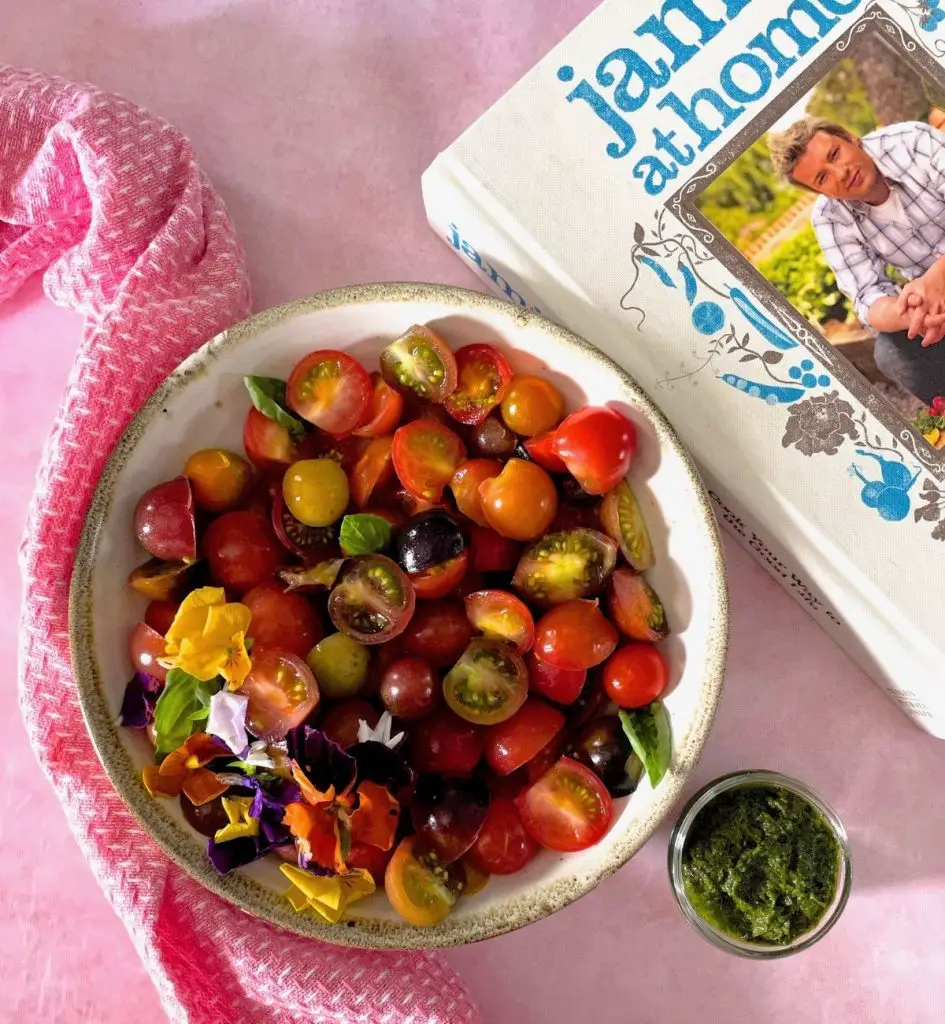 I was idly watching (re-re watching) one of Jamie Oliver's 30 minute meals TV episodes, as usual admiring the dexterity with which he chopped, pureed, sautéed while he talked and smiled and explained the easiest way to go about making the dish on hand. I suddenly realised that I was hungry, had not made lunch and was not interested in spending time on making it either. And there was this bag full of heirloom tomatoes and cherry tomatoes, different colours, shapes and sizes, just what Jamie prescribes for his salads.
A bunch of purple basil (the original recipe calls for green basil, but purple was what I had on hand), a clove of garlic, a dash of olive oil and the nice white wine vinegar in my goodies cupboard, and there: lunch was on the table, in the form of a satisfying heirloom Tomato Basil Salad with sourdough bread.
Making This Easy Tomato Salad
Quantities are not important in this salad. You just need enough dressing to nicely coat the tomatoes all over. I have given an indicative list in the recipe below.
Though the recipe is for an heirloom tomato basil salad, it can be made with any tomatoes you have on hand. The more colourful the better - red, orange, yellow with different degrees of sweetness and tanginess. Use the freshest tomatoes you can find for best results.
Basil dressing is the one prescribed by Jamie Oliver for this salad and it is indeed very flavourful. Either green or purple basil may be used.
Other interesting dressings that I pair with this cherry tomato salad are my Basil Oil or my favourite Garlicky Lemon Salad Dressing (link to recipes given below).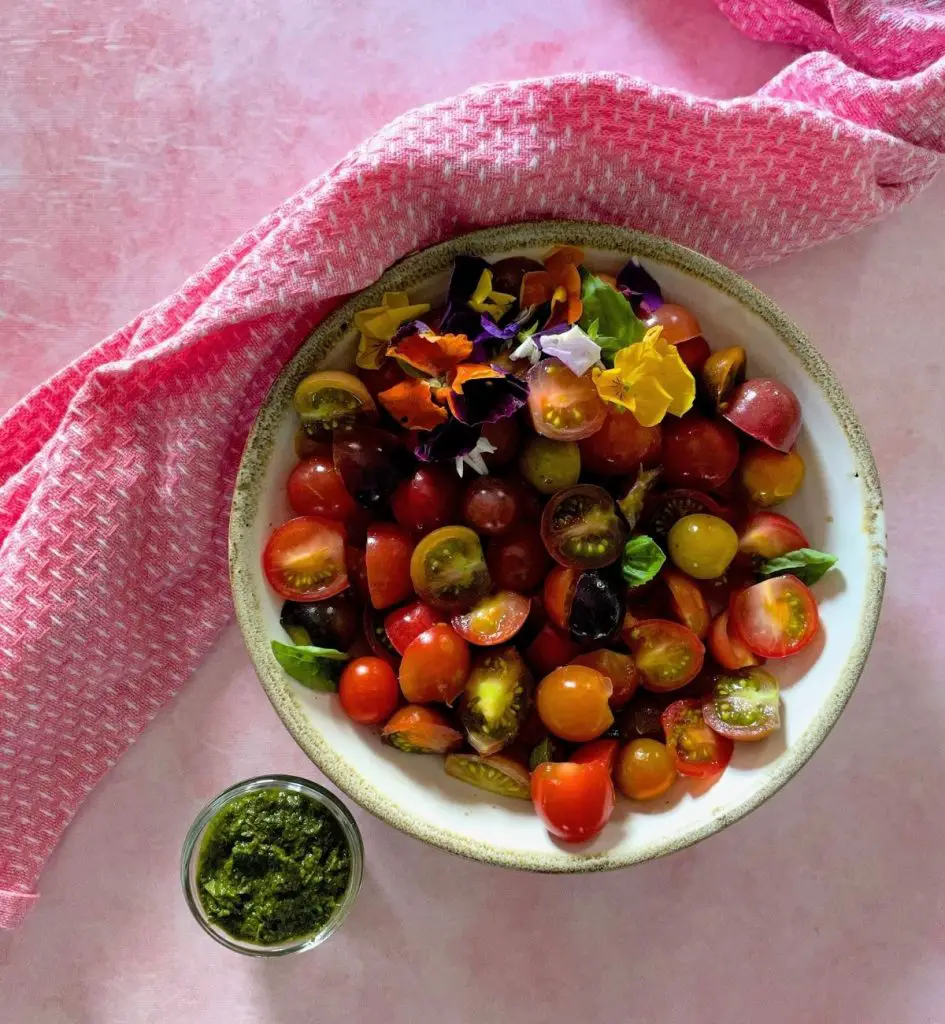 What to Serve the Heirloom Tomato Salad With
This is a very versatile salad and may be had with just about anything.
You could have it by itself with just focaccia or bread, or with soup or a sandwich.
Or slice some bread into cubes, and stir it into the salad and dressing for a quick panzanella. Give it 10 minutes for the juices to soak into the bread, before you eat.
It makes a great side for pasta, pizza, quesadilla, a roll or a savoury au-gratin.
Recipes for Dressings or Tomato Salads You May Like:
"Recipe"
Heirloom Tomato Basil Salad with Basil Dressing - In 10 Minutes
Easy tomato salad with heirloom or cherry tomatoes or just about any tomatoes you have. Slice them, puree basil leaves with olive oil, garlic and vinegar, season it and add to the tomatoes. Done in 10 minutes!
Ingredients  
Basil Dressing
1

cup

basil leaves

1

clove

garlic

1

tablespoon

white wine vinegar

1

tablespoon

extra virgin olive oil

1

pinch

salt

or to taste

1

teaspoon

pepper

freshly ground
Heriloom Tomato Salad
3

cups

Sliced Tomatoes

Fresh , different colours, shapes and sizes - about 500 gms

2

tablespoons

Edible flowers

Optional
Instructions 
Wash basil leaves and pluck the leaves from the stalks. Dry in a salad spinner or with tissue, removing as much moisture as possible. Place the leaves in the food processor/mixie, reserving a few for garnish

Add olive oil, peeled clove of garlic and vinegar. A pinch of salt and pepper. Puree till you get an oily fluid paste. Don't add water. Add more oil if required for pureeing.

Taste and season with salt and pepper as desired.

Chop the tomatoes, halving the small ones and cutting the larger ones into bite sized chunks.

Pour some of the dressing into a bowl, add the chopped tomatoes.

Mix well just before serving, so that the dressing covers the salad. Check the taste, add more dressing if required. Check for seasoning and add more salt and pepper if required.

Add a garnish of edible flowers and the reserved basil leaves, if available. Serve the Tomato salad with focaccia or bread, or as a side for pasta, pizza, a sandwich or roll or quesadilla or a savoury au gratin.
Nutrition
Serving:
1.5
cups
Calories:
111
kcal
Carbohydrates:
10
g
Protein:
3
g
Fat:
8
g
Saturated Fat:
1
g
Polyunsaturated Fat:
1
g
Monounsaturated Fat:
5
g
Sodium:
32
mg
Potassium:
587
mg
Fiber:
3
g
Sugar:
6
g
Vitamin A:
2500
IU
Vitamin C:
33
mg
Calcium:
51
mg
Iron:
1
mg