'Thenga Manga Pattani Sundal', the name of this snack invariably brings memories of Elliot's Beach and Marina Beach in Chennai. From being a street food (beach food?) it has entered the portals of Navaratri Naivedyam, of which Sundal (boiled legumes/ beans with a mild tempering of chili, mustard and curry leaves and the addition of coconut) is an integral part in Southern India.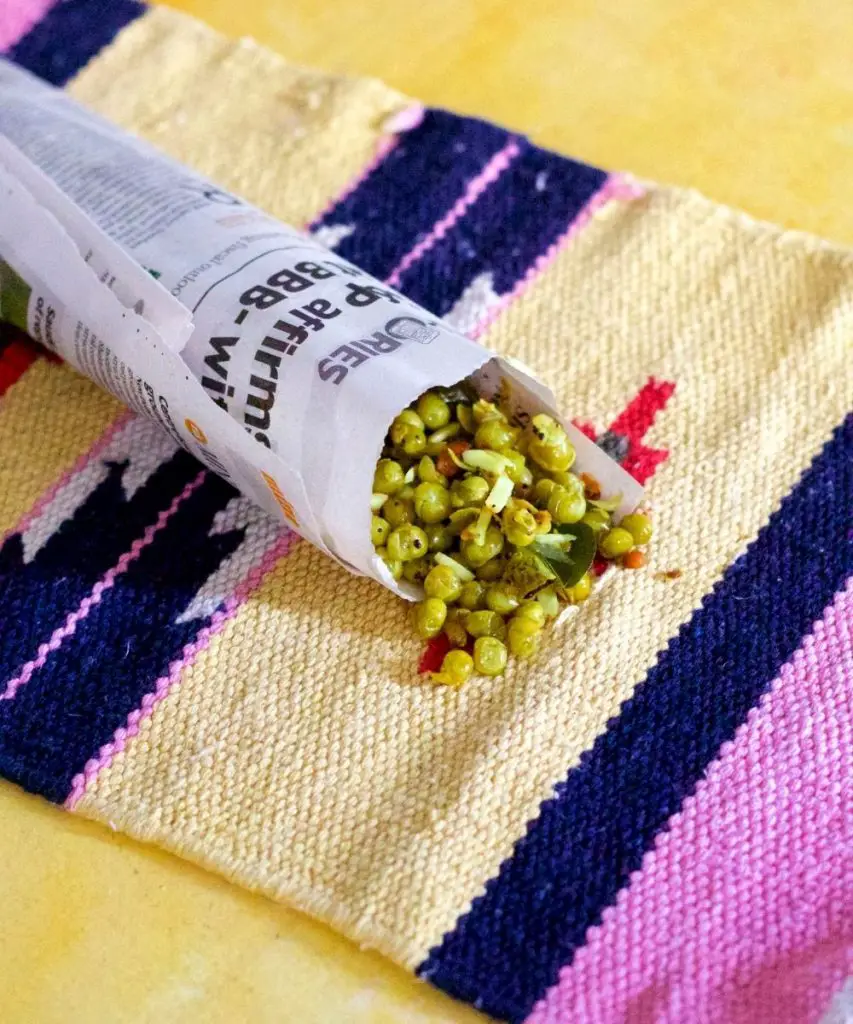 Pattani sundal and mulagai bajji (chili bajji) tasted best when relaxing in the cool breezes and warm sands of Madras's famous beaches (with wind blown sand getting into the food and enhancing the experience). It was a special joy in itself when the vendor came trolling his wares, and quickly assembled the thenga manga pattani sundal, a tangy concoction of cooked dry peas with raw mango, fresh coconut, chili powder and salt. In summer, the slices of raw green mango liberally splashed with red chili powder and salt would offer good competition as the favourite beach food.
Make Easy Pattani Sundal
The thenga manga pattani Sundal is made from dry green, white or yellow peas which are soaked overnight or for about 8 hours and then pressure cooked. The peas may be cooked and kept ready during the day, and tempering quickly done when its time for Navaratri naivedyam to be offered.
As in instructions below, add a little salt while pressure cooking the dry peas. More salt may be added during tempering, if required.
The raw mango may be grated or else sliced very thin and small. Add plenty of mango for that distinct flavour.
The Sundal is a nice addition to the list of Navaratri Golu Sundal and also makes a tasty snack or tiffin box item. Grated carrot may be added as an optional garnish. Onion may be sautéed at the time of preparing the tempering, as an option, however this is not usually added for naivedyam.
A little spice powder may be added for a different flavour. Recipe for my quick homemade sundal spice powder is in the recipe card for the post on Mochai Sundal.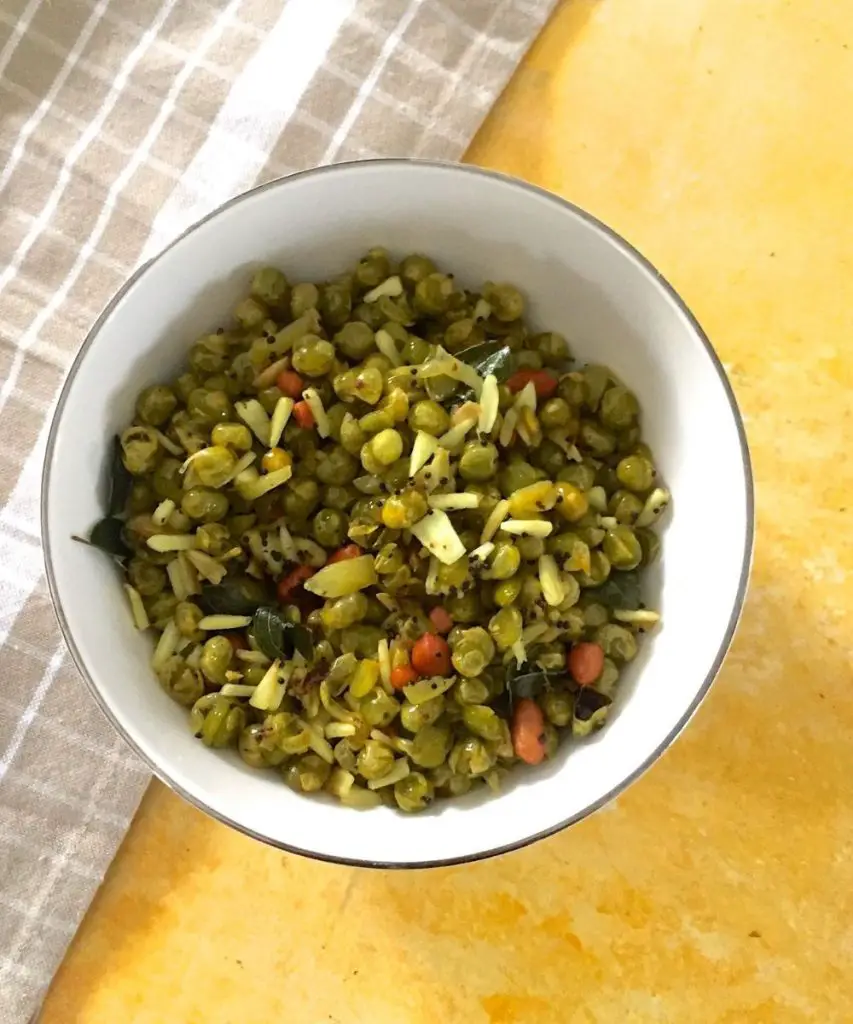 Other Navaratri Posts You May Like
"Recipe"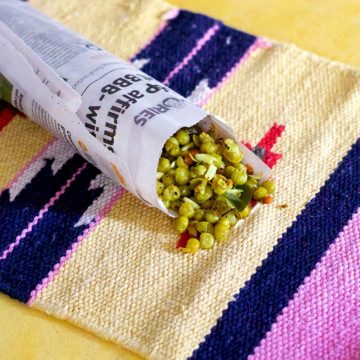 Thenga Manga Pattani Sundal/ Marina Beach style Sundal with Mango and Coconut
Soaked and cooked dry peas tempered with mustard and chili and flavoured with raw mango and fresh coconut. Popular for Navaratri Naivedyam as well as a snack or tiffin box item
Equipment
Pressure Cooker

Frying pan
Ingredients  
For Cooking the Dry Peas/ Pattani
1

cup

Dry green peas

Yellow or white dry pattani/ peas may be used

2

cups

Water

For soaking the peas

2

cups

Water

For Pressure cooking peas

1

pinch

Turmeric powder

½

teaspoon

Salt
For Tempering Pattani Sundal
2

tablespoons

Sesame oil

or Coconut Oil or a light vegetable oil like sunflower

½

teaspoon

Mustard seeds

½

teaspoon

Kadala Paruppu / channa dal/ split bengal gram

1 or 2

green chilies

1

cm

Ginger Piece

minced

1

sprig

Curry leaves

about 10 leaves

1

tablespoon

Peanuts/ ground nuts

1

pinch

Salt

or to your taste

½

cup

Coconut

sliced very thin and small

½

cup

Raw mango

sliced very thin and small

1

tablespoon

Lemon juice
Instructions 
Cook Dry Peas/ Pattani
Wash, drain and soak dry pattani/ peas in double the volume of water, overnight or for 8 to 10 hours.After soaking, drain and rinse in fresh water 2 to 3 times. Drain again. Dry green, yellow or white pattani may be used for this sundal.

Add water to completely cover the peas, plus a little more, and add a pinch of turmeric and a little salt. Pressure cook on high heat till 1 whistle of the cooker and on low for 2 more whistles. Remove from heat and open the cooker only once steam has been released on its own. 

If cooking in a pot on the stove, add water to about an inch above the surface of the peas, add salt, bring to a boil and then simmer on medium or low heat for 30-40 minutes till peas are cooked through. Check periodically to see there is enough water for the cooking process. Press a pea with your fingers to see if it is cooked, you should be able to crush it.

Drain the cooked peas and pat dry with a kitchen towel to remove any moisture.
Preparation
While the peas are cooking, slice the raw mango very thin and small, just like a grated mango. I prefer to slice instead of grating, as grating seems to add more moisture to the mango.

Similarly, slice the coconut thin and small, the same size as the mango.

Shred the curry leaves - there are more chances of their being eaten if shredded and not full leaves

Slice chili and mince the ginger really small.

Squeeze lemon juice if you are going to eat the sundal without heating it again.
Tempering the Pattani Sundal and Adding Thenga Manga
Heat a frying pan and add oil. Sesame oil or Coconut oil give the best results for this sundal, or else a mild flavoured vegetable oil such as sunflower oil

Add mustard seeds, let them burst on low flame.

Add Channa dal/ Kadala paruppu and saute for 20 seconds on low heat, till the dal begins to change colour/darken without letting them go black.

Next add sliced green chilies. Add more chilies if you like the sundal spicy. Turn the chilies so that both sides are fried.

Add minced ginger.

Shred the curry leaves and add. Stand back if they are fresh leaves as oil may splash out.

Add Peanuts and saute for 1 minute or till the peanuts are nicely roasted.

Add cooked drained pattani / green peas and stir.

I add a pinch of salt at this stage, in addition to the salt added initially when the peas were being pressure cooked. You may like to first taste the cooked peas before adding salt now. Stir well till all moisture has evaporated (about 2-3 minutes). The peas may catch and burn at the bottom of the hot pan, hence rember to keep stirring.

Add sliced coconut and raw mango. Stir and saute for 1 minute. Transfer to a heat proof serving dish or naivedyam vessel. 

Add lemon juice. If intending to re-heat and have later, add the lemon juice at that time after re-heating, so that lemon taste is fresh.
Nutrition
Serving:
1
cup
Calories:
382
kcal
Carbohydrates:
45
g
Protein:
15
g
Fat:
17
g
Saturated Fat:
6
g
Sodium:
578
mg
Potassium:
745
mg
Fiber:
10
g
Sugar:
10
g
Vitamin A:
351
IU
Vitamin C:
32
mg
Calcium:
71
mg
Iron:
5
mg