Shhhhh Cooking Secretly Challenge ,
which has got us cooking from the varied cuisines of the States of India. Working our way alphabetically, we have reached Karnataka, the beautiful State which is now my home. From my experiences with this theme over the last few months, it was no surprise to find that there is no one Karnataka cuisine, but that each region of the State celebrates its ethnicity with its own favourite foods and its special methods of preparation. The Bamboo Shoot Curry that I selected as my contribution to August 2018's rich theme is one such recipe, popular in Coorg or Kodagu as well as coastal Mangalore.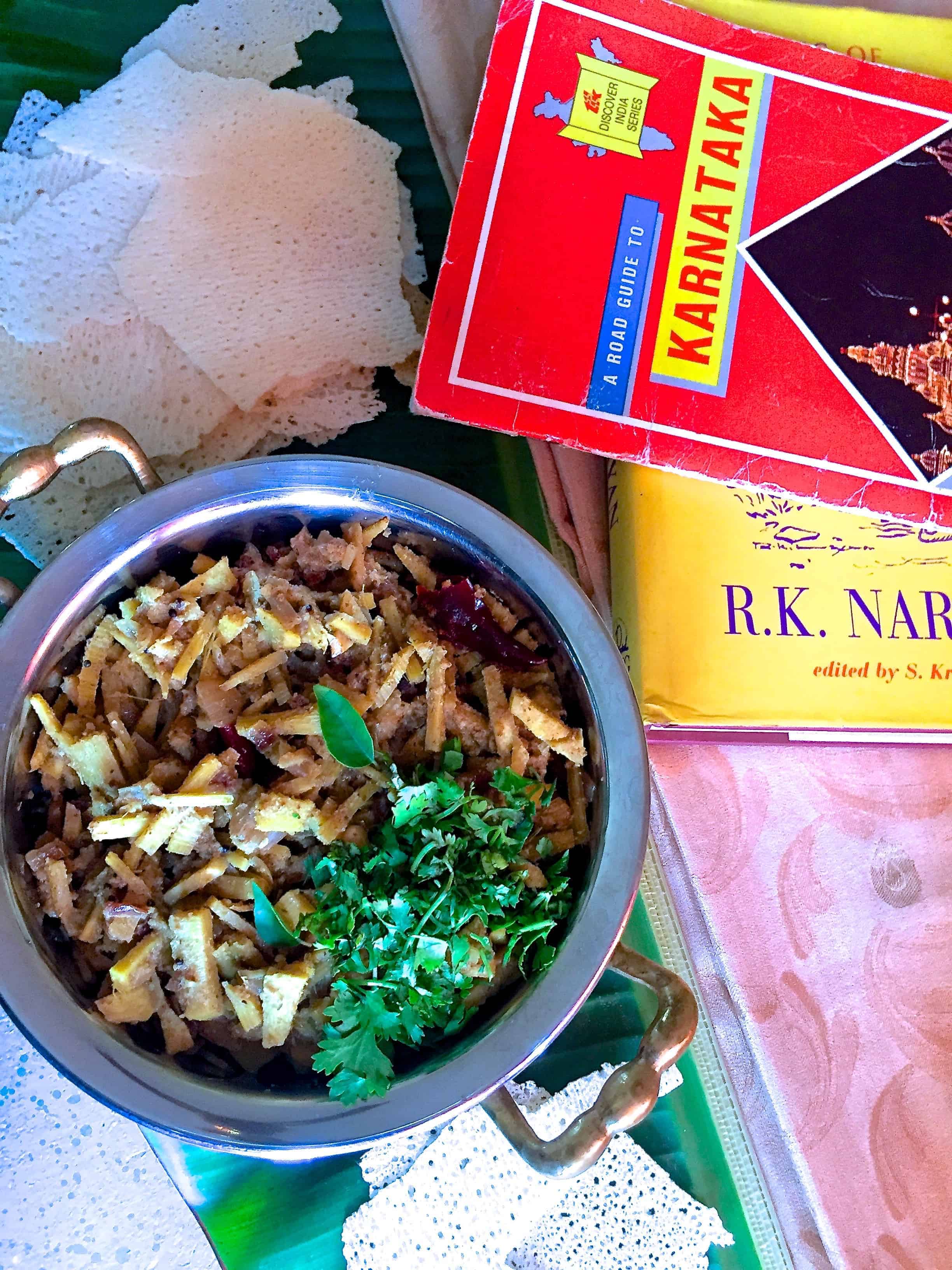 My partner for the month is Priya Iyer. Priya and I had a lengthy discussion on what ingredients to pick. Both of us wanted to cook with something special or unique to Karnataka. Priya suggested I used Bamboo Shoots and coconut as the two 'secret' ingredients which the members of the group would have to guess, once I posted the image of the dish on our group. The bamboo shoot curry was the result of this discussion.
Priya blogs at The Girl Next Door. Please visit her blog to see the well written recipes as well as her interesting notes on the exotic places she has travelled to. I suggested two ingredients for Priya, urad dhal and ginger so that she would have the options to select the main ingredients for the recipe. Have a look at this Karnataka Bonda Soup that she has prepared! It looks so delicious and easy to make too!
Preparing the Bamboo Shoot Curry (also known as Kalale, Kanile or Baimbale Kari) needs some patience, though it is not difficult. The actual curry is easy to make, while the preparation of the shoots for cooking can be a stumbling block if you have not used them as an ingredient before. In the recipe below I have tried to make this simple with step by step directions. Bamboo shoots are known to have a toxic content, and fermenting or boiling is carried out to expel the toxins as well as remove the bitter taste of the raw shoots.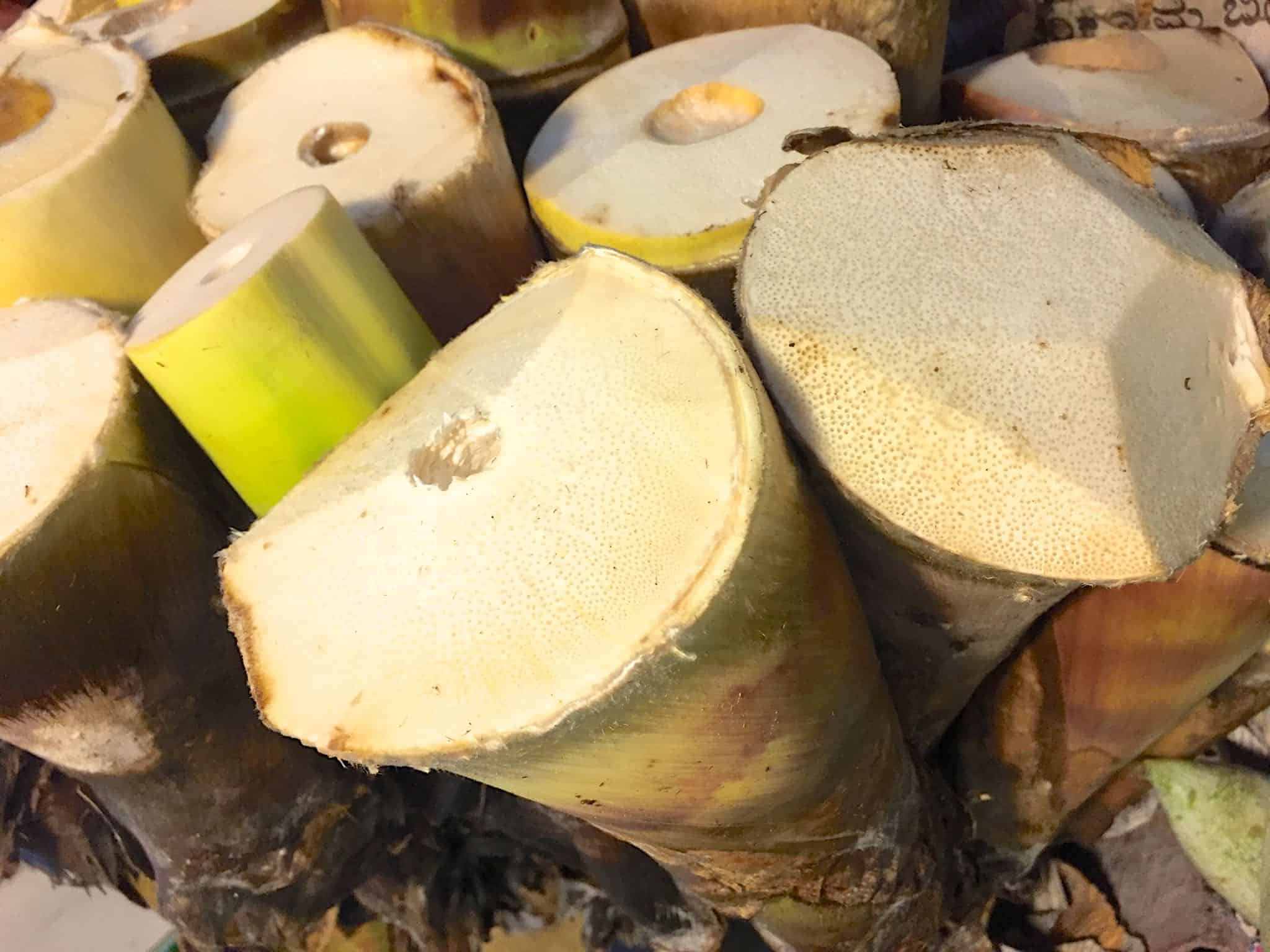 The fresh bamboo shoots have a tough husk which can be peeled off without difficulty, and the bamboo sliced as required. I was lucky to find an online store, OnlineMangaloreStore which delivered the bamboo to my residence, already peeled and sliced into thick rounds. I then soaked for 72 hours as explained in the instructions below. Most recipes suggest that 48 hours of soaking should do, but after some research I decided to soak the shoots for an extra day before I sliced them into thin matchsticks and boiled them with turmeric. The online store was interesting, I was able to pick up quite a few items which I would normally have to scour the Mangalore Stores around for. I plan to get Breadfruit from them and try a curry out of that too.
My friends Kevin and Anirudh had dropped in the day the Bamboo Shoot Curry was made, and as Kevin is from Mangalore and a devoted foodie as well as being no stranger to the kitchen, I requested him to taste it. He felt that it lacked a certain tartness or sourness and suggested the addition of tamarind. I have to say it lifted the curry up a notch and has therefore found its way into the final recipe. Let me add however that tamarind is not normally included in the traditional Coorg cuisine bamboo shoot curry, as far as I understand.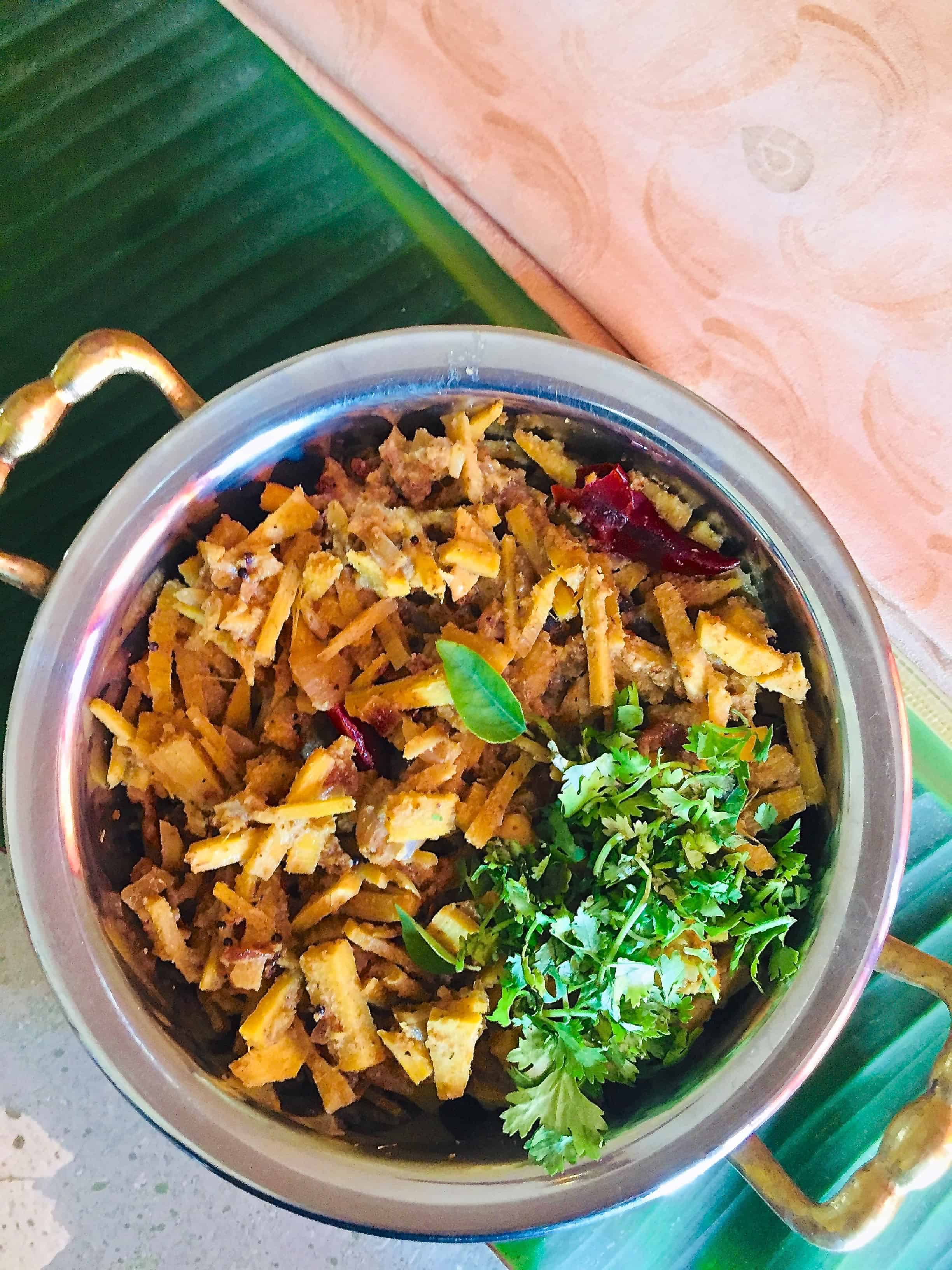 Coming to the food of Coorg, the cuisine is based on locally available ingredients and though new vegetable types have crept in, the popular traditional food comprises rice based dishes such as otti, nooputtu, kadumbuttu, and plain rice accompanied by rich curries made of pork, mutton or chicken and a variety of vegetable based curries such as bamboo shoot curry and those made using jackfruit, mushrooms, colocasia leaves, breadfruit and banana, depending on seasonal availability. Meat based recipes predominate.
I realised while reading up on the food here that it has ingredients more in common with India's North East than any other part of the country. The Bamboo shoot curry for example, though prepared a little differently from the same in Assam, Nagaland, Manipur, Sikkim etc, is rarely found on the dining table in other parts of India.
"Recipe"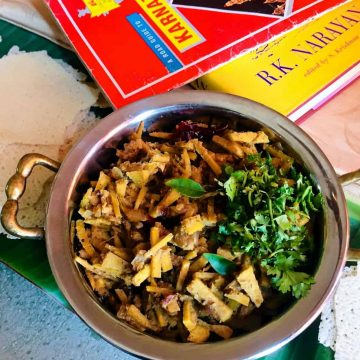 Bamboo Shoot Curry - Coorg style Baimbale Kari
Bamboo Shoot Curry. A Coorg Style Kalale or Baimbale Kari made from fresh bamboo shoots that are fermented and then cooked with garlic, onion, tamarind and a coconut paste. With instructions for preparing the fresh Bamboo shoots before cooking
Ingredients  
Preparing Raw Bamboo Shoot for Cooking
250

gms

Bamboo Shoots

Sliced into juliennes

water

For soaking - as per instructions below

½

teaspoon

turmeric powder

water

For boiling - as per instructions below
For Coconut Paste
1

teaspoon

Cumin seeds

2

teaspoons

Coriander seeds

½

cup

fresh Coconut

grated/ or grated desiccated coconut

¼

cup

water

or as required for grinding into paste
For Rice Powder
2

teaspoons

rice

Boiled rice/ Idli rice/ Red rice
For Bamboo Shoot Curry
2

tablespoons

coconut oil

¼

teaspoon

Mustard seeds

3-4

cloves

garlic

sliced

1

cup

minced Onion

about 75 gms or 1 large onion

1

dry red chilli

4-5

curry leaves

Cooked Bamboo

Coconut Paste

as per instructions

1

teaspoon

salt

or as per taste

1

cup

Tamarind water

This is optional. (as per instructions if used)

½

cup

water

if required

Rice Powder

as per instructions

Fresh coriander leaves

for garnish
For Tamarind Water
1

marble sized

Tamarind pulp

or about 50 gms of tamarind

½

cup

water
Instructions 
To Prepare Raw Bamboo Shoots for Cooking
Remove the outer thick peels of the Bamboo shoots. Slice into rounds or large chunks as convenient.Rinse and soak in sufficient water to more than cover the top of the shoots. Cover and allow to soak for at least 48 hours. I soaked the shoots for 3 days (72 hours) After every 24 hours, drain, rinse and again soak the bamboo in fresh water.

Drain, rinse and slice the bamboo into julienes (thin matchstick slices). The thinner they are the faster they will cook.Boil with ½ teaspoon of turmeric powder with sufficient water to cover the top of the slices, for at least 20 minutes.Remove from stove, drain and set aside till required.
To Prepare Tamarind Water
While the bamboo is being cooked, soak the ball of tamarind in water for about 20 minutes. Squeeze the tamarind and filter, saving the Tamarind water in a bowl for use when required.
To Make Coconut Paste for Bamboo Shoot Curry
Again while the Bamboo Shoot is cooking, make the Coconut Paste. Roast the cumin seeds in a dry pan for about 30 seconds, stirring so they do not burn. Remove from the pan and set aside. Add 1 teaspoon of coconut oil to the hot pan and fry the Coriander seeds. Remove from pan and set aside to cool

Grind the grated coconut, roasted cumin and fried coriander into a thick paste, adding only as much water as is required for it to make a smooth paste. Transfer to a bowl and set aside till required.
To Make Rice Powder
Roast the Rice in a dry pan for about 1 minute till it begins to brown, stirring frequently. Remove from the pan and cool. Powder in a mixie or food processor. Set aside till required.
To Make Bamboo Shoot Curry Coorg Style
Mince the garlic and onion and keep aside. Heat coconut oil in a pan. Add mustard seeds, let them splutter. Add sliced garlic, sauté on low flame for 1 minute or till they begin to darken. Add minced onions. Sauté for 3-4 minutes till translucent, stirring so that they do not char.

Add red chili and then curry leaves. I always shred the curry leaves into bits so that there is a better chance of their being eaten rather than have the leaves with their nutrients being discarded on the side of the plate.

Add the coconut paste, stir. Add the cooked, drained Bamboo shoots. Stir well, add a little salt. You can check and add more if required, later.

Tamarind extract is optional and you may leave it out if you wish. Add the strained tamarind water. Bring to a boil and then allow to simmer for 10 minutes. Add a little plain water (one tablespoon at a time) if the curry is beginning to look dry.Taste for salt and that the bamboo is cooked. Add salt if required, taking care to add only a little and taste again.

Add the rice flour/powder and stir it into the bamboo curry. Transfer to a serving dish and serve hot with rice roti or hot rice, garnished with fresh coriander leaves.