With Kerala as the theme for September 2018 for the Shh Cooking Secretly Challenge Group (more about the group, later on), there was such a wide variety of recipes to choose from. I had two ingredients to work with, coconut and cumin, and this gave me so much scope! Browsing my cookbooks for Kerala dishes with ingredients that I did not often use, I came across the Erissery that could be made from a variety  of vegetables. Vazhakkai / Raw Banana Varutha Erissery was the final choice for the theme, and I hope you love it as much as I did. Its easy, its simple and the addition of roasted grated coconut gives an amazing flavour that glamorises the humble raw banana or green plantain. And, as a bonus, there's a cook book review in this post too!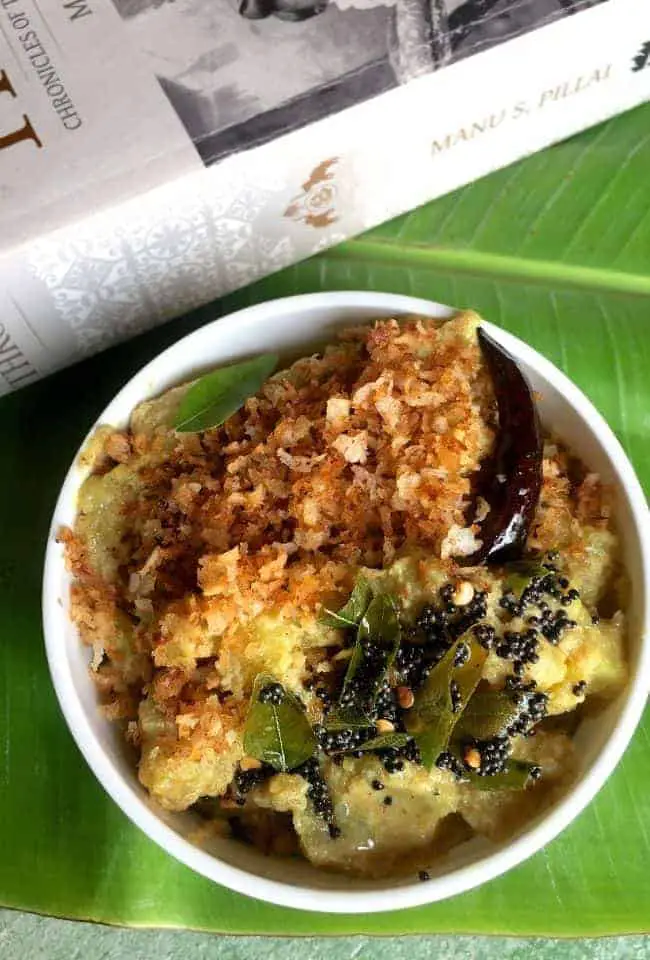 The recipes in the interesting cookbook: Grains, Greens and Grated Coconuts has roasted coconut as an ingredient in several recipes including for sambar, bitter gourd etc and in this 'Varutha erisseri: Green Plantains in Toasted Coconut and Cumin Sauce'.  I have followed this recipe to a large extent, except for not using the cayenne, Serrano or Thai red chili powder suggested. I have not followed the quantities in the recipe either and have used far lesser coconut than it does, so that the banana shines through as the star of the show. Perfect for Onam Sadhya, don't you think? I understand from friends from Kerala that roasted coconut is added to several dishes though not usually to the Raw Banana Varutha Erissery.
My friend Nisha (about whom you will have kept hearing about in my posts) and who is from Kerala, helped in freezing the quantities for the recipe, as well as in tasting the finished product! Her verdict: The dish was tasty but could do with some more cumin and chili!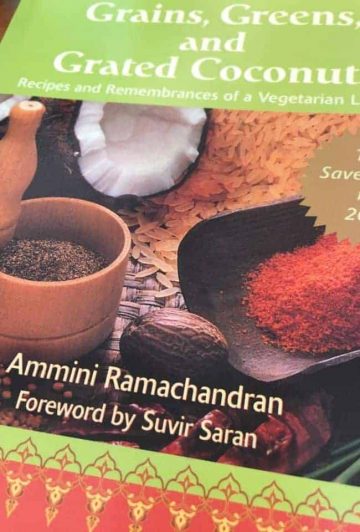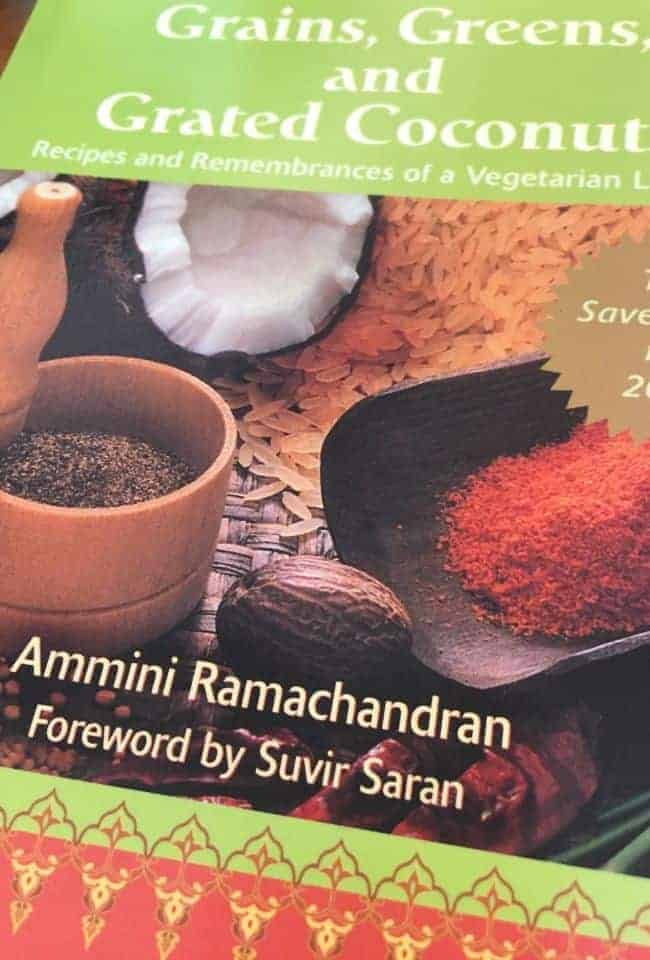 About the book I referred to above: Grains, Greens and Grated Coconuts is written by Ms Ammini Ramachandran, described in the book as a Texas based food writer with roots in the Indian State of Kerala, born into a Nayar joint family and with both her grandfather and father-in -law being members of the Cochin (Kochi) Royal family.
The book itself sounds delicious, with its many recipes, written simply and clearly, and its anecdotes and glimpses of the History and Heritage of Kerala, more specifically that of Kochi. I would have loved to see some pictures of the food, which could be helpful to a newcomer to understand what the dish finally looks like.The ingredients include those easily available in the USA rather than the corresponding traditional Indian ingredient which would be difficult to obtain outside India.
The book is divided into convenient to use Chapters, such as 'Getting Started: Ingredients, Cooking Methods and Utensils'; 'Sacred Food: Rice and Rituals';  'Chutneys and Pickles'; 'Breakfasts and Brunches', etc.
I specially liked the chapter on Curries from the Madapilli (Royal Kitchen) and its mouth watering description of lunch at a Royal Palace: " A huge banana leaf, laden with various vegetable dishes...deep fried puffed wafers called pappadams and small piles of salted varuthupperi and sweet sarkara upperi...servings of vegetables - thoran, oolan, aviyal, pachadi, and kaalan -- and a thick brown curry with the distinct fragrance of black sesame seeds and curry leaves..'
There is much more, such tantalising descriptions of food that I want to stop writing and make for myself a fresh vegetable curry and take in the aroma of coconut oil floating in the air. This is one cookbook that I will treasure and will dip into again and again for culinary inspiration, just as I did for this totally delicious Raw Banana Varutha Erissery.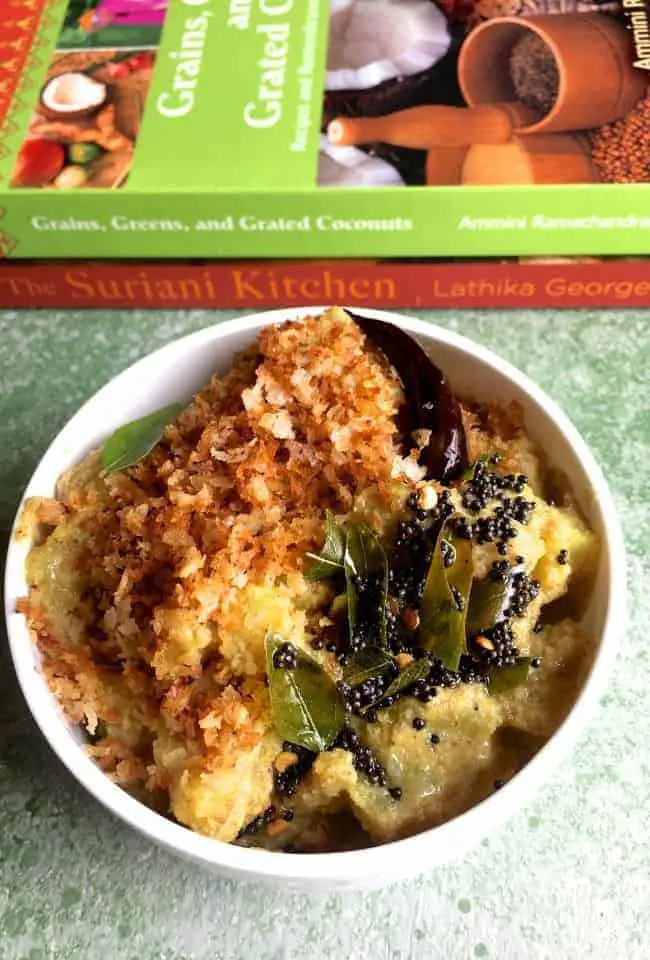 Once a month now I post a recipe according to the theme decided by the Facebook Food Bloggers Group of which I am a member, viz Shhhhh Cooking Secretly Challenge , where presently we are cooking from the different cuisines of the States of India.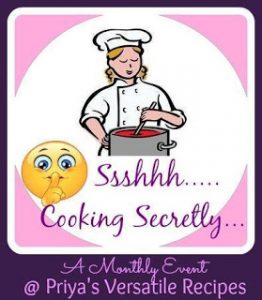 My partner for Sep 2018 is Priya Suresh who blogs at Priya's Versatile Recipes. I suggested Pepper and Turmeric for Priya, both being ingredients frequently used in Kerala cuisine and she made this Doodhi Molagoota that is now up on her blog.
Priya's blogsite is both interesting and informative - please do visit and browse the many recipes up there: Vegetarian and Non Vegetarian Recipes, Cakes and Bakes, Recipes from around the world. Wouldn't you like to try out her Egg-less Peanut Blossom cookies or her French Strawberry Jam Gingerbread Cake?
Priya suggested coconut and cumin seeds as my two ingredients to incorporate in my recipe, and once I posted a picture of the Raw Banana Varutha Erissery on our group, the other members had to guess what the 2 secret ingredients are. The coconut was easily guessed, though the cumin took time! Its not easy to guess ingredients from just an image!
The Raw Banana Varutha Erissery tasted so good with my favourite Tomato Rasam from homemade rasam powder and fried appalam/ papad with steaming hot rice.
Try it out and see!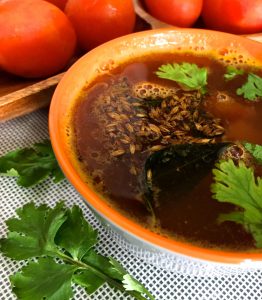 Other Recipes you may like to try from this blog:
Kothavarangai Paruppu Usili / Cluster Beans curry in Dal Paste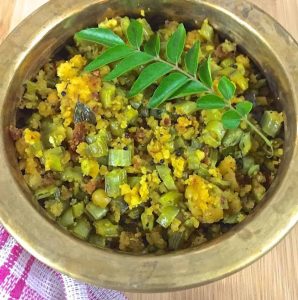 Murungai Keerai Morekuzhambu / Easy Yogurt stew with Moringa leaves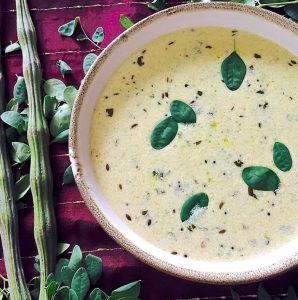 Simple Beans Poriyal with Coconut (Purple or Green French beans)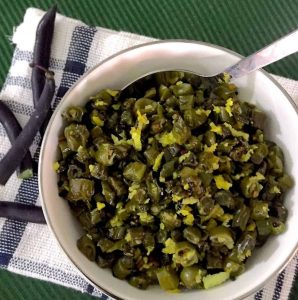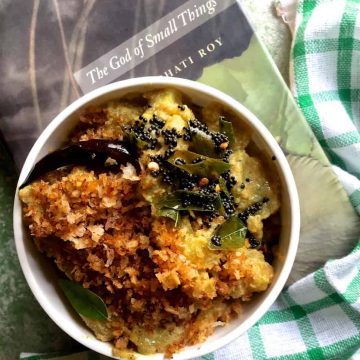 Raw Banana Varutha Erissery: Vazhakkai Roasted Coconut Curry
Raw Banana Varutha Erissery, a delicious dry curry from Kerala cuisine. Cubes of cooked green Plantain sautéed with a paste of roasted coconut cumin, and garnished with roasted grated coconut.
Ingredients  
For Cooking the Plantain/Raw banana
2

cups

raw green banana sliced

2 plantains/ banana/ vazhakkai

½

teaspoon

salt

or to taste

¼

teaspoon

turmeric powder

1

cup

water

or enough water to just cover the top of the plantain slices
For the Roasted Coconut
1

cup

fresh grated coconut

1

tablespoon

coconut oil
For the Coconut Paste
¾

cup

roasted coconut

From the 1 cup roasted as above

1

teaspoon

Cumin seeds

jeera seeds

1

green chili

¼

cup

water

or minimum required for grinding to a paste
For Tempering the Curry
2

teaspoons

coconut oil

1

teaspoon

Mustard seeds

1

dry red chili

a

few

curry leaves

about 10
For Garnish
¼

cup

roasted coconut

from the 1 cup roasted as above
Instructions 
To Cook the Raw Banana/ Vazhakkai / Plantain
Pare/ Peel the thick outer skin of the banana. Dice the banana into small cubes, about 2 cm square. When exposed to the air, the raw banana turns grey/ black, hence put the slices immediately into a bowl of water, to reduce discolouration.

Drain and place the slices in a pan on the stove, add salt and turmeric powder as in the ingredients list.
Add water to just about cover the surface of the banana slices.
Bring to a brisk boil (about 2 minutes) and then reduce the heat and let the bananas simmer till cooked and tender (about 7 minutes) If there is water remaining in the pan, increase the heat and continue to cook till the water disappears. This is a dry curry, hence you need to ensure the water evaporates completely.
To Roast the Coconut and prepare Paste
Heat a small frying pan and add the coconut oil. Add the grated coconut (or desiccated coconut if fresh is not available).
Roast the coconut on medium to high heat, stirring constantly as it tends to catch at the bottom of the pan and char.
Roast the coconut till it turns a yellow brown, and begins to turn rust in colour. (about 2 minutes) I know that cookbooks and recipes always talk about a golden colour, which I somehow have never been able to achieve when Im roasting or sautéing anything!

Remove the roasted coconut from the pan.
Take ¾ cup of the roasted coconut and grind to a paste along with cumin seeds, green chili and a little water - i.e. just sufficient water to grind the coconut into a soft paste.

Set aside the remaining ¼ cup of roasted coconut for garnish.
To make the Raw Banana Varutha Erissery Curry
Add the coconut paste to the pan of cooked raw banana. Stir it in well and allow the curry to cook for about 3 minutes so that the raw taste of the chilli in the coconut paste goes away.
Transfer the vazhakkai erissery to a serving dish.

In a small pan heat the coconut oil (as in the ingredients for tempering), add mustard seeds.
Once the mustard crackles, add the dry red chili. Turn the chili after a few seconds so that both sides are fried.
Add the curry leaves (I usually shred them before adding so that there are more chances of their being eaten than discarded on the side of the plate).


Pour the tempering of mustard and chili onto the curry. Garnish with the reserved roasted coconut. Serve the curry hot, with boiled (Kerala) rice and other vegetables.