100 Healthy Recipes Challenge: Recipe 2: A simple and Healthy tasty side dish for Indian flat bread (chapati)  or with rice and a plain Jeera Dhal, this Bitter Gourd Fry is easy to make and you could use less oil, to bring out the flavours of the bitter gourd and its nutrient and disease fighting properties.
Most people I know, do not like Karela. However this vegetable has an unique taste and if you try it with something plain, like a simple arahar dhal (split pigeon pea lentil stew) seasoned with  jeera (cumin) and green chillies in ghee, it makes for an amazing combination.
The karela for todays  bitter gourd fry and roti lunch, was part of my vegetable basket supplied by First Agro Farms and their distributor, Sakura Fresh, and not only is it totally Pesticide free, but is bitter and flavourful. No other karela I have purchased from various sources has this fresh and 'real' taste.  These are slender and the seeds are not prominent, and is easy to slice. Very tender and hence take less time to cook.
My husband has recently completed several cycles of chemotherapy and seems to have more medicines that food, in his diet, he is just not enjoying the taste of food. For some reason that I don't understand, the bitter gourd fry,  the more bitter the better,  perks him up, gives him an appetite and helps to keep the food in, in spite of the nausea which he is frequently subject to.
Wiki says that Karela or Bitter gourd  or Pavakkai in Tamil, (Botanical name Momordica charantia) is also called bitter squash, patrick or balsam pear, goya and even as Bitter melon.
Nutrition and Disease fighting properties: (Sourced from Google and not intended by me to be medical advice).
Nutrition-and-you.com says "Bitter melon is very low in calories, carrying just 17 calories per 100 g. Nevertheless, its pods are rich sources of phytonutrients like dietary fiber, minerals, vitamins and anti-oxidants."
However it is generally advised to be avoided during pregnancy and breast feeding as it may have counter effects.
Stimulates digestion and said to be effective in stomach disorders as it works as a laxative and is anti-bilious; used to reduce cough as well as in treatment of certain skin diseases, ulcers and wounds, infection, as well as in treating gout and rheumatism. The extract/ raw juice is considered to be effective in containing blood sugar levels as it has a hypoglycemic effect and hence may be of some help in controlling Type 2 diabetes. However the level / quantities to be taken to control blood sugar, are not fully understood, hence like with any food, moderation is best.
A detoxifier and also used in reducing inflammation, enhances immunity and reduces blood pressure. In traditional Chinese medicine, Bitter melon is used as an appetite stimulant and as a treatment for gastrointestinal infection and against breast cancer. (Source: bittermelon.org).
A good source for Vitamin C and A, flavonoids such as ß-carotene, a-carotene, lutein, and zea-xanthin; a moderate source of B-complex vitamins such as niacin (vitamin B-3), pantothenic acid (vitamin B-5), pyridoxine (vitamin B-6) and minerals such as iron, zinc, potassium, manganese and magnesium.
Bitter gourd is understood to have properties that can help in cancer prevention, for which laboratory research is presently going on.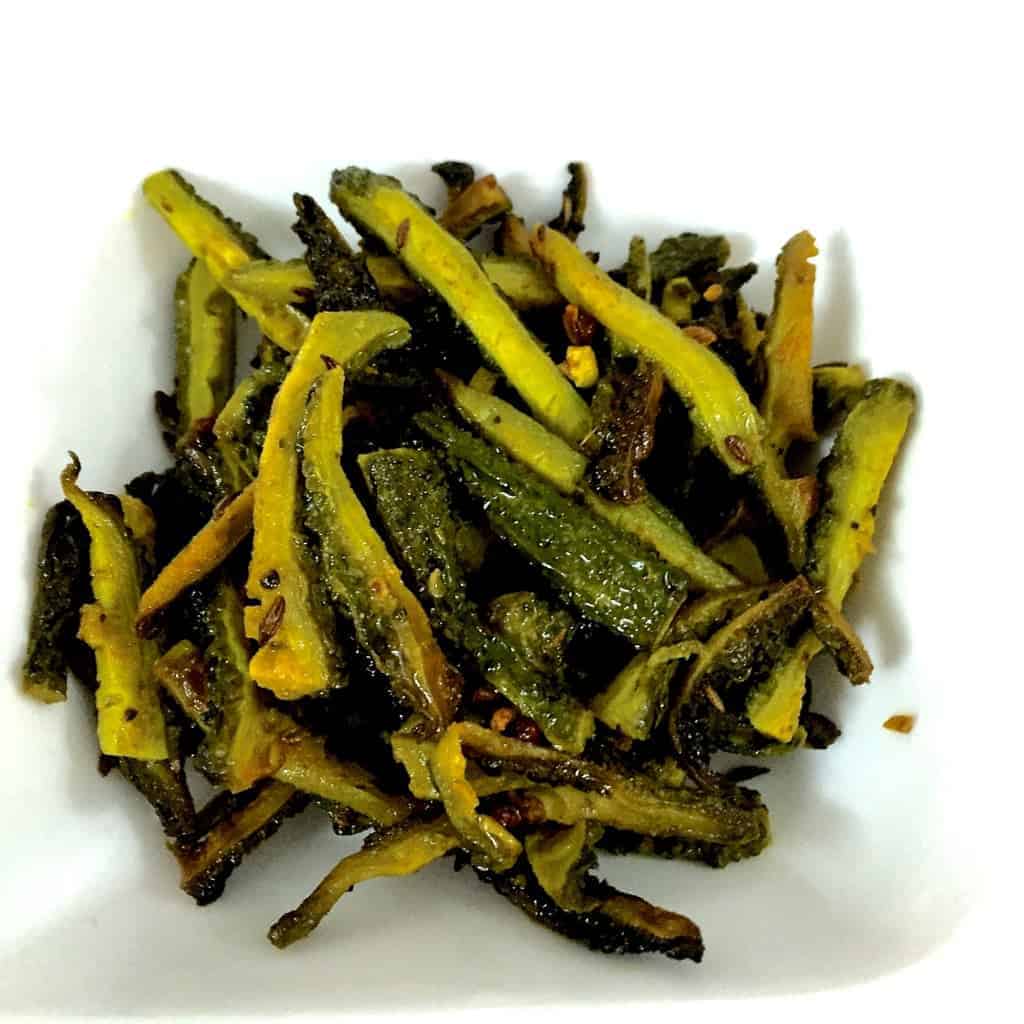 Easy Bitter Gourd Karela Fry with  5 ingredients
100 Healthy Recipes Challenge: Recipe 2 A Healthy tasty side dish for Indian flat bread or with rice and a plain Jeera Dhal: easy to make and has the nutrients for properties for fighting cancer and other disease.
Print Recipe
Ingredients
300

gms

bitter gourd

1

teaspoon

turmeric

to taste

salt

1/2

teaspoon

Mustard seeds
Instructions
Wash the bitter gourd well and slice into 1 inch long thin pieces.

Mix turmeric and a little salt and rub into the bitter gourd pieces.

Set aside for 5 minutes in a colander to drain any water that may be extruded.

Heat oil in a pan. Add mustard seeds and let them crackle.

Add the sliced bitter gourd, and fry well.

Let it cook for about 10 minutes, till done, stirring frequently.

Serve with hot phulkas or with Rice and Dhal.

Enjoy!