There's something about the texture when you make Basil pesto in mortar and pestle, which makes the physical effort truly worthwhile. It's not very hard either. The aroma of the basil and oil and garlic as they are pounded fills the senses and makes me feel almost poetic. Its a lot like kneading dough for bread. Once you get used to it, its easy, and the final product gives a great deal of satisfaction.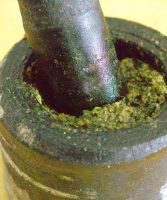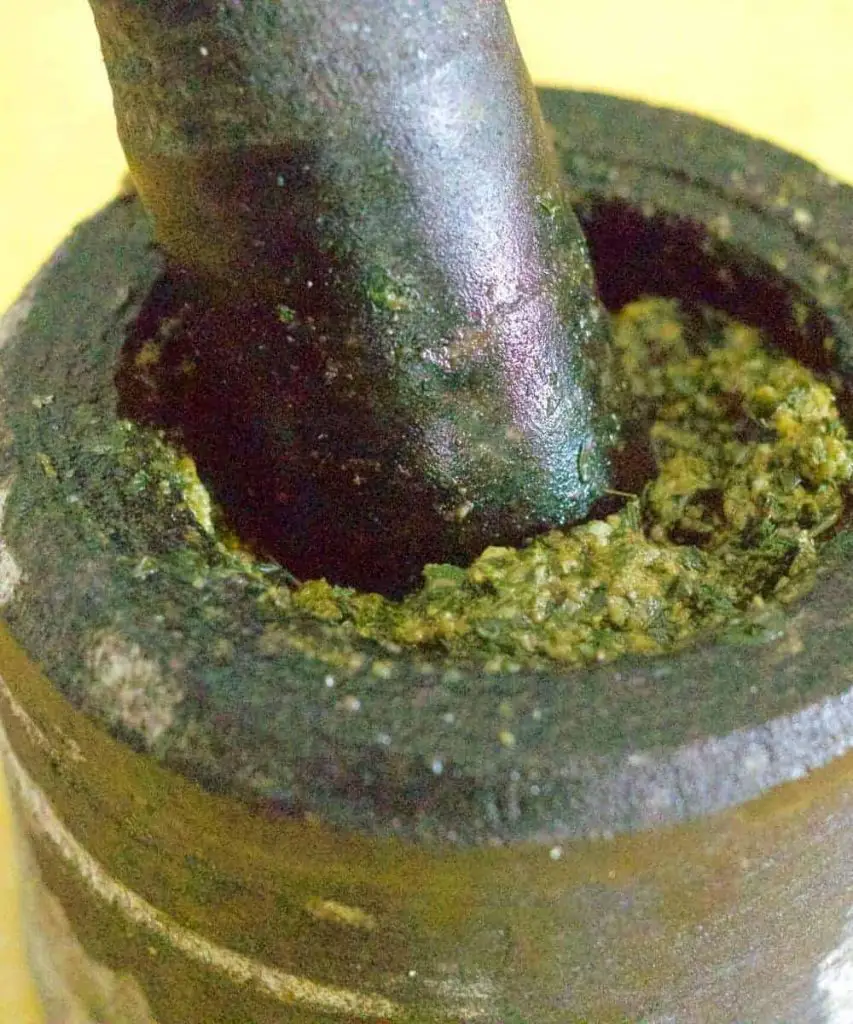 My balcony garden has been bountiful this year what with all the sunshine and is a pretty sight with bees and butterflies flitting around and a pair of sweet toned birds which come for my chili plant. The basil plants are as usual spreading into every pot they can reach, including my long suffering neighbour Nisha's flowering plants. I've been giving away saplings to friends whenever I meet them. I picked a big bunch of leaves yesterday for the pesto, 3 tightly packed cups. The pine nuts were the last of a precious hoard.
Making Basil Pesto In Mortar and Pestle:
This pesto is all about the ingredients.  Use good quality ingredients for the best results. Fresh basil leaves, extra virgin olive oil, pine nuts/ walnuts/ pistachio, parmesan cheese. Check that the nuts are not stale and have no black patches on them.
Keep the salt to a minimum so that the flavours of the basil and nuts come through. Use freshly ground black pepper rather than a store bought pepper powder.
When making basil pesto in mortar and pestle, pound / grind the garlic and roasted pine nuts first and then add the leaves. If you put the leaves in first, its difficult to get a grip on the nuts and garlic. Even if you plan to make the pesto in a processor, grind the garlic and nuts first and then add basil leaves and oil.
The Video showing the Process of Making Basil Pesto is below. Do subscribe to my YouTube channel for updates on further recipe videos that I post.
Pine nuts give that authentic basil pesto taste, however as they are both expensive and not easy to source, specially in India, shelled walnuts, pecan nuts or pistachio nuts can be substituted. I wouldn't advocate either almonds or cashew nuts, they would give the pesto too Indian a flavour, IMO.
Again, Parmesan cheese would be the authentic ingredient when making Basil pesto. Alternatives could be Romano cheese, which is more salty, so you need to check before adding salt to the pesto while grinding. Pepper Jack would be an interesting substitute, with its flavours of chili and rosemary. Not like the original of course, but makes for a tasty basil pesto.
If you like some heat in your pesto, a small piece of fresh red chili/ peri peri chili is a nice add on.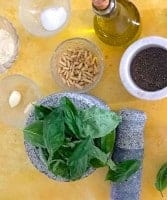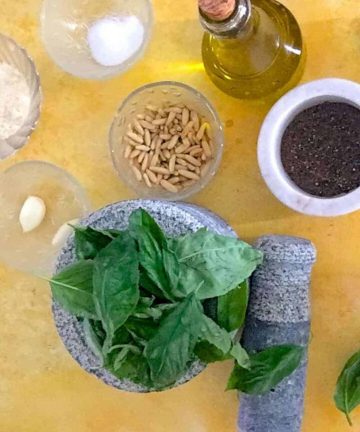 How To Use Basil Pesto
Now that I have a fresh pot of pesto handy, it is going to get used up fast. I made pizza yesterday, with slices of zucchini, capsicum, red sweet peppers and the  basil pesto generously filling in the gaps.
Some of the pesto will go into a Pesto Spaghetti Pasta this weekend, maybe with mushrooms.
Quesadilla and sandwiches both taste great with a pesto spread.
Other Recipes You May Like From This Blog: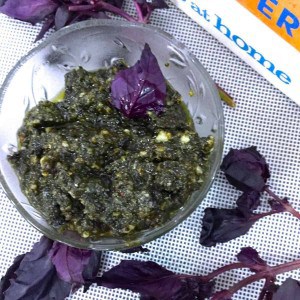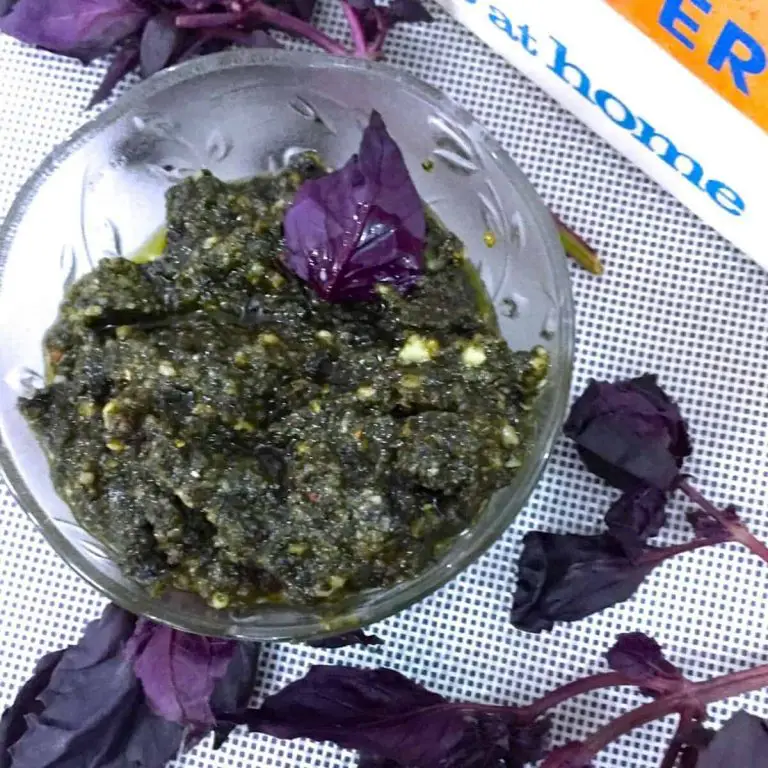 Fennel Frond Pesto in Basil Oil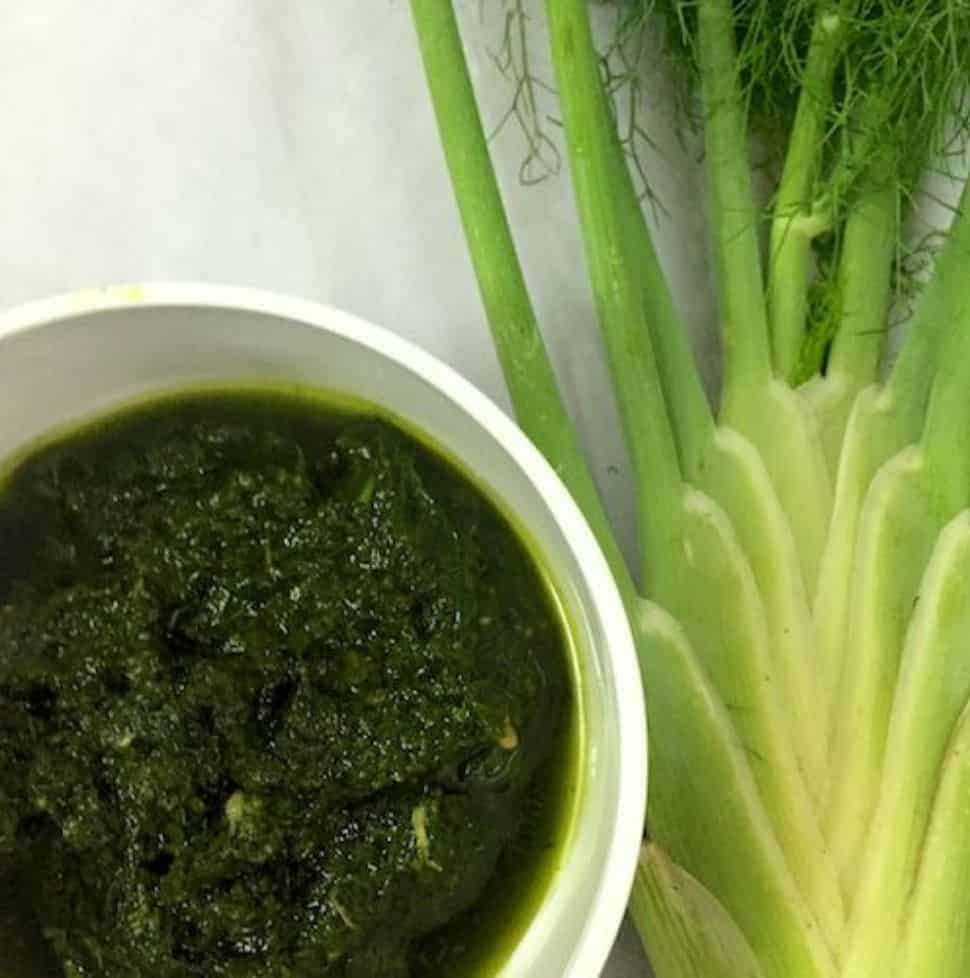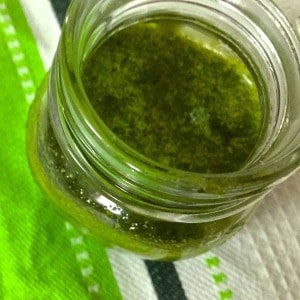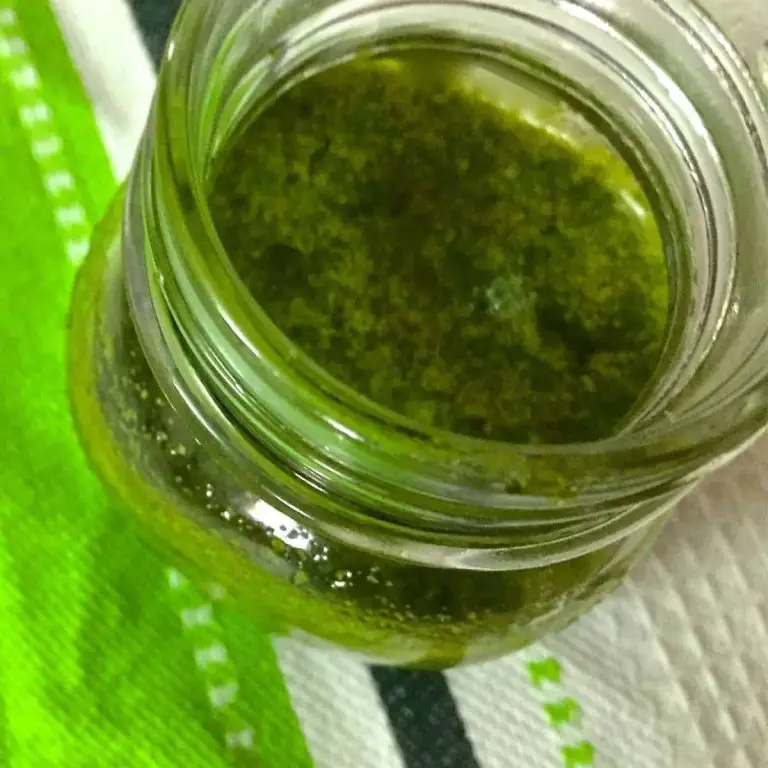 Arugula Pesto Pasta in Cherry Tomato Sauce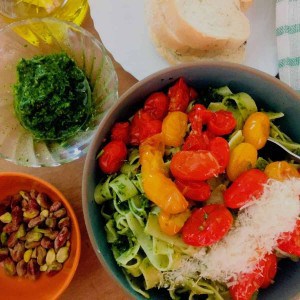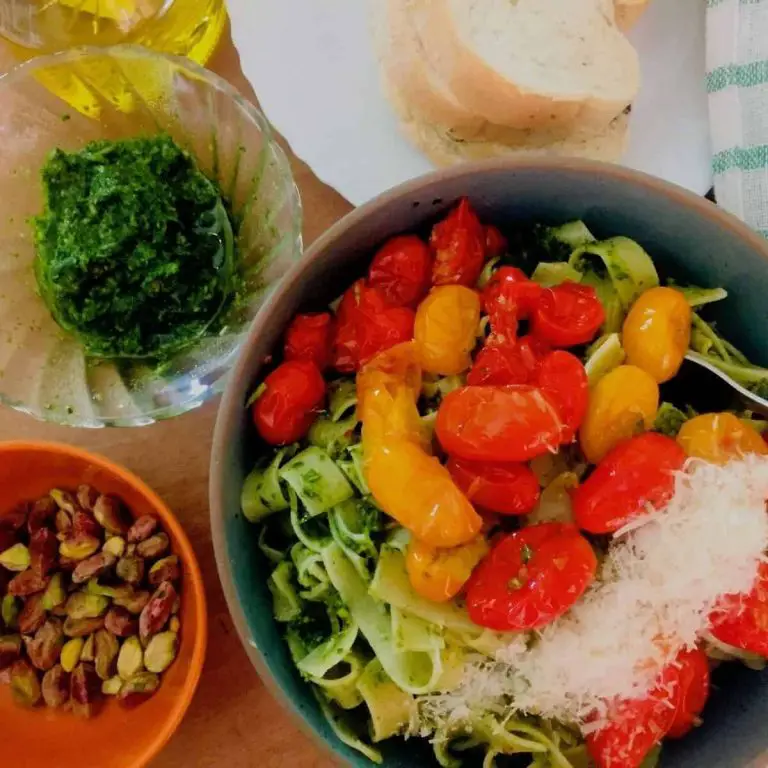 "Recipe"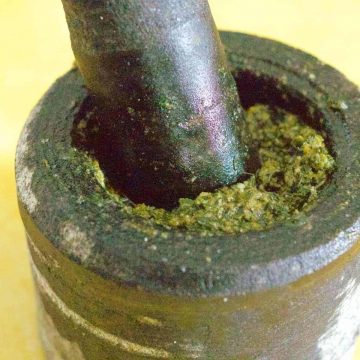 Basil Pesto in Mortar and Pestle/ Easy Home made Basil Pesto
Fresh Basil leaves, extra virgin Olive oil, Parmesan/ Pepper jack cheese, Pine nuts/ walnuts/ Pista all go in to make a delicious Basil pesto hand pounded in the old fashioned way in a stone mortar and pestle. The texture and flavours are better than anything you can get at the store.
Equipment
Mortar and Pestle

Salad Spinner
Ingredients  
⅓

cup

Pine Nuts

2

cloves

Garlic

1

Pinch

Salt

3

cups

Fresh Basil Leaves

⅓

cup

Extra Virgin Olive Oil

⅛

teaspoon

Salt

Or to taste

¼

teaspoon

Fresh Ground Black Pepper

⅓

cup

Grated Parmesan Cheese

or Romano or Pepper Jack cheese

1

tablespoon

Water

optional, if required for grinding
Instructions 
Use good quality ingredients for the best results. Please see the write up in the post above for details.
Preparation for Basil Pesto:
Heat a pan till completely dry and hot, and roast the pine nuts on a medium flame for 1 minute, stirring all the time and removing them from the pan before they turn dark.

Peel the garlic.

Remove stems and thick stalks from the basil. Rinse and spin dry them in a salad spinner or with a kitchen napkin. Try to remove as much moisture as possible as this will keep the pesto for a longer time without spoiling.

Grind pepper corns as fine as you can for fresh ground pepper powder.

Check that the mortar and pestle you are going to use for the pesto, are clean and dry.
How To Make Basil Pesto In Mortar And Pestle
Pound the garlic and salt together in the mortar, till garlic is crushed.

Add the pine nuts little by little and pound till each batch is crushed.

Add some of the basil leaves, crush and grind them. Add more leaves and continue grinding.

Add some of the olive oil, use it to help grind the leaves. Add some more as you continue to process the basil leaves.

Periodically stir the mixture and scrape it off the bottom of the mortar and the bottom of the pestle and add the scrapings back for further processing.

If needed, add not more than one tablespoon of water, to help grind the leaves. The lesser the water used, the longer the pesto will stay without spoiling and the more enhanced the flavours.

Once the basil leaves are ground to a level that you cannot see individual bits of leaves and it is a coarse paste, add a very little salt. Mix it in, taste and add a little more if required. Keep the salt to a minimum so that the fresh flavours of the other ingredients comes through.

Add the freshly ground pepper powder, grind it into the other ingredients.

Add some of the grated cheese, grind it in and add some more till all the cheese has been mixed into the pesto.

Use fresh Basil pesto as a sauce for pasta or to spread on pizza, sandwiches, quesadilla or use it to add flavour to soups and salads.

Will keep fresh if refrigerated for 3-4 days. Or freeze in an ice tray, remove the frozen cubes, pack them in a food grade plastic bag in the freezer and they should keep for about a month.
Video
Nutrition
Serving:
2
tablespoons
Calories:
1111
kcal
Carbohydrates:
12
g
Protein:
22
g
Fat:
113
g
Saturated Fat:
18
g
Cholesterol:
29
mg
Sodium:
846
mg
Potassium:
523
mg
Fiber:
3
g
Sugar:
2
g
Vitamin A:
4086
IU
Vitamin C:
15
mg
Calcium:
508
mg
Iron:
5
mg
RECOMMENDED PRODUCTS
As an Amazon Associate and member of other affiliate programs, I earn from qualifying purchases.