Let me tell you the story of why I made a Fennel Frond Pesto. When I placed my weekly vegetable order with First Agro Farms recently, I had requested them to send some Fennel with the fronds intact. Imagine my surprise when instead of the delicate few wispy fronds I had expected, the fennel had this whole bush attached! I had planned to use the fronds as a garnish in soups and salads, and was rather overwhelmed at the sight of these beautiful green strands, full of flavour.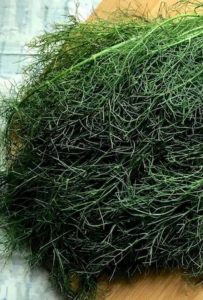 Well, I was not going to waste all these lovely green stuff, so I started researching for ways to productively use the fronds before they faded away in the intense heat of this very Indian Summer.
I make pesto at least once a week, so the fresh green fennel frond pesto was a natural solution. And as if the fennel was not enough for flavour, I decided to use the Basil oil I had made recently, instead of just plain Olive oil. As pesto is normally made with basil and olive oil, the combination of the fennel, the pine nuts and the basil oil - well, finger lickin' good, if I say so myself!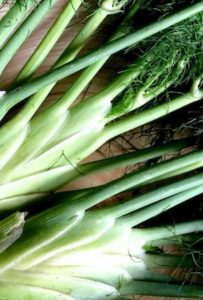 You could use extra virgin Olive oil instead of the basil oil, and almonds or walnuts instead of the pine nuts, but if you are able to lay your hands on a bunch of fresh basil, then I suggest you follow my recipe, make the basil oil and use it for the fennel frond pesto. The flavour combination of basil oil, fennel fronds, pine nuts, is just special!
Let me know if you try these two recipes, and how they turned out! I'm going to make a large batch and freeze it so I can always have some stock of fennel frond pesto on hand.
What am I going to use it for? Link to my recipe for Fettuccine using the Fennel Frond Pesto is below. And wait for my next few posts: this pesto is going places! Sandwiches, Subs, Pizza, Pasta and even in delicious little baked stuff! I tried the pesto on my freshly baked whole wheat bread, and I can tell you that no store bought pesto could give this taste and flavour!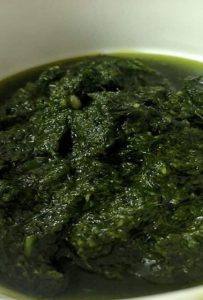 Click  here on Basil Oil for the Link to my Recipe for Homemade Basil oil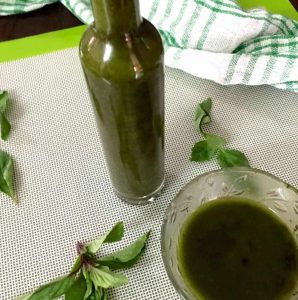 Other Recipes on this Blog You May Like To Try: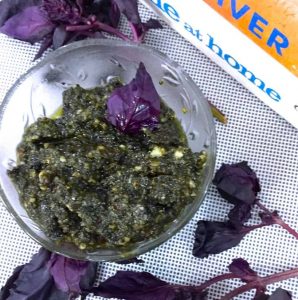 Fettucine in Fennel Frond Pesto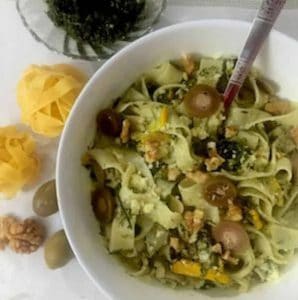 Arugula Pesto Pasta in Cherry Tomato Sauce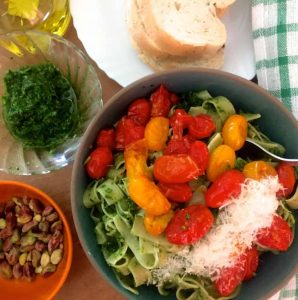 "Recipe"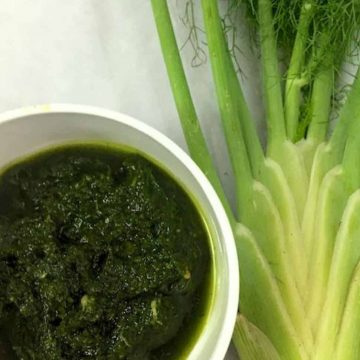 Fennel frond Pesto with Pine nuts and Basil Oil
Healthy Easy Fennel Frond Pesto of Fennel Fronds, Pine nuts and Homemade Basil Oil. An unusual and flavourful pesto, more so when enhanced by the basil oil.
Ingredients  
2

cups

fennel fronds

chopped into small pieces

3

cloves

garlic

2.5

tablespoons

Pine nuts

¼

cups

Basil oil

see recipe on this blog

¼

teaspoon

salt
Instructions 
You are going to use all the ingredients together, so get them ready.

Separate the thin fronds from the thicker stems, and cut/chop the fronds into pieces (about an inch in length).

Peel the garlic. I had very small garlic cloves, so I used 3 cloves. You could reduce the number if you have large garlic cloves. Lightly toast the pine nuts for about 30 seconds to a minute, taking care not to let them burn.

Add all the ingredients except the oil, into the food processor, and blend to a coarse paste. Add half the oil, blend for 30 seconds, and then add the rest of the oil.

You may blend the pesto till it is smooth. I like to keep it with a little bit of texture rather than as a totally smooth paste. Check for adequacy for salt, and add a little more salt to taste if required.

If you have ensured the fronds were dry and have not added any water during the blending process, the pesto should keep for about 10 days in the fridge.