Kalkandu Sakkarai Pongal, a change from the conventional jaggery based sakkarai pongal for Pongal festival and one of the important naivedyam items at Chidambaram Temple. Rice and moong dal/ passi paruppu/ split skinless green gram dal are well cooked as for any pongal or khichidi, and kalkandu/ rock sugar/ misri added and allowed to melt. Saffron, nutmeg and cardamom add flavour, with fried cashew and raisins in ghee giving the finishing touch. [This recipe first appeared in my piece 'Sugar, Celestial' in The Hindu Magazine on Sunday October 31, 2021]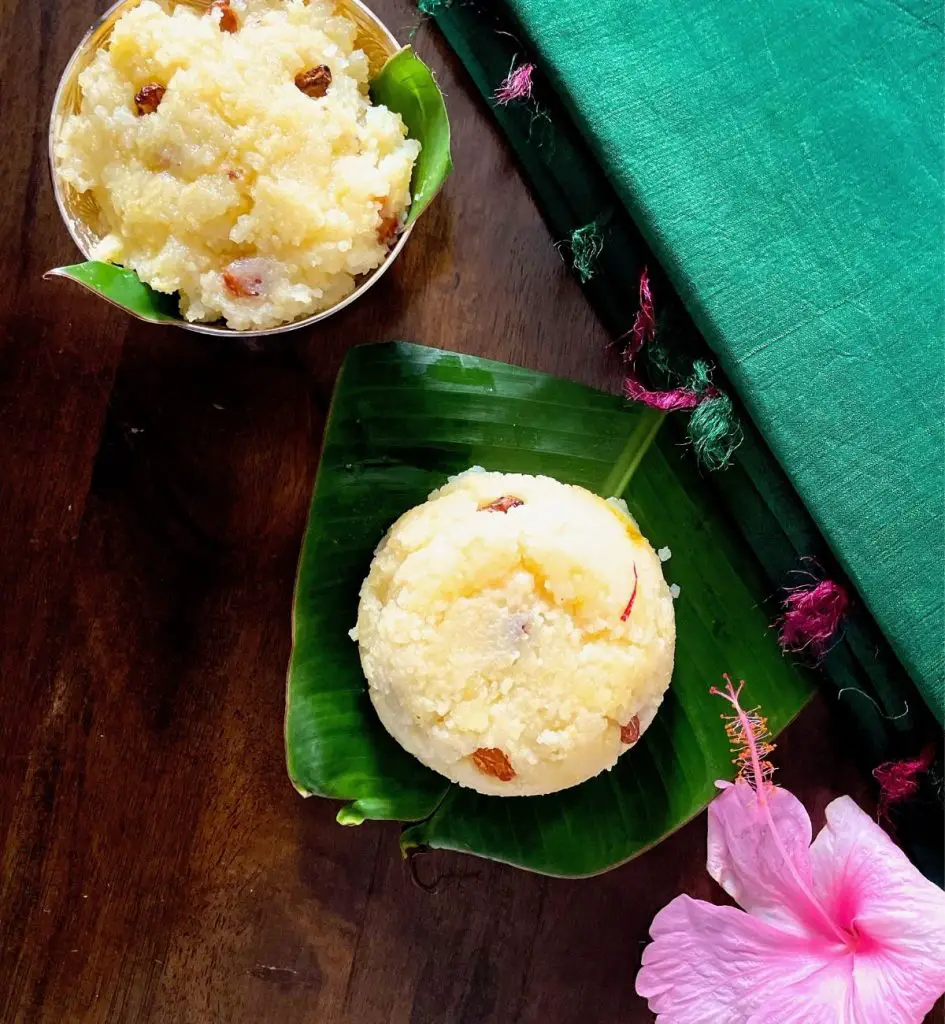 While traveling to religious sites across India during research for "Bhog Naivedya", my book on sacred temple foods (published in 2021 by Rupa Publications, India), I came across many new and some unusual food offerings. This Kalkandu Sakkarai Pongal however is one that I have tasted earlier and have fond memories of. It is part of the cuisine of the erstwhile and ancient Kongu Nadu, the cuisine of my home town Coimbatore and its environs. The above piece in the Hindu Magazine describes these experiences in greater detail, and may be found here.
Chidambaram Kovil Kalkandu Pongal
The recipe below is broadly on the lines of the one explained to me by a gurukkal/ priest at the Nataraja temple at Chidambaram, Tamilnadu. The process is similar to that of the pongal prepared at the Kali Amman Shakti Peetham a short walk near the Nataraja temple, where I had at privilege of tasting this delicious prasadam. Hot, redolent with ghee, saffron and raisins and held in a donnai/ leaf bowl, it was everything a good pongal should be.
The rice and lentils are cooked in water and milk is not added.
The kalkandu/ crystallized sugar is allowed to dissolve slowly into the cooked rice, rather than powdered and added. As explained to me this adds a subtle additional flavour to the pongal. Similarly, the saffron is stirred in for a few minutes, to release it aroma and colour.
Ghee is generously added to the pongal and enhances the aroma, flavours and taste.
Pongal Festival and Pongal Varieties
The festival of Pongal (Makar Sankranti, Bihu, Maghi, Uttarayan etc as known in various regions of India) is essentially the harvest festival and food with ingredients such as newly made jaggery, til seeds, rice and grains, plays a prominent part in the festivities.
In Tamilnadu it is celebrated for four days in mid January and during my student years and later was marked by the cricket test match held at the Chepauk Stadium at Chennai. Naivedyam is offered to the deities at home every morning, the highlight being on Thai Pongal, the second day of the festival. Chakkarai/ Sakkarai Pongal, i.e. rice and moong dal lentils cooked with milk and jaggery and garnished with fried cashew and raisins and plenty of ghee, is the naivedyam/ food offering prepared. The milk is allowed to boil over the top of the pot, a sign of the bounty of nature and a successful harvest, and a promise of prosperity in the year ahead. The Sakkarai Pongal is offered to the Sun, in thanksgiving.
Various types of pongal, sweet and savoury, and payasam/ kheer are prepared on each day of Pongal. The traditional one is the sakkarai pongal described above. While rice is usually the ingredient of choice, millets, red rice, black rice etc are becoming fast favourites. Jaggery is again the usual sweetener but kalkandu (mishri, rock sugar or sugar candy) as in the recipe below for kalkandu sakkarai pongal, panam kalkandu (crystallized Palm sugar), karuppatti (palm jaggery) and cane sugar add variety and bring in different flavours to the basic pongal dish. Milk may be added, or not, in making the pongal. Savoury ven pongal requires a generous addition of black peppercorns and cumin seeds as well as ghee.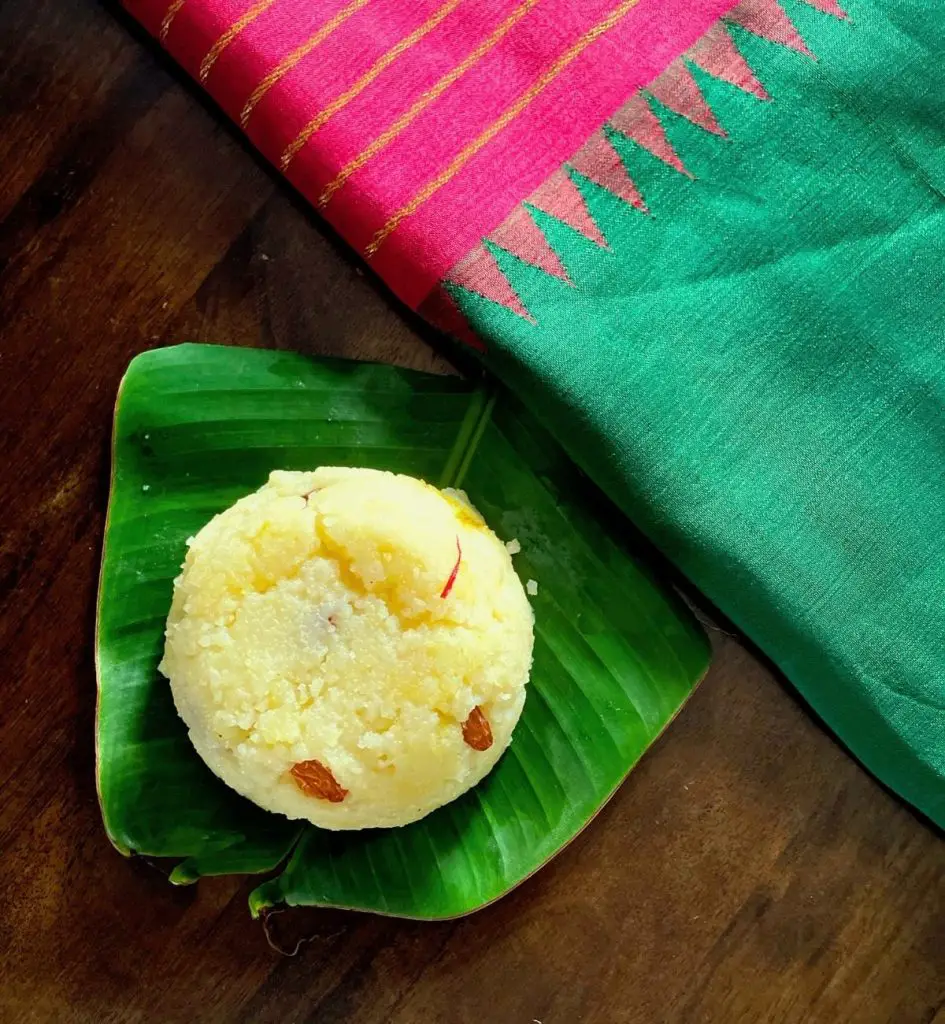 FAQs For Making Kalkandu Sakkarai Pongal
Should the rice and lentils be soaked first as well as roasted in ghee?
Yes, soaking rice and passi paruppu/ moong dal (separately) helps them cook to very soft as well as hastens the cooking. Roasting the soaked, drained grains in a little ghee, enhances the flavours.
Can I pressure cook rice and dal as this would save some time?
While pressure cooking is convenient, slow cooked pongal in a heavy bottomed pot or pan gives an interesting texture to the dish. Pressure cooking may in fact make the pongal mushy, while cooking in an open pot facilitates control over the water used and the resulting consistency of the pongal.
Should I add milk while cooking the pongal?
I don't add milk to this pongal as I have followed the Chidambaram temple recipe, but it is an option which may be used. As it is convention to make a milk based pongal for Pongal festival, especially for Thai Pongal, I have provided the option in the recipe below.
Should I powder the sugar before adding, so that it dissolves faster?
The crystal sugar may be powdered before adding, though, as explained above, the temple recipe follows the process of allowing the crystal sugar chunks to dissolve on their own as it adds a subtle flavour to the dish.
How do I get a pale yellow/ golden colour for the pongal?
This is achieved by slow cooking saffron. The saffron needs time to infuse its aroma and colour to the cooked rice and lentils, and should be gently stirred in for 2-3 minutes.
Are there alternates/ optional ingredients that may be used?
Brown crystallized rock sugar/ panam kalkandu may be substituted for the white kalkandu. It would give a different flavour as well as colour to the pongal.
Pachcha Karpooram/ edible camphor may be added, but cautiously. If used in excess, pachcha karpooram can spoil the taste of the pongal, so just a pinch should do, to give that 'temple prasadam' flavour. This may be added at the end, to the ghee used for frying cashew and raisins and the camphor infused ghee poured over the pongal.
More Tamil Festival Recipes:
More Pongal and Khichidi Recipes:
"Recipe"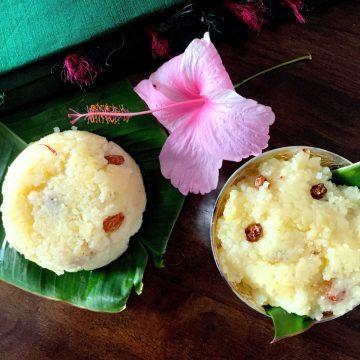 Kalkandu Sakkarai Pongal with Rock Sugar and Saffron
Kalkandu Sakkarai Pongal is a popular festival offering to deities in Tamilnadu homes and at Chidambaram's Nataraja temple. Made of rice and moong dal lentils cooked together till very soft, slow cooked with rock candy sugar / mishri and saffron. Garnished with ghee and fried raisins.
Equipment
Thick bottomed pan

For slow cooking the rice and lentils

1 Pressure Cooker

optional as slow cooking is best for this recipe

1 Small frying pan

1 Small mortar and pestle or small spice grinder/ processor
Ingredients  
For Kalkandu Sakkarai Pongal
½

cup

Rice

2

tablespoons

Passi Paruppu

Split skinless moong dal/ green gram lentils

2

cups

Water

For cooking the rice and dal

1

teaspoon

Ghee

¾

cup

Kalkandu

Rock Candy/ Sugar Candy/ Mishri

½

cup

Milk

Optional: See post above and instructions below

1

pinch

Salt

5

strands

Saffron

1

pinch

Ground Cardamom

Freshly ground

1

pinch

Ground Nutmeg

Freshly ground
For Garnish/ Tempering
2

tablespoons

Ghee

10

Cashew nuts

split into halves

10

Raisins
Instructions 
Preparation
Rinse Rice and passi paruppu/ split moong dal (separately) several times till the water runs clear.

Soak the washed rice and dal, again separately, in water that completely covers the surface, for about 20 minutes.

Drain well.

2. Meanwhile, powder cardamom and nutmeg, separately.
To Make Kalkandu Sakkarai Pongal
Heat one teaspoon of ghee and roast the drained moong dal for about a minute on low heat, stirring frequently, till the colour just begins to darken and the aroma of the dal and ghee appears.

Add drained rice. Roast, stirring frequently, for about 2 minutes, on low heat.

Transfer the rice and dal to thick bottomed pan and add water.

Bring to a boil, reduce to low heat and cook, partly covered, till the rice and dal are soft (but not mushy). Stir once in a while, checking that there is sufficient water and it is not 'catching' at the bottom of the pan.

Alternative: The roasted rice and dal may be pressure cooked till soft and once the cooker lets off all the steam by itself, transferred to a thick bottomed pan for the rest of the process.

Mash the cooked rice and dal well with the back of a ladle, while still hot.

Add the kalkandu/ rock sugar. Allow it to dissolve, on low heat. It may take about 10 minutes to dissolve completely. Stir frequently.Add milk, if using. Allow to cook on slow heat for 5 minutes, stirring often. [Note: As explained in the post above, the temple recipe that I follow here does not use milk. However as it is conventional to make a milk based pongal dish for the Thai Pongal festival, Im providing the option here.]

Add just a pinch of salt, stir it in.

Add strands of saffron. Stir gently for about 2 minutes while the saffron is infused into the rice-dal-sugar mixture. The rice usually turns a very pale/ light yellow hue at this stage, depending on the intensity/ quality/ freshness of the saffron.

Add powdered cardamom and nutmeg. Freshly ground spices are best, though store bought spice powders may be used instead.

Stir the kalkandu sakkarai pongal and remove from the stove.
Tempering
Heat ghee. Ghee greatly enhances the flavour and aroma of the dish and I use at least 2 tablespoons for this volume of pongal.

On low heat, fry cashew nuts till golden. Drain and remove before they darken to brown (about 1 minute)

Again on low heat, fry the raisins till they puff up (about 1 minute). Drain and remove before they darken further.

Pour the cashew, raisins and ghee in the tempering pan, on the Kalkandu Sakkarai Pongal. Serve it hot.

This makes a delicious naivedyam for Pongal or any festival or as a sweet. Or for breakfast, with vadai.
Nutrition
Serving:
1
cup
Calories:
376
kcal
Carbohydrates:
64
g
Protein:
5
g
Fat:
12
g
Saturated Fat:
6
g
Polyunsaturated Fat:
1
g
Monounsaturated Fat:
4
g
Cholesterol:
25
mg
Sodium:
33
mg
Potassium:
183
mg
Fiber:
2
g
Sugar:
39
g
Vitamin A:
59
IU
Vitamin C:
1
mg
Calcium:
52
mg
Iron:
1
mg