Easy 5 ingredient Rose Khova Paneer Modak/ Kozhukattai for Vinayaka Chaturthi bhog/ naivedya. Quick to make and tastes delicious. Looks attractive too, with its unusual colouring. Makes about 30 small modaks of about an inch each in height.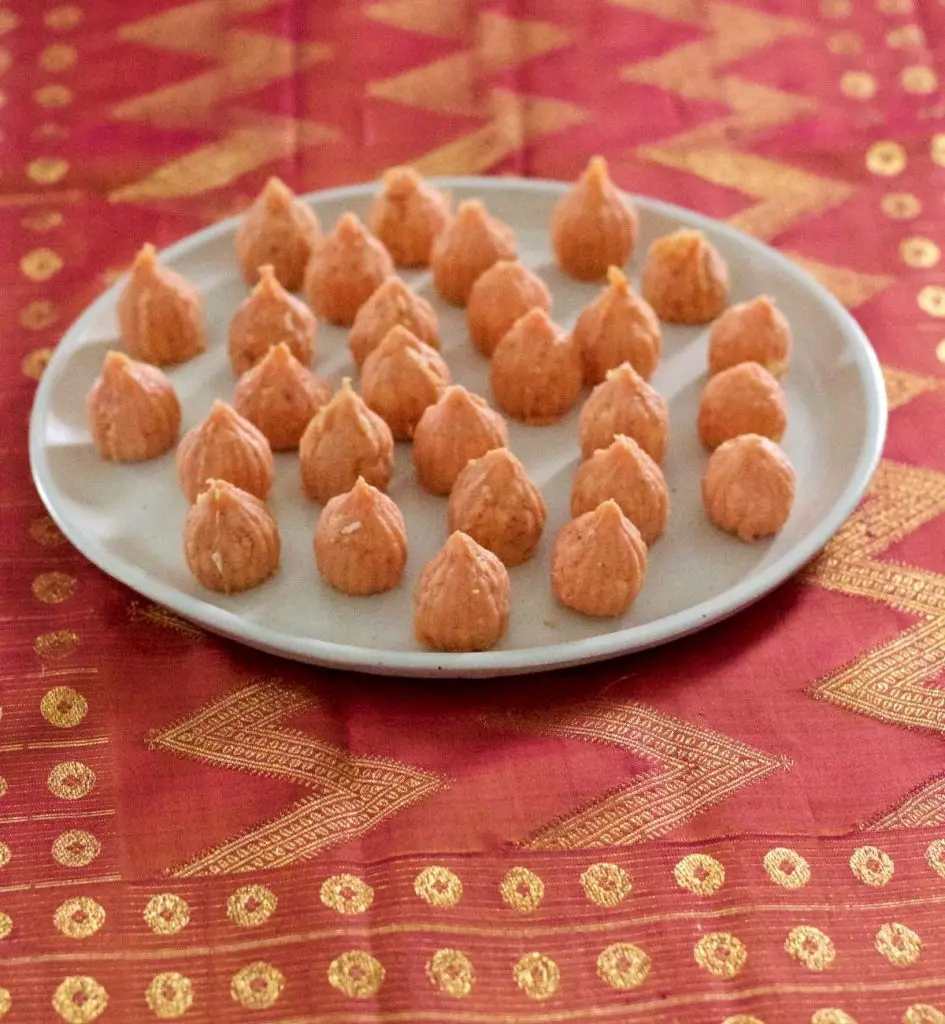 About 3 years ago, friends from our Book Club, the Bangalore chapter of BYOB or Bring Your Own Book, Club, gathered at my apartment on Ganesh Chaturthi, for a day of modak making. We did not make the traditional kozhukattai's with coconut jaggery filling, but experimented with several other types. The hands down favourite was a rose khova paneer Modak, all rosy pink and pretty looking, tasting delicious too. I didn't note down the ingredients quantity on that day, we were too busy making and tasting these delicacies.
I tried several times later to re-create the rose khova paneer modaks, and finally came close to the BYOB originals, and so here is the recipe for you to try too. I haven't got the pretty shade of pale rose pink which we got in the original attempt, but this one is quite attractive too. Next time I should try using a little less rose syrup, so that I can get the rose-milk coloured modaks we made earlier.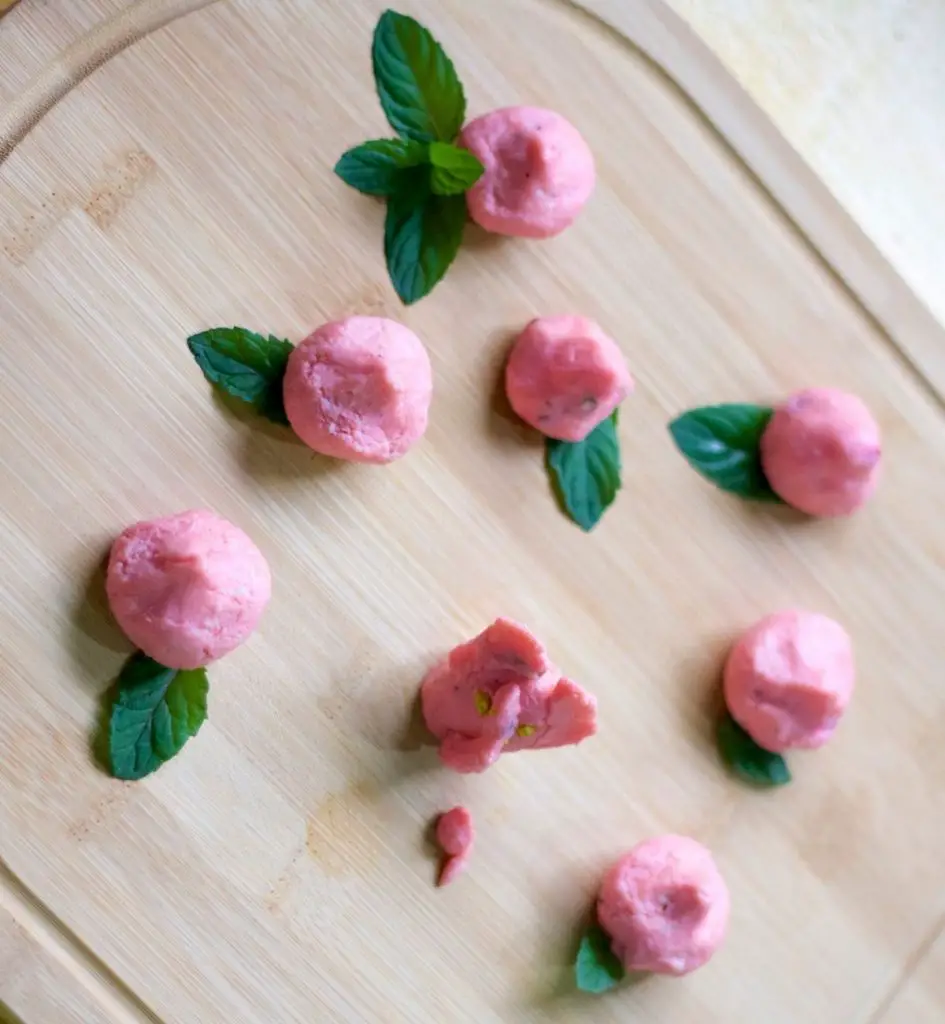 Making Rose Modak
You need only 5 ingredients. The khova should be unsweetened.
If you are measuring the ingredients in cups (the recipe below gives both metric and US cups measures) remember to first crumble the khova and loosely fill the measuring cup. Similarly with the paneer.
Crumbling the paneer and khova well is important as you don't want it to form lumps when you cook it.
While cooking the paneer khova mixture as in the recipe below, as well as with condensed milk, ensure the stove is kept on low heat. You need to watch and stir continuously so that the mixture does not catch on the bottom of the pan.
Use a thick bottomed pan for best results.
Do not add all the condensed milk specified in the ingredients, at one go. Add about half of it to the cooked crumbled paneer/ khova mixture, then add one teaspoon at a time until you get a mouldable consistency. This consistency is difficult to describe but you could try by taking a small quantity off from the pan, letting it cool till it can be handled, and then try shaping it. Once you are able to get it to hold its shape, you do not need to add more condensed milk to the mixture.
While making rose khova paneer modak/rose kozhukattai, you need to be at the stove while it is cooking, stirring the mixture continuously. Once it is done, quickly transfer the content into a dry bowl or plate. Do not let it stand for long, but as soon as it is cool enough to be handled, while yet warm, start shaping the modaks.
Happy Vinayaka Chaturthi!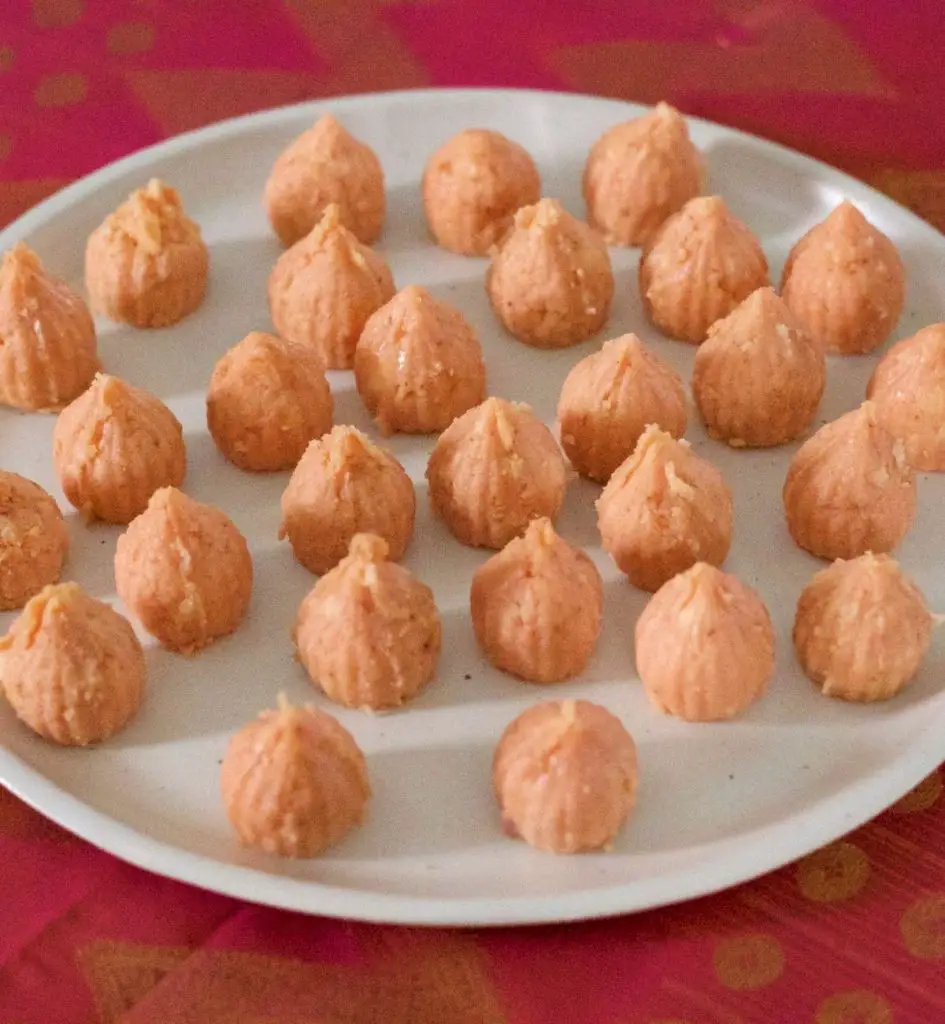 Other Indian Festival Recipes On This Blog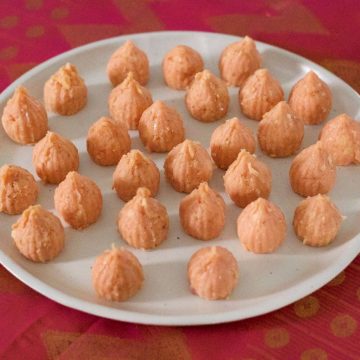 Rose Khova Paneer Modak for Ganesh Chaturthi
Easy Delicious Bhog/ Naivedya for Vinayaka Chaturthi from Paneer, Khova, Condensed Milk and Rose flavour/ syrup with just a little ghee. All cooked together for a few minutes and shaped into tiny rose modaks/ rose kozhukattai
Ingredients  
200

gm

Khova (Unsweetened)

/khoya / kova About 1.5 cups if crumbled and loosely filled in cup

200

gm

Paneer

About 1.5 cups crumbled, loosely filled

60

ml

Condensed Milk

¼ cup

10

ml

Rose Syrup

2 teaspoons

7.5

ml

Ghee

½ tablespoon
Instructions 
To Make Rose Khova Paneer Modak for Ganesh Chaturthi
In a medium sized, clean, dry, bowl, crumble paneer and khova and mix well

In another clean, dry, bowl, pour the condensed milk and add rose syrup. Stir it in nicely

Heat a thick bottomed pan. When hot, reduce heat and add ghee. Warm it for 30 seconds.

Keeping the heat low, add the paneer khova mixture. Stir continuously for 2 minutes, ensuring the mixture does not catch at the surface of the pan.

Add about half of the rose flavoured condensed milk, stir it in well. Continue stirring for 2 minutes or till the liquid is completely absorbed into the paneer khova mixture. During the stirring process, add the remaining condensed milk one teaspoon at a time and mix it in, adding just enough until the mixture takes on a mouldable consistency. To test this, take a small quantity of the cooked mixutre in a spoon. Let it cool just enough to be able to handle it. Try shaping it with your fingers to a modak shape. If the mixture is able to hold the shape, then you do not need to add any further condensed milk.

Turn off the heat and immediately transfer the mixture to a clean dry plate or bowl.

When the cooked mixture is still warm but cool enough to touch, quickly shape them with your fingers or using a mould, into small modaks/ kozhukattai, of about 1" each in height, with pointed tops.