ezhukari koot
u' and a dollop of homemade white butter.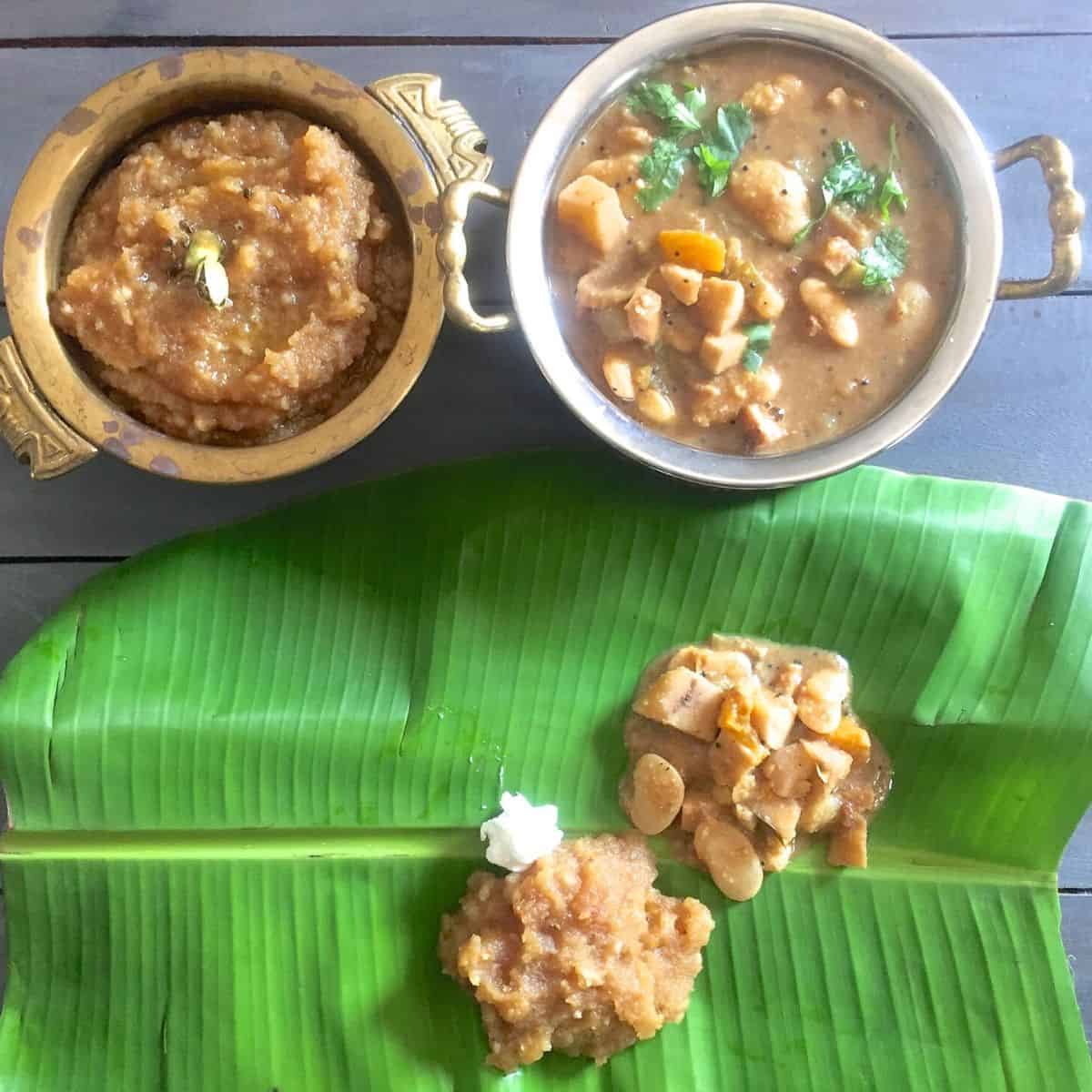 While planning this post for Tiruvadhirai (celebrated this Margazhi on 30th December 2020), I recollected a recent conversation with my daughter Lakshmi, wherein she mentioned that though she makes the Thiruvathirai Kali and kozhambu every year, she is not all that fond of it. I think this is because kali can turn out into a lumpy or a mushy dark brown concoction with very little flavour, unlike the Sakkarai Pongal which is aromatic and has a lovely texture. The Thiruvathirai Kali can however be really tasty when made to the right consistency and flavoured with cardamom and a generous portion of ghee. What really makes the difference to the taste, IMO, is the contrasting hot well spiced ezhukari kootu. The two are made for each other and bring out each others flavours.
The original Thiruvathirai kali was simple and probably did not have ghee, cardamom, coconut or cashew nuts, as you can read from story below on the mythological origin of this dish. Adding these items however, does make for a very tasty treat indeed. I have a cashew allergy and have not put these nuts in the kali I prepared for this post, but have included them in the recipe below for your reference.
Tips for Making Delicious Thiruvathirai Kali
The rice and lentils, as in the instructions in the recipe below, should be coarsely powdered. If powdered smooth, the kali would turn pasty or mushy.
Roast the rice and lentils separately, so that the lentils do not burn/ char.
If kali is made in a pan, it has to be attended to and stirred frequently, as the mixture can catch at the bottom of the pan and char/ burn.
If using a pressure cooker, one whistle should be sufficient as the rice and lentil powder cooks fast.
The volume of water used is important to the consistency of Tiruvathirai kali. The Samaithu Paar (Part 1) cookbook by Meenakshi Ammal recommends double the volume of water as the volume of ground rice lentil flour (see instructions in the recipe). I have found this a good standard to follow. If the water seems inadequate, you can add a little warm water (if you are using a pan and not pressure cooker).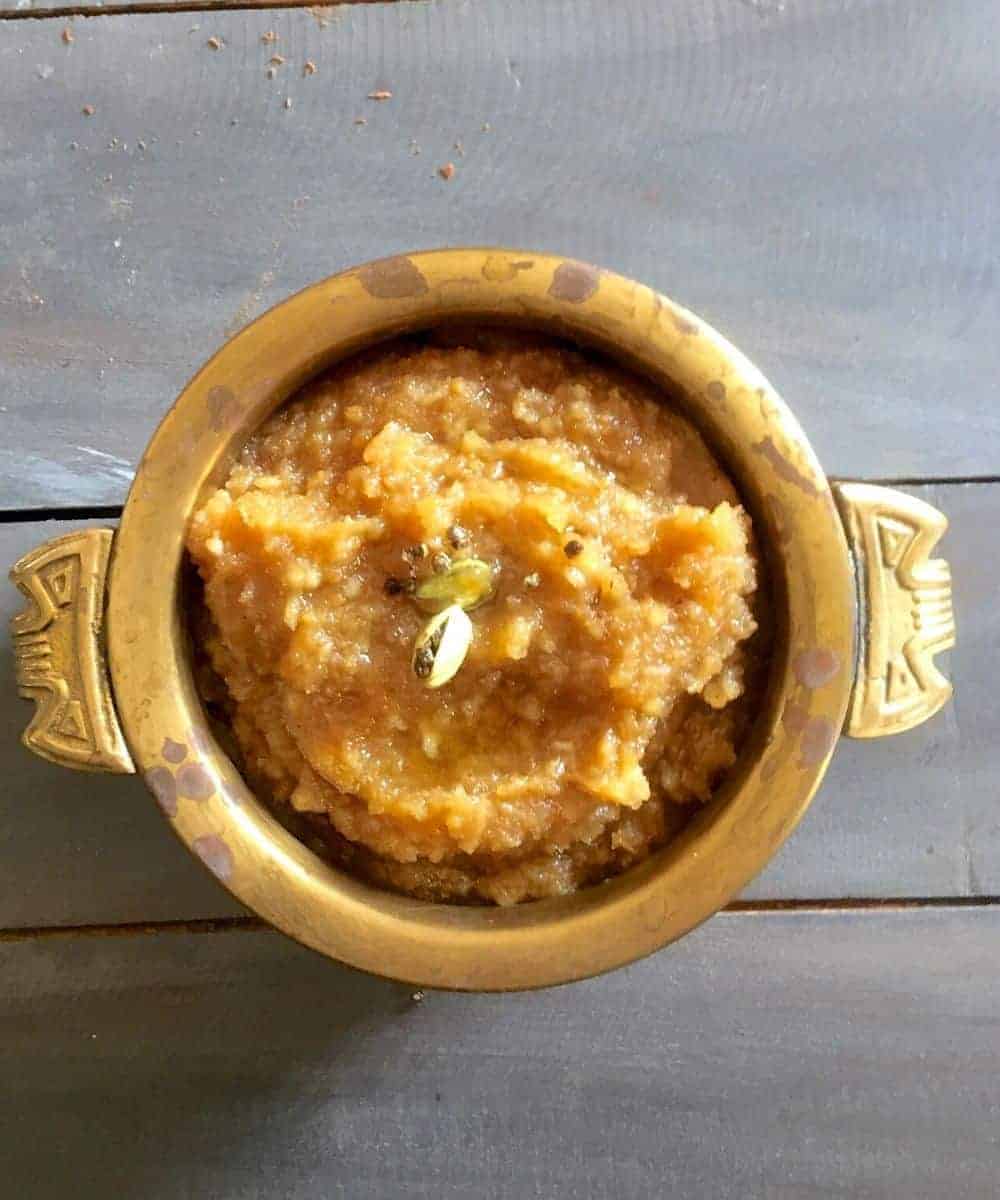 The Mythology of Thiruvadhirai Kali
Tiruvathirai is celebrated in Tamilnadu and Kerala and kali is the naivedyam offered at Shiva temples and at homes.
The story goes that Sendanar, a devotee of Lord Nataraja (the dancing form of Lord Shiva) was accused by the relatives of his deceased employer Pattinathar, as having influenced the latter to donate all his wealth to charity. Sendanar was imprisoned, and after having been released, went with his wife to Chidambaram where he managed a small livelihood as a woodcutter. The couple would procure provisions from the daily earnings and offer food first to Lord Nataraja and then to any sivanadiar/ Shiva devotee seeking alms, before themselves partaking of a meal.
Lord Shiva decided to test his devotee, and the town was affected by heavy rains. This was the day of Tiruvathirai, an important Shaivaite festival. Sendanar was not able to cut wood or earn any income that day. His wife had some broken rice and jaggery, with which they made a simple rustic dish, kali. They offered it to Lord Nataraja and searched for a sivanadiar to share it with. Shiva turned up at their door in the form of an ascetic, ate the kali offered to him, and asked for more. He even asked for kali to be packed for him to eat while on the road. The couple gave him all the kali they had and went to bed without any food.
The next day when the priests at the Chidambaram temple opened the doors to the sanctum of Lord Nataraja, they found bits of kali on the floor and on the deity. Thinking that an intruder had broken into the temple,they complained to the Chola King Gundaraditta (10th Century CE). Shiva however appeared to the King in a dream and explained what had happened. The King honoured Sendanar and requested him to be one of the those who draw the sacred car during the annual temple festival, and to sing a pallandu/ song to bless the God himself. From this time, kali is a special naivedyam on Tiruvathirai!
My recipe for Ezhukari Kootu to accompany Kali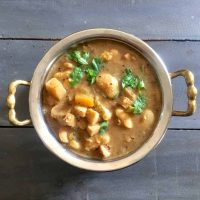 Other Festival Recipes You May Like On this Blog:
Raw Mango Neem Flower Pachadi for Tamil New Year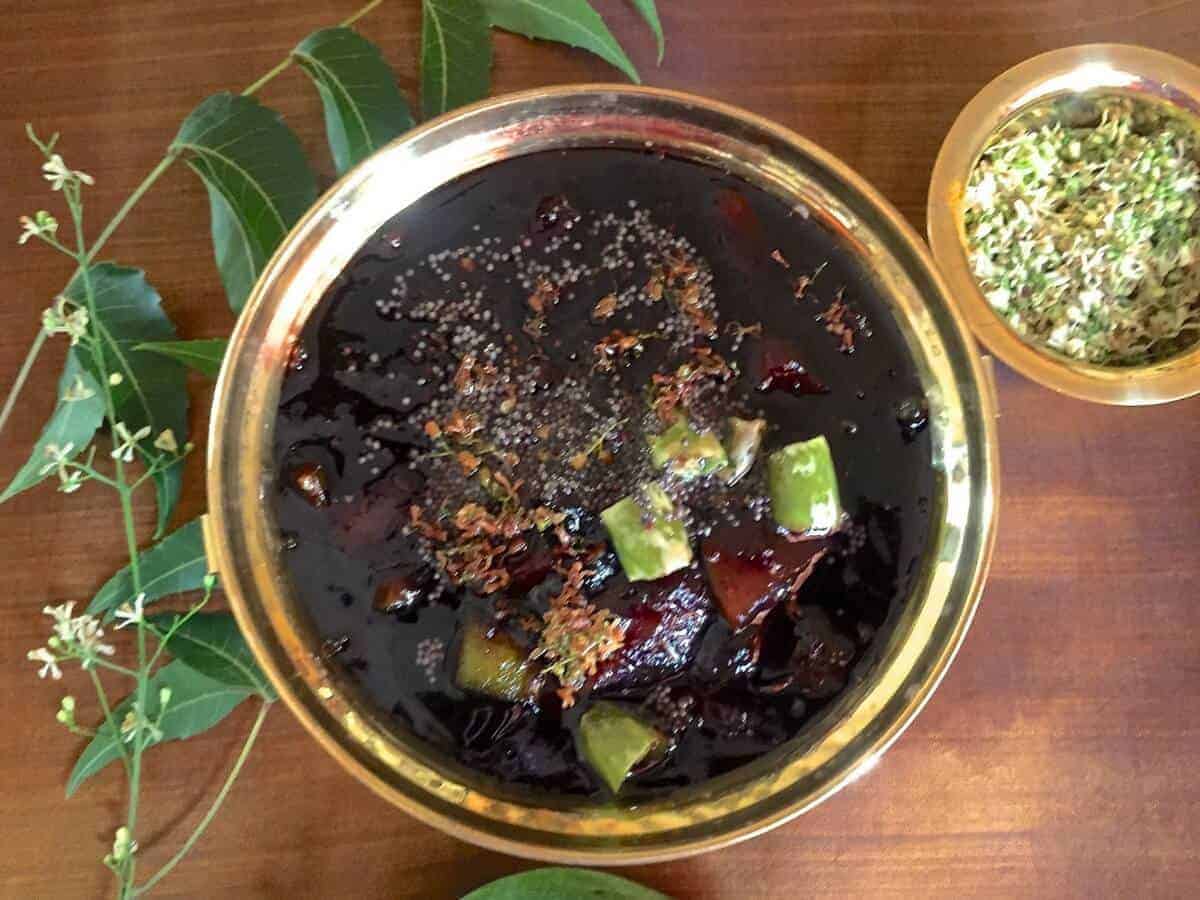 Panakam for Sri Rama Navami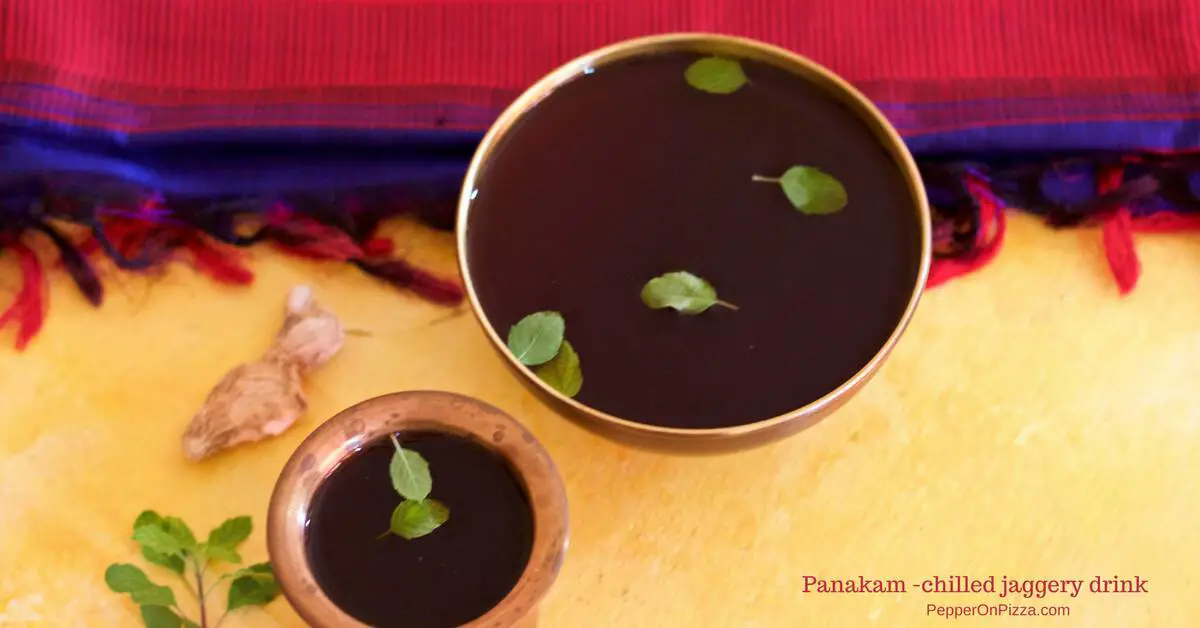 Neer Mor for Sri Rama Navami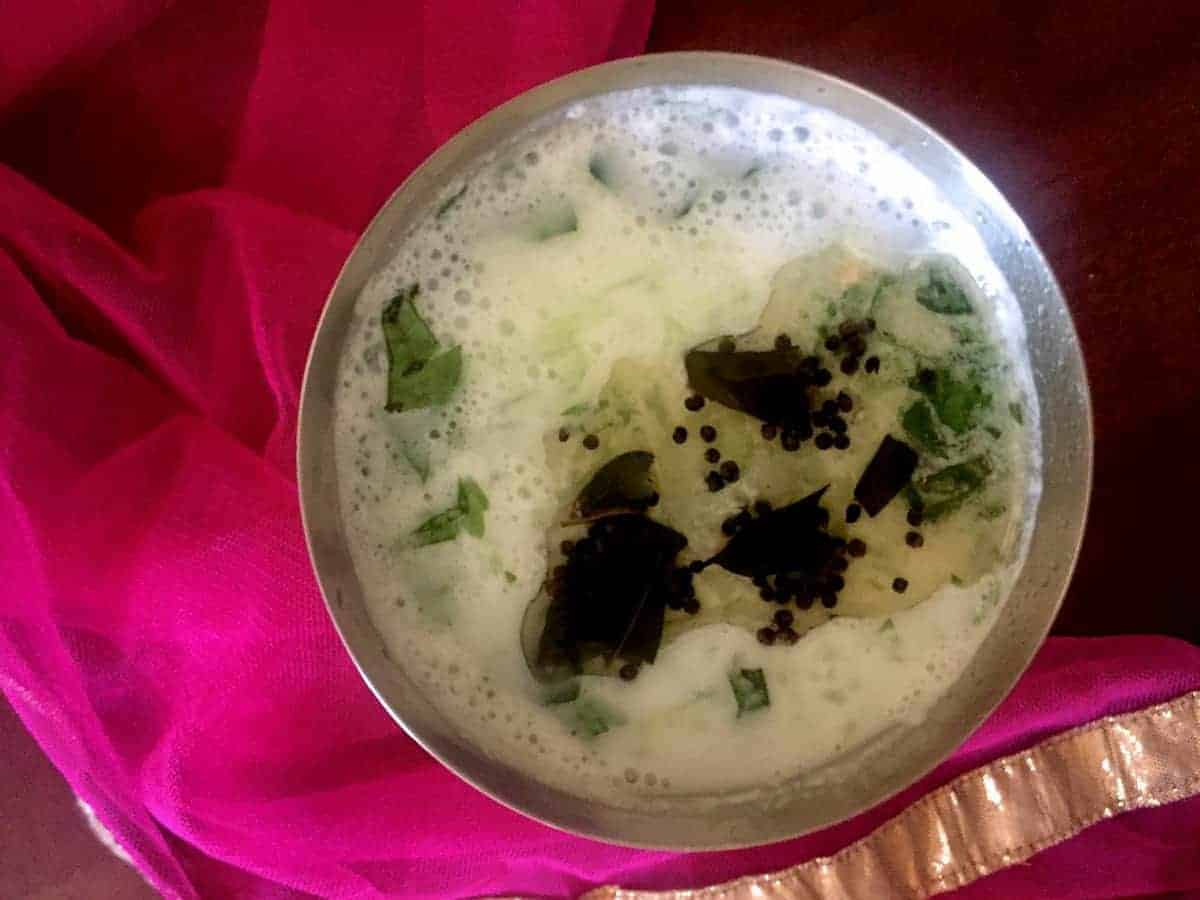 "Recipe"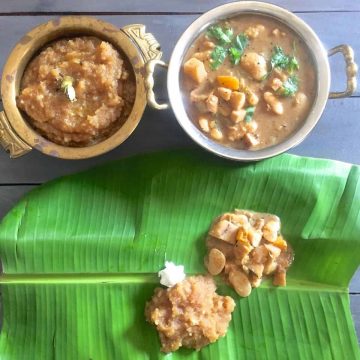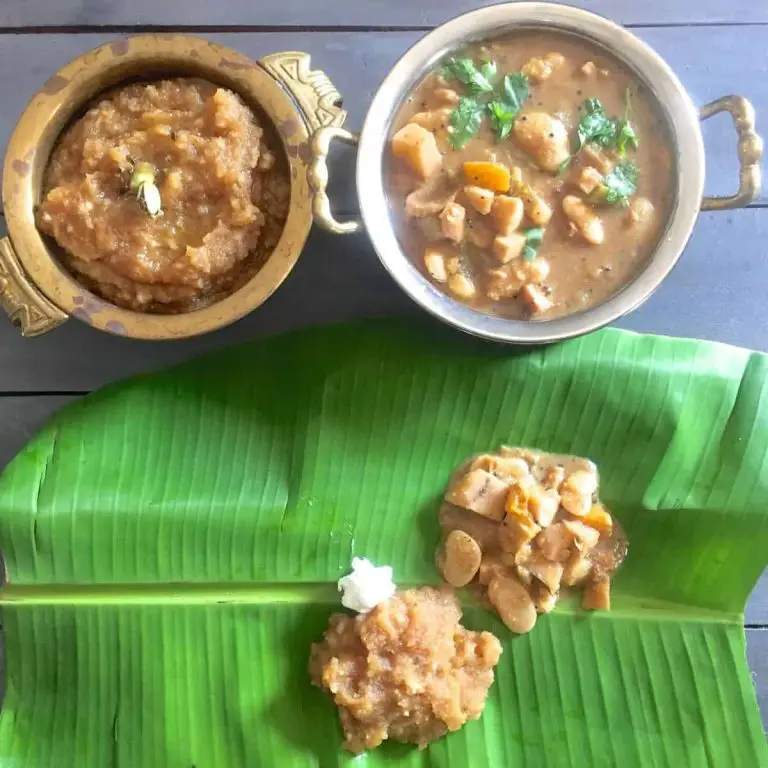 Thiruvathirai Kali/ Arudra Darisinam Naivedyam
Special Sweet made from Jaggery, broken rice and lentils for the South Indian festival of Tiruvathirai or Arudra Darisanam
Equipment
Small frying pan

Grinder / Mixie for dry grinding the rice

Pressure Cooker - Optional

Mortar and Pestle

Thick bottomed pan
Ingredients  
For Thiruvathirai Kali
1

cup

raw rice

2

tablespoons

green gram dal

/passi paruppu/ moong dal

1

tablespoon

bengal gram dal

/ kadala paruppu/ channa dal

3 ½

cups

water

about twice the volume of broken rice flour

2

cups

jaggery

powdered/ crushed (adjust as per sweetness required)

1

pinch

salt

1

cup

grated coconut

fresh if available

2

tablespoons

ghee
For seasoning and garnish
2

tablespoons

ghee

10

units

cashew nuts

6

units

cardamom
Instructions 
To Make Thiruvathirai Kali
In a medium frying pan, roast the raw rice (without oil) till its colour darkens (about 3 minutes, on high or medium high flame, stirring all the time)

Roast the two lentils/ paruppu/ dal together (without oil) till they begin to turn red (about 1 minute on medium high flame, stirring all the time). Remove from the heat before they turn brown or black.

Transfer the rice and lentils to a heatproof container or plate and allow to cool

Both rice and lentils can be roasted together, however the rice may take more time and hence the lentils may begin to char or burn.

Once cool, powder grind them coarsely in the processor/ mixie. You want to powder the rice and lentils, but not as a smooth powder. Coarse rava/ suji/ semolina sized powder would give the right consistency to the kali.

The water we will now use should be double the volume of rice lentil flour obtained above. Heat the water in a pan. Crush/ powder the jaggery and add to the hot water. Any lumps of jaggery may not dissolve easily, hence powder it first. However if you are not able to powder it, add the lumps and stir often, giving more time for the jaggery to dissolve.

Stir till all the jaggery dissolves. You don't want to make a syrup but to dissolve the jaggery. If there are impurities from the jaggery, filter them out.

Set the pressure cooker or the thick bottomed pan on the stove and add the jaggery water. Bring it to a boil, reduce the heat and add the grated coconut and stir. Add a pinch of salt, stir. Add 2 tablespoons of ghee. Stir.

Slowly pour in the rice lentil flour that you had made from roasted rice and lentils. Pour it with one hand while you stir it into the water with the other. Careful stirring ensures there are no lumps in the kali.
To make Tiruvathirai Kali in Pressure Cooker
Cover the cooker with its lid and pressure cook for one whistle. Let the steam release on its own.
To make Tiruvathirai Kali in a Pan
Bring the mixture to a boil and allow to cook on low flame till the water is completely absorbed. Stir the mixture often, scraping the bottom of the pan as the rice may catch and burn. This may take up to 15 minutes.
To Garnish the kali, whether cooked in a pan or pressure cooker
Heat ghee (see ingredients for garnish above) a small frying pan. Crush the cardamom well and add to the ghee. Add cashew nuts and fry them on low heat till they turn golden on both sides.

Pour the cashew cardamom ghee garnish on to the kali.

Serve Tiruvathirai Kali hot, with Ezhukari Kootu Kuzhambu

The above quantities of ingredients can be doubled /tripled as required, except for salt, ghee, cashew and cardamom which should be increased slightly but not proportionately.
Nutrition
Serving:
1
1 cup
Calories:
921
kcal
Carbohydrates:
152
g
Protein:
8
g
Fat:
30
g
Saturated Fat:
22
g
Cholesterol:
38
mg
Sodium:
34
mg
Potassium:
202
mg
Fiber:
6
g
Sugar:
103
g
Vitamin A:
14
IU
Vitamin C:
1
mg
Calcium:
74
mg
Iron:
3
mg
RECOMMENDED PRODUCTS
As an Amazon Associate and member of other affiliate programs, I earn from qualifying purchases.