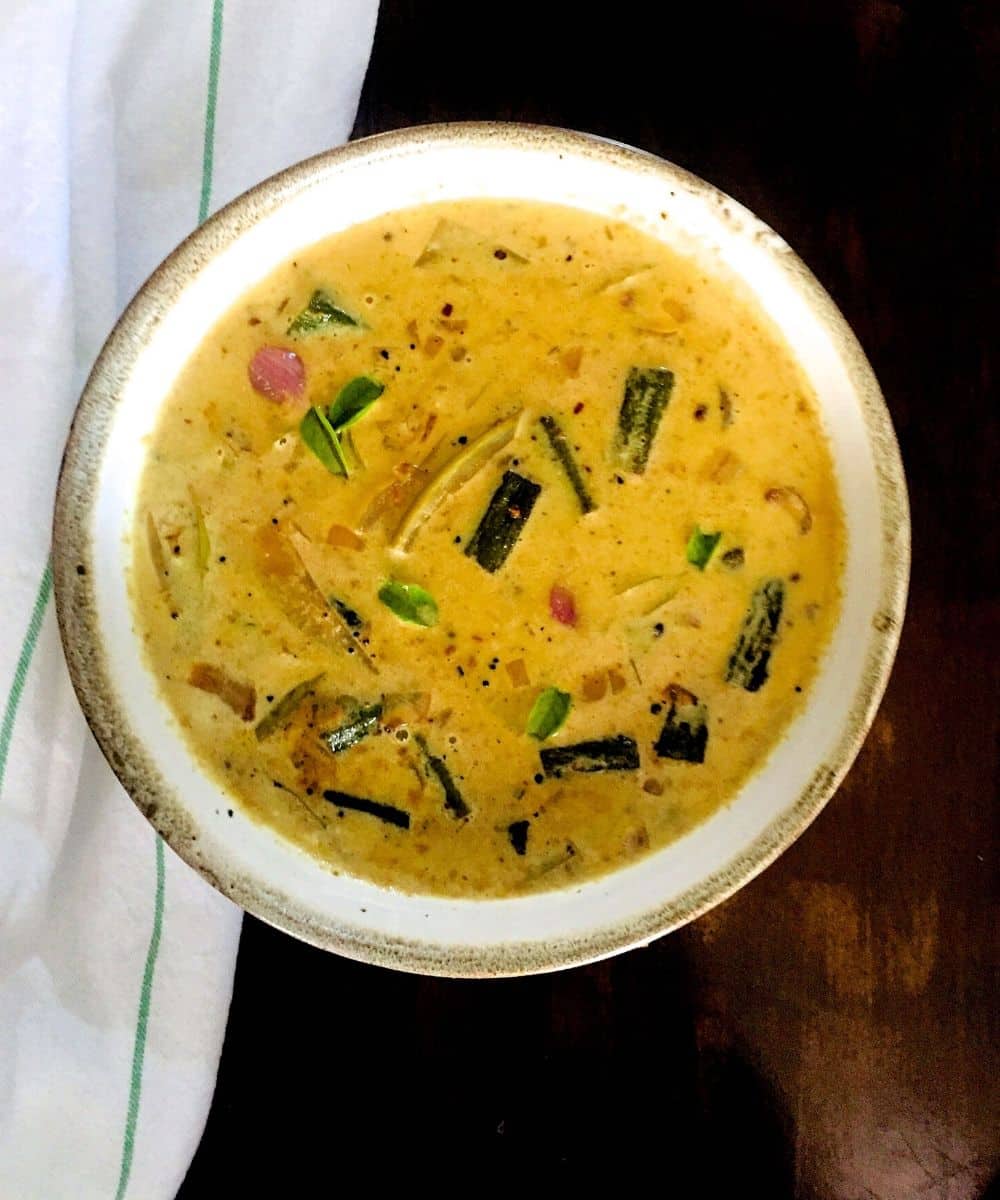 I had a delicious raw mango curry with bhindi as a side for appam, at a restaurant some time ago, and I just loved the idea. The curry had chunks of mango, rather under-cooked and with thick peel on though, and I didn't find that part appealing. I also felt that the flavour of the raw mango was not coming out. In my version of this curry, I have tried to let the mango shine through without being overpowering.
Most fish curry with mango recipes that I read online or in cookbooks had kokum as the 'sour' ingredient.  The one that I have finally adapted this recipe from is from the Fish Pappas recipe in Ms Lathika George's The Suriani Kitchen, which my daughter Mridula sent me last year. The author suggests substituting kokum with raw green mango, which is what I have done here.
This cook book, I must add, is an absolute treasure, opening up the world of cooking from the Syrian Christian cuisine, both vegetarian and non vegetarian. The little stories by the author interspersed between recipes kept me engrossed and wanting more. You might like this interesting review by Ms Nisha Pillai, on my favourite Food and Wellness site, Chef At Large.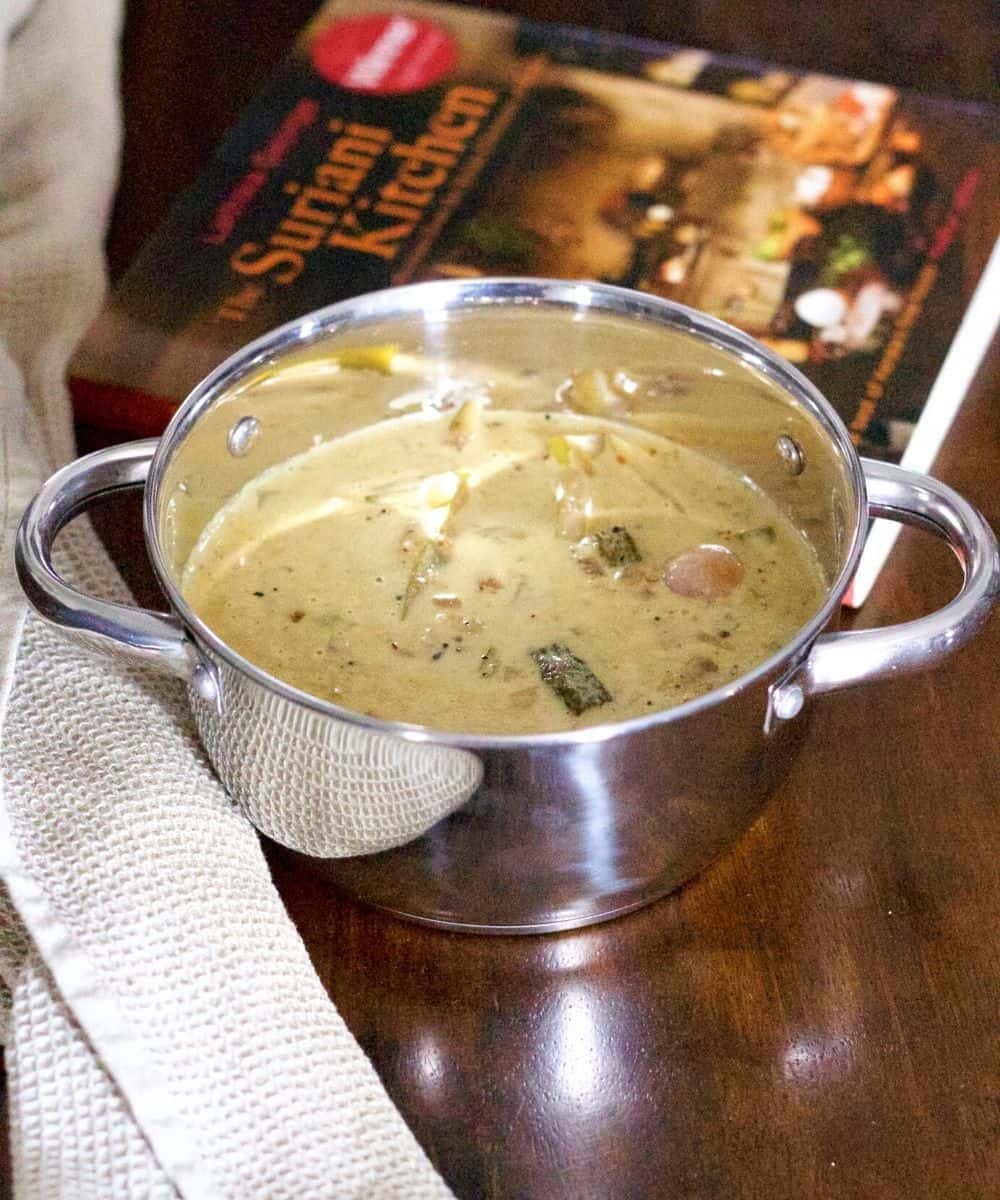 Making Mango Curry with Bhindi
As bhindi/ okra tends to become sticky, I fry it separately first and finally add it to the curry.
I have used store bought coconut milk and thinned some of it down for cooking the mango. If you are making fresh coconut milk, substitute thin and thick coconut milk as in the recipe card below.
Slice the shallots or fry them whole, they add to the texture of the stew. The sliced onion will help thicken the gravy as well as add to its flavour.
Use sour green mango for the curry, to contrast with the sweetness of the shallots and coconut milk.
You May Like To Try:
Raw Mango Stuffed Karela/ Bitter Gourd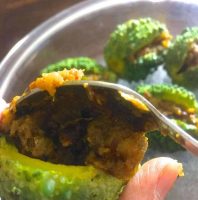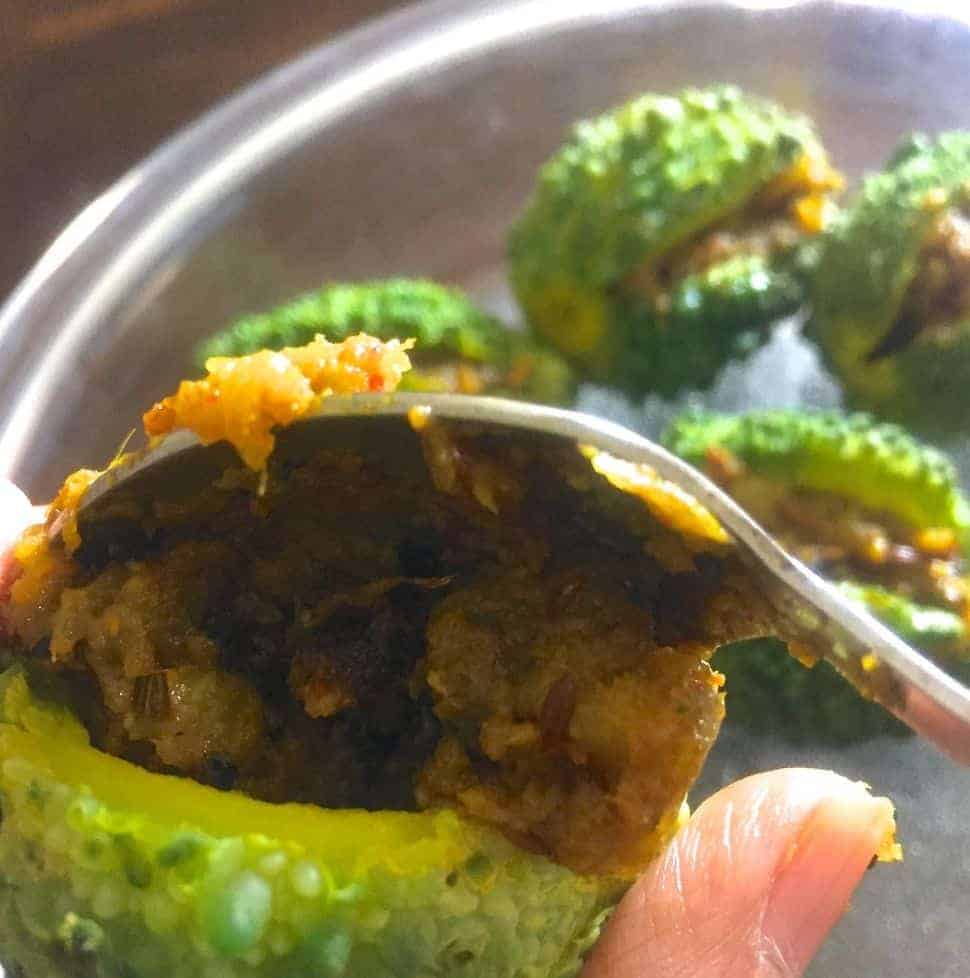 Raw Mango and Neem Flower Rasam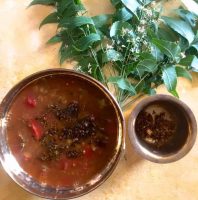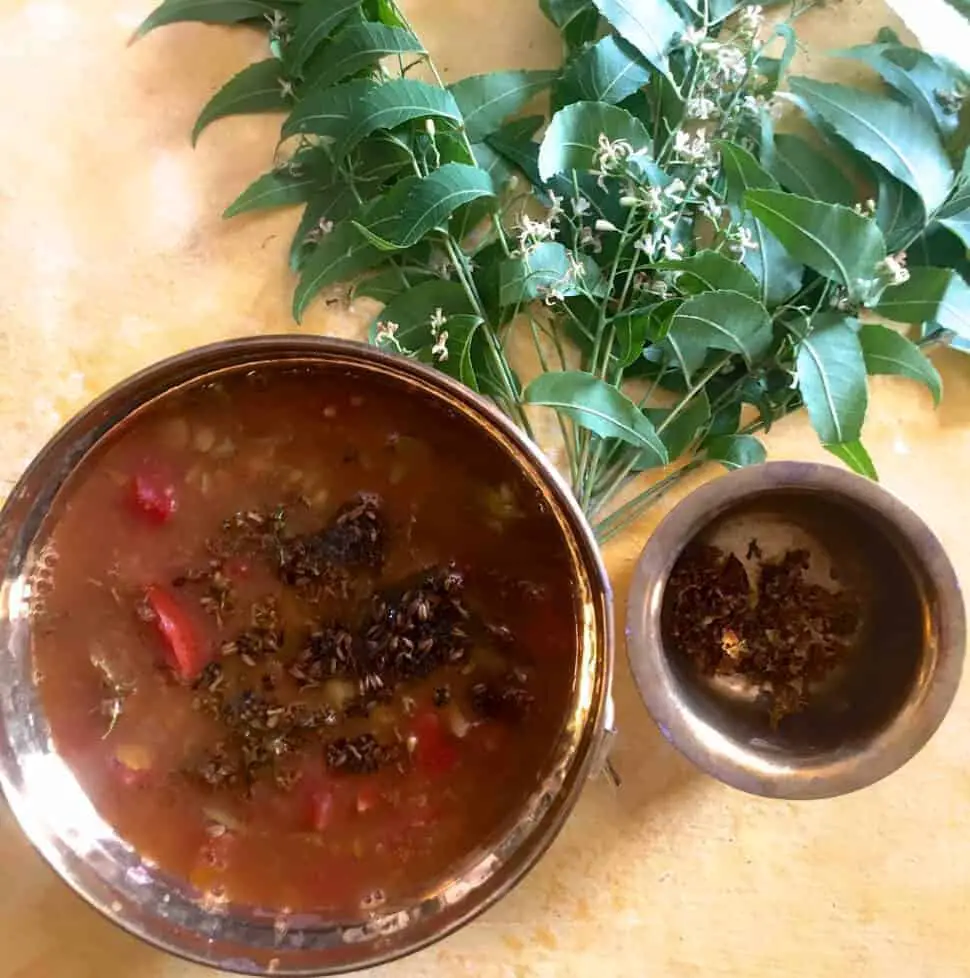 Raw Mango and Neem Flower Pachadi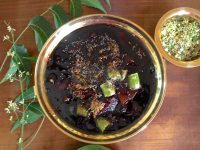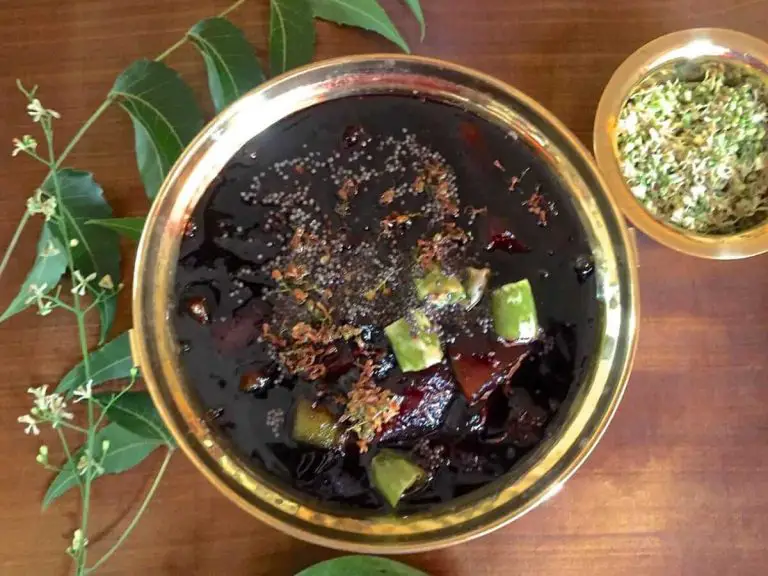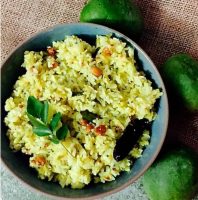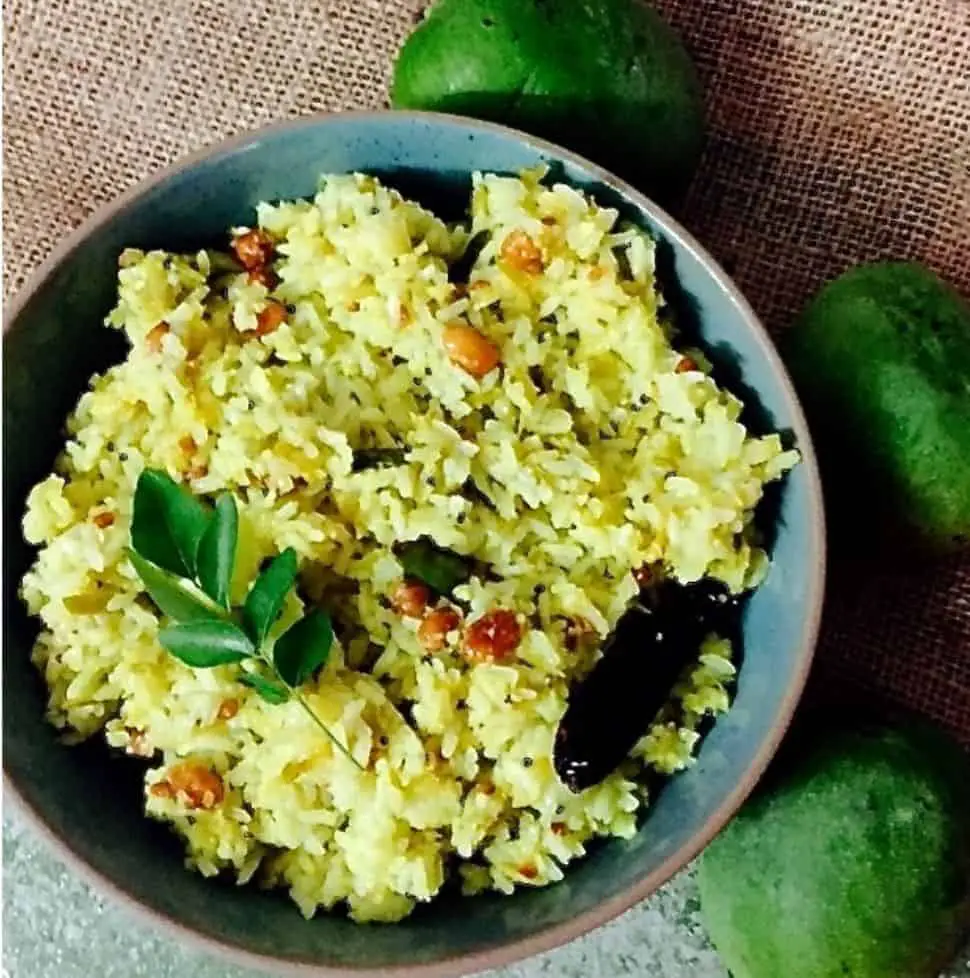 Raw Mango Thokku/ Spicy Relish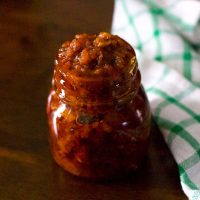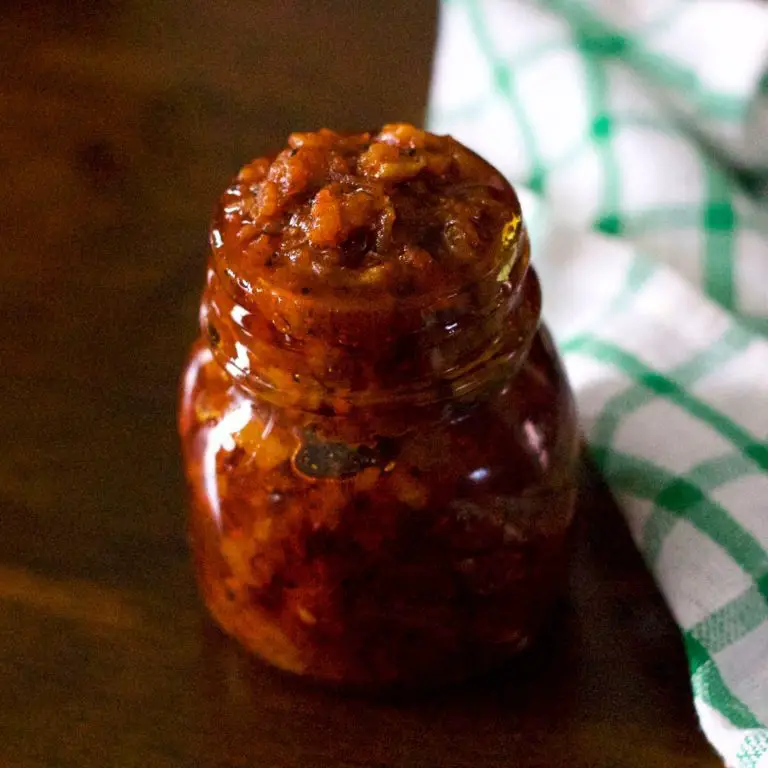 "Recipe"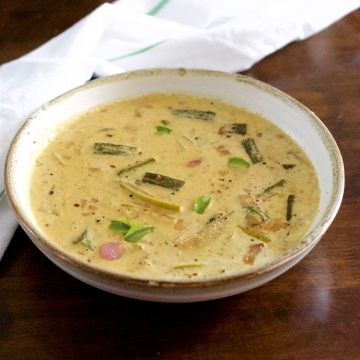 Raw Mango Curry with Bhindi/ Okra and Coconut Milk Kerala Style
Easy Kerala Style curry of raw mango with ladies finger/ bhindi and shallots, cooked in coconut milk, with mild chili and basic spices. Delicious side for steamed rice, aapam, dosai or bread.
Ingredients  
For Spice Paste - Roast and Grind
1

teaspoon

Coconut Oil

1

tablespoon

Coriander seeds

/Dhania seeds

1

Dry Red Chili

½

teaspoon

Black Peppercorns

⅛

teaspoon

Turmeric powder

1-2

tablespoons

Water

for grinding
Fry
1

tablespoon

Coconut oil

1

cup

Ladies finger

/Okra / Bhindi. Sliced

10

Shallots

/Peeled
For the Raw Mango Curry - Preparation
½

cup

Onion

/ Sliced

6

cloves

Garlic

/ Peeled, minced

1

teaspoon

Ginger

/ Peeled, minced

1

Green chili

/ slit

1

cup

Raw Green Mango

/sliced thin
For Making Raw Mango Bhindi Curry
1

tablespoon

Coconut Oil

½

teaspoon

Mustard seeds

½

teaspoon

Fenugreek seeds

/ methi seeds

8-10

Curry leaves

½

teaspoon

Salt

2

cups

Coconut milk - thin

1

cup

Coconut milk - thick
Instructions 
Preparation:
Slice bhindi/ okra to 1" pieces.

Peel shallots and slice off just the top and tails.

Slice onions thinly. Peel and mince ginger and garlic.

Slit the green chili through on one side without slicing it, and remove the stalk.

Slice mango with peel into thin slices of 1.5" each.
To Make Spice Paste
Heat one teaspoon of oil in a medium sized pan ( we will use the same pan for making the curry) and roast the coriander seeds, dry red chili and black pepper. Roast for 1 minute and stir so that the coriander doesn't burn.

Using a slotted spoon transfer the spice mix to a heat proof dish and the oil drain back into the pan. When the spices have cooled, add turmeric powder and the minimum water needed to grind the spices to a fine thick paste. Grind and set the spice paste aside till required.
To Fry Ladies Finger/ Bhindi and Shallots
Heat the pan and add one tablespoon oil to that remaining in the pan from roasting the spices.

Add Bhindi/ okra slices and cook on medium heat for 3 minutes, till almost cooked, turning them frequently with a ladle so that all sides fry evenly. Using a slotted spoon, drain the oil and transfer the semi-cooked bhindi to a heat proof bowl.

Add the shallots to the remaining oil and fry for 2 minutes, stirring frequently so that all sides cook evenly. Drain the oil and transfer the fried shallots to a heat proof bowl.
To Make Raw Mango Bhindi Curry
Add 1 tablespoon oil to the hot pan with left over oil from frying bhindi and shallots. Add mustard seeds and when they burst, add fenugreek seeds. Add slit green chili. Stir.

Addd minced ginger, saute for 20- 30 seconds. Add garlic, stir and saute for 20 seconds or till they begin to discolour.

Add onion slices, stir and saute till translucent - about 2 minutes on medium flame, stirring frequently.

Add curry leaves - I shred them before adding so that they get eaten and not left out on the plate.

Add the spice paste, stir well and let it cook for 2-3 minutes till oil separates and begins to leave the sides of the onion spice mixture.

Add mango slices and fried bhindi, stir. Add the thin coconut milk. Add salt.

Stir, bring to a boil and then quickly reduce the heat. Let the curry simmer for 8-10 minutes till the mango is tender and falling off the peel when pressed, and the bhindi is cooked through.

Add the shallots and then add thick coconut milk. Gently swivel the pan so that the coconut milk mixed with the curry, without stirring it. Keep it on low heat for 5-7 minutes till the gravy thickens.

Transfer immediately to a serving dish. I like to have this hot, with dosai or appam. It is delicious with just steamed rice and a poriyal too.