My Cookshelves hold pride of place among my bookshelves. Ever since I can remember, I have been reading and cooking from cookbooks and books on food. Even today when the internet brings me the best of food writings and recipes at the click of a mouse, I still find pleasure and solace in browsing a well written cookbook.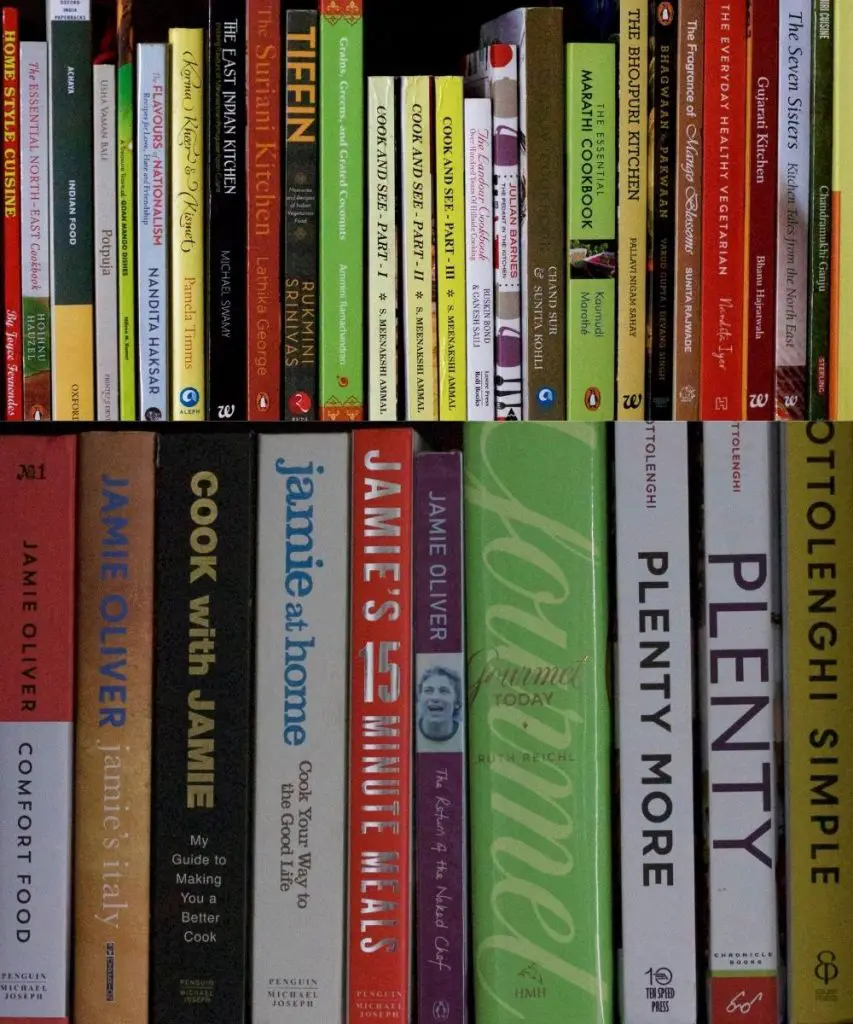 This post is dedicated to the Bangalore Bring Your Own Book Club (BYOB). I do hope its lovely members will be inspired to read and try out recipes from a variety of cookbooks as well as discuss more food writings at the monthly meetings. Thank you Kevin Fernandes Prabhu for getting me to put down my thoughts on cooking from cookbooks in this post!
My early cooking experiments began with the Femina magazine which, in days gone by, had simple recipes which could be made from ingredients easily available to me at Chennai (then Madras). I lived then in at the outskirts of the city, far away from supermarkets and where groceries were purchased from the friendly neighbourhood vendor who sold everything from chocolates and soft drinks, balloons and basic stationery to rice and oil. Vegetables and fruits were either purchased from the pushcart vendors who came calling out their wares mid morning on most days, or from vegetable markets which offered fresh seasonal produce. Visiting the market at T'Nagar on Sundays was one of the highlights of my week. A food lovers paradise, this is where one could find items like capsicum (green, as the red and yellow sweet peppers had not yet taken a hold on the Madras housewife's menu), 'North Indian' vegetables like parwal (pointed gourd), kundru (coccinia), red radish and white and even lettuce.  As the availability of more varieties of fresh produce increased, my experiments in cooking from cookbooks went up too, as did my interest in trying out food flavours that I had not come across before. I was able to spend more on acquiring cookbooks of all types. Food travel writings fascinated me and gave ideas for venturing into new culinary areas.
A confession I have to make at the outset: when cooking from cookbooks, the first time I follow a recipe I go by the book and try not to deviate on ingredients or processes. However after that I tend to adapt the recipe to my own preferred tastes as well as ingredients more easily available to me. By the time the recipe gets into my blog, it is likely to have changed to some extent. I try not to meddle with flavour profiles, and I don't do too much of fusion between East and West. I keep my pastas, pizzas and sauces as authentic as I can, because I prefer my paneer in sabji rather than on a pizza. When I deviate from a cookbook or food site recipe, I usually take care to explain the changes I have made as well as link to or refer the original recipe so that my readers can follow whichever version they prefer.
Of all the books I have cooked from, two remain favourites: Gourmet Today Cookbook by Ruth Reichl (with Jamie Oliver's books a strong contender for the first position). With more than 1000 recipes for food from across the world, the well crafted Gourmet Today cookbook is a food lovers ultimate recipe book. The line illustrations and little hints add to the joy of perusing this book.
Jamie's recipes have taught me much about using fresh produce to effortlessly make exotic food for every day lunch and dinner.
For vegetarian Tamizh cuisine, the Samaithu Paru/ Cook and See by Meenakshi Ammal is my Go To. Like many before me I have learnt to navigate through the units of measurement such as ollock and I understand most of the names in the Cook and See as they are familiar ones for this cuisine. Race Soup, though, I've given up trying to interpret and I will be grateful to anyone who can tell me what this kozhumbu variety is. I also usually substitute some of the stated processes with more modern ones, but for authenticity in traditional Tamizh recipes, there is nothing to beat this 3 volume set of books.
Cooking From Ottolenghi's Cookbooks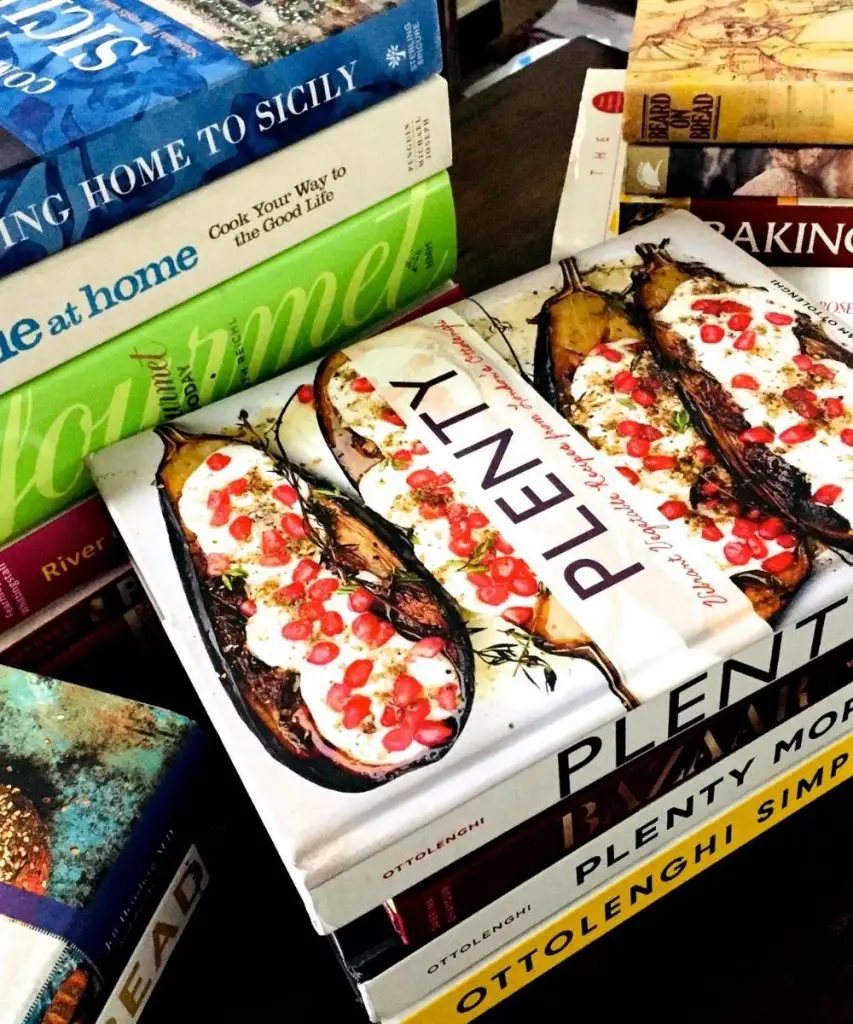 My daughter Mridula introduced me to Yotam Ottolenghi, who went on to change my culinary life. The acquisition of 'Plenty' and better internet access coincided with the supply of amazing fresh, non GMO, zero pesticide and 'exotic' vegetables from First Agro Farms of Talkkad, near Mysore. Purple basil and green, thyme, oregano, sage and borage, San Marzano tomatoes, Heirloom tomatoes of every hue from blackish purple to green, yellow, orange and red, fennel bulbs, zucchini flowers, ancient grains, arugula (rocket) leaves, all kinds of lettuce and greens including kale, it was a veritable cornucopia of ingredients to choose from. The many dishes I could turn out from these vegetables and herbs inspired me to ultimately set up a few pots in my balcony where green sweet basil, rosemary and mint now thrive along with chili, curry leaves, curly kale and turmeric.
The image in this post below for Tabbouleh actually got me an Instagram 'Like' from the great man, Yotam Ottolenghi himself an incident I will cherish forever! (Ok, maybe it was from whoever manages his social media, but I like to think it was Him!)
Baking From Books
The King Arthur's Flour Baking Companion and a thoughtful gift of the Cake Bible by Rose Levy Beranbaum by Ramya Ramamurthy, started me on serious baking. Jeff Hertzberg and Zoe Francois's New Healthy Bread in Five Minutes A Day and Tartine Bread from Chad Robertson got me on to non kneaded breads and sourdough. I now have homemade sourdough starter in the fridge, ready to turn out breads, focaccia, pizzas and anything else I set my mind too. Making Pizza from scratch began with Jamie Oliver's easy to follow recipes, though I now prefer the recipe in Hugh Fearnley-Whittingstall's River Cottage Veg Every Day cookbook, which is a treasure trove of doable vegetarian recipes from fresh produce. The Kale and Onion Pizza from this book is must try! Pizza is now a staple on my dinner table on weekends, as is Pasta.
My first baking success was this focaccia from my daughter Lakshmi's copy of The Complete Italian Vegetarian Cookbook by Chef Jack Bishop.
I progressed from learning to cook from recipes in Femina and 'Cook and See' to Cookbooks on various European and Mediterranean cuisine to a level where I now develop recipes on my own. However it is still fun to try out recipes from cuisines or with ingredients I am not too familiar with. Just last week I prepared a Sicilian Pesto (with basil leaves, fresh tomatoes and almonds) from Frabrizia Lanza's Coming Home to Sicily.
Traditional recipes using local ingredients, understanding how the same dish or vegetable can change character from one region of the country to another, making use of seasonal and local supplies has enriched my culinary repertoire. I have invested in a small flat grinding stone as well as stone mortar and pestles of two different sizes. The basil pesto I made using one of these was more flavourful than any pesto I have had over the years. Of course I also rely on my trusty little Morphy Richards mixie and the wonderful Jamie Oliver Philips food processor that Mridula managed to bring for me all the way from England.
My little library of cookbooks is complemented by books on food, usually sent by Mridula whose trained nose leads her unerringly to unique and enthralling food writings. Books like Salt Fat Acid heat by Samin Nosrat and books by M K Fisher which open the mind to food flavours, the essence and science of cooking and the elements which go into good cooking.
BYOB, Books, Food and Cooking
The Bangalore Bring Your Own Book Club, for whom I wrote this post, has brought me a number of great friends. They enrich my life with their views on many subjects including food. The group has extended beyond our love for books. We have got together in the past for cooking sessions, and some of us like Anand Ganapathy, Kevin and I often bring our homemade / homebaked 'wonders' to the book meetings. These two friends regularly share their foodie and cooking insights and thoughts with me. Anand collects and hoards cookbooks. It is difficult to dissuade him from buying yet another cookbook, he is quite Oliver Twist about wanting more. He enjoys the buying as much as the cooking from cookbooks. Kevin's cooking  is more intuitive than mine and he likes food writings. More than just recipes or a cookbook, what I think he relishes are the art and nuances of cooking.
I rarely have a conversation with Yogesh, Utsav, Sudharshan, Aishwariya, Rashmi, Siddhant,Pratyush, Soma, Sachin, Rohan, Abhilash and the others, without some discussion on food. And of  course there are many in the gang who just enjoy the eating. After all, they also serve who only stand and eat (with due apologies to John Milton)! It is their unstinted appreciation which encourages us to cook for the group.
Several food books have been discussed at the BYOB. Nandita Haksar's The Flavours of Nationalism: Recipes for Love, Hate and Friendship is peppered with discussions on food customs and traditional recipes from the North East. The School of Essential Ingredients has been discussed at least three times, I think. Korma Kheer & Kismet by Pamela Timms is an enchanting book that explores the gullies and street food of Old Delhi and gives some recipes too. I followed one of these for a project with a group of international food bloggers.
Another interesting book with recipes different from the norm is Bhagwaan ke Pakwaan – Food of the Gods, by Varud Gupta and Devang Singh. This book was gifted to me by Sachin Arya, and the Odia Besara that I made from it is one of the top trending posts on this blog.
Cookbooks for Indian Food
Cooking from cookbooks for Indian regional cuisine is a great pleasure. I have a nice collection now and dip into it whenever I am in the mood for traditional comfort food or I come across ingredients which I am not familiar with. This collection includes several Indian regional cuisines including Kashmiri, Marathi, Gujarati, Bhojpuri, Lucknowi, and the cusines of Kerala, Goa, Tamilnadu, the North Eastern States and Karnataka among others. Each State seems to support several cuisines and to really understand these, one needs to have several cookbooks for each State. When making traditional regional cuisine, I do stay by the recipe and follow instructions scrupulously, in an effort to keep the recipe on the blog authentic.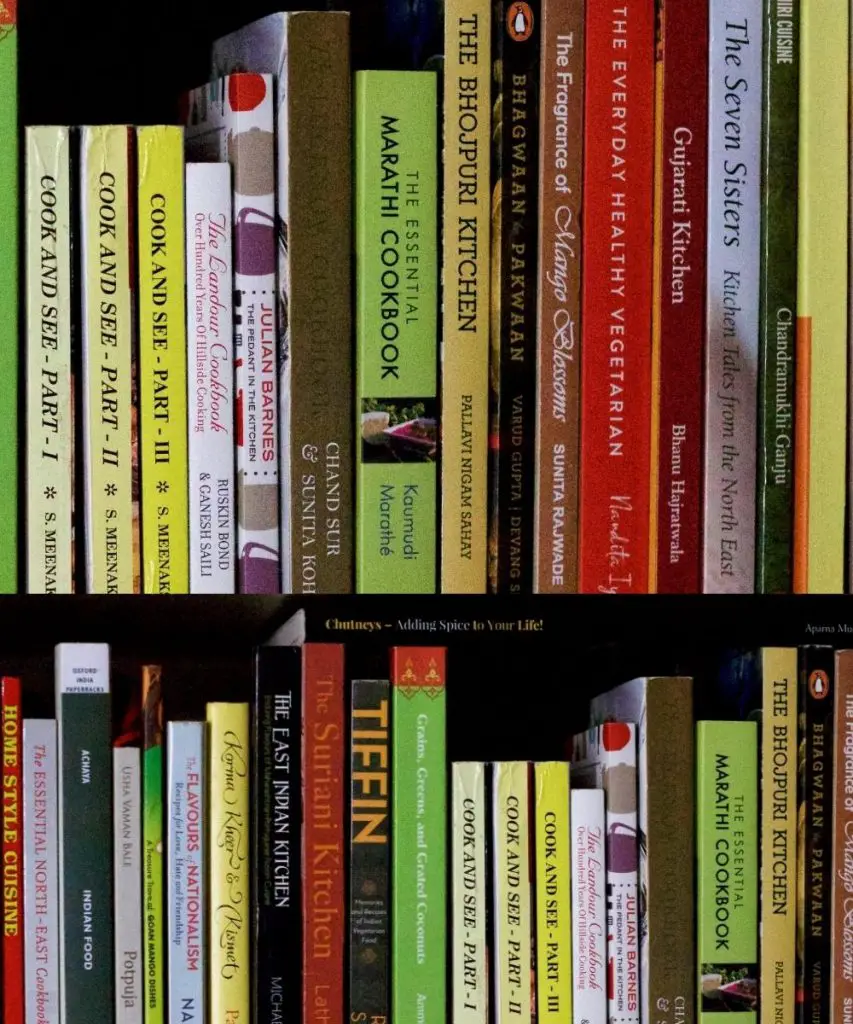 Selecting Indian Cookbooks - My Method
When investing in an Indian cook book, there are some criteria I follow. It doesn't matter to me whether the author is well known or not. Nor am I particular about there being images of the food (though it would be useful if there are images which show what an unusual ingredient or a finished dish looks like). What I do is:
i. Check Reviews on online sites, specially the lower rated ones. If several customers from India or of apparently Indian origin say there are errors in the book then I don't read further but discard the idea of buying it. I don't pay too much attention to those who say the process isn't always clear, because this can to some extent depend on knowledge of cooking and experience in the kitchen and I find I can usually make sense of even obscure instructions.
ii. Scrutinize two or three recipes with many ingredients and a longish process. If there are gaps such as an ingredient not being reflected in the instructions or vice versa, an ingredient in instructions but not in the ingredients listing, then I'm usually not comfortable buying the book.  I feel that authors should ensure a sanity check before publishing, as customers are after all, paying for the professed expertise. At the same time, if the book is otherwise well written or has some recipe that I particularly want to try, I may go ahead and buy it.
iii. I usually avoid cook books with a wide range of recipes from all over India unless I am familiar with the author's recipes and feel I can trust them. I prefer ones that give recipes from a region. The more the traditional recipes from one regional cuisine, the more I am interested in acquiring the book. I may be wrong but in my forays at cooking from cookbooks, I have found that those who write about a single regional or ethnic cuisine are more likely to share authentic, reliable recipes of that cuisine.
iv. I don't give much importance to language/grammar/construction as cookbook authors have different writing skills, and a great cook may not be able to express herself well in English. I do however check that I can comprehend the instructions.
As you can see, several interesting recipes from cookbooks are available on this blog, PepperOnPizza. More will be added as I continue this lifelong learning of new recipes, processes and food flavours. I also have my sights set on a new project, not just cooking from cookbooks, but developing recipes for food from works of fiction, just from the description of the food. Enid Blyton type midnight feasts or Harry Potter's favourite butter beer, anyone?
Some Recipes From Indian Cookbooks