Shakshuka is comfort food for me and the standard recipe has been with tomatoes and sweet peppers. Having come across images of a Green Shakshuka however, I tried it out for myself. This was some three years ago and since then the green Shakshuka with Kale and Pesto has become a favourite for lunch or dinner.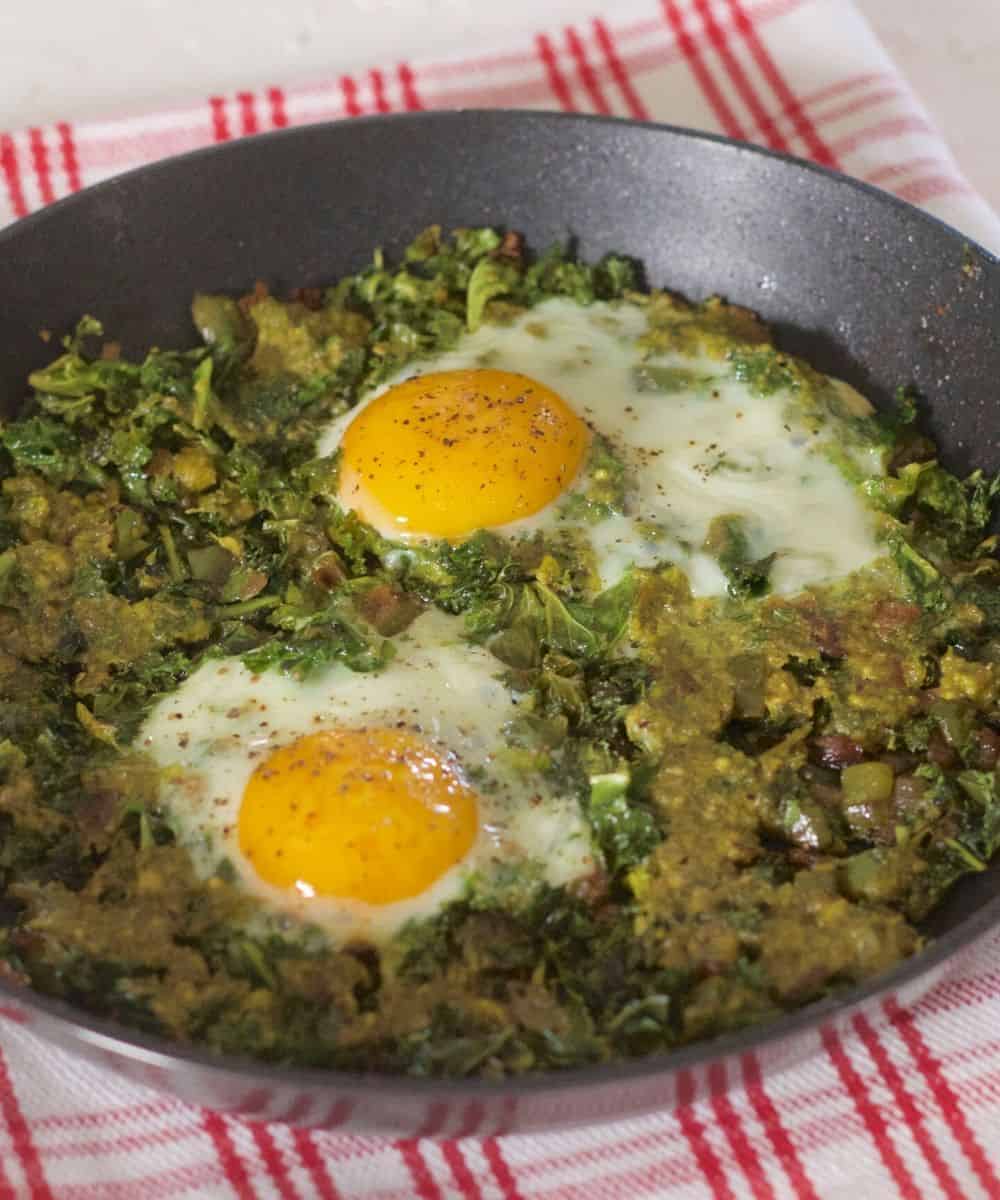 Kale and chard both grow in my little balcony garden several months in the year, and the green Shakshuka with Kale and Pesto is a great way of using up those greens!
Making Green Shakshuka with Kale and Pesto
I have followed the parsley cilantro pesto recipe from Pinch of Yum, and the link to the original recipe is here. A regular basil pesto should be fine too, if parsley is not on hand. This will of course change the nutritional benefits of the recipe below as well as the flavour.
To add some texture to the dish, I have put in some slices of capsicum as well as sautéed onions as they taste great with kale.
A little of my precious store of rose harissa (thanks to my daughter Mridula for this gift) went in at the end, to add flavour.
I made sure to remove the stalk and mid ribs of the kale as they can be tough and not pleasant to the taste.
Kale, the Super food
Kale, as you would know, is considered a super food, abundant in nutrition and with disease fighting properties and has been known since the time of the Romans. During World War II, at the time of intense rationing, authorities in the U.K. encouraged the backyard cultivation of this hearty, easy to grow plant for the Dig for Victory campaign, that likely saved many from sickness and starvation.
Though Kale is often taken raw, as in salads, sources such as this article in healthline recommend steaming as this brings out special cholesterol-lowering benefits. Raw kale still has cholesterol-lowering ability—just not as much.
What little fat kale contains has omega 3 fatty acids, which is great for vegetarians who otherwise have very few sources for this essential nutrient believed to improve cardiovascular health and improving learning and behavioral stimulation in children. Low in calories, high in anti-oxidants and vitamin C and vitamin K, as well as having beta carotene, vitamin B6, minerals and fiber content, Kale helps fight disease.
Kale's cancer preventive benefits have been linked, in research, to its high and unusual concentration of antioxidants, viz, carotenoids and flavonoids. At the top of the cancer-related research for kale are colon cancer and breast cancer, but risk of bladder cancer, prostate cancer, and ovarian cancer have all been found to decrease in relationship to routine intake of kale.
With all this, there is every reason to add kale to our diets, and this becomes easier with easy and delicious recipes like this one for the Green Shakshuka with Kale and Parsley Pesto.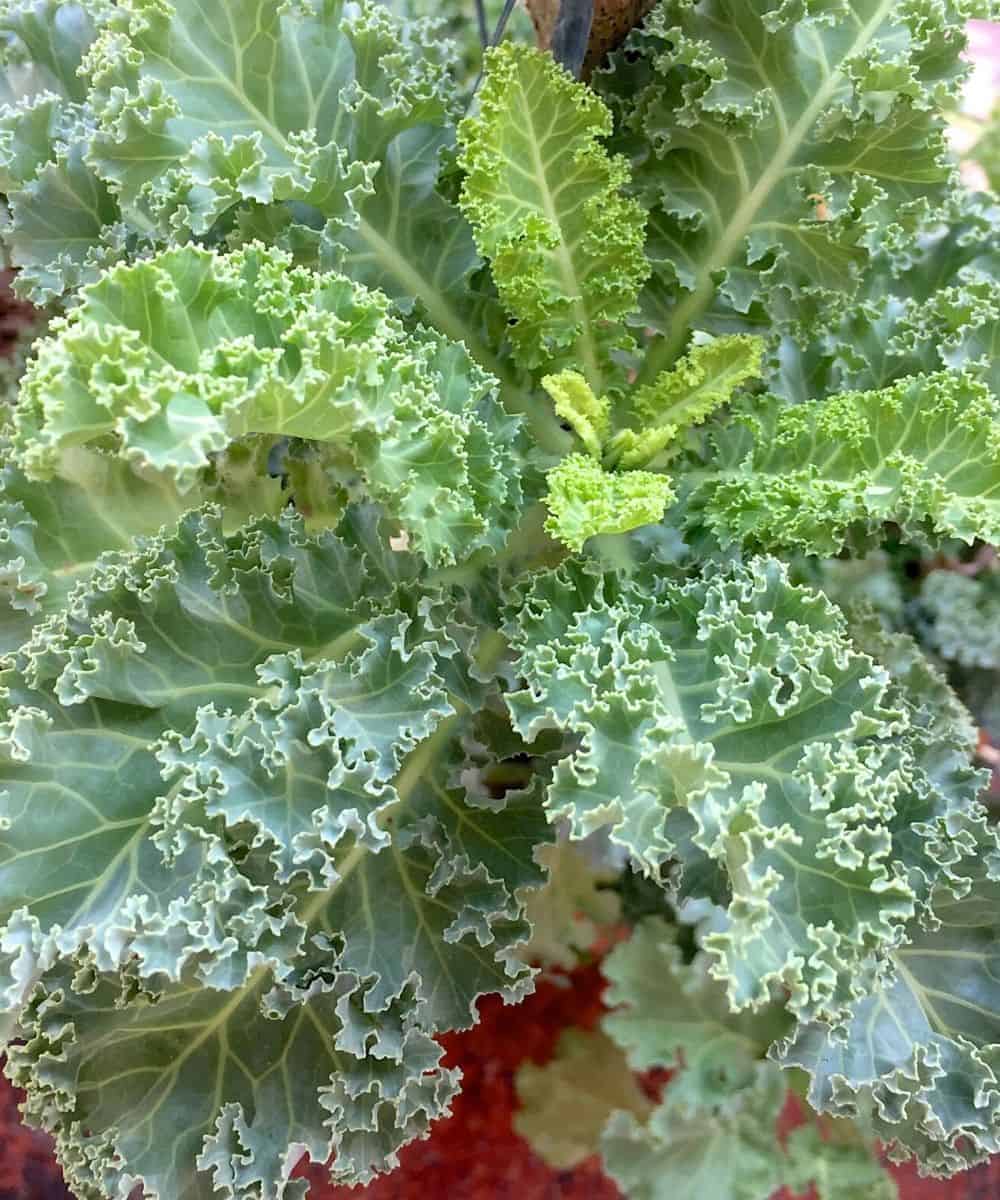 Parsley
Parsley probably originated in the Mediterranean region and was in use for more than 2,000 years, first as medicine and then later on in food. The ancient Greeks held parsley to be sacred, using it to not only adorn victors of athletic contests, but also for decorating the tombs of the deceased. Botanical.com site has some interesting stories on the history of parsley:
The Ancient Greeks thought that Hercules used a garland of parsley so they would crown the winners of games and war with garlands of parsley in honor of the great feats of Hercules. Homer wrote of Greek soldiers feeding parsley to their horses so they would run better. The herb is also associated with the hero god Archemorous, the herald of death, and legend has it that parsley sprang up where his blood drenched the ground after serpents devoured him.
Later it became associated with Persephone who guided the souls of the dead to the underworld and was used to decorate the tombs and graves of the dead, in hopes of pleasing her. Christians replaced Persephone with St. Peter, but maintained the connection between parsley and guidance of the soul. Parsley can take 2-4 weeks to start from seed. An old folk legend explains that parsley has to go to Hades and back 9 times before it will germinate! Charlemagne was said to have enjoyed cheese sprinkled with parsley seeds, and this has been suggested as an early use of parsley for seasoning and garnish.
The nutrient value of parsley is explained in this article from Healthline. All parts of the plant give nutrient benefits. The roots contain essential oils and mucilage; the seeds have essential oils and terpenes. The leaves have some essential oils but have significant levels of vitamins A, C and K. The leaves are also rich in chlorophyll, which is a great antiseptic and can be used in a poultice for small cuts and bites, as well as being a breath freshener. The leaves contain minerals, iron, calcium, potassium, thiamine, niacin and riboflavin. Parsley is said to have diuretic qualities and help flush the kidneys.
Recent research is focused on the cancer fighting properties of parsley. Its volatile oils are said to neutralise certain carcinogens and to protect healthy tissues from the effect of anti-cancer drugs. Apigenin, a compound found in parsley is believed to have strong anti-cancer properties.
The Parsley pesto with pistachio nuts complemented the green shakshuka with kale very nicely.
Process for Green Shakshuka with Kale and Pesto
Saute onions and add capsicum, saute. 2. Add kale leaves with stalks removed. 3. Cook till kale begins to wilt. 4. Spread a layer of pesto on the kale, break two eggs into it. Cover and cook till eggs are done as you like them. Serve hot.
[easy-image-collage id=61034]
Coriander  Leaves /Cilantro
Coriander (the leaves are often referred to as Cilantro) belong to the same plant family (Umbelliferae) as Parsley. The use of coriander seeds in food, have been traced to 5,000 BC, making it one of the world's oldest spices. It is native to the Mediterranean and Middle Eastern regions and has been known in Asian countries for thousands of years. It was cultivated in ancient Egypt and is mentioned in the Old Testament. It was used as a spice in both Greek and Roman cultures, the latter using it to preserve meats and flavour breads. The early physicians, including Hippocrates, used coriander for its medicinal properties, including as an aromatic stimulant.
Coriander leaves/cilantro is known to have multiple health benefits, a good source for dietary fiber, manganese, iron and magnesium as well as rich in Vitamin A, C and Vitamin K and protein. Research suggests that the leaves may help in fighting disease.
All in all this recipe for green Shakshuka with Kale and Pesto is not just great in flavour and taste but is full of nutrients and cancer fighting greens.
Other Recipes you may like from this blog:
Shakshuka with tomato and sweet peppers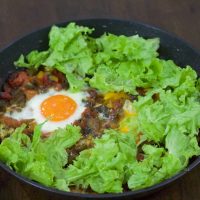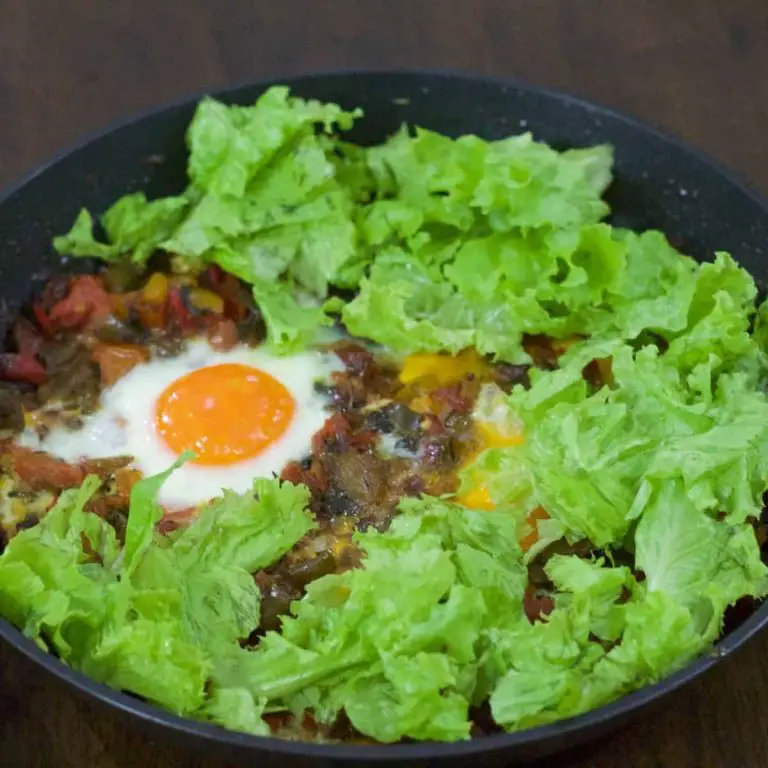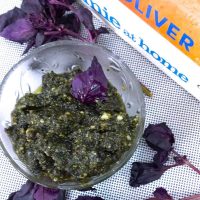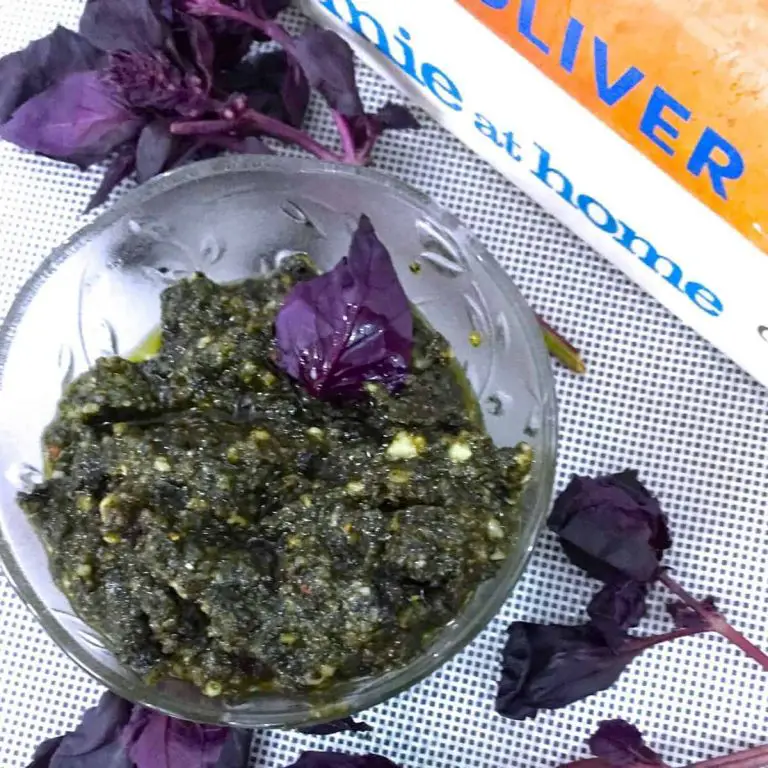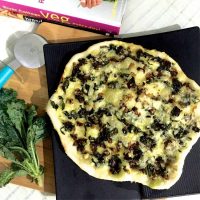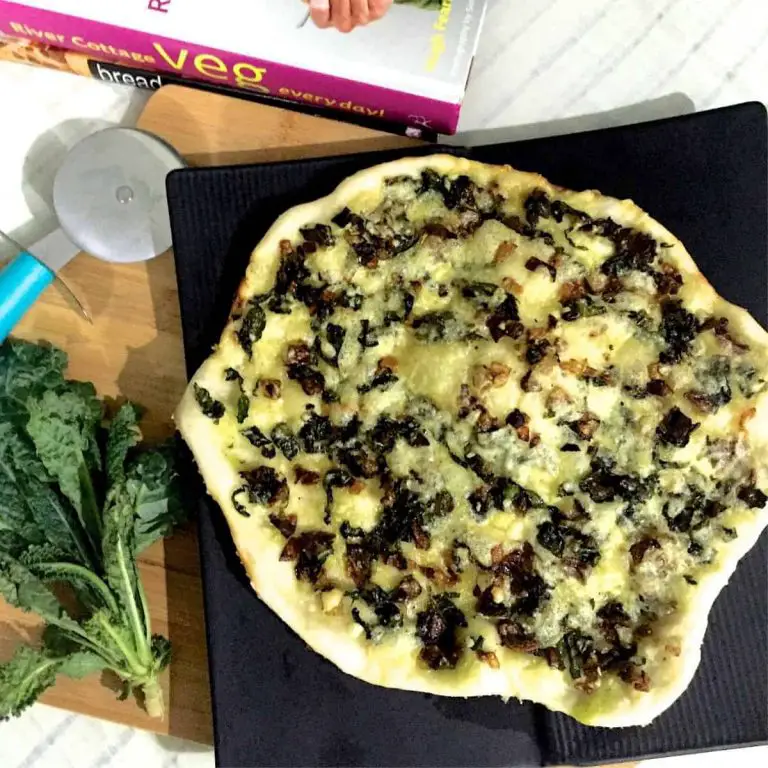 "Recipe"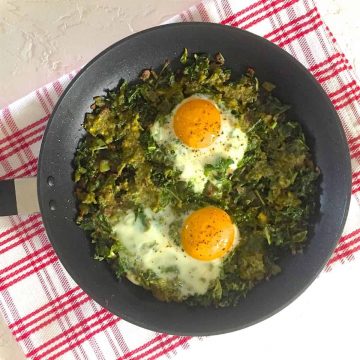 Green Shakshuka with Kale and Pesto
Green Shakshuka of sautéed Kale leaves and onion, gently cooked in a pesto of parsley, cilantro, and pistachio nuts. Easy flavourful breakfast, lunch or dinner packing a nutritious punch.
Ingredients  
For the Green Shakshuka:
1

tablespoon

olive oil

¼

cup

onion

minced

2

cups

kale

leaves chopped and ribs, stalks, removed

2

Eggs

¼

teaspoon

salt

or to taste

½

teaspoon

black pepper

freshly ground

½

teaspoon

rose harissa

optional
For the Pesto:
1

cup

parsley

leaves shredded, stalks, removed

1

cup

coriander leaves

shredded

2

cloves

garlic

¼

cup

pistachio

shelled

1 - 2

tablespoons

olive oil

1

chilli

Fresh sliced, (inner ribs and seeds removed)

1 - 2

tablespoons

water

¼

teaspoon

salt

½

tablespoon

Lemon juice lemon

or from ½
Instructions 
To make the Parsley Cilantro Pista Pesto
Wash and spin dry the herbs. Separate the leaves and shred. Slice thin, tender stalks and discard the rest, or set aside for use in soup.

Add all the ingredients for the pesto, except for the water, into the blender. Go slow on the salt as the quantity will reduce after grinding, so you may want to add a little salt and then check the taste after you blend the mixture.

Add a little water, and grind to a rough paste. Add a little more water if required to help achieve the required consistency. Set aside till required for the Shakshuka.
To make the Green Shakshuka:
The quantities of ingredients above are for one plate of Green Shakshuka as it is normally prepared for individual servings. If you are making more than one serving, you would need to increase the quantities proportionately except for the oil and the seasonings which would need to be as required for larger quantities.

Wash and spin dry the kale. Separate the leaves and keep the thin stems aside for use in soup or discard the same.

Slice the kale leaves. I roll them up like a cigar, and then slice into thin ribbons, and again slice the ribbons across into ½ inch/ 1 cm pieces.

Heat a frying pan, add one table spoon of olive oil, let it warm up and then add the minced onions. Sauté for about 3-4 minutes, stirring often so the onion doesn't brown. Add the capsicum and saute for 2 minutes, stirring frequently.

Add the shredded kale, sauté. Kale does not wilt as fast as spinach but you don't need to overcook it, so 5 -7 minutes should be good. Increase the time by another 2 -3 minutes if the kale is quite thick. The bright green begins to discolour into a muddy olive green, as it cooks.

Add a little salt and pepper, keeping in mind that the pesto has already been salted. Stir and check the seasoning, adding a little more if required. Sauté for 1 minute, stirring frequently. Add rose harissa if using.

Add two tablespoons of the pesto, or as much as you need for at least a ½ cm layer of pesto over the kale and onions. Don't stir it in as it could catch at the bottom of the pan. Just layer it on the kale and onion.

Make a little space in the kale and pesto and break each egg gently into the pan, leaving space between the eggs. Season the egg yolks lightly with salt and pepper.

Cook for 2 minutes and then cover the pan and continue to cook, on a low flame for 5-10 minutes, depending on how runny or hard you want the yolks to be.

Serve hot, with toasted bread or flatbread or pita. I had homemade multigrain bread which tasted very nice when dipped in the green shakshuka.
Nutrition
Serving:
300
gms
Calories:
483
kcal
Carbohydrates:
37
g
Protein:
27
g
Fat:
29
g
Saturated Fat:
5
g
Cholesterol:
327
mg
Sodium:
1887
mg
Potassium:
1714
mg
Fiber:
8
g
Sugar:
8
g
Vitamin A:
20646
IU
Vitamin C:
319
mg
Calcium:
399
mg
Iron:
9
mg
RECOMMENDED PRODUCTS
As an Amazon Associate and member of other affiliate programs, I earn from qualifying purchases.