This Fennel Frond Pesto Pasta  is now on my go to list of quick dinners to put together. It actually took less than 15 minutes from start to finish! Of course the pasta was a quick cooking one, and the home made pesto was already available, but still its lovely to be able to put together a delicious meal with such little effort! Making the pesto would have taken another 10 minutes or so.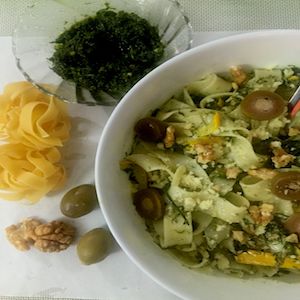 I had this box of fettucine shaped into little rolls of ribbon, and I thought they would go well with a fresh pesto. The Fennel which had been delivered recently by First Agro Farms (zero pesticide vegetables and greens supplied right to my door) had an abundant head of fronds. More like a bush than a head, actually. I had used most of the fronds to make 2 jars of pesto, with pine nuts and with my homemade basil oil. You can imagine the flavours - basil, olive oil, fennel, pine nuts, all worked together into a unique taste. Making Fennel Frond Pesto Pasta was naturally the next step.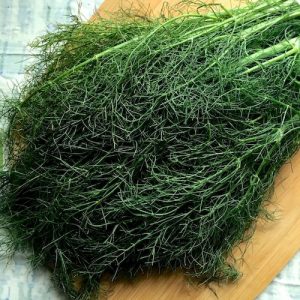 You could of course make this Fennel Frond Pesto pasta with penne or any other pasta, and substitute the fennel frond pesto for another of your choice. Or throw in some sun dried tomato or sauté mushrooms instead of the zucchini. Add chilli flakes in the end. The pasta would adapt to all this. I would suggest however that less is more in this case, let the pesto rule, and any other ingredient be added only to give another texture to the dish.
As I have said in the recipe below, start the pasta cooking in its pot, and while it is boiling away, quickly put together all the other ingredients, so that everything is ready by the time you have drained the cooked pasta, and you just have to toss it all together.If you are making pesto afresh, add 5 - 10 minutes to the time required.
Here are the links to my recipes on this blog, for Fennel Frond Pesto and for Home made Basil oil. The Basil oil was used in making the pesto. If you want to use a simple basil pesto, I have given the link for that too!
Fennel Frond Pesto in Basil Oil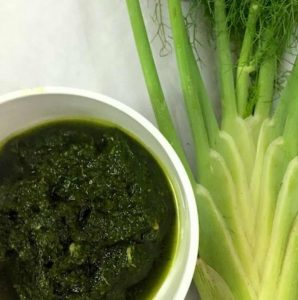 Fragrant Home made Basil Oil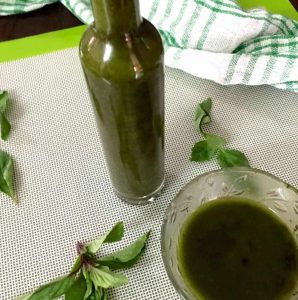 Pesto of Purple Basil, Pine nuts & Parmesan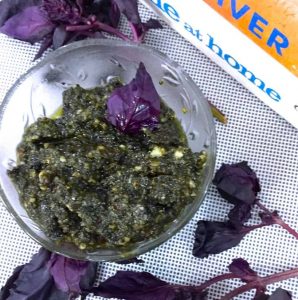 "Recipe"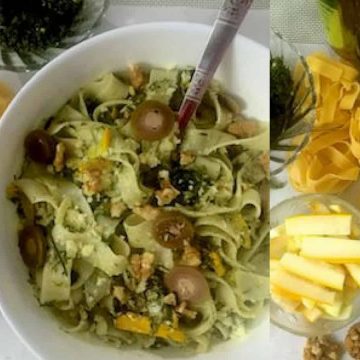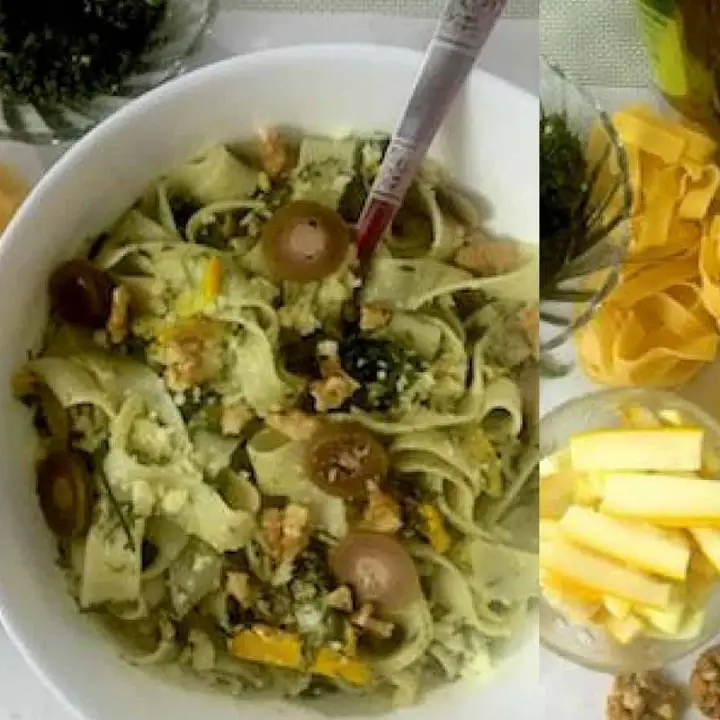 Fettucine with a Pesto of Fennel Fronds and Pine nuts, with sautéed zucchini, olives, walnuts and grated cheese
Delicious Fettucine Pasta tossed with zucchini, olives and cheese and a pesto of Fennel fronds with pine nuts and my home made Basil oil.
Ingredients  
For the Pasta:
200

gms

pasta Fettucine

2

litres

water

for cooking the pasta

15

gms

salt

for the pasta

1.5

tablespoons

olive oil

2

cloves

garlic

2

teaspoons

basil leaves

minced

1

cup

zucchini

sliced

4

Olives

3

tablespoons

pesto

¼

cup

cheese
For Garnish
8 - 10

Walnuts

shelled

to taste

salt

to taste

Fresh ground pepper
Instructions 
To Cook the Pasta: (Time: Cooking 8-10 minutes)
Top up the water in the pot/ pasta cooker, as per pasta package instructions and add salt. The pasta brand I used, recommended 1 litre for every 100 gm of pasta, and 7 gm of salt for each litre.

Bring the water in the pot back to a rolling boil (boiling all over the pot) and add the fettucine. Cook as per package instructions, stirring frequently. (The brand I used specified 6 minutes, and it was just right when I checked at 6 minutes).

Turn off the stove when the pasta is done till al dente (cooked but firm to the bite), drain and set aside.
While the Pasta is cooking:
Grate the cheese. I used Cheddar, but any firm cheese of your choice would be good.

Slice the zucchini into thin strips. Slice the olives into rings. I have taken olives stuffed with blue cheese, but plain olives or those stuffed with pimento may be used instead.

Shred the basil leaves, mince the garlic. If using dry basil, use ½ teaspoon of the same. Toast the walnuts lightly on a hot pan for about a minute, and set aside to cool.

Heat a pan and add olive oil. Add the garlic and basil leaves (or dry basil if using), sauté for a minute, taking care not to brown the garlic.

Add the zucchini, sprinkle a pinch of salt, sauté for 3-4 minutes, stirring frequently. Add the sliced olives, after reserving a few olive rings for garnish. Take the pan off the stove, so that the zucchini stop cooking.
To Put the Pasta together: (Time about 2 minutes)
Place the drained Pasta in a serving dish. Add the pesto and toss. I have made this pasta with a pesto of fennel fronds and pine nuts in a homemade basil oil. The same method would work with any pesto you use, with of course the flavours being different.

Add half the grated cheese, and toss. The cheese would begin to melt in the hot pasta. Add the cooked zucchini and olives. Mix them in.

Garnish with slices of walnut, the reserved olive rings and the remaining cheese as required. Season with fresh ground pepper and serve hot.