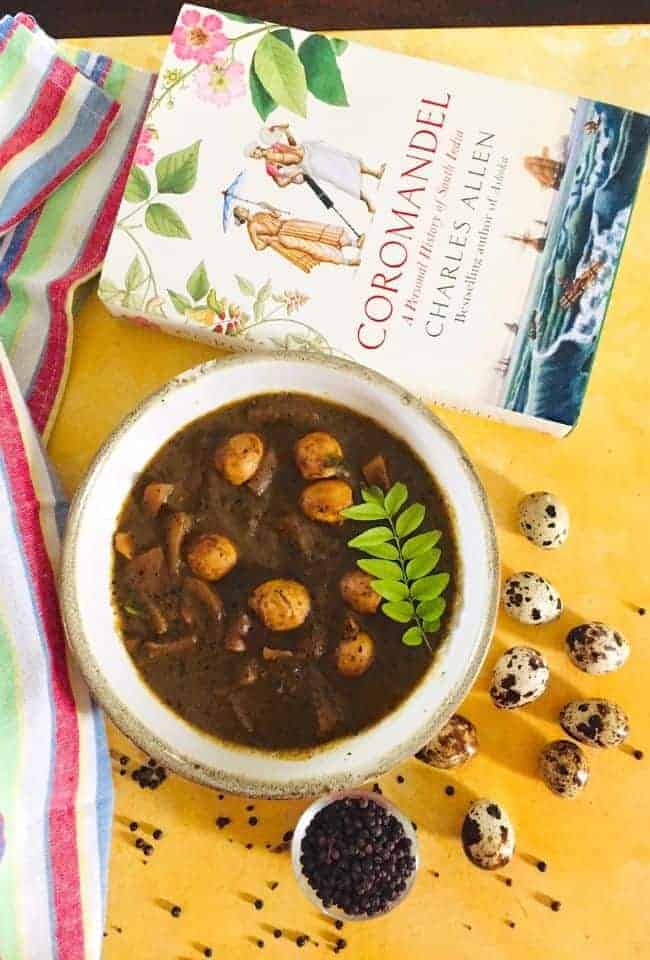 The supermarket I frequent at Whitefield, which is not far from my apartment in Bangalore (I mean, if you don't measure it in terms of the time our notorious traffic takes to get me through the few kilometres to the store), has a lot of fresh produce stocked in its many shelves. I have been eyeing the cartons of quail eggs each time I reach out for a box of brown 'farm' eggs which are my staple breakfast diet. I hadn't cooked quail eggs ever, and wasn't sure how best to use them. A recent trip to Chennai gave a delicious answer to this question. Theayn, with whom I stayed, made some of her delicious meals during my visit. One of these was this egg milagu kuzhambu. She had made it with chicken eggs, and when I tasted it, with piping hot rice and ghee, I was transported to culinary Heaven. Theayn always cooks like a dream, but this muttai milagu kuzhambu was really, truly, out of this world.
I wasted no time in jotting down the recipe as Theayn dictated it to me, and once back home at Bangalore, made a quick trip to the supermarket for the quail eggs. And I got started on the kaada muttai milagu kuzhambu. The first time I made it, the consistency and taste were not as I remembered from the Chennai feast. I realised that I had forgotten to add potatoes, so back I went to the kitchen next day, for another quick round of cooking. This time the quail egg in pepper gravy came out just as I wanted. Perfect in texture, consistency and taste.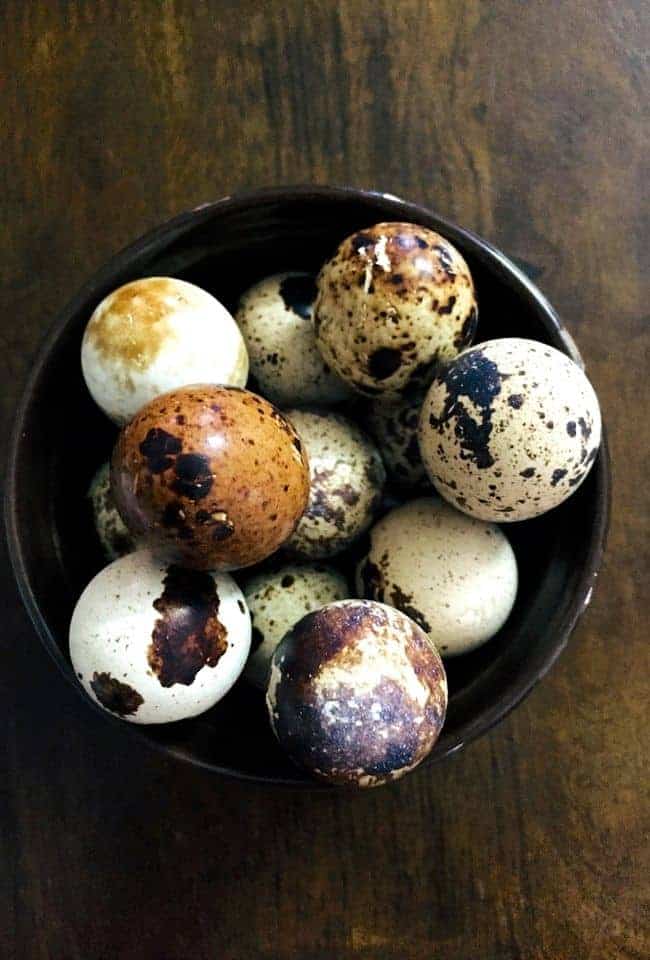 Making Kaadu Muttai Milagu Kuzhambu
The Quail egg curry in a Pepper Gravy is very easy to make. As I said earlier, it looks like a lot of steps, but that's just because I've gone into detail, with little tips to help, and also split each small process into a separate head.
The recipe gives detailed instructions on how quail eggs are to be boiled. I have boiled them for 3.5 minutes and then immediately transferred the eggs to a bowl of chilled water. Boiling for a longer period can make the eggs hard and reduce the flavour.
I have roasted the eggs briefly, with curry leaves and a sprinkle of cumin and pepper powders and salt, to add to the taste. You may omit this step if you wish.
Sesame oil is the medium of choice, for this recipe. I cannot imagine making a Tamil kuzhambu with any other oil!
You may reduce the water in which the tamarind is soaked, to 1 cup, to have a thicker gravy. I liked mine a little fluid, and have hence used 1.5 cups of water.
The milagu kuzhambu or pepper gravy can be prepared and stored in the freezer. Whenever you want, just take it out, bring it to room temperature and boil with potatoes and add boiled eggs to make the muttai milagu kuzhambu. Or slice and saute mushrooms and add them instead of the eggs. Or make it with just potatoes. Its very flexible, and I'm sure you will find a number of dishes to make from it.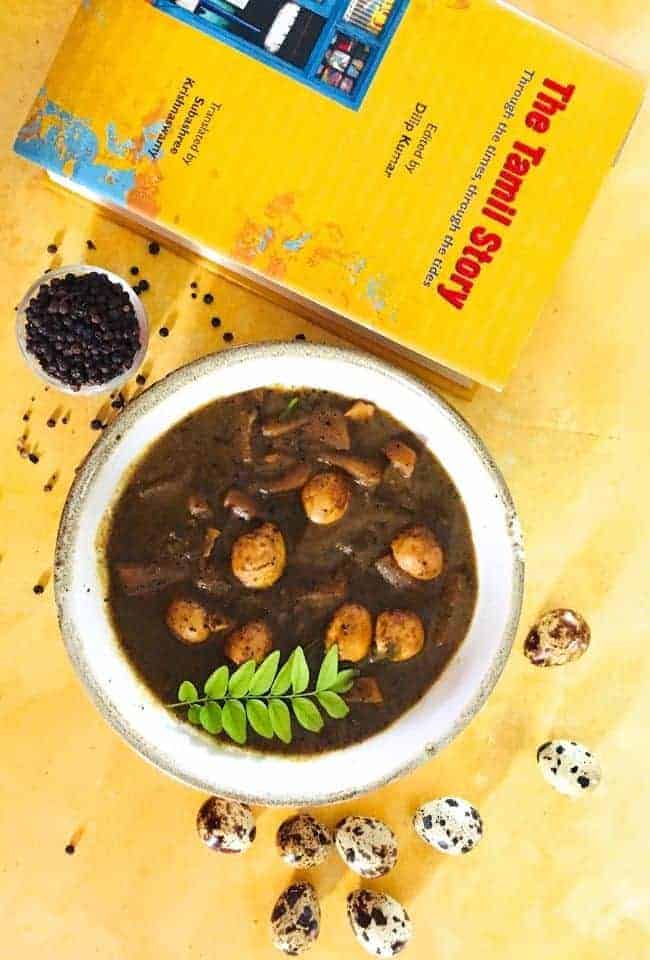 Other Tamil Recipes You May Like  from This Blog:
Murungai Keerai MoreKuzhambu - Buttermilk Stew with Moringa Leaves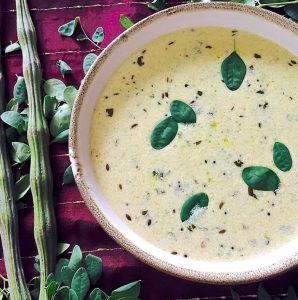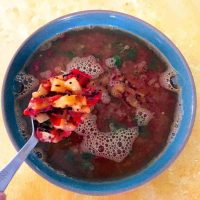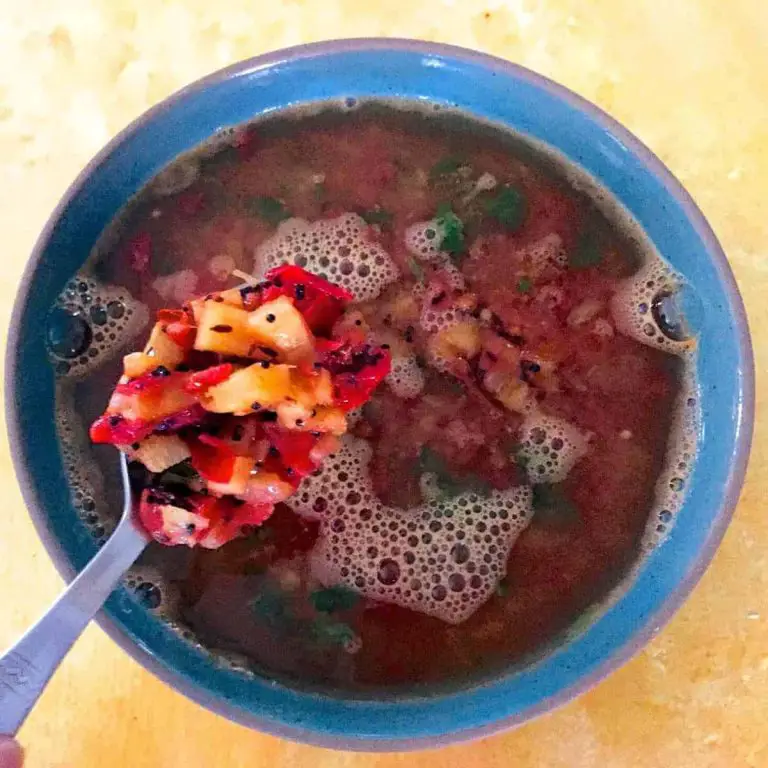 "Recipe"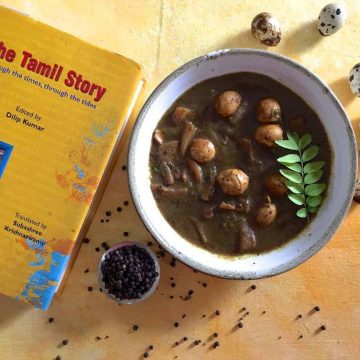 Kaada Muttai Milagu Kuzhambu/ Quail Egg in Pepper Gravy
Quail eggs in a Pepper Gravy or Kaada Muttai Milagu Kuzhambu. The Milagu Kuzhambu or Pepper Gravy is a tradtional simple Tamil gravy forming the base for various curries such as Potato curry, Egg curry or mushroom curry. Quick and easy to prepare and served with rice, parotta or dosa. The gravy has potato added for taste and texture. Chicken eggs may be used instead of quail eggs.
Equipment
saucepan

Frying pan

Mixie/ Food Processor for Grinding

Potato peeler
Ingredients  
For Soaking
1

tablespoon

tamarind pulp

/about 1 Indian gooseberry sized ball of tamarind

1.5

cups

water
For the Eggs
10

Quail eggs

or 4 chicken eggs

2

cups

Water

for boiling the eggs/ sufficient water to cover the top of the eggs

1

cup

Water

chilled, for cooling the boiled eggs

½

tablespoon

Sesame oil

/ gingelly oil/ til oil

5-6

curry leaves

1

pinch

Salt, Pepper Powder, Cumin Powder

mixed together to make 1 pinch
For Roasting and Grinding
4

shallots

or 1 small onion

3-4

pods

garlic

½

tablespoon

sesame oil

/gingelly oil/ til oil

1

tablespoon

black peppercorns

-whole/ sabut

5-6

curry leaves

¼

teaspoon

turmeric powder

¼

teaspoon

rock salt
For Tempering and Making Kaada Mutta Milagu Kuzhambu
1

potato (medium)

1

tablespoon

Sesame oil

/gingelly oil/ til oil

¼

teaspoon

mustard seeds

¼

teaspoon

cumin/ jeera seeds

⅛

teaspoon

salt

or to taste
Instructions 
Preparation:
Soak tamarind in water, for at least 20 minutes. Once soaked sufficiently (it will become soft) squeeze the tamarind to extract the juice. Discard the pulp after you have extracted as much of the juice as possible. Set aside the tamarind extract till required.

Peel and slice the shallots/ onion into large chunks.

Peel and slice the garlic pods into 2-3 pieces each

Shred the curry leaves (I always do this, otherwise they get discarded on the plate while eating and their nutritional benefits are lost)

Mix together a very little salt, cumin powder and pepper powder. You will be needing just a pinch of the mixture to flavour the eggs.

Peel and slice the potato into thin slices/ fingers. Slice each potato finger into 2 so that each is about an inch long. Keep them uniform in thickness and size so that they cook uniformly and quickly. Place the potato slices in a bowl of water so that they do not discolour. Drain before using as per instructions below.
To Cook the Quail Eggs
These boil very quickly. Heat a saucepan with enough water to cover the eggs (don't add the eggs right away) and bring it to a boil.

Add the eggs carefully ( I used a spoon to tip each one into the saucepan) and boil them for 3.5 minutes. I have found this a perfect timing to cook them not too hard and leathery, not too soft and runny.

Keep a bowl of chilled/ ice water ready. Remove the eggs quickly (again with a spoon) and place them in the chilled water, so that they stop cooking further.

Once cool enough to handle, shell the eggs. The quail eggs are small and delicate. Tap each one gently with the back of a spoon.

Carefully peel the shells along with the thick membrane you will find clinging to the shell. Check to see that no bits and pieces of shell or membrane are left on the peeled quail eggs.

Heat oil in a small frying pan. Add shredded curry leaves and as they crackle (which they will do, if they are fresh), add the peeled eggs.

Sprinkle the pinch of salt, cumin powder and pepper powder mixture.

Saute, stirring the eggs and spices, for about a minute, and then remove. Too much roasting time can make the eggs tough and leathery.

Transfer into a bowl and keep aside till required
To Prepare Onion Garlic Masala:
Heat sesame oil in a small frying pan (I used the same one as for sauteing the boiled eggs).

Add the black peppercorns, sliced garlic and shallots/ onion, shredded curry leaves.

Keep stirring and roast them for about a minute, on high, till the onion and garlic are fried.

Remove from the heat and transfer to a heat proof bowl.

Once cool enough to grind, transfer the roasted masala to the mixie or food processor. (the small / chutney jar of an Indian mixie should suffice). Add turmeric and salt.

Grind using just as much water as is required to make a smooth paste, without bits of pepper or other ingredients visible. I used one tablespoon of water, adding it a little at a time.

Remove the masala paste from the processor and mix well it into the tamarind extracted after soaking as per instructions above.

We are now ready for the final steps.
To Make Kaadu Muttai Milagu Kuzhambu
Heat oil in a frying pan (I used a medium sized pan for this, larger than the one used earlier)

Add mustard seeds. Once they have crackled, add cumin seeds. Saute for 10 seconds till they begin to change colour/ darken.

Add the mixture of ground masala paste and tamarind extract. Bring it to boil. Drain and add the slices of potato.

Again bring it to a boil, and then reduce the flame so that the milagu kuzhambu/ pepper gravy cooks at a simmer. Cook for 12-15 minutes, stirring periodically. The masala may stick to the pan, so you need to stir and make sure it doesn't catch and char.

Once the potato slices are cooked, taste for salt and add a little more as required.

Add the boiled and sauteed quail eggs, stir and remove the quail egg curry from the stove and transfer to a serving bowl.

Serve hot, with rice (and ghee) or with Dosa, or Parotta. And do let me know in comments below, how you liked it!