Another easy to make salad, with a tangy dressing to complement the sweet peaches. Make this delicious Honey Grilled Peach Salad with Feta when fresh peaches are abundant in the market. It takes very little time and effort and is bursting with nutritious colours and flavour.
The first time I made this Honey Grilled Peach Salad with Feta, my fridge was full to the brim with veggies and fruits. First Agro Farms had delivered their signature zero pesticide greens and herbs including fresh lettuce, arugula, chard, scallions, as well as chives, oregano and parsley, as well as tomatoes of various colours and degrees of ripeness. There were peaches and plums from Namdharis and a variety of cheese from Natures Basket.  I usually add fruits to my salads, and honey either in the dressing or as in this case, drizzled on the fruit to be grilled.
The dressing for this fresh and bouncing honey Grilled Peach Salad with Feta had to be different from my standard lemon and honey salad dressing, so I tossed the grilled peaches, tomatoes, feta cheese, plums, red and green lollo rosso lettuce in a dressing of lemon, mustard, honey, red wine vinegar and fresh ginger.
It was so delicious, you  have to try it out for yourself and see what I mean!
The salad looks attractive and doesn't need any further incentive to make, however it does help that the greens in the honey Grilled Peach Salad with Feta are nutritious and healthy. Apart from fibre and iron content in the lettuce and chard, the red lollo rosso lettuce has antioxidants which help to fight cancer.
Peaches are packed with nutrition too: apart from minerals such as potassium, magnesium, iron, manganese, phosphorous, zinc, and copper and calcium, they are low in calories and do not contain saturated fat. They are free from cholesterol and are an excellent source for dietary fiber.
You may also  like to try these easy recipes from the blog:
Quick Heirloom Tomato Salad with Basil Oil Dressing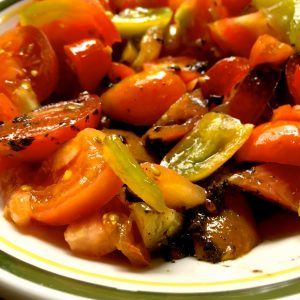 Roasted Pumpkin Labneh Buckwheat Salad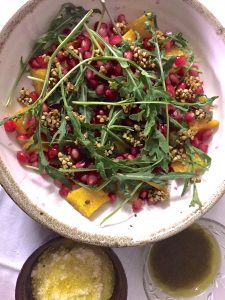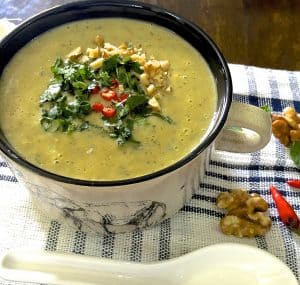 SaveSave
SaveSave
SaveSaveSaveSaveSaveSaveSaveSave
SaveSave
SaveSave
"Recipe"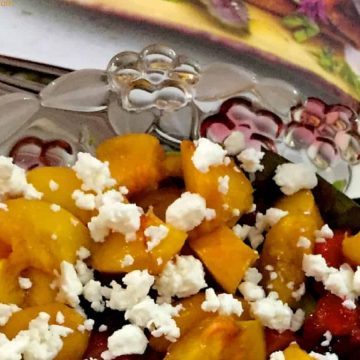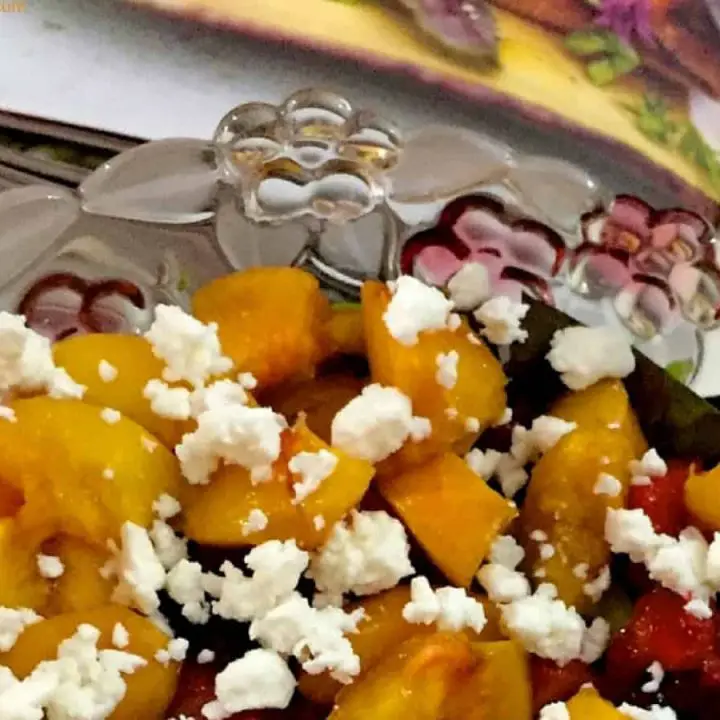 Grilled honey dipped peaches and feta in a Lemon honey mustard dressing
Delicious and Healthy Honey Grilled Peach Salad with Feta with lettuce, plums and tomatoes with a dressing of lemon juice, mustard, honey and ginger that adds to the contrasting tastes and flavours of the salad.
Ingredients  
For the Salad:
1

bunch

lettuce

Red and Green

2

Plums

1

green tomato

2

stalks

scallion

½

cup

feta cheese

crumbled
For grilling:
3

Peaches

ripe

2

Tomatoes

Red, orange

1

tablespoon

olive oil

1

tablespoon

honey

to taste

salt

1

teaspoon

pepper freshly ground
For the Dressing:
1

tablespoon

lemon juice

1

tablespoon

red wine vinegar

2

teaspoons

Mustard paste

1

tablespoon

honey

3

tablespoons

olive oil

1"

piece

ginger

minced

1

teaspoon

lemon zest

to taste

salt

to taste

pepper
Instructions 
To Make the Dressing:
I used one medium sized Indian lemon, about the size of a large marble. Grate the zest from the lemon and squeeze the juice. Mince the ginger.

To the lemon juice, add the vinegar and honey, mustard, ginger, lemon zest, a little salt and ground pepper. Whisk them into a smooth liquid. Slowly add the olive oil, whisking till the oil emulsifies with the lemon - vinegar - honey. Cover and set aside in the fridge to chill.
To prepare the ingredients
Halve the peaches, twisting so that the stone is easily removed. Dice the tomatoes. Use different coloured ones - a ripe juicy red, a bright orange and an unripe green tomato. A tart green apple may be substituted for the green tomato.

Drizzle a few drops of olive oil and a pinch of salt on the red and orange tomatoes. Set aside the slices of green tomato. Pour a little olive oil and the honey on a small plate, stir and then dip the cut end of the peaches in the mixture.

Set the peaches and tomatoes to grill for 4 minutes and set aside to cool. I grilled them simultaneously with the peaches on top so that the honey could drip onto the tomatoes. The tomatoes may be grilled for another 5 minutes, if desired.

Destone and slice the plums. Mince the herbs- I used fresh oregano, sage, a sprig of rosemary and added some parsley, but you could use any herbs of your choice, fresh or dry.

Wash the lettuce and scallion greens and any other greens such as swiss chard and pat dry with a tea towel, or dry in a salad spinner. Shred the greens, mincing the scallion and it's bulbs. Slice the grilled peaches.
To Make the Salad:
Assemble the salad not more than half an hour before serving, so the lettuce doesn't wilt or get soggy with the dressing. In a large glass bowl ( or other suitable salad bowl) place the shredded lettuce and other greens. I used about 4 leaves of red lollo rosso and 6 of mixed green lettuce leaves.

Make a well in the centre of the lettuce, whisk the dressing and pour about 2 tablespoons of it into the well. Add the minced mixed herbs on top of the pool of dressing. Lay the tomatoes, plums and peaches on the bed of lettuce and herbs. Season with a little salt and some freshly ground pepper.

Cover and keep in the fridge till ready to serve. Just before serving, gently mix the dressing and herbs onto the salad, using your (clean!) hands. Scatter crumbled feta cheese and serve.