This recipe has appeared first on the blog Tangy Tales when fellow Food Blogger Aparna Parinam asked if I would do a Guest Post on her blog. I had been experimenting with different rasams, all using my homemade rasam powder, and looking at the fresh sliced pineapples on sale at my local grocers, I thought it high time I made the Festive Pineapple Rasam. 
The rasam is the South Indian staple and every home has its own favourite recipe. My everyday recipe for Tomato Rasam is with the homemade Rasam Powder from my Mom's traditional recipe. I sometimes stray from the narrow path and make rasams that are different and equally delicious. Like the Lemon Thyme Rasam (recipe link below). This Festive Pineapple Rasam however is now a special favourite and everyone at home loved it when I made it a couple of weeks ago. My granddaughter Tamma, like most children, is very fond of pineapple and was delighted to find some in the savoury rasam for lunch.
The sweet and tangy tastes of the festive Pineapple Rasam, surprisingly go with each other. I had fresh juicy tomatoes and chunks of pineapple that my daughter had got for me from the store. Pineapples are not easy to peel and slice, and one is never sure if they are ripe and sweet, so its nice to be able to get them already sliced or diced. I prefer them in rings as that makes the slices uniform in thickness and become easier to cook,  however as they were available in chunks, I only had to slice the chunks into even sized pieces.
As I had written in blog post in Tangy Tales, the festive Pineapple Rasam is a great favourite in wedding lunches at Chennai as it brings a touch of the exotic to the regular sambar and rasams that are served in the traditional 'ellai pottu' or banana leaf lunch. It is also a popular item on the menu of the restaurants run by Hotel Saravana Bhavan, the large chain of vegetarian restaurants which have several branches in India as well as in many countries in the world.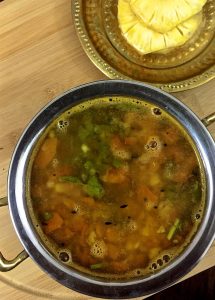 The aromatic and flavoursome festive Pineapple Rasam is easy to make though it needs a little more effort when compared to the regular tomato rasam. It can be made without rasam powder, using only ground pepper and cumin, but I like the more robust version below, with homemade traditional rasam powder. If you are buying rasam powder, try to get a South Indian brand as it is likely to be more authentic. And do follow the steps below to get the real taste of the rasam.
The making of the festive Pineapple Rasam is different in some ways from the traditional rasam as we need to prepare the tempering separately and also puree the pineapple as well as the tomato to different consistencies, before they are added to the boiling rasam. There are several steps, however each of them is easy and it is worth the while when your family tastes this unusual rasam.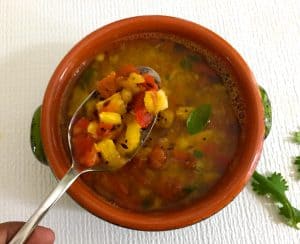 Some Kitchen Tips for making festive Pineapple Rasam:
Th rasam should be made and served when hot and fresh. Reheating can impact the flavours and its not advisable to keep in the fridge for later use and reheat. If you are not going to serve it as soon as it is made, you could keep the rasam as well as the tempering ready, without adding the pineapple puree. When you need to serve the rasam, add the puree to the rasam, boil it for about 30 seconds, add fresh coriander leaves and then the tempering. last of all. You would then be able to serve it freshly made.
I use home made Rasam powder in this recipe as it gives flavour and authentic 'rasam taste'. As I said earlier, you could substitute it with fresh ground pepper and cumin seeds (increase the volume of pepper and cumin in the recipe by 1 teaspoon). However in my experience, the festive Pineapple rasam tastes best with rasam powder.
The measurements used in this recipe are based on 1 standard cup = 250 ml
The recipe below is laid out in stages to make it easier to understand and follow. However the tempering could be made while the rasam is boiling, to save time.
Other Rasam recipes on the blog, including Rasam Powder: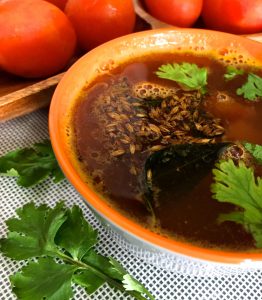 Home made Rasam Powder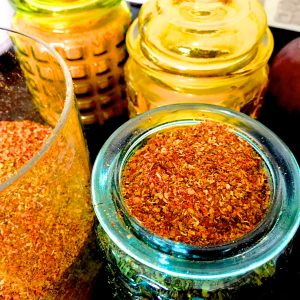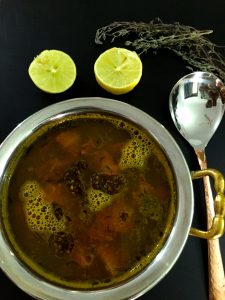 SaveSave
SaveSave
SaveSave
SaveSave
SaveSave
SaveSave
SaveSave
SaveSave
SaveSave
SaveSave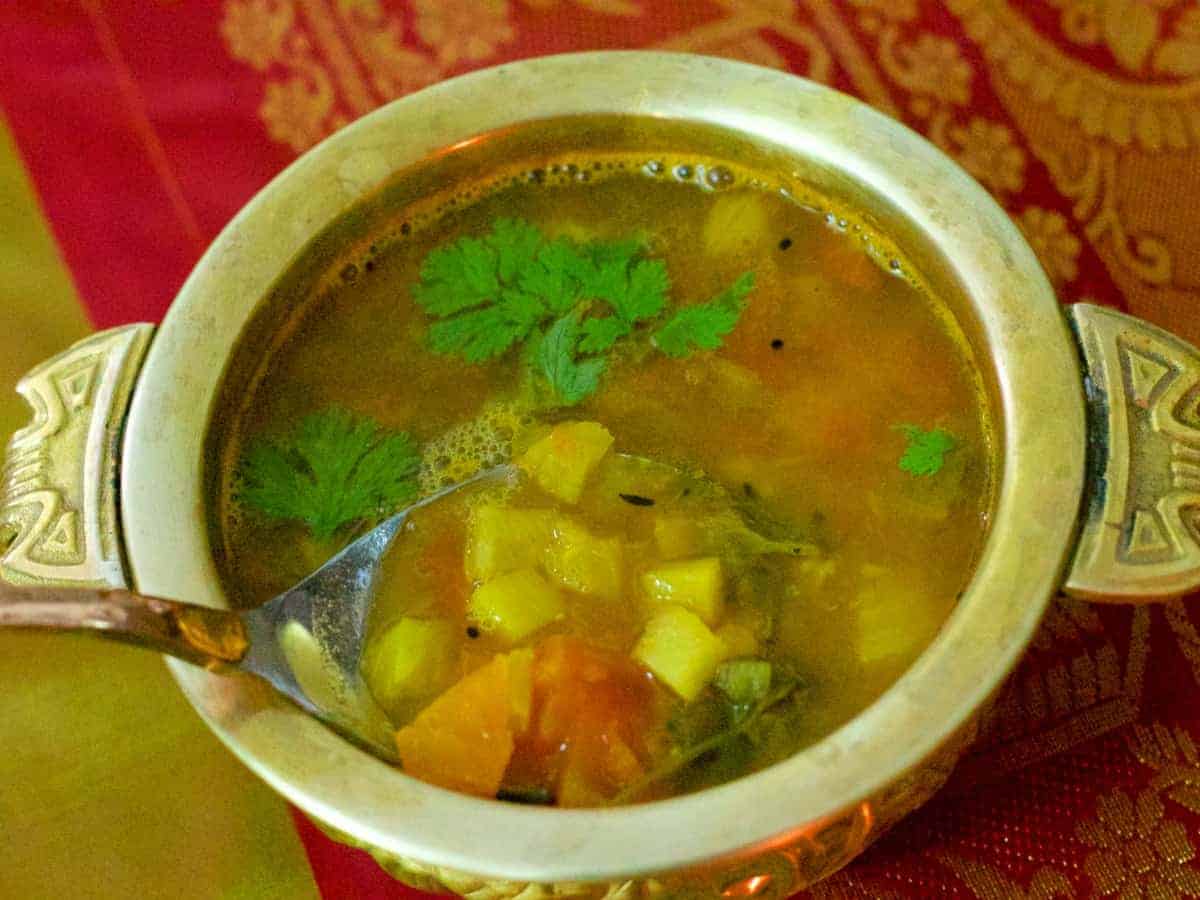 Festive Pineapple Rasam -How to make Pineapple Rasam
Festive Pineapple Rasam a tangy South Indian Pineapple Lentil Soup served with rice, papad and sautéed vegetable curry. Popular at Tamilian wedding lunches
Print Recipe
Ingredients
To cook the dhal
1/4

cup

Tuvar dhal

-

Thovaram Paruppu or Pigeon Pea Lentils

1/8

teaspoon

turmeric powder

-

Haldi

3/4

cup

water to pressure cook dhal
For making Pineapple Rasam
1

cup

pineapple pieces

1

cup

tomato pieces

1.5

cups

water

1

teaspoon

rasam powder

1/4

teaspoon

ground cumin

1/4

teaspoon

Fresh ground pepper

1/4

teaspoon

asafoetida

-

hing/ perungaiyam

to taste

salt

1

tablespoon

coriander leaves

-

minced
To Temper the Rasam
2

teaspoons

ghee

1

teaspoon

mustard

1/2

teaspoon

Cumin seeds

-

jeera

1

dry red chilli

1

tablespoon

curry leaves

-

minced
Instructions
Preparation for festive Pineapple Rasam
Pressure cook the dhal with turmeric powder, upto 2 whistles, so that the dhal becomes soft. Remove from the stove and open the cooker only when the pressure has gone down by itself. Mash the dhal and keep aside till required.

Peel the pineapple and slice it into rings. We need about 3 rings for the rasam, depending on the size of the rings. Slicing into rings first is better so we will get slices of even thickness, which will help in uniform cooking of the pineapple. Dice the rings into cubes about 1 cm square. Wash the tomato and dice it into cubes of sizes similar to the pineapple.

Puree half the pineapple chunks in a food processor and transfer to a bowl.

Coarsely liquidise half the tomato chunks by briefly running them through the food processor. Crush/ grind pepper and cumin seeds. Finely mince the coriander and curry leaves.
How to make festive Pineapple Rasam
Heat 1.5 cups of water and add rasam powder, hing (asafoetida), ground pepper and cumin. Add coarsely liquidised tomato and a little salt. Bring to a quick boil and then lower the heat. The rasam should boil for about 5 minutes or until the raw smell of the rasam powder has disappeared.

Add the mashed dhal to the rasam, boil it for about 2 minutes. Add the pureed pineapple and cook on low flame. Once the liquid begins to bubble and froth or after 30 seconds, add the minced coriander leaves and immediately remove the pineapple rasam from the stove. Cover. Note that boiling the pineapple for long would make the rasam bitter and reduce the flavours of the pineapple.
How to prepare Tempering for Pineapple Rasam
Heat ghee and add mustard seeds. After the mustard has crackled, add cumin seeds and then dry red chilli after 2-3 seconds. Sauté the chilli for 10 seconds on low flame and then add curry leaves.

Add the remaining tomato and pineapple pieces to the tempering and sauté for 3 minutes on a low flame.

Pour the tempering on the rasam. Serve hot, with hot rice, a dry poriyal or subzi, and appalam (pappad). This rasam does not take kindly to reheating.
Notes
The measurements used in this recipe are based on 1 standard cup = 250 ml.